Picking from between variomatic scooters has never been an easy task and it's only getting worse with time. All of them have extremely refined engines, respectable levels of fit and finish and are usually crammed with more features than your average economy class airline seat. It's no surprise, then, that the scooter market has only grown (and evolved) in recent years and everyone wants a piece of this very profitable pie. The Maestro Edge and Duet are what Hero MotoCorp has brought to the table and we'll try to find out through some very quick questions if either has what it takes to deserve 
your attention.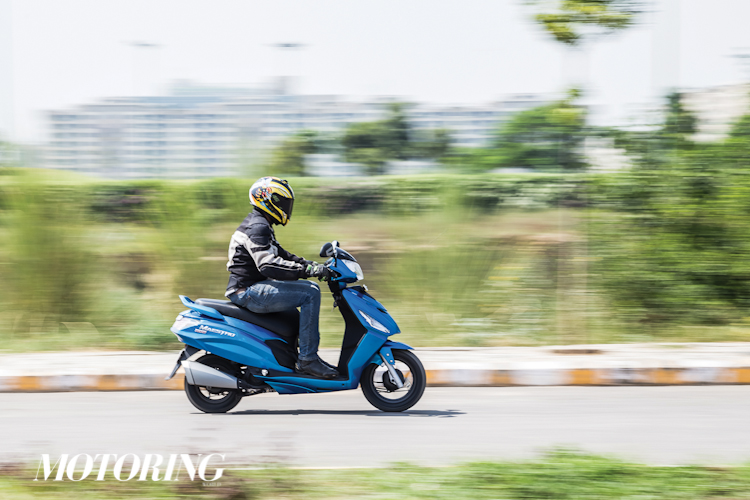 Which Is Which?
The racier-looking blue number on the left is the Maestro Edge and the bit more staid one in red is the Duet. If the Maestro Edge looks familiar, it's because it is essentially the rather likable Maestro, just made to look a lot slicker. Almost every panel on the Maestro, from the front fender to the side cowls, has been revised to look sharper thanks to the addition of glossy black alloy wheels and a very well-designed exhaust. It also gets a new palette of colour options and while the electric blue shade looks terrific, wait till you see one in a 
matte paint job.
The Duet is the newer of the two scooters here and if your first thought is, 'Hey, it looks like an Activa!', Hero's designers will be a very pleased lot. The Duet is meant to be the more versatile, more balanced scooter of the two and it shows in the way it's been styled. It gets a pretty conventional front fender, a very Activa-ish apron, regular pressed steel wheels and flowing bodywork that's not going to turn any heads, but is far from an eyesore for sure. The grab rail, too, is a more functional number as opposed to that of the Edge's and isn't painted to match the bodywork.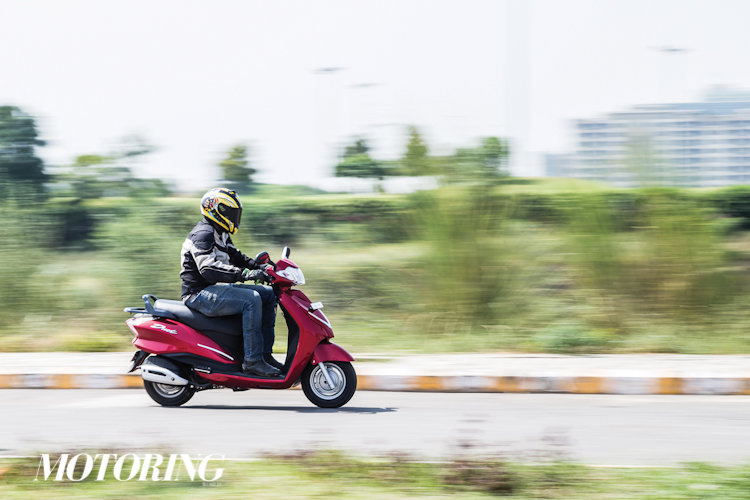 WHO are they FOR?
In a country where unabashed sexism forms the core of many a scooter, the Maestro Edge and Duet are both welcome additions. Either is what can safely be called a middleweight-class scooter and you can thank their dimensions for it. Weighing 116 kg, the Duet is 6 kg heavier than the Edge, thanks to its all-metal bodywork, but in terms of saddle height and width, there's little difference between the two. I particularly like the Edge for how roomy it feels and in terms of ergonomics on either, there is nothing I can complain about.
A big concern on scooters is that the handlebars tend to not clear the knees at full lock, making low-speed handling quite bothersome, but none of it happens on either the Edge or the Duet, so full marks to Hero for insightful design. I can't comment on the ride quality since my riding cycle was limited to smooth, arrow-straight tarmac, but in the few corners that I encountered, the Maestro felt like a fun handling package and the Duet wasn't too far off the mark, either. Dynamics aside, the Edge and Duro also offer USB mobile charging ports and a remote fuel-lid opening function, which should find a few fans amongst college-goers, I suppose. Overall, both the Edge and the Duet are well suited to either gender and that means no questions will be raised over who should have more fun. Good thing, that.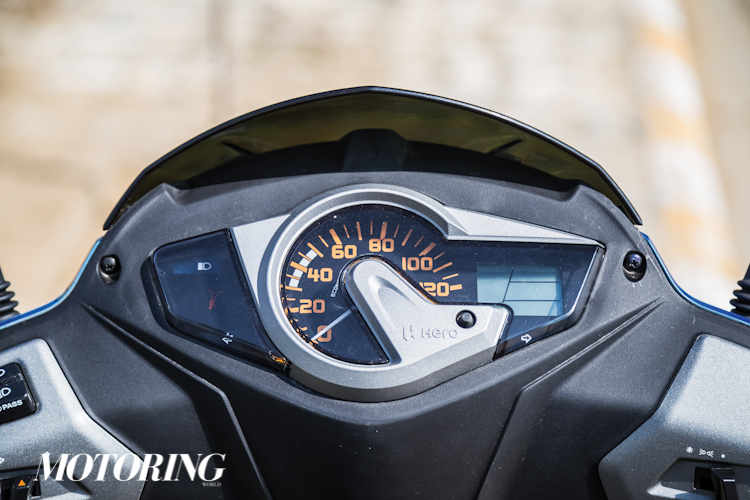 Are they QUICK ENOUGH?
Just about. The big news with these scooters is that these sport the first ground-up Hero engines (read: engines that haven't been sourced from Honda). As such, the challenge to match up (and exceed) performance, efficiency and refinement levels was huge and Hero has, somehow, managed to pull it off in its very first attempt. The 110cc single-cylinder engine is common to both scooters and their power and torque outputs are identical, too — 8.31 bhp at 8000 rpm and 0.85 kgm at 6500 rpm — but in real-world performance, there is a noticeable difference in the two.
The Maestro, thanks to its lighter kerb weight, accelerates quicker off the line and while its performance is no way superlative, it does the job in a linear, refined manner. If you're looking at a very fun engine to own, you certainly must look elsewhere — this one's pretty mild compared to a few scooters out there. The Duet just about keeps up, but where either scooter is really enjoyable is in the mid-range which is extremely handy in city traffic. There's not much more left once you're past 80 kph, but for the purpose they've been designed for — urban commuting — I think they work just fine. Wish the Edge had a little more grunt to match its very good styling, though.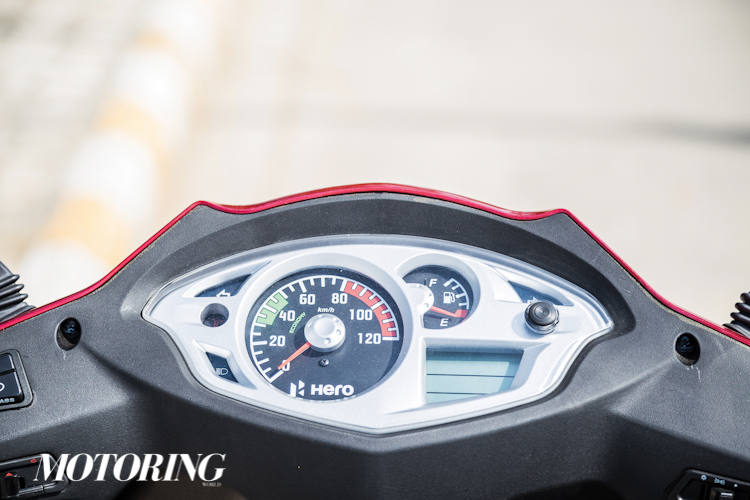 Which One Should I Buy?
In the fast-crowding scooter segment, the Maestro Edge and Duet have a fair amount of individual strengths to make a strong impact on their rivals. That said, there's not much they offer to exceed or outdo the competition by a fair margin and this means Hero will have to keep pace with the rest when it comes to offering model updates, something it is quite experienced with, thanks to selling motorcycles by the million. While the Duet is yet to be launched (at the time of going to press), the Maestro Edge is up for grabs already with two variants — LX and VX, priced at Rs 49,500 and Rs 50,700 (ex-showroom, Delhi), respectively. Expect the Duet to be considerably cheaper and what you have are two very promising scooters that will do everything short of scorching your local go-kart track. Two good, indeed.
MOTODATA
HERO MAESTRO EDGE/DUET
POWERTRAIN
Displacement: 110.9cc single cylinder
Max power: 8.3 bhp@8000 rpm
Max torque: 0.8 kgm@6500 rpm
Transmission: CVT
CHASSIS
Type: Underbone frame
SUSPENSION
(F/R): Telescopic fork / monoshock
BRAKES
(F/R): Drum
TYRES
(F/R): 90/90 R12(R10 for Duet)/ 90/100 R10
DIMENSIONS
L/W/H (mm): 1841/695/1190
Wheelbase: 1261mm
Kerb weight: 110 kg / 116 kg (Duet)
Fuel tank: NA
PRICE: Rs 50,700 (ex-showroom, Delhi) / TBA