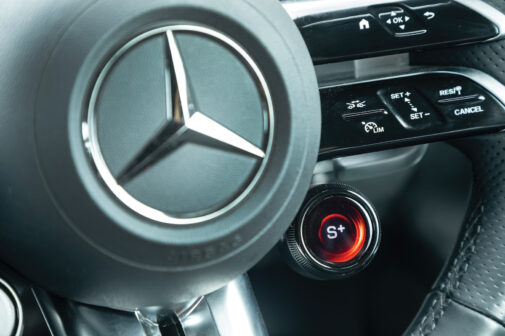 A textured scrolling knob turned a blue 'C' into a red 'S+' on the tiny steering-mounted digital dial. The big V8's idle rose from a low rumbling 730 rpm to a reverberating 850 rpm, heightening my awareness at the same time. Anticipation locked into alertness as my right foot rammed the throttle pedal into the floor. And mere moments after the SL 55 took off, it was transformed into nothing but a roar of fury and wind that blasted right to the glorious summit of top-down motoring. When I finally braked and tapped the downshift paddle a couple of times, each change of gear forced a series of booming eruptions and cracks of thunder at the exhaust. That's when I realised that the SL 55 can do no wrong in this world.
Its full name is the Mercedes-AMG SL 55 4MATIC+ Roadster, which seems to be slightly shorter than its very long bonnet. The SL 55's looks like beautiful sheet metal that's tightly wrapped around a big V8 attached to a couple of seats and four 20-inch wheels. Of course, it's far more complicated than that, what with Merc's universal deployment of electronic gadgetry, but the SL 55's shining personality doesn't venture beyond said simplicity. And it absolutely doesn't have to, either — all spotlights are firmly on the 3982cc twin-turbo V8 here, and it possesses more showmanship than all of Bollywood put together. Heck, even the three-pointed star seems larger than most others because of that V8's power bulging behind it.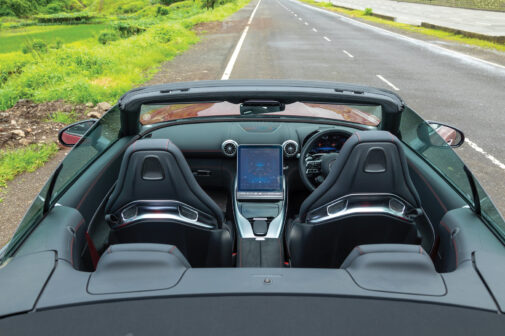 All that power also cooked me alive in traffic jams, even as the air-con fought doomed battles against the V8's heat and the soft top's helplessness against ambient temperature. The transmission tunnel and the footwell got rather toasty, too, as did the giant central screen. I'd turned off the ADAS features because German algorithms are no match for the carefree chaos of Indian traffic, although the proximity sensors kept repeating their desperate cries for attention. Still, my mind ignored all of it, instead transmitting a steady background signal to my fingers to continue tapping against the beautifully plush steering wheel, waiting for the swarm to clear.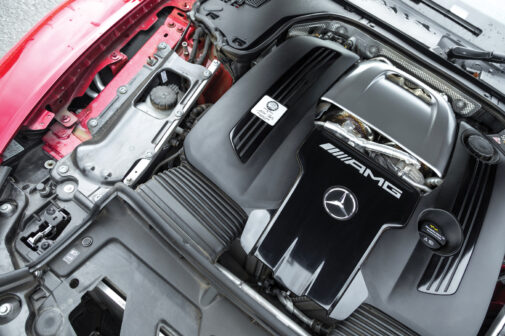 With 476 bhp going to the wheels, the wait was always worth it. And yet, the SL 55 was not the high-strung screamer I expected. Instead, the V8's horsepower seemed to rise up from profound depths and swell into existence as thunderous velocity. Which is why it reminded me more of a muscle car than a high-strung apex hunter. The SL 55 claims a 0-100-kph time of 3.9 seconds and an electronically limited top speed of 295 kph — which automatically means no wigs in this car. Also, the soft top goes fully up or down in 15 seconds, which is quick enough for both introverts and extroverts. And even if it's just a soft top, the outside world was filtered out surprisingly well, but never at the cost of muting that magnificent V8's magical symphony.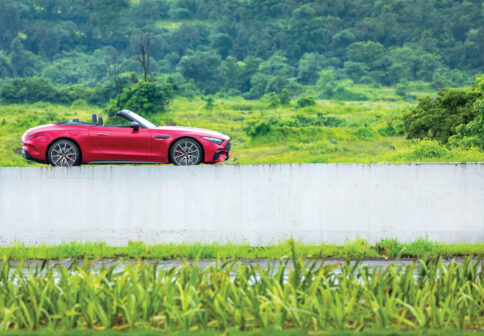 I mostly drove the SL 55 on soaking wet public roads, so I never got anywhere near the car's easy promise of 200 kph, much less its unbelievable claimed top speed. But when the wind turned into a comb wielded by that 476-bhp V8, I had little reason to go really fast. Massive bursts of acceleration were quite enough to keep me entertained, and the SL 55's host of safety features kept the whole shebang from becoming an inverted bathtub. Even when I smashed the throttle on a high-speed stretch of tarmac which had several channels of water running along its length, the SL 55 never let go more than a twitch here and there. That was a boost of confidence as well as a humbling moment, knowing that if I turned the traction control off, I'd never be able to catch it that fast. The SL 55's handling was in consonance with its engine's nature as well. There was no surgical precision on offer, but it felt controlled and reassuring at all times in a hefty kind of way. Also worthy of mention is that the SL 55 felt rock solid, and it amazed me how far we've come from the days of scuttle shake that convertibles were inevitably resigned to.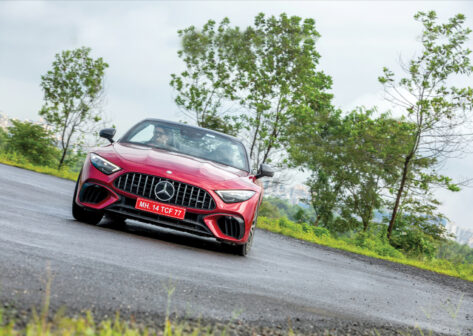 All of this meant that I could hurl the SL 55 into a corner, rely on its electronics … it was not your typical ballerina, but a wrestler performing a respectable imitation to suss out whatever I'd managed to mess up, hear the engine growling impatiently at part throttle through the bend, and then decimate the exit by unleashing that beast of a V8. Sure, it was not your typical ballerina, but a wrestler performing a respectable imitation. Not that it mattered, because I don't care about handling in a convertible. What did matter because of the harsh realities of life, though, were the SL 55's ride quality and ground clearance. My very first concern before anything else was whether the car would make it into my building. Idiotically-designed speed breakers at the entry ramps of middle-class suburban buildings aren't really made to enable easy access for two-crore sportscars. Imagine my surprise, then, that there were no sphincter-tightening moments as the SL 55 sailed right up and across the marvel of ignorance. Mind you, this is a spot where many motorcycles have grinded their undersides, and a cause for many frayed nerves in my brain. What's more, I drove the SL 55 through pothole-ridden stretches, and it calmly navigated its way through them all. Of course, obvious care had to be taken, but I thought the SL 55 did have real daily-driver capability.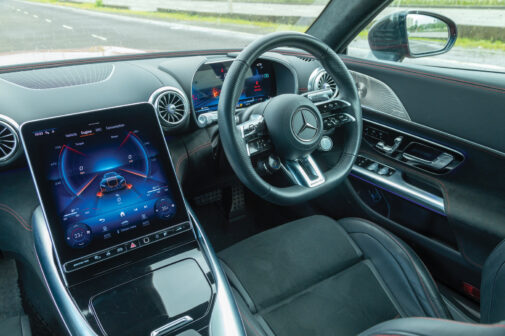 As for the features, none really mattered more to me than that V8 and the soft top. I did poke that big central screen to turn off electronic nannies and to set the car's driving modes, mostly choosing between Comfort and Sport+, while Individual and Sport were left ignored. Apparently, the SL 55's high-end Burmester sound system is quite something to listen to, but I never did. All the volume control I needed was in the paddle shifters and the throttle. Heck, the 9-speed gearbox handled the admirable task of directing that V8's power to the road so well, I didn't even notice it because I was so engrossed in what that raconteur of an engine had to say. 
The SL 55 has every conceivable luxury feature that can be fitted in a two-door convertible, and then some more. Its interior is classy and sporty at the same time, with comprehensive controls on and around the steering wheel. That central screen's angle can be electronically adjusted, though instead I'd rather Merc-AMG had given a one-touch button for controlling the soft top's operation; after all it only has to do two opposing things. As it is, I found the button annoyingly fiddly, and a great cause for concern whenever rain came pouring down. Also, when the SL 55 was launched, Merc wanted us to do a Dil Chahta Hai-type story with three friends going on a long drive in the car. But the dimensions of that rear 'seat' mean that the third person would be required to be a double amputee. That's a baggage bench, not anything else. Boot space? Aptly, enough for a pair of boots, given that the space-saver spare tyre takes up all of it.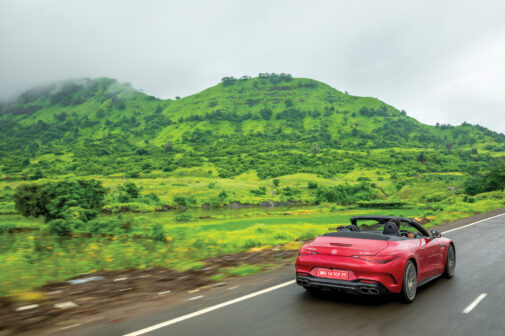 Again, none of that matters. The SL 55 is the latest descendant in a dynasty that began with the legendary 300 SL. It's the first SL made solely by AMG and is not based on any other existing Mercedes-Benz platform. None of the attributes mentioned above, positive and otherwise, matter when it comes to cars like the SL 55. Automobiles like this are all about heart and soul, and we should happily give up everything else to bask in their glow — preferably with the heart singing its guttural song and the soul neatly folded away