Toyota has just thrown a new player into the Indian MPV game, and it's called the Rumion. Now, you might be thinking, "Wait, haven't I seen this somewhere before?" Well, you're not entirely wrong. The Rumion is like that cool cousin who borrows your clothes but adds a quirky twist to each outfit – it's essentially a spiced-up version of the Maruti Suzuki Ertiga, with a handful of tweaks and nifty features to call its own.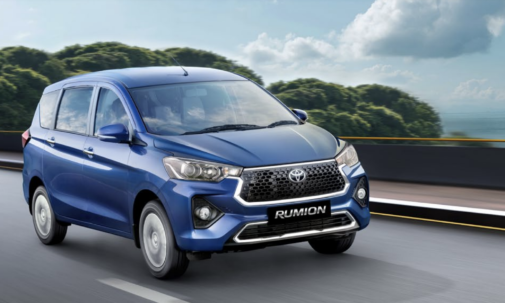 So, what's cooking under the hood? It's a 1.5-liter petrol engine, dishing out a modest 103 horsepower and 138 pound-feet of torque. Don't expect it to blast off like a rocket, but it's got enough pep to handle your daily hauls. And you've got a choice between playing stick-shift conductor with a 5-speed manual transmission or letting the car do the cha-cha with a 4-speed automatic transmission.
Let's talk flavors – I mean variants. The Rumion comes in three different flavors: S, G, and V. The S starts off the menu with basics like a 7-inch touchscreen infotainment system (Bluetooth and USB included), a rear parking camera (so you don't back into your neighbor's petunias), and good old manual air conditioning.
View this post on Instagram

Now, if you're looking for something a bit more "extra", the G variant is your go-to. This one packs a 10-inch touchscreen infotainment system that knows how to get along with both Apple CarPlay and Android Auto. Automatic climate control will make sure you're always feeling as cool as a cucumber, and hey, they even threw in a height-adjustable driver's seat because they know sometimes you want to feel taller than you actually are.
But wait, there's more – the V variant takes things up a notch. Imagine cruising down the road with a JBL sound system that could give your bathroom acoustics a run for their money. And when the sun is shining (or even if it's just pretending to), the panoramic sunroof will have you feeling like a top-dollar tourist on a road less traveled. And who can forget the leather seats? It's like driving your living room couch, but way more stylish.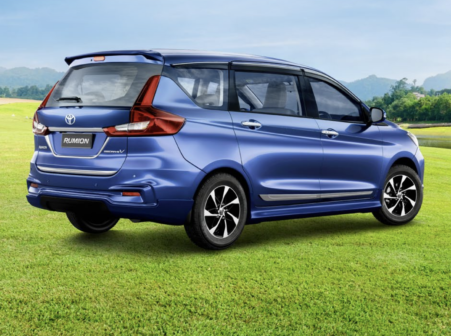 Colors, anyone? The Rumion comes in six shades: White, Silver, Grey, Blue, Red, and Brown. Because variety is the spice of life, even when it comes to cars.
Now, let's talk dough. The Rumion isn't going to break the bank, but it might give it a little nudge. Here's the breakdown:
S variant: ₹10.29 lakh (ex-showroom, Delhi)
G variant: ₹11.45 lakh (ex-showroom, Delhi)
V variant: ₹12.18 lakh (ex-showroom, Delhi)
So, what's the verdict? The Toyota Rumion is like that reliable friend who always comes through. Need a spacious ride for your entourage of seven? Check. Want a ride that doesn't drain your wallet like a black hole? Double check. It's like Toyota took a good thing and added a sprinkle of magic. So, whether you're tackling daily errands or plotting a cross-country adventure, the Rumion is here to roll. Just remember, it's not an Ertiga – it's a Rumion, and it's ready to rumble.