While Nissan may have been relatively quiet in India, it is making quite a lot of noise overseas with a bunch of electric concept cars. One such concept car is the Nissan Hyper Force EV concept. You saw it from the sides first, didn't you? It made you think of the GT-R, didn't it? We'll admit, while the Hyper Force EV concept does have traces of the GT-R in its design, it will probably elevate the name to supercar status, if it ever makes it to the production stage, that is.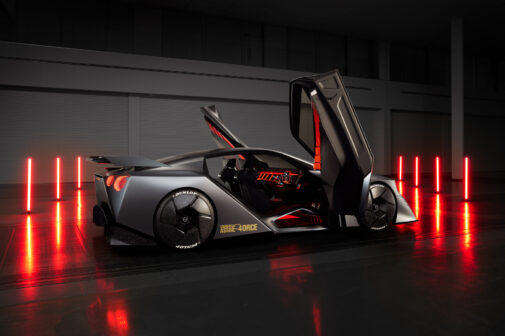 Obviously, there aren't too many details out yet, considering this is a concept car, but Nissan does say the Hyper Force EV concept gets a solid-state battery pack. It will also be powered via an all-wheel drive system, packing a mammoth 1341 horses! We can already hear the crazy wheelspins (or maybe it's just me)!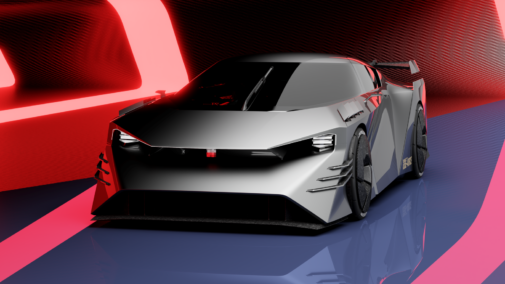 One look at the car and you know that Nissan has chosen not to play safe with its design. Instead it has been rather adventurous, featuring sharp edges, a 'stepped' front fascia, a huge rear spoiler, wide bodywork, and a solid metal finish. The interiors too are quite edgy on their own, but we'll get there in a bit. The exterior of the Hyper Force has been developed jointly with NISMO, in order to deliver high aerodynamic performance. Nissan claims that the 'stepped' front fascia offers better cooling and strong levels of downforce, while the rear diffuser is said to control airflow. The rear wing provides active aero, while a newly-developed plasma actuator is said to suppress air detachment, in order to maximize grip while attacking corners. This future super car also features lightweight forged carbon wheels, which aid aerodynamic and brake cooling as well.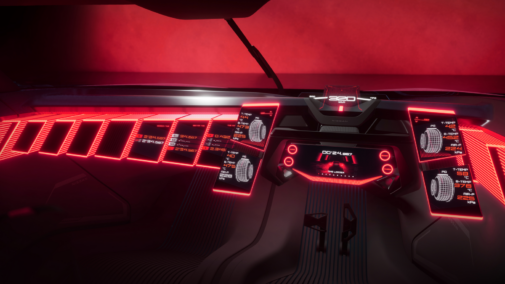 Talking about the interiors, they are nothing short of edgy! You enter via opening the scissor doors (very cool, by the way!), and you'll find the materials are made of forged carbon. The centre-console itself has been designed similarly to the exterior, consisting of squared-off edges. The steering wheel, well it's not really a wheel, but more of a edgy, squared-off yoke-type system, with two screens on either sides that come close or move away from you, depending on what driving mode you're in.
Speaking of driving modes, you get two on offer — R (racing), and GT (grand touring). The interiors receive ambient lighting which vary according to the driving mode. For example, the R mode illuminates the cabin red and brings the cockpit screens closer to the driver with information such as tyre temperature, grip, air pressure and brake rotor temperature among other things, in order to create a sense of 'concentration' for the driver to focus during particularly spirited driving. Meanwhile, the GT mode lights the cabin blue and the cockpit screens move away from the driver, switching to a simpler UI with air-con settings, sound, suspension and so on. The front seats are made out of lightweight carbon fibre and are equipped with four-point seat belts. The Hyper Force EV concept also gets autonomous driving via LIDAR sensors, along with augmented reality and virtual reality experiences when the vehicle is stationary.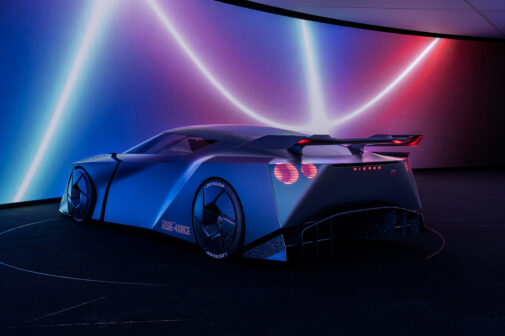 Nissan says the Hyper Force Concept EV, along with the rest of the Hyper concept lineup showcased recently, are 'symbols of the future.' However, we can't help but think that Nissan is definitely looking to prepare the GT-R for an all-electric future with the Hyper Force Concept EV. Will we see it enter production? Only time, and Nissan will answer that question. For now, we'll just let the author of this story get back to dreaming about the Skyline R34.