Bugatti, the epitome of automotive hypercar opulence and speed, has recently unveiled a limited-edition marvel, the Chiron Pur Sport Grand Prix, paying a vibrant tribute to its storied racing legacy. Drawing inspiration from the triumphant Type 51 that dominated the 1931 French Grand Prix, this bespoke hypercar seamlessly blends the elegance of the past with the cutting-edge technology of the present.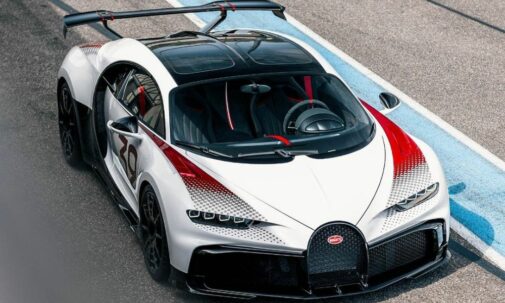 The exterior of the Chiron Pur Sport Grand Prix is a visual symphony of racing prowess. Dressed in Blanc White, it is adorned with striking Grand Prix Red accents, a homage to the iconic Type 51 livery. Racing stripes, composed of miniature Bugatti logos, grace the front fenders, extending to the rear wing, creating a dynamic visual narrative of Bugatti's racing heritage.
View this post on Instagram
Step inside, and the interior of the Chiron Pur Sport Grand Prix continues the story of performance and elegance. Black leather and Alcantara upholstery provide a sophisticated backdrop, accentuated by red detailing, including the seat belts. The '32' lettering on the door panels serves as a direct nod to the winning Type 51's race number, completing the immersive homage to Bugatti's racing glory.
While the Chiron Pur Sport Grand Prix's aesthetic journey is steeped in racing history, its mechanical core remains unchanged from the standard Chiron Pur Sport. Powered by the formidable 8.0-litre quad-turbocharged W16 engine, it delivers an astonishing 1459 bhp and 163.14 kgm of torque. The car's lightweight construction and aerodynamic design, coupled with this powerhouse, ensure a driving experience that seamlessly marries speed and precision.
View this post on Instagram
This limited-edition masterpiece stands as a testament to Bugatti's ability to weave the legacy of racing into the fabric of modern hypercar technology. The Chiron Pur Sport Grand Prix is not just a car; it's a statement of Bugatti's unyielding commitment to excellence. With its captivating design, luxurious interior, and unbridled performance, this hypercar is destined to become a treasured gem among collectors and Bugatti aficionados worldwide.