People in Coimbatore must be in for a treat this weekend as the Kari Motor Speedway will host the Grand Finale of the 26th JK Tyre FMSCI National Racing Championship. The speedway will witness races across four different categories including the premier LGB Formula 4 category. Other categories would include the JK Tyre Novice Cup as well as the JK Tyre Presents 250 Cup & the Royal Enfield Continental GT Cup for our fellow motorcycle enthusiasts.
Dominating the leaderboard in the LGB Formula 4 category is Bengaluru's Ruhaan Alva, who has raced his way to secure 52 points in the homegrown race car. Although there will still be a challenge lingering from Arya Singh, Tijil Rao and Diljith TS, together dubbed as the Dark Don Trio.
Another promising young driver from Bengaluru is destroying his competitors in the JK Tyre Novice Cup. Arjun S Nair is a good eleven points ahead of the next-in-line racer Joel Joseph.
There's stuff in house for two-wheeler freaks out there too, a gruelling three-way battle for victory between yet another bunch of guys from — yes you guessed that right — Bengaluru. Abhishek Vasudev, Jagadeesh Nagaraj and Ullas S with 29, 25 and 22 points respectively will fight it out for the Royal Enfield Continental GT Cup.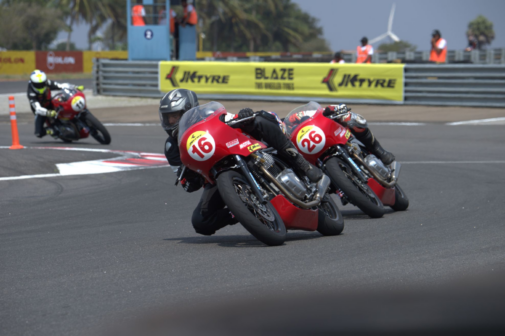 Breaking the monotony (read superiority) is Hubbali's Sarvesh Halappa, who's leading the JK Tyre Presents 250 Cup with a whopping 20 points. Though we'll get to see an intriguing battle between Abhinav G of Coimbatore and Aldrin Babu of Chalakudy, with 7 points each in their bags.
Racing buffs can catch these races live at JK Tyre's social media handles over the weekend.