Early last month, I took the KTM 390 Adventure from Mumbai to Goa and back. If you didn't read my column last month, it was a ride more wet than wild, and the 390 was left feeling like it had been put through a rough spin cycle. The most apparent sign was a chain that hung loose like a Dussehra garland. And so, a service was scheduled and off I went to Ahuja KTM in Andheri, after learning that the place was known for its high-quality work. I spent a total of three hours there and roughly Rs 5000 which included parts, and also the purchase of an extended warranty for two years or 30,000 km. At the reduced rate at which the bike's running, it's safe to say it'll be the former.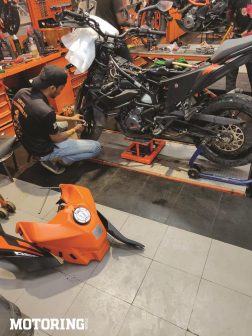 Anyway, the technician who worked on the bike was more or less a KTM robot, finishing one task after another with practised ease. He didn't mind that I was hovering around instead of sitting in the air-conditioned lounge, either. I had a list of things that I wanted done in addition to the normal service, including greasing of the steering head bearings and software updates for the ECU and the TFT screen. The things changed were the oil and oil filter, the air filter that looked like it'd been through the Dakar, a few bolts that'd fallen off on the ride, and other minor parts.
However, the software update couldn't fix the screen's newfound habit of keeping its indicator and high beam tell-tale lights permanently on. It was a minor irritant, but everything else is working fine, so I'm not too bothered about it right now. In any case, with everything tightened and lubed, the 390 now feels like a new bike. During the software update, which requires the bike to be kept switched on but not running, the technician informed me that the battery isn't holding charge, and that earlier bikes' batteries did have this problem. And guess what? Just before writing this, I went down to crank the bike, and the battery's dead. Sigh.
Logging IT Out
KTM 390 Adventure

Lightens you by:

Rs 3.63 Lakh (on-road, Mumbai)

@ktm_india #Motoring390Adv