Many peaceful nights have been ruined by our incessant bickering about how cars are better than bikes or vice versa. It gets so bad that we annually dedicate an entire issue to this topic, hoping to come to a conclusion. Happily, so far it hasn't worked. In this particular case, we decided to see which of these vehicles can get you the most pleasure on a budget — the Hyundai Grand i10 Nios Turbo or the TVS Apache RR 310. We tried comparing spec sheets like trump cards, but that didn't get us very far, so, of course, we did the only reasonable thing we could — find a twisty road and see which one bests the other.
Janak Sorap: To be honest, I don't know why we're doing this. You don't even stand a chance because bikes are better than cars. The first thing that hits you when you ride motorcycles is the feeling of liberation. It doesn't matter where you are or what you are doing because the moment you thumb the starter, you leave all your concerns behind. Fun starts right there. Nothing comes close to that feeling on two wheels. Certainly not four wheels.
Aditya Upadhyaula: Sure, liberation and freedom are great, but what do you do when you have to go back to your regular life after all that fun? I'll admit all but the most hardcore cars start with a compromise, but in my mind there's nothing wrong with that. In that sense, the Grand i10 Nios Turbo is a car that strikes a very fine balance between being a family car and a hooligan. I doubt your bike can beat it in this department.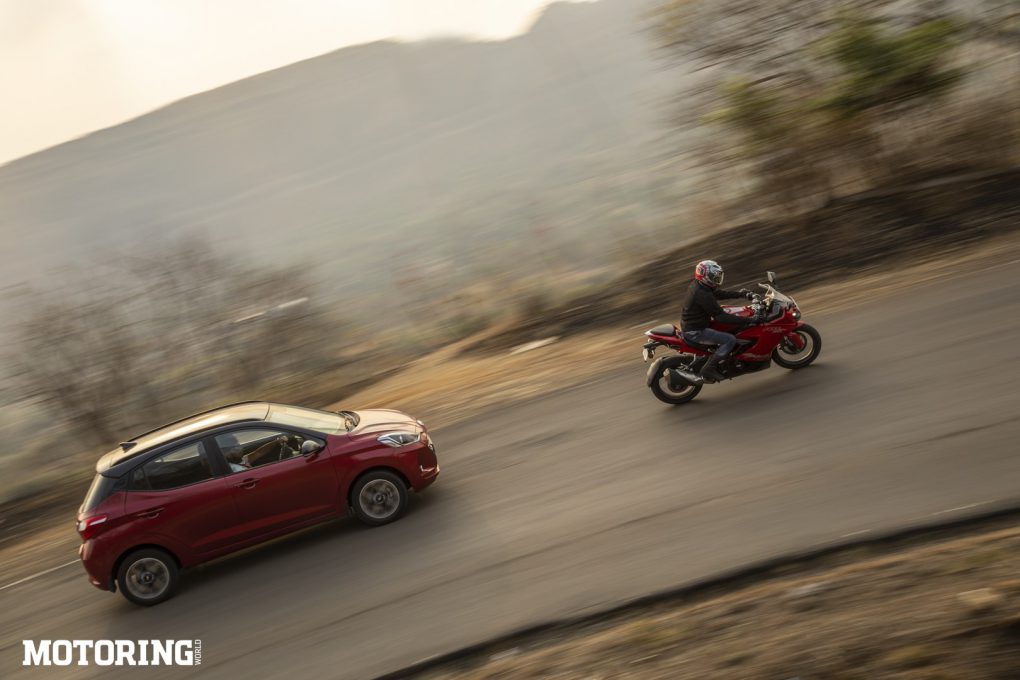 JS: I'll give it to you for the family car part, but for the latter, I think you might just be underestimating your competition. The Apache RR 310 is a supersport from TVS that was developed in collaboration with BMW Motorrad. The razor-sharp lines that form the motorcycle's fairing not only look fantastic, they've been designed to slice through the air and also to effectively channel heat away from the rider. Yes, the riding triangle is more on the committed side, but that is a good trade-off for all the fun that can be had with this machine.
AU: The RR 310 may look like a supersport, but the Nios Turbo gives you all the joy of a performance car while still looking like a regular family hatchback. It unleashes 100 bhp from its 1.0-litre three cylinder turbo-petrol unit, which may not sound like a lot, but you're forgetting just how light the car is. With a slick-shifting 5-speed manual transmission, the Nios can hustle. As with most turbocharged engines, response is lacking down low in the rev range, but as soon as you're past 2000 rpm, you get a surge of torque that you can ride all the way to the redline. If you're not careful with your right foot, it will even squeal the front tyres. I'd like to see you try to keep up with this on an open stretch of road.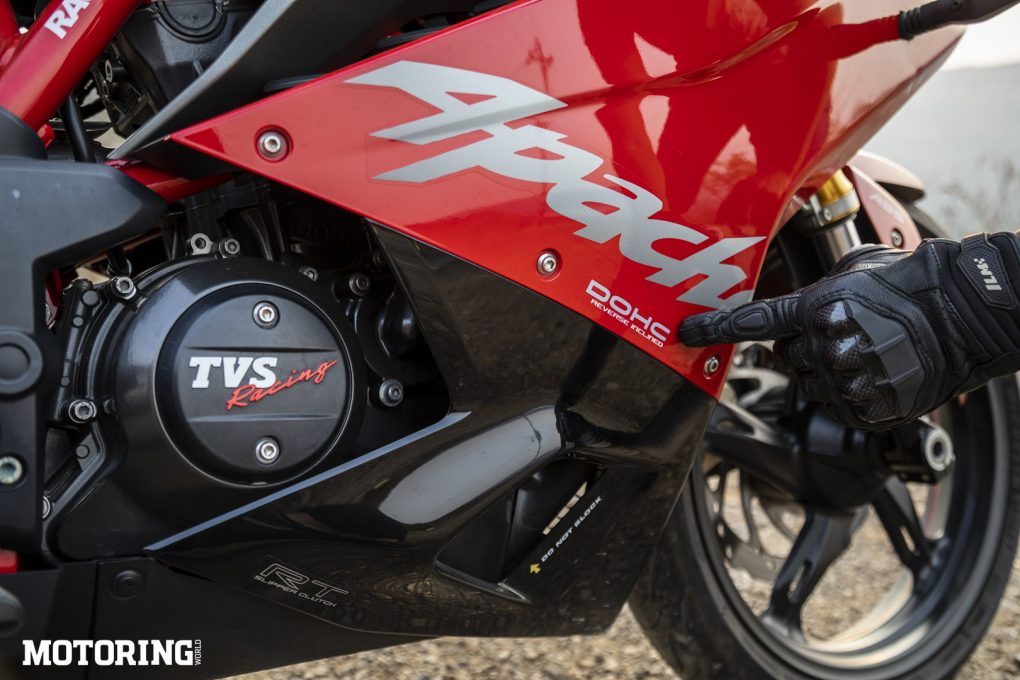 JS: TVS is one of the few manufacturers out there that conducts a one-make championship with its motorcycles, with the RR Cup being the newest addition to that repertoire. The Apache RR 310 is a result of the brand's learnings at the track that have been distilled for street use. And by learning, it has a good 35 years of excellence in racing under its belt. Say, does the Nios Turbo come with driving modes? The RR 310 comes with three. With a kerb weight of 174 kg and a high-revving 312cc motor that belts out 33 bhp, we are talking about a seriously good power-to-weight ratio here. Top speed is merely your consolation prize, because you don't stand a chance in acceleration. From the moment you dump that clutch, in Sport mode, the RR 310 can catapult from 0-60 kph in under 3 seconds and it keeps pulling beyond that. The surge of speed is frantic and urgent in nature. Off the line, while the Nios is turning those front wheels into smoke, the RR 310 will be long gone!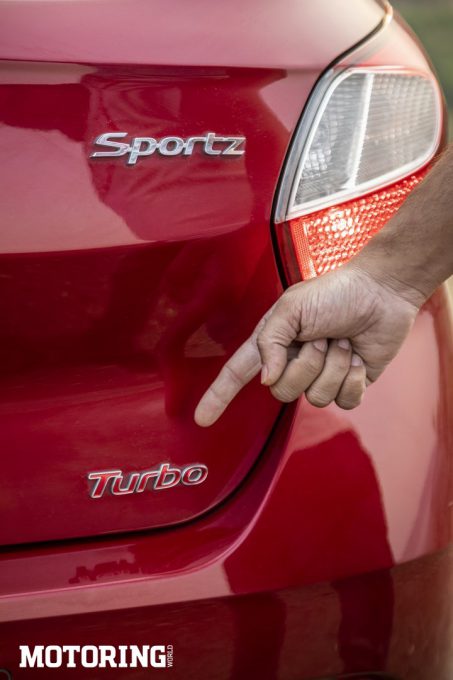 AU: Okay, maybe power-to-weight works to your advantage, but I've got four large, sticky patches of rubber in contact with the tarmac. I'm sure I can both out-brake and out-corner you. Sure, the Nios Turbo doesn't have the most planted suspension, but that's what makes it a proper riot in corners. If there's one thing about this car I would change, however, it would be its steering feel. It's not the best at telling you what the front wheels are up to. Regardless, the Nios Turbo still handles better than other cars in its class. Turn-in is sharp and mid-corner adjustments can be made with only the throttle. Running a little wide into the corner? Just back off the throttle a little and the car slots right into the racing line. Believe me, you'll be looking at my tail-lights as I streak away from you in the twisties.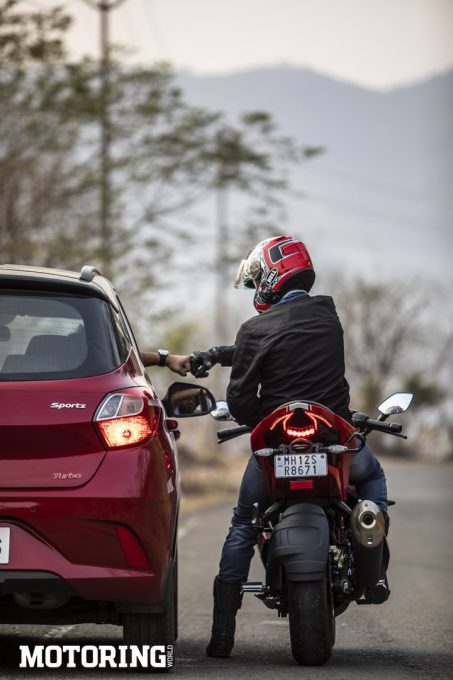 JS: You do have the advantage of two extra contact patches, but I can very much lean into corners. The sticky Michelin Road 5 tyres along with the premium suspension bits keep the RR 310 on the intended line like glue, inspiring confidence to carry more speed as I attack that apex. The engine is a reverse-head configuration that keeps the overall mass centralised, which is why the RR 310 is a natural at tipping into bends and filtering through traffic. I would elaborate on that last bit, but you'll have to catch me first.
AU: And what about creature comforts? The Nios keeps me shielded from the elements and it does so in style, too. When I'm not enjoying the soundtrack of its turbocharged engine, I've got a fully-featured music system with the latest connectivity options as well. Oh, and I don't have to choose which of my friends I can take with me!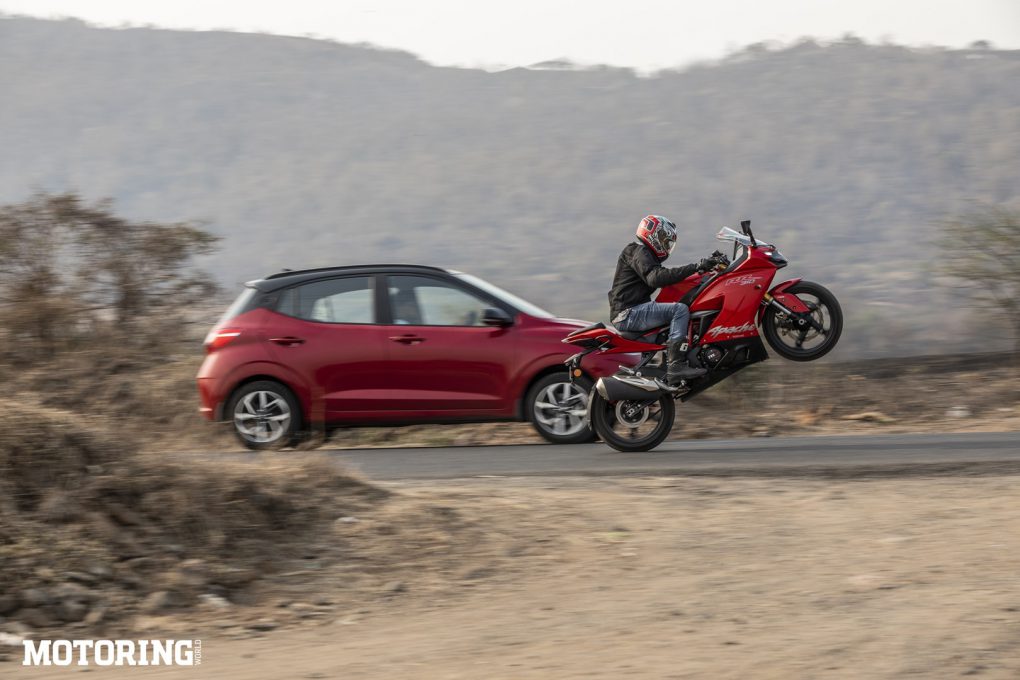 JS: Okay, I'll let you have this one. Creature comforts are a factor when it comes to cars, but it's mainly the air-con that matters, and I have got to agree it's dearly missed when it's baking hot outside. But we have a solution for that as well; a good twist of the right wrist and the wind passing through your riding gear whisks away all that sweat and fatigue in no time.
AU: Okay, before we devolve into bickering again, let me tell you that the Grand i10 Nios Turbo is the most fun you can have on four wheels for under Rs 10 lakh. I'll guarantee, anyone who drives it will come back with a smile on their face. If the Apache RR 310 is as fun as you claim it is, maybe there's room for both of them in a discerning enthusiast's garage?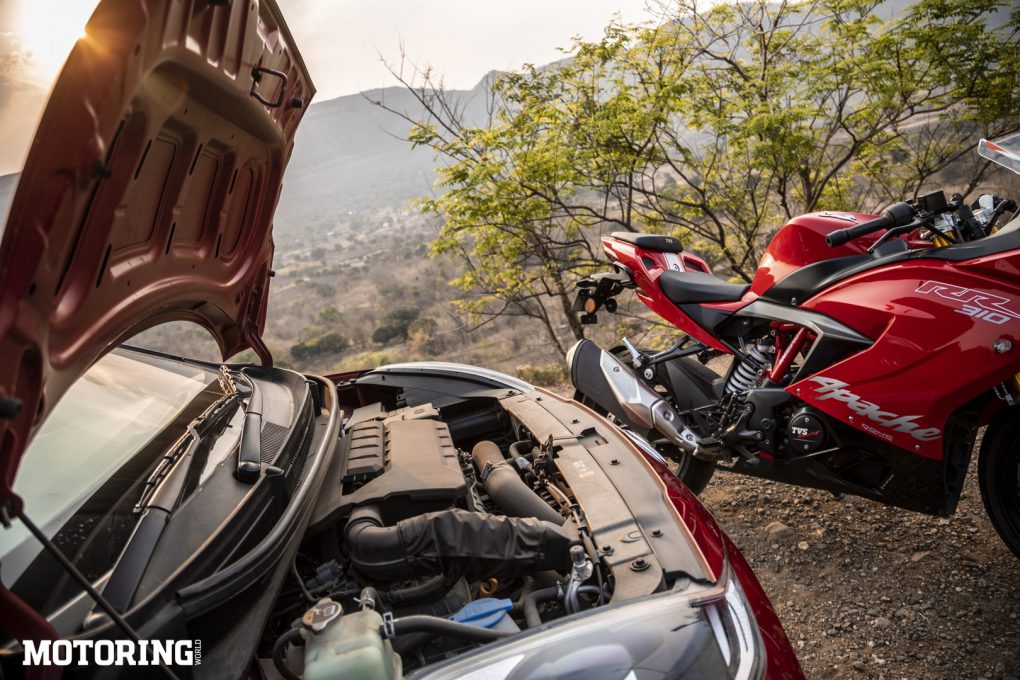 JS: Not that I am any closer to considering that cars are better than bikes, but the two machines here, they strike a different chord, not against each other, but for their own kinds. They are machines that appeal to those who are passionate about driving and riding. They are also sort of underrated for what they are, and that's a plus in my books, too. If I had to choose a car and a bike to live in my garage, the Grand i10 Nios Turbo and the Apache RR 310 would undoubtedly be my picks.