Murphy tried his level best to rain on our party, so we let him. Little did he realise that rain is exactly what we wished for on the one day in our calendar when we're allowed to be as filthy as our imagination will allow. Yes, it's our hallowed Bike Slush Fest and it's back after two years, having missed the 2014 run thanks to incompetent co-ordination (mine, mostly, I must confess and duly apologise for). The machines this year have only gotten bigger and, on a not-so-bright note, so have the riders. It still is the perfect recipe for making a big splash and washing our dirty linen in public, however, and you'll just have to bear with the awful puns and dry humour (here we go…) for the next few paragraphs.
THE PLAN
Heavy Metal
What Murphy didn't let us have are motocross bikes, something we've been wishing to see on sale in India since as long as we can remember. But relentless in our pursuit of off-road thrills, we brought along every motorcycle in our long-term test fleet, from the Honda Livo and CB Unicorn 160 to the Yamaha FZ V2.0 and Suzuki Gixxer and, finally, the R15 V2.0. Pure genius, don't you think?
Main Course
We look for two things when picking a course for our motorcycle Slush Fest. Firstly, it has to be challenging enough to make every entry feel out of place. Secondly, it doesn't have to be motocross-hard or else we'll be spending all day picking up our scattered bones, along with a handful of broken motorcycle components. Places like these are, fortunately, still easy to find barely on the outskirts of Mumbai and we were quick to snap up one such venue before the real-estate folk could lay their eyes on it. Acres of green pastures, not a human being in sight, a rocky stream, natural landscaping at its best and enough slush to warrant seriously high laundry bills — that's exactly what we found.
Point Blank
All the motorcycles you see here are bone-stock. No modifications are allowed, which means each of these machines run factory suspension and, most worryingly, road-spec tyres. That's where the real challenge is, really, and that's always been the point of the Slush Fest anyway. To say that you can have as much fun, if not more, on your everyday motorcycle off the road as you can on a purpose-built off-roader. To prove this, we have a set of tasks to complete, all of which largely involve looking really silly on camera. Here's how the machines performed.
Yamaha FZ V2.0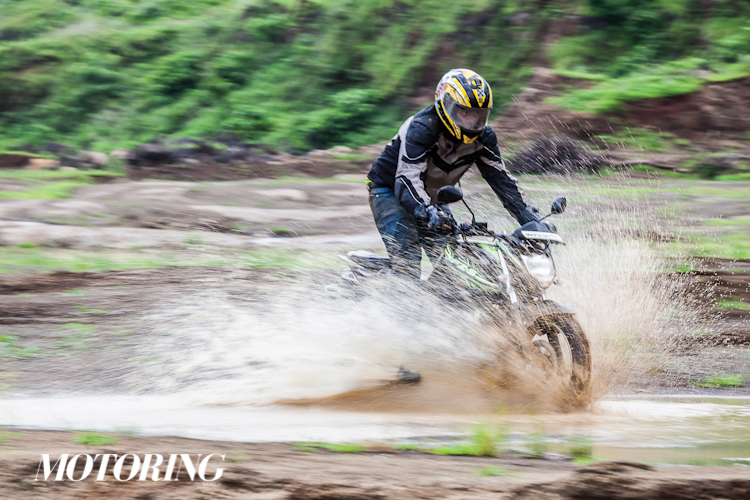 Waterway To Start
The first challenge is to wade through a long-ish water body. The rudimentary method of tossing a stone into it to gauge its depth wasn't much help, so leaving it to fate, I tipped the front wheel in. 'Haven't drowned yet,' I tell myself, and open up the throttle. The base of the pond is even, but there is the odd rock and dip, enough to throw us off balance. Nothing happens. A steady open-shut movement of the throttle sets the momentum and after a mild struggle with the handlebar, we're through to the other side. It's all quite amazing, especially from the saddle perspective. There's more in store, of course.
Figure This Out
'A figure of eight? Ha! Easy!' I say, not expecting the wave of impending exhaustion. The FZ, thankfully, is the tallest of the lot here and with a wide handlebar, it makes what resembles a figure of eight with commendable ease. The caked tyres are definitely not at home, but the FZ is controllable, beautifully so, even. It tips really low, the wide contact patch making up for the lack of outright grip and it really is quite a lot of fun. My healthy lifestyle (its conspicuous absence, rather) rears its ugly head, however, and very soon, I'm out of breath. And it's not even over yet.
Jump To Conclusions
You've heard the term 'flying finish', right? This one's exactly that, with a 'yump' to cross the finish line with. With not enough traction to build up momentum and a rather abrupt ramp, it all looks too scary. And it is, indeed, frightening since the landing ramp is another small pool of water. The FZ builds up just about enough speed, thankfully, and we're flying. It's barely anything in real-world time, but I can see it (and my life coming to a premature end) in slow motion. Not the most spectacular of jumps of the day, but its stability earns it brownie points. Got to do something about that fear of flying, though.
Suzuki Gixxer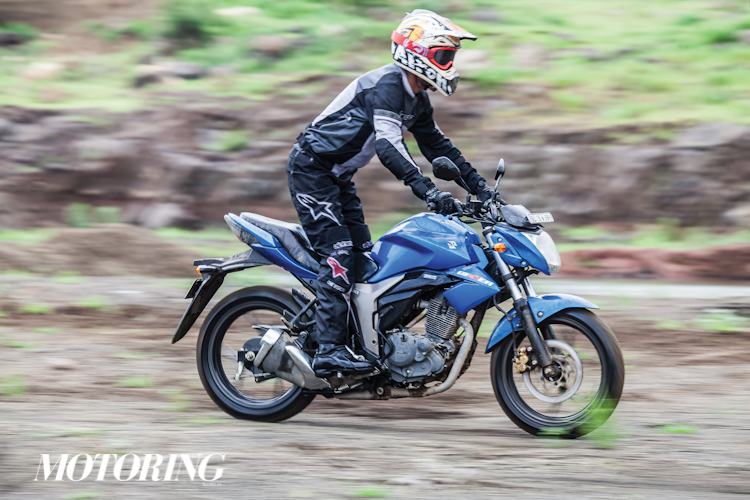 Waterway To Start
Sherman's astride the Gixxer and he seems confident. He ignores camera-wielding Kartik's best attempts to get him to stand on the pegs, though, and before we know it, he's taken the plunge. Still on two wheels, thankfully. Reminds us of those Bollywood lasses riding scooters in TV commercials, the way he wobbles through. If you think the Gixxer looks good on the road, wait till you see it submerged engine-deep in murky water. It's just so good-looking and, fortunately, just as capable. Without much of a struggle, the Gixxer's over to the other side as well.
Figure This Out
Well, that's what we asked our resident shutterbug to do. So he went ahead and did what seemed more like a figure of eleven. In the name of investigative journalism, I had a go and expertly low-sided it, falling over all too quickly. No damage done, I picked up from where we lost track (sorry…) and it turned out rather well, counter-steer coming naturally to the Gixxer thanks to the wide handlebar. It wasn't as planted as the FZ, its tyres giving away a bit easily. But a blurry figure of eight wasn't all that hard at all. This bike really is fun, on the road and off it!
Jump To Conclusions
The Gixxer is utterly lovable for being so fun to throw around but for a change, it was time for a role reversal — it had fun throwing us around instead. Not sure it thinks we're as loveable, though. The handlebar isn't as tall or wide as the FZ's and this posed some difficulty in setting up for a jump. Still determined, the Gixxer gathered steam quickly enough although the fork did take in its stride a pounding as we hit the ramp. It took off just fine, I'm happy to report, and it landed just as well. What's the Gixxer not good at, we wonder!
Honda CB Unicorn 160
Waterway To Start
First to go was Ashok. And no, I meant just him, without a bike. The Unicorn, ever since its inception, has always been a rather enjoyable mud-plunger and the new 160 retains that character. Once Ashok is done checking his iPhone for the 284th time, he springs back into action astride the Unicorn and its commuter-ish stance poses no problems through the water. The more upright the better, it seems, as the Unicorn proves its mettle wading through in one shot, its engine sounding entirely unstressed. Can't say the same about Ashok, though.
Figure This Out
I fell head over heels in love with the Unicorn and then I simply fell head over heels. In my very first attempt at figuring out the eight, I only so much as dabbed the rear brake before both wheels locked up, launching me off the seat in an instant. Honda's combi-braking system was the culprit here and following the lowside, we solemnly vowed to stick to first gear and go nowhere close to the brakes. That seemed to have fixed the Unicorn's ability to donut and it proved once again that deep inside, it has the soul of an on/off-roader, waiting to be unleashed. Wish someone would bring it out in the open someday. And call it 'Impulse'. Oh, wait…
Jump To Conclusions
It's a natural! Ashok, who is a certified pilot (we wouldn't vouch for it), put his flying lessons to good use as he hit the ramp at what looked like at least 80 kph and did a Steve McQueen number as he flew nearly a mile, until he landed front-wheel-first (glad he doesn't fly commercial jetliners). Quite a scare that was, but a spectacular one! The Unicorn's suspension responds brilliantly to even the harshest of surfaces and it just doesn't lose composure, no matter what terrible idea envelops you. Drop the combi-braking nanny and it's nigh on perfect.
Honda Livo
Waterway To Start
The Livo had the advantage coming in, right from the start, thanks to its lightweight stats. What it lacks in horsepower, it gains in manoeuvrability and that's half the battle won. Raunak, not surprisingly, had a blast riding the Livo and for the brief instance in which I hoodwinked him into letting me ride it, so did I. It went through the pond easier than everything else, especially because at any point, a tug at the handlebar was enough to pull it out of the deep ruts that had by now formed at the base. Simplicity works best, especially in greasy situations. There's a life lesson thrown in for your benefit!
Figure This Out
Quite reminiscent of the CB Twister, the Livo is simply a hoot to throw around into a figure of eight. Easy to tip in, aided well by its gentle power delivery on the way out, the Livo proved to be just too much fun around the slushy figure of eight — well, whatever was left of it. The narrow dimensions made the Livo as close to a motocross bike as we could have had and we're seriously considering giving it some knobbly shoes so we can hone our absentee skills on it regularly.
Jump To Conclusions
Light weight plus gentle power delivery is exactly what you need when attempting a jump, more so when you have road-spec tyres to land on. The Livo has just the right ingredients and it didn't come as a surprise that each one of us took a number of turns trying to get big air on it. That only few of us managed is a different story altogether. The suspension did a fantastic job of absorbing the impact, too, and with the right tyres and a few mods, it can be an excellent learner-class MX machine.
In The Deep End…
We realise the R15's still on the other side and someone's got to get it. Someone, as the pattern emerged over the rest of the day, was usually me and very reluctantly, I swung a leg over the R15. Not knowing what to expect, I rolled ahead, the R15 not showing any signs of trouble at first. The front-heavy stance proved a bit much for the R15, though, and soon enough, I was struck by that sinking feeling we know as, er, sinking. The others decided to be of quick assistance by pretending to look away, but they did jump right in soon after and gave it a hearty push, propelling it out of the soup I had landed it in.
Figure This Out
Funnily enough, the R15 redeemed itself most spectacularly in this section, its oddball ingredients somehow finding an advantage. The clip-on handlebar helped put crucial weight on the front end, while the rear end was taken care of by the rev-happy motor's quick responses to throttle inputs. It felt most dramatic (it looks it, too!) exiting each apex of the figure of eight, although tipping it in wasn't quite easy. While we haven't gotten our heads around powersliding big, faired bikes around a racetrack, this comes pretty close. Cheap thrills!
Jump To Conclusions

I'll admit we're not bright enough to see that the R15 doesn't really belong here, but that wee bit of sense prevailed when it came to the jump. It probably came more from the love of our limbs than mechanical sympathy, but one way or another, the R15 remained parked in the distance, looking rather glum. Still, better glum than battered, we think. Accept our due apologies if you came prepared with a tub of popcorn.
WATER WIN!
Honda Livo: Yes, it's the weight advantage that did the trick for the Honda Livo, but its relative lack of grunt didn't let it bog down either, so it's a fair win. The Livo's easy manoeuvrability means even if you head out riding solo, you can pull it out of a sticky situation yourself, well before man-eating animals get a whiff of you. And it'll still do 60 kpl through all of it.
Yamaha FZ V2.0: The one that's set up closest to perfection, whether by intent or chance, is the Yamaha FZ. Its weight becomes an advantage in the form of added stability, its tall stance keeps it from slipping away from between your legs and the wide handlebars (this is the intent bit) offer excellent leverage most crucial to dramatic powerslides. It'll make you famous on social networking sites, that's for sure.
JUMP THE GUN
Honda Unicorn: Perhaps the most tricky and easiest-to-get-all-wrong section, the jump proved to be light work for the Honda Unicorn. Praiseworthy suspension, a torquey motor and an easy-to-ride stance make the Unicorn delightful to jump and it will land just as handsomely, too. Just don't touch the brakes…
AND THE WINNER IS…
In terms of overall feel, the win would have to be a tie between the Honda Livo and the Yamaha FZ. Both add up to even scores on the points tally, but looking beyond the numbers, either bike has what it takes to be easiest to adapt to in conditions as tricky as these. The Livo is basic but fun and the FZ's supermoto aspirations give it a similar advantage over the other motorcycles you see here. Congratulations, Honda and Yamaha! Wait, where else have we heard that before?
SLUSH CAUTION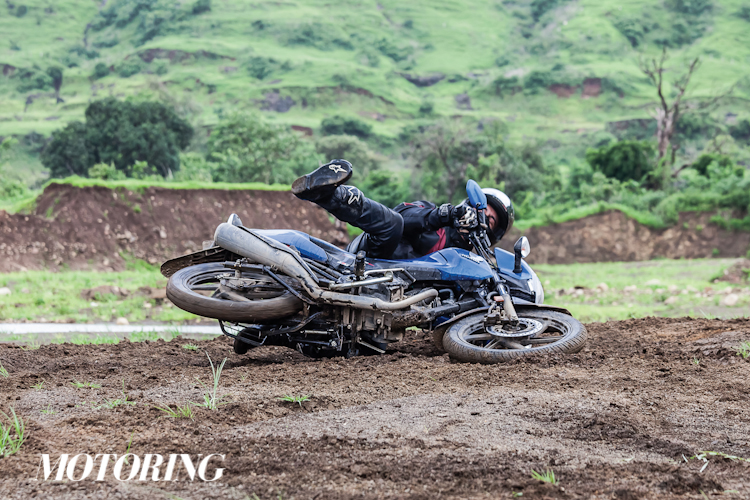 We're sure you're tempted to try this out with your riding buddies and it's easy. Here are a few pointers that will make sure your day out getting dirty is safe, fun and rewarding. Discard whatever components of the bike add unnecessary weight. If you're removing mirrors, however, make sure you carry them along in a backpack since you'll need them on the ride back home. Ensure you are well-armoured. Rain gear is a good idea, but even the best of it can't really keep water out for too long. Carry a spare set of clothes in case it gets too chilly! Carry a tool kit. It will help you make minor adjustments and also in the removal/tightening of crucial components that may otherwise prove to be an irritant.
How fast you go is your call, but first-timers will do well to start at a slower, gentler pace. Also, watch out for rocks that can easily leave you with slashed tyres. Off-roading is fun but without care, can prove seriously dangerous. Be sure of your course and don't take risks you'll regret while biding away time in the service bay or casualty ward. Most importantly, have a good laugh every time someone goes down!