Historically, whenever a bullet met an ambassador, it was seen as a casus belli, an act that provokes war, and headlines erupted all over the world. In this story, though, the war bit is limited to these machines' fight against time and obsolescence. Until not too long ago, these two connected one corridor of power to another. Indeed, both were symbols of authority and government, and both did a far better job of it than their users. And if we can have various national symbols, why not a national motorcycle and a national car of India? Then again, the Royal Enfield Bullet 350 and the Hindustan Motors Ambassador already are those, jacks-in-office be damned forever.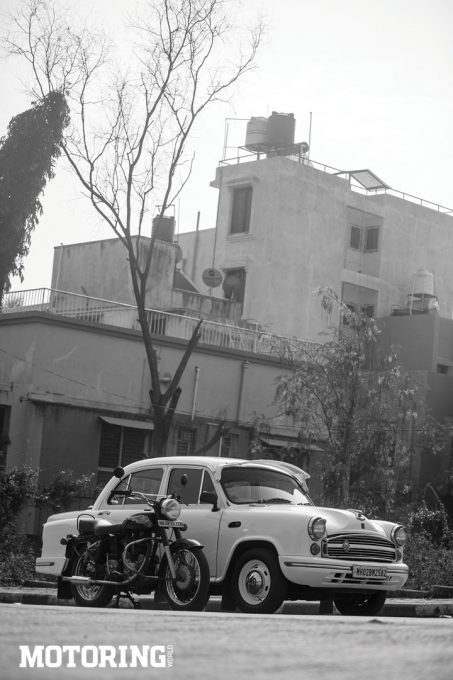 Inescapably, as with most old Indian things, both the Bullet and the Ambassador have British origins. The motorcycle, made in India from 1955 to 2010, came from the Indian army's need for motorcycles and that percolated down to police forces as well. In time, it also allowed yuppies to reach Ladakh, prayer flags and all. The car, made in India from 1958 to 2014, is something that boomers and millennials alike are familiar with. In 2017, HM sold the Ambassador brand to Peugeot S.A. for Rs 80 crore, though I'm not sure if it's possible to put a price on the goodwill earned by the car over its long lifetime.
Over decades, the Ambassador found beacon lights of various colours on its roof. In other cases, it found taximeters on its fenders and dashboards, mechanical at first and then electronic. White-gloved chauffeurs opened its doors somewhere posh, while sweaty taxi drivers made its latches groan under the weight of crammed people before careening through a crowded street. And both probably crossed each other on their way, too. Such was the car's permeation that an elegant, refined Ambassador could be found right next to a creaking, tired one.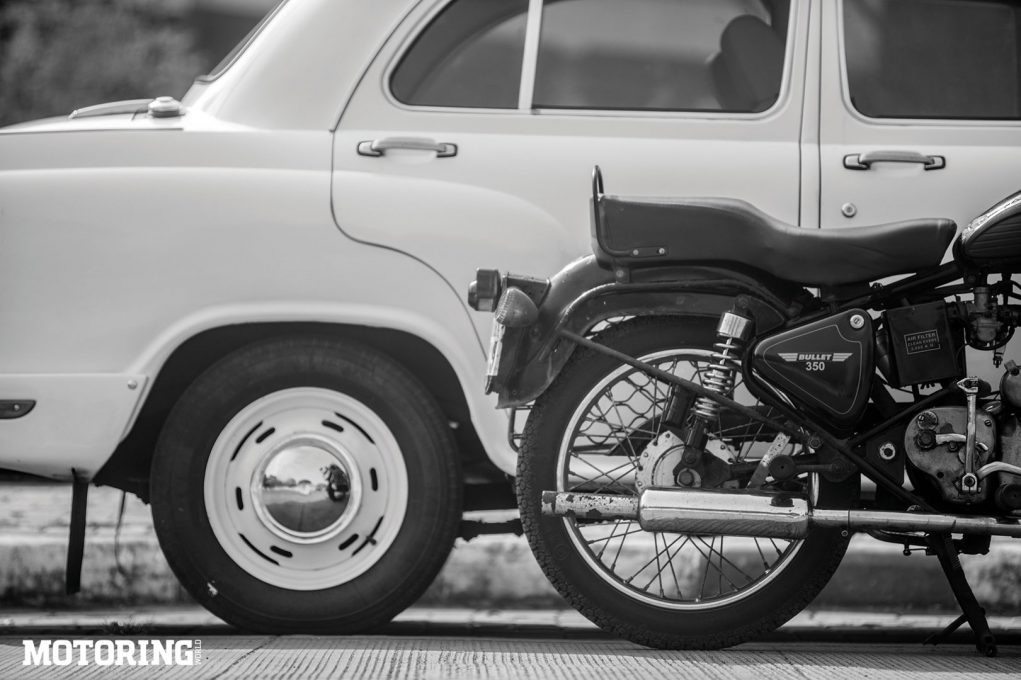 The Bullet is a similar story. It was found in every conceivable scenario, from patrolling borders to dropping kids off to school to setting records at Republic Day parades. And of course, with the Ladakh warriors I mentioned before. If the Ambassador was everywhere, the Bullet was even more so. But there is a difference between the two, one that explains why the car isn't a regular sight today — the Ambassador is not a motorcycle. There is a reason why every single town and city in India has a specialist 'Bullet mechanic', and this makes sure even old bikes keep running. Somehow, people seem to hang on to old motorcycles for far longer than old cars, no?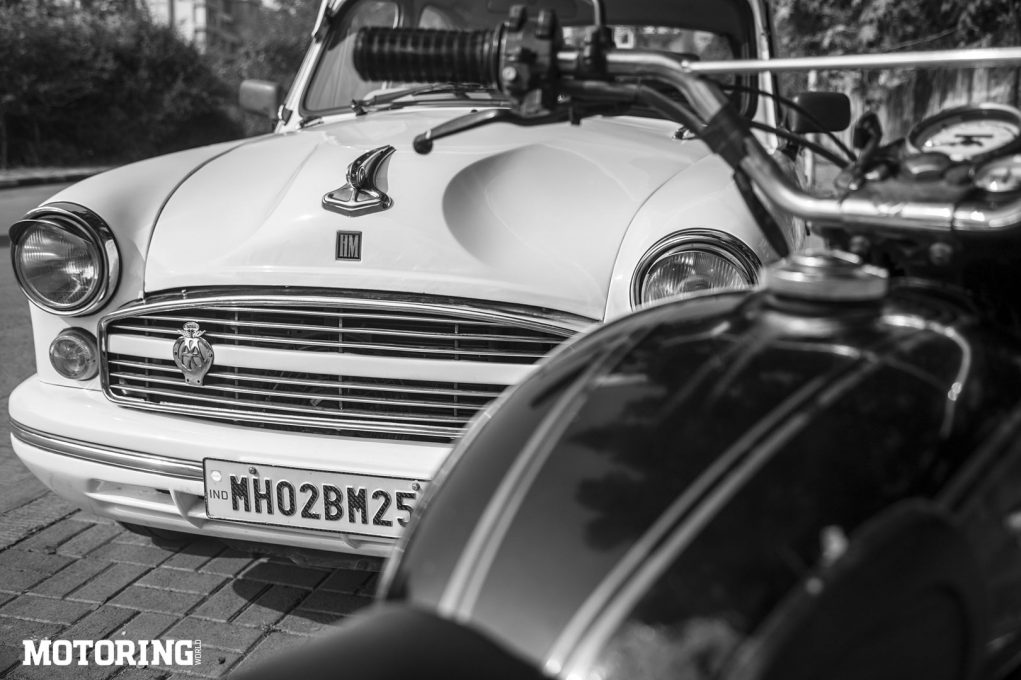 Both machines were once made near Chennai, Tiruvottiyur for the Bullet and Sriperumbudur for the Ambassador, though the latter was also made in Uttarpara in West Bengal. Protected by pre-liberalisation norms, both machines had stellar production runs, too, with 56 years for the Amby and 55 years for the Bullet, and both have also been the subjects of many an inevitable iterative experiment. Their popular longevity also explains why and how they've taught entire generations the virtues of mechanical patience and empathy. British engineering of the time coupled with Indian nonchalance for quality guaranteed lessons learned the amusingly hard way.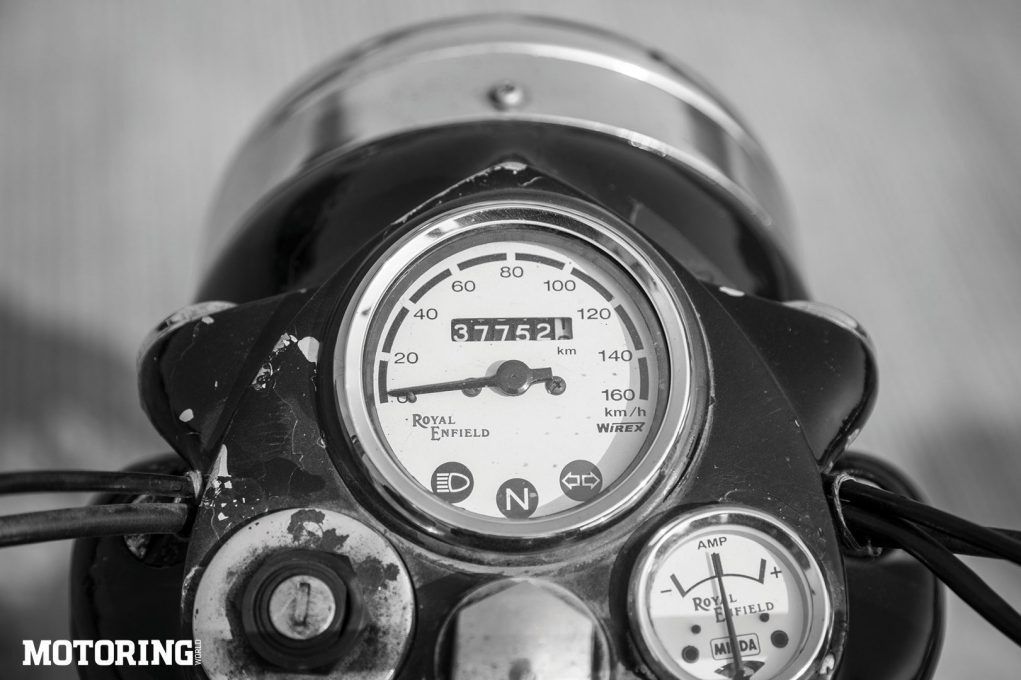 Look closely and you'll see the similar bowler-hat shape in the Amby's wheel arches and the Bullet's rear mudguard. A classic peashooter exhaust complements the metal hubcaps, while any photo of the two only shows elegantly rounded metal. The Amby is a prized restoration and the Bullet is a daily runner, but both show the wonkiness that comes with age. A few things are bent, a few gaps exist, and both are a nitpicker's dream. Although, now I'm not so sure that it's age at work here; both companies were famous for ensuring that even successive machines off their respective assembly lines felt entirely different.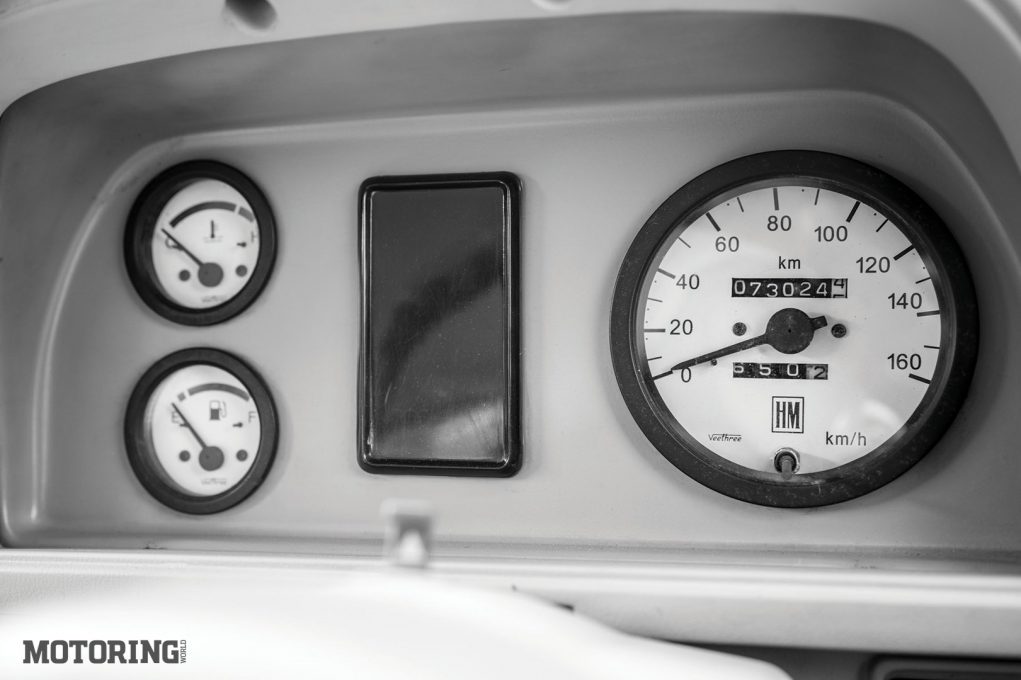 This inconsistency in quality was perhaps what ensured that the Ambassador and the Bullet came with what felt like built-in biometric recognition. Owners had to get really, really familiar with their vehicles to the point where it appeared as if only they could start and run them. And when one of these finally changed hands, most owners couldn't gel with them and this led to these machines being called unreliable among other colourful things. But it's not that difficult, really.
A decompression lever helps with starting the Bullet, though 'helps' might not be the right word for those not used to it as our Varad More found out. He also discovered that the Bullet's drum brakes cannot really use the word 'brakes' to describe themselves. These aspects are what greatly build character, something I've spent most of my childhood learning. Once a Bullet is started, the rider learns that the gearbox has more neutrals than Switzerland's population, and that the neutral finder lever is wholly unnecessary. Or perhaps it's there to find the correct neutral, which may be required from time to time, usually when the bike stalls exactly as traffic lights turn green. And yet.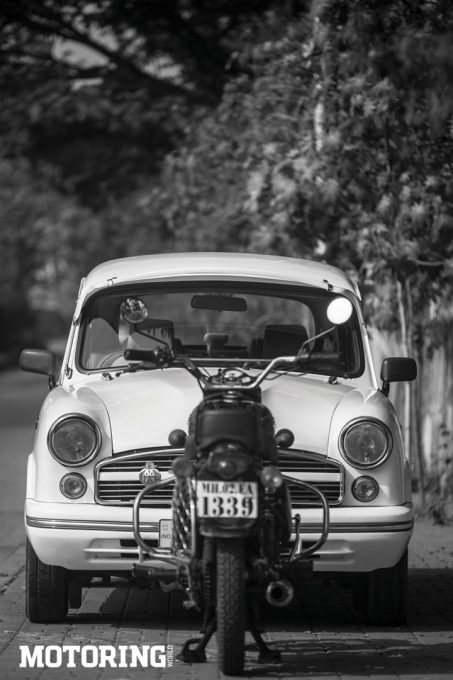 At idle, it sounds like a jazz band performing unhurried soundchecks. That ancient piece of long-stroke engineering takes its time to get up to any speed. It likes gentle throttle inputs best, but even those have to be firm. Let your ears turn into tachometers, realise that this is still one of the best-sounding engines on the planet, and use said earometers to maximise the music through the first three gears. Hit fourth and the revs fall off a cliff, and seem to settle in mid-air floating with a realisation that a Bullet's speed is measured not in numbers but in zen. Of all the bikes I've ridden so far, the Bullet remains one of the most meditative.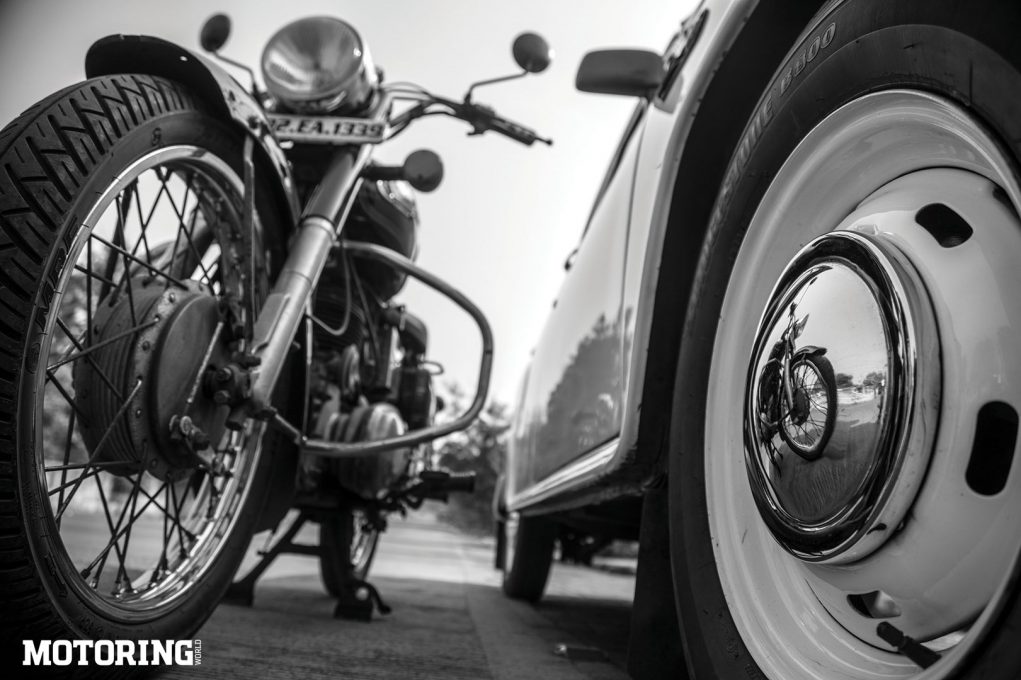 You ride it in consonance with its surroundings, tuned in to everything. And it's still a comfortable motorcycle, too. I did a non-stop Pune-Mumbai run for this shoot, and only occasional readjustments of the posterior were required to keep going. Ride quality is still great, too. In fact, stopping was the only worry I had and it was one I briefly shared with three goats who suddenly bounded into my path on a downhill road. The outcome was favourable for all parties involved, though I nearly made a stop at the next RE service centre to fit a front disc brake. No such problems with the honourable Ambassador, though.
The Amby shares geriatric engineering with the Bullet, but like its two-wheeled counterpart it also offers great ride quality and comfort. It still wafts over roads, and rear-wheel drive makes it a lot more entertaining than its dignified appearance might suggest. This being the Grand version features the updated interior with air-conditioning and more modern steering wheel, dashboard and seats, and fibreglass bumpers, but that's like trying to wallpaper a cave. You're not going to hide anything, really, but air-conditioning is definitely welcome.
It terrifies me to inform you that the Ambassador once came with a 37-bhp diesel, though this one had the 1.8-litre 75-bhp motor sourced from Isuzu, and is the only kind of Ambassador I've ever driven. I am eternally thankful for that because at one point in India's history, this made the Ambassador the fastest production car in the country. I'm sure someone measured its top speed to make that claim, but I wouldn't attempt it. Like the Bullet, the Amby is made for chill scenes, cruising on highways at a well-earned 100 kph. And more importantly, it stops well, too. Handling-wise, there isn't much to brag about with either, except that the car leans the wrong way in corners. What may or may not be funny is that sometimes the bike does, too.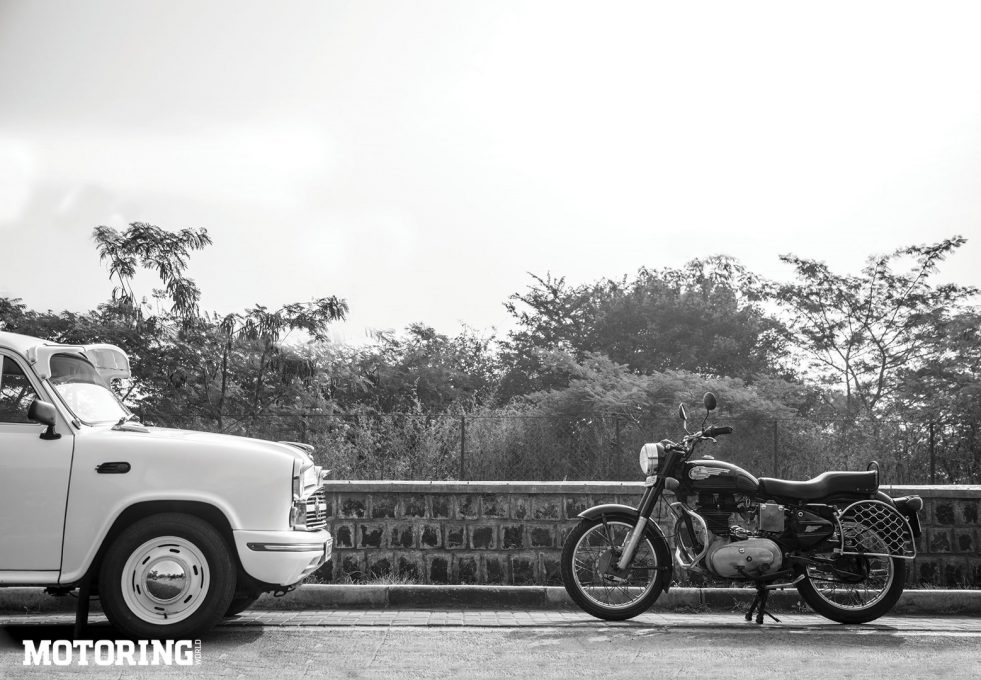 Between them, the Bullet and the Ambassador carry a century's worth of nostalgia. They seem to be two- and four-wheeled manifestations of the same idea, but no one knows what it is. So much time and so many stories later, I doubt anyone ever will. But the fact will remain that they shaped India's history in more ways than one, and that has an undeniable effect on our future. The Bullet, in all likelihood, will continue in one shape or another. On the other hand, I think it's safe to say we've said our goodbyes to the Ambassador as it was, before it may or may not make its return as an electric car under Peugeot. In any case, Indian automotive nostalgia does not get better than these two. Put them on our passports already.
[This story originally appeared in our January 2020 issue]