Life would be utterly boring if we weren't able to do things that we enjoy doing, right? You may have all the things in the world, but if you can't spend time and enjoy it, you are no different from anyone who is deprived of it. And when I say this, it isn't only the big things that will fill you with joy, happiness, or peace. Now, it isn't mandatory that things only on a grand scale will provide you with fun. On the contrary, it is the smaller, and simpler things in life that have the ability to strike a chord that resonates much deeper, providing a much higher level of gratification.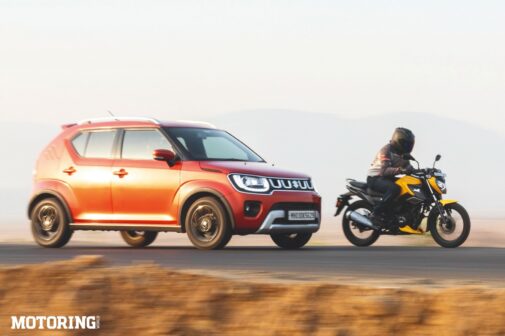 In a similar scheme of things, cars and bikes have been my passion, and I have been lucky enough to have got the opportunity to ride, and drive, some fast and exotic machines. From top-speed runs to achieving that fastest line out of a corner, it undoubtedly has been a lot of fun. But, to experience this kind of fun, one can, and should, only practice doing it in a controlled environment, like a closed circuit or a drag strip. The honest reason is, exotic machines are capable of exotic speeds, one mistake and you are in for some exotic damage. That said, wouldn't it be nicer to experience the same level of fun and engagement in a much simpler form? We have picked two machines, which in our opinion, are the best examples out there.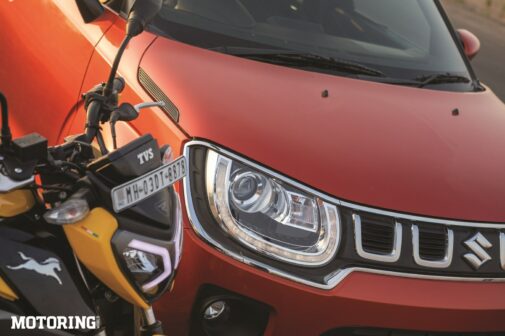 The Maruti Suzuki Ignis and the TVS Raider have absolutely nothing in common. Well, other than the fact that they are somewhat oddballs, in their respective positions in the market. One is a hardcore hatchback, but is marketed as an urban SUV by its makers. Why's that so? Because everyone wants that SUV tag, I guess. The other is marketed as a premium commuter, but packs the kind of performance that will give motorcycles in the next bracket a run for their money. While the Raider has been crowned the Indian Motorcycle of the Year, for 2021, the Ignis should have been the Indian Car of the Year when it was introduced, if you ask me.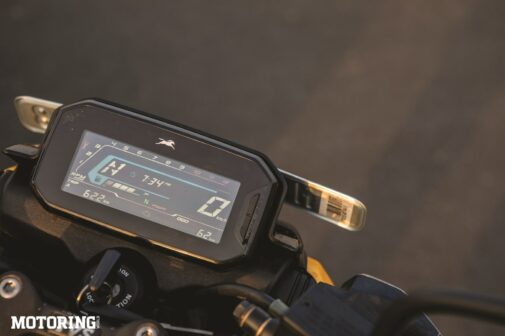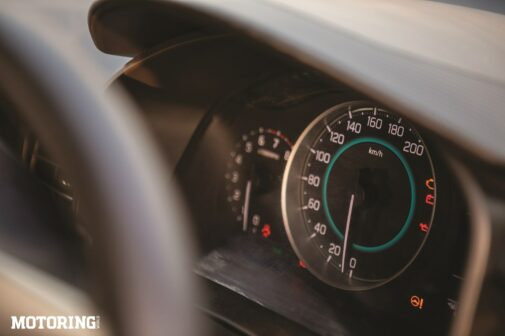 On the outside, both vehicles have a very quirky design approach that is different from the other machines they share the segment space with. And it is a good thing. To be different, one needs to stand out from the rest to be noticed. Because once you do and take a spin on either of these vehicles, you will be smitten by it in a mere five minutes. It is something that I can assure you of, as not many machines are capable of doing so.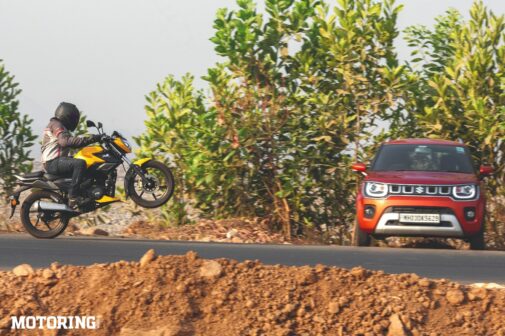 First up is the TVS Raider. It's a 125cc motorcycle from the Hosur-based bike maker that has finally managed to come through as a successful motorcycle. The company had other 125cc motorcycles in the past, but they never managed to stick around. TVS has built the Raider from the ground up, and has utilised its success on the racetrack to design a fantastic handling motorcycle. You see, a powerful motorcycle is no fun if it can't handle well. The Raider does the exact opposite, as it loves to dive into corners and continues to stick to its intended line with finesse. The 125cc motor is packed with the latest innovations from TVS as it managed to put out 11 bhp of max power at 7500 rpm, and 1.14 kgm of peak torque at 6000 rpm. These power figures aren't only in the ballpark of 150cc motorcycles, but surpass a few of them. The motorcycle is capable of breaching the triple-digit mark with ease, and that too with no annoying vibrations to spoil the experience. When not chasing speed, the Raider is an absolute joy to ride in traffic. Yup, the bike's agility is very rewarding, and so is its ride quality. And to complete the deal, is the bike's striking design that deviated entirely from the crop of premium commuter motorcycles. Besides being a fantastic motorcycle, the Raider has also changed the typical perception that people have had about commuter motorcycles. The Raider is a perfect example of how commuting can also be a fun and enjoyable experience.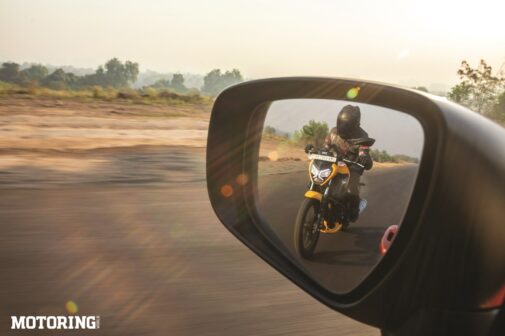 Moving to the other machine over here on four wheels, is the Maruti Suzuki Ignis. Quirky in design, the Ignis is a car that stands out from the other cars on the road. It has the right proportions for a fun zippy car which, like the Raider, feels extremely eager and engaging the moment you get behind the wheel. Looking at the car, at first impression, you might feel it would drive and feel like any other Maruti, but believe me, it's a whole lot different from the moment you get in the driver's seat. You'll notice the prominent side support for the front passengers, which are usually offered in premium cars, which says something. Under the hood, there is a 1.2-litre four-pot motor that churns out 80 bhp. You might say that isn't a lot of power to feel the rush, but for a vehicle that weighs just 860 kg, that's all the power you'll need to leave you grinning all day long. The Ignis is a peppy car and it makes you want to floor the throttle at every open patch of road. As the revs build, there is a subtle, yet sweet, exhaust tone that fills the cabin, which eggs you to press that pedal further. And this experience gets even better once you go attacking corners with it. Even in its stock suspension setup, the car feels as if it is being driven on rails. The steering is very direct as it tells exactly what is happening at the front wheels. The Ignis is the perfect example of what a pocket rocket car is supposed to be. It's compact, quick, and handles like a charm.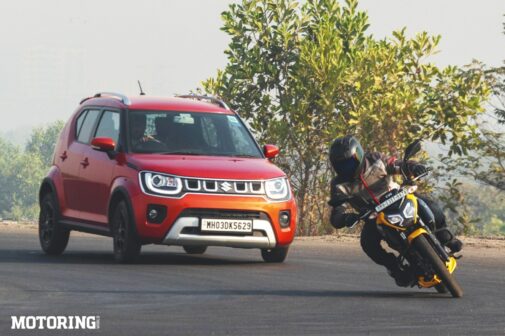 Now, considering both vehicles, there are a lot of similarities that start to emerge, right? What I am referring to is the character and the qualities that these vehicles possess. To begin, both don't have any staggering power figures, nor are they equipped with top-spec mechanicals that are worthy of bragging. But, as a whole, these machines come across as excellent automotive examples. The power, the handling, and the direct steering, all together complement each other to make a thoroughly sorted machine. And when all these parameters fall correctly in place, what you get are vehicles that you'll never get bored with.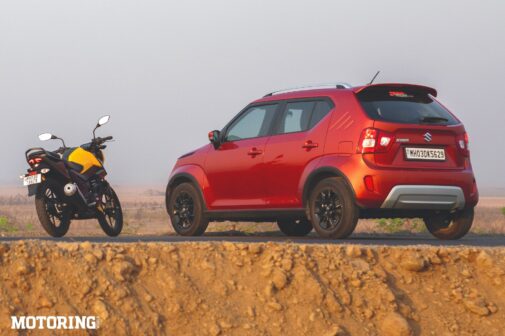 It is remarkable how much fun these machines offer for a lot less money. Being a Maruti, the Ignis is affordable to buy and maintain, as far as cars go. The Raider, on the other hand, feels to have been built to last. TVS has always been known for giving a strong emphasis on quality and longevity, and it shows in the motorcycles and the scooters they manufacture. The brand has always taken pride in the two-wheelers that they build and have been continuously improving them with every new machine or iteration. Every time I ride the Raider, it makes me want one. The same goes with the Ignis, as I cannot think of any other car that is so complete for its sticker price. After having driven and ridden these fun machines to my heart's content, it was time to call it a day. They are, in my book, the best and the most affordable ways to have fun with machines, while keeping boredom at bay.