Our dependency on speed is alarming. It's a by-product of a lack of planning in most cases and a need to feed an insatiable urge to just be faster than everything around you, in others. Personally, I'm tremendously guilty of using speed as a stress buster and it's something that shouldn't be indulged in with the sort of infrastructure we have at our disposal. Nevertheless, we seem to be gravitating towards having the ability to access speed without the responsibility that it should be attached with, but that's a topic for another day that'll be carelessly sidestepped even then.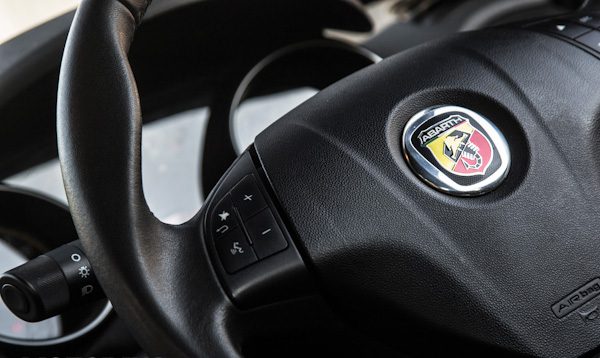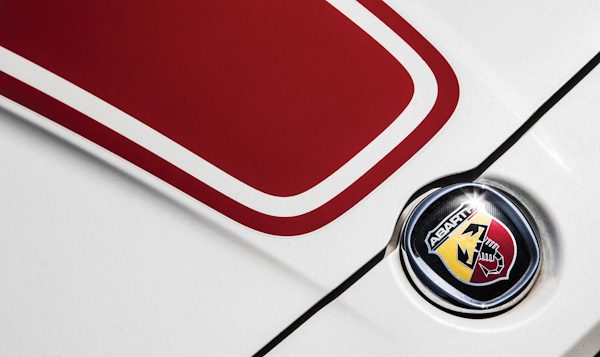 For now, what we have on this day are machines that bring you that speed, and they do it by hiding in plain sight, so to speak. The KTM 390 Duke and the Fiat Punto Abarth are flag-bearers of your right to have an awe-inspiring amount of power at a price that won't have you drawing out multiple mortgages on your wife. They're quick and they'll have you smiling all through. Question is, do you go for two wheels or four?
Can it startle a monkey?
I spotted it despite it being an agonising 60 minutes before sunrise. The darkness had only the rustle of some leaves for company and the conditioned air in the Punto's cabin was cajoling me into some much-required snooze time. Like I said, though, I'd spotted it with ease as it swished past in the black of the night.
The 390 Duke makes for one heck of a bike. Just the numbers themselves speak volumes: 42.9 bhp from a 373cc four-stroke single and a dry weight of just 139 kg. The more articulate of the lot will tell you that they are drawn to the 390 because of that collection of numbers, but even the rest would tell you that just one short ride will be enough to get you to realise that it's pretty much all the bike you'll need.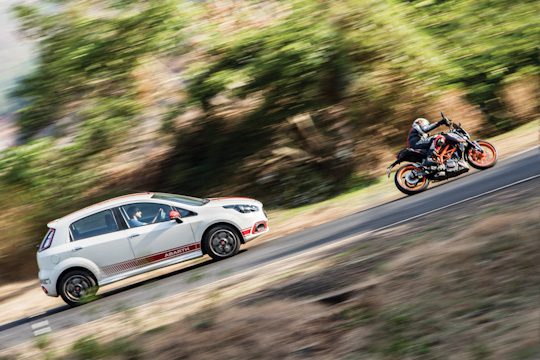 Is the Punto Abarth the same? Sure, the 390 and the Abarth are similar. Fiat's done a good job of extracting 143 bhp and 21.6 kgm from a 1368cc inline-four. The Abarth grabs a hold of your attention immediately with the power it has. It'll startle you with its ability to wheelspin in first and second gears without you intending it to and it'll regale you with its relentless surge towards stupid speeds. There are some who'll bemoan the lack of poke lower down the rev range before the turbo kicks in and, to them, all I have to say is that you need to get real. It's not at all cumbersome and there's enough shove before the turbo comes alive to keep up with most cars or bikes on the road. You're really only in a position to complain if you're trying to set a lap on a track which, let's face it, is hardly ever the case.
So yes, both the 390 and the Abarth are well placed to scare the fur off of some unsuspecting simians by the road. That's good road testing on our part right there.
Can it outrun dogs, then?
With the sun now firmly risen and the temperature casually shooting up, it was time to get a bit more feisty with our comprehensive shootout of the two. So, naturally, the first thing we did was take a break. So far, the 390 and the Abarth seemed to be running along at the same pace, keeping an eye on each other and scanning the road ahead with the other one.
It all changes when you subject the two to some bends, though, and dramatically so. The 390 absolutely devours corners and will play the role of the hooligan at the drop of a hat.
What makes it particularly enjoyable is that it does it so easily and so willingly. If you're an average rider like myself, get yourself one of these to look good. It's that simple. I remember trying to keep pace with the 390 around a series of bends and it just wasn't doable. You'd need super wide run-offs and absolutely no oncoming traffic whatsoever to have even the slightest chance of keeping up. It didn't help matters that I was in the Abarth at the time trying to keep up with Ruman who's considerably able on any kind of two-wheeler, but even then it's easy to tell that the 390 is leagues ahead when it comes to this stuff.
Where the Abarth falls short is in a few key areas. Stickier, wider tyres are the order of the day, for one. Enter a corner too hard and you're bound to be caught out with oversteer. Then, there's the fact that someone thought it would be a good idea to cram mashed potatoes in the gearshifter.
Admittedly, the steering gives you a decent amount of feedback and has adequate feel, but even that's negated by the fact that you just cannot find the right seating position. In comparison, everything feels so intuitive and happy when you're astride the 390. Even if you enter a corner too hot and start downshifting rapidly, you don't need to worry too much because there's a slipper clutch to counter your incompetence and exuberance.
So no, the Abarth won't do a particularly good job if you're trying to outrun a few dogs around some corners. Unless you're planning on oversteering and scaring them silly with squealing tyres. Long story short, the 390 scores a full 1000 points here.
Does that settle it?
Oddly enough, no, it doesn't. In an ideal world, if you had to pick between these two, the 390 would make a lot more sense, given the right amount of seat time. It's more agile, wheelies with the slightest provocation, stoppies pretty well, is stupidly fast and generally makes for a righteous buying decision. The Abarth tries to sell you the same package (sans the wheelies and the stoppies, of course), but unsuccessfully so. My heart goes out to Fiat, really, because there's so much potential in the Abarth. It has started off really well by giving it some serious power, but it should have continued that by slipping in some wider, stickier tyres, better seats, a better gearshift, and while I'm at it, a better sounding rev note wouldn't have hurt either.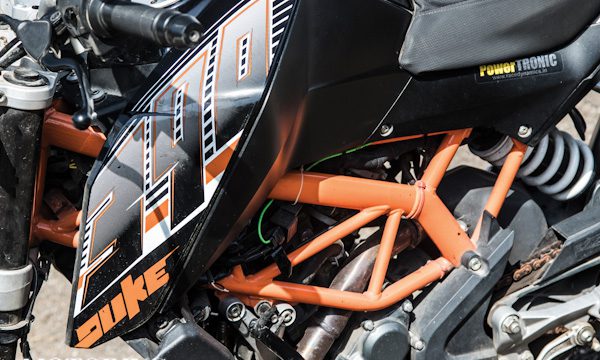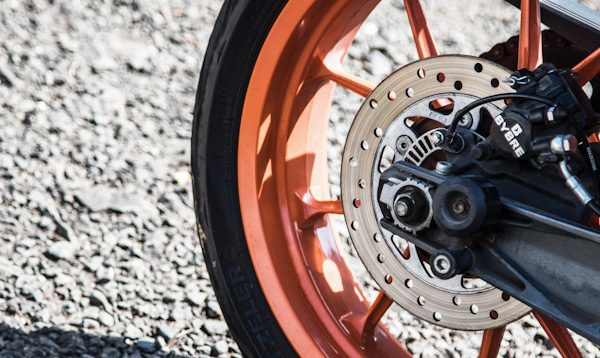 The 390 scores strongly on all these fronts (yes, I like the way the 390 sounds), and generally harasses the Abarth's behind into submission. But that's in an ideal world. For now, where India stands, the Abarth's still got appeal. Short, sporadic acceleration bursts are much more common and doable than going around bends at full chat. Or, rather, having the ability to do so. We sadly just don't have the infrastructure to support that yet. I can't believe I'm saying this, but the Abarth is a great powerful car to learn the ropes in until we have regular access to better roads and people who understand the concept of ethics while on the road.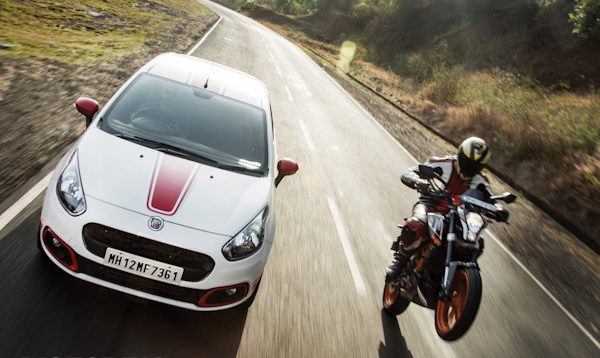 That's precisely why I love the Abarth. It represents a solid effort by Fiat and shows us what's possible. There's still no denying that the Punto is a lot of fun to drive, but there's no denying that it leaves a lot to be desired, too. The 390, on the other hand, represents a much more wholesome deal and that's exactly why, despite not living in an ideal world, it gets the last vote for this shootout. Take a bow. Or a stoppie. Your call, 390.
PHOTOS Kartik Sadekar