Since this isn't exactly an objective comparison, it's okay to take sides, right? You see, for a great number of years of life as a toddler, I had a dinky car that looked exactly like the Jeep you see here. It was boxy, nowhere as pretty as my other car — a Ferrari 512 BB, mind you — but it was red. Erm, was. In an attempt to give it a new lease of life, I tried hand-brushing its bodywork with a coat of jet-black oil paint which, after it had dried, made it look like it had some sort of grave disease. And yet, the more I victimised the Jeep with my paintbrush, the better it seemed to look. Twenty years and the keys to a 1:1 scale Jeep later, I'm hoping things haven't changed all that much.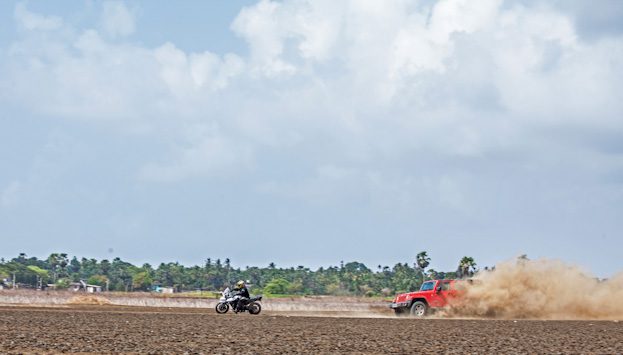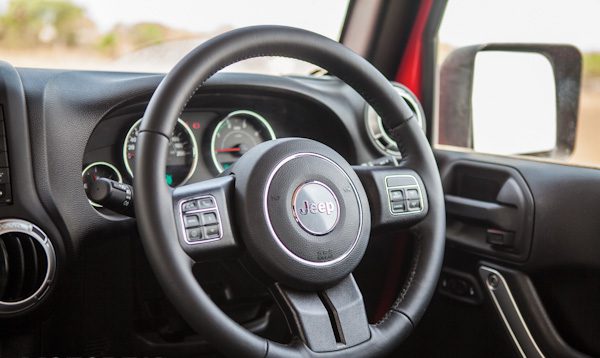 It's 5 o'clock in the morning and ahead of us lies a long day of making the Jeep Wrangler Unlimited dance to the tunes of our makeshift photographer, Avishar. With a nutrition bar gobbled down and tattered sneakers laced up, the plan is to drive the Jeep down to a pint-sized facsimile of the Rann of Kutch… about 900 km away from the real deal. Okay, the only wild asses we're expecting to see here are a bunch of motoring journalists trying hard to kick up a lot of dust. But still, things are not so mediocre either, since civilisation is all but a hazy speck on one side of the horizon. Looks like it's the Jeep's day to let its hair down. Oh wait, what's 
that noise?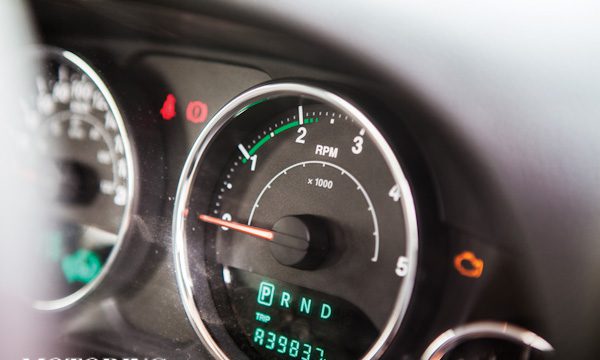 It's the Triumph Tiger 800 XRX! Okay, let me stop pretending it was never supposed to be here. If there was anything two-wheeled we'd compare the Wrangler to, it had to be an equally go-anywhere machine with a suitably hefty price tag. Bare-bones has no business being here — this is off-roading for the affluent. Purposeful, with top-notch components, either machine has the ability to dominate any environment it is presented with. Both have established a rock-solid reputation over the years, too, and it's no surprise they generate so much curiosity in their public appearances. And hey, so what if everyone thinks you're driving a Thar?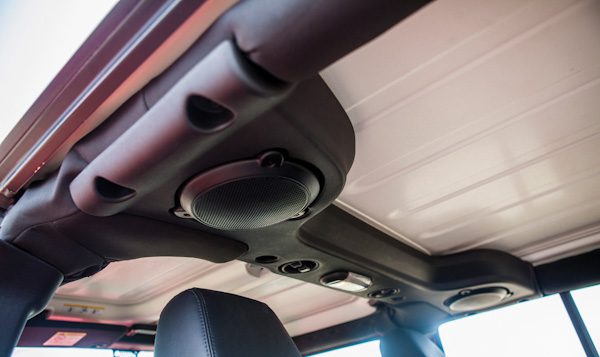 With an expanse of dirt all to ourselves, it's time to unleash what these incredible machines have. But before we kick up a dust cloud the size of a small country, I must clear the air about our choice of motorcycle. The Tiger 800 XRX isn't the most dirt-ready of its ilk — that would have to be the XCX and the XCA — but since Triumph didn't have a press bike to loan us, an old friend stepped in with his prized steed and asked us to not worry about roughing it up. A brave call, certainly, but I think I saw a tinge of regret on his face once we actually began. The XRX is basically the road-going version of the Tiger, which means it has street-spec tyres and not as much 'adventure' trim. But it still has that cracker of a triple-cylinder motor and long-travel suspension, so we'll make do!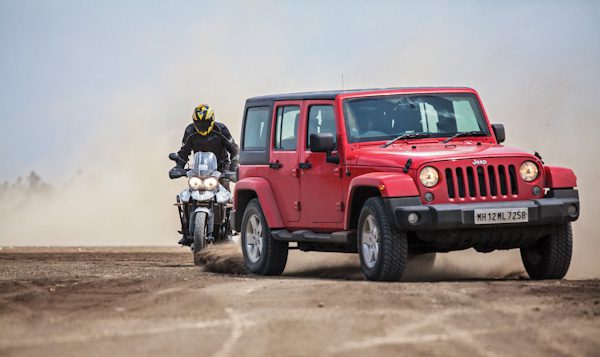 The Wrangler, on the other hand, has come prepared. It's the quintessential American 'jeep', a stereotype on four wheels, and it's been at it for decades now. A butch, squat stance, four wheels at each corner of its bodywork, barely a overhang in sight and a seven-slat-wide grin on its face — the Wrangler is what every off-roader in the world aspires to be. What Coca Cola is to aerated drinks, the Wrangler is to 'jeeps'. The one we have with us has a 3.0-litre turbocharged diesel V6 motor that produces a humble 197 bhp but compensates with 47 kgm of gushing torque produced between 1600 and 2600 rpm. With a 5-speed automatic gearbox (with a manual override in the form of a 'sports' mode), it means you can really drive it like a lunatic, bullying autorickshaws back into their lanes. Off the road, you don't even need to bother — it just does everything for you.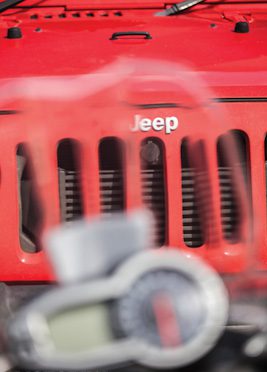 And that is exactly how things are turning out to be. With Charles taking over driving duties for the shoot, I've settled into the Tiger's saddle and at this point, we can only let the performance do the talking. The Tiger, with its factory-option Arrow exhaust, fires up with a boom that's more superbike-ish than rugged but it's a nice sound to fill your helmet with. The Jeep's a conventional diesel mill, but there's no unruly clatter, just the mechanical note of every functional component under the hood. Our collective noses pointing towards the horizon, we line-up for a straight-line dash alongside each other. The flag drops in 3, 2, 1…
Massive wheelspin on the Tiger! I've snuck it into the 'Off-road' riding mode with the traction control unit turned off and were it not for the hard-packed surface, I'd have dug myself a nice little ditch. The Wrangler, meanwhile, has gotten off to a clean start, even in two-wheel drive mode. Thankfully, the Tiger's recovered quick enough and in less than 100 metres, I've already passed the Wrangler. In another hundred, the Jeep's getting smaller in my mirrors and at the end of a quarter mile, it's all but a speck navigating through the wall of dust the Tiger has created in its wake. I certainly wasn't expecting that!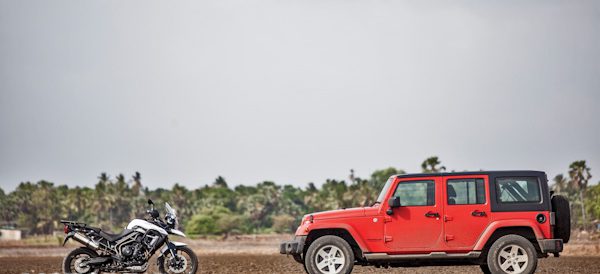 Straight-line antics are for rookies, though, and the Jeep is hell-bent on proving its mettle. Time to lay out an autocross track. Short straight down the gravel trail, fast left over the cracked surface, precarious left back onto the parallel trail, hard braking point over a very loose-surfaced left turn, a quick chicane and then back on the main straight — it's a short but technical layout and astride the Tiger, I'm really worried. At this point, it would also be wise to mention that I have no faith in Charles' driving skills. Anyway, let's just call this an occupational hazard 
and start off.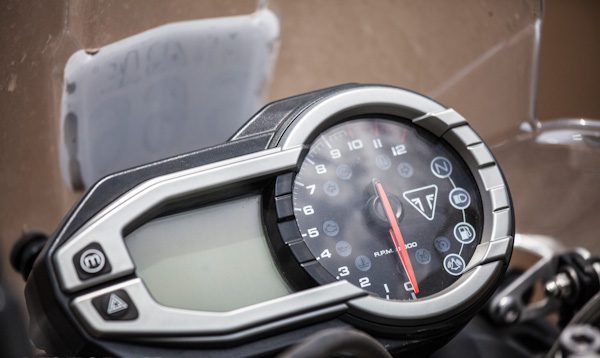 This time, the Tiger gets off to a clean start while the Wrangler, now in '4H' (high-ratio, four-wheel drive) seems more ferocious. A lot of what's about to happen is down to power-to-weight ratios, but then off-road tyres can turn things around to a surprising degree. It doesn't happen. The Tiger, with its 94-bhp motor, is simply flying away. I can sense that the tyres (especially the front) has little traction to offer, but the suspension and also the agility of its steel trellis frame are more than making up. The smooth and progressive throttle is making using all that power so easy and despite both of its wheels rarely pointing in the same direction, the Tiger is hugely exciting.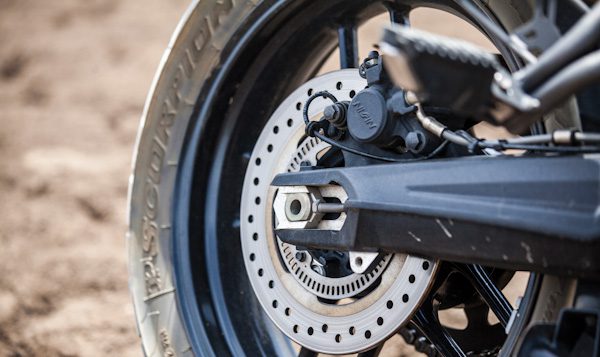 The Jeep (I have enough of a lead to make calm observations), from what I can see, is composed. This kind of driving is hardly even a challenge for it — it's made for more serious stuff like fording rivers and scaling rock-faces — and it's doing a fine job of sticking to the track, its tail barely stepping out in the corners. Jeep's Command-TRAC 4WD unit, with selectable modes for every kind of surface, is worth a huge round of applause and with its gas-charged shock absorbers and heavy-duty front and rear axles, it deserves all the respect you can give it. Another thing the serious off-roaders (with serious money, ahem!) amongst you will like is that the 4WD selector is a manual lever rather than a nondescript button. And while the Tiger seems to have won this round with ease, it's also true that on a wet or rocky surface, the results would be a 180-degree turnaround.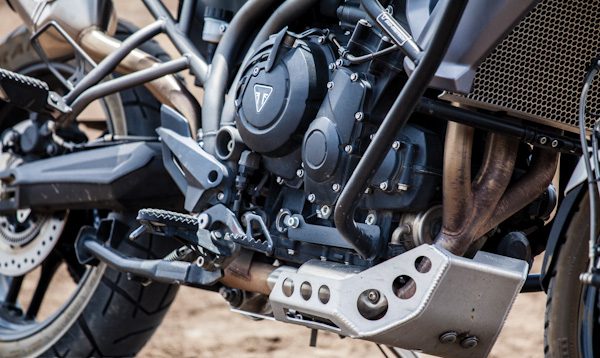 Still, there's no denying that the Tiger is an agile beast that entirely belies its dimensions. It does the kind of wild things you don't expect it to when you see it parked and while it's scary, it's also very addictive. Get accustomed to its ways and you feel empowered — and that's a fascinating feeling to have on a motorcycle. While the Wrangler has the mechanical goods and setup to tackle the worst, the only major downside is its expected price tag — upwards of Rs 50 lakh! That kind of money might keep most genuine off-road enthusiasts off the Wrangler and I hope Fiat-Chrysler can start producing it in India 
soon enough.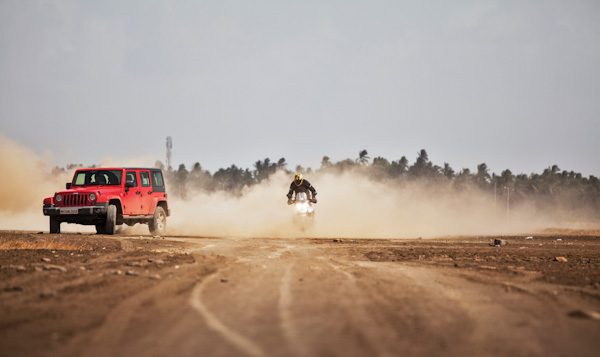 Let me not get carried away, though (or is it too late now?). Bringing these two machines together was more about highlighting the evolved kind of off-roading machinery we now have, rather than an outright contest. Indeed, if you do have the means to get your hands on the Tiger and the Wrangler, the world has become a smaller place for you. These are all-purpose works of mechanical brilliance that make light work of geographical barriers. There's no mountain too tall and no river too deep (don't try this at home) when you have a garage occupied with the Tiger and the Wrangler, and even if your ambitions aren't as extreme, these machines will let you experience the charm of the great outdoors like little else will. Still want to know the winner? Why, of course, it's the Triumph Tiger! I guess I should never take sides again…
BY Ruman Devmane
We would like to thank our friend Vinit Kamble for loaning us his power-packed motorcycle for this story. We hope he wasn't serious about that repairs invoice.