If the combined momentum in this image were to escape the page, it'd drag you straight to Germany. And you wouldn't complain, would you? After all, these are two of the finest pieces of German engineering supremacy. Actually, referring to these two- and four-wheeled mammoths as 'pieces' immediately feels rather inadequate. BMW and Mercedes-Benz are traditional and respectful rivals, almost what recent vocabulary would call 'frenemies'. But you're less likely to find BMW Motorrad poking the three-pointed star in the eye, except perhaps in the Car Vs Bike stories we do; last year it was the R 1250 GS against the G-Class in a contest of who could kick the most dust in the other's face. And if this unlikely rivalry is on its way to become a tradition, I'm not one to stop it.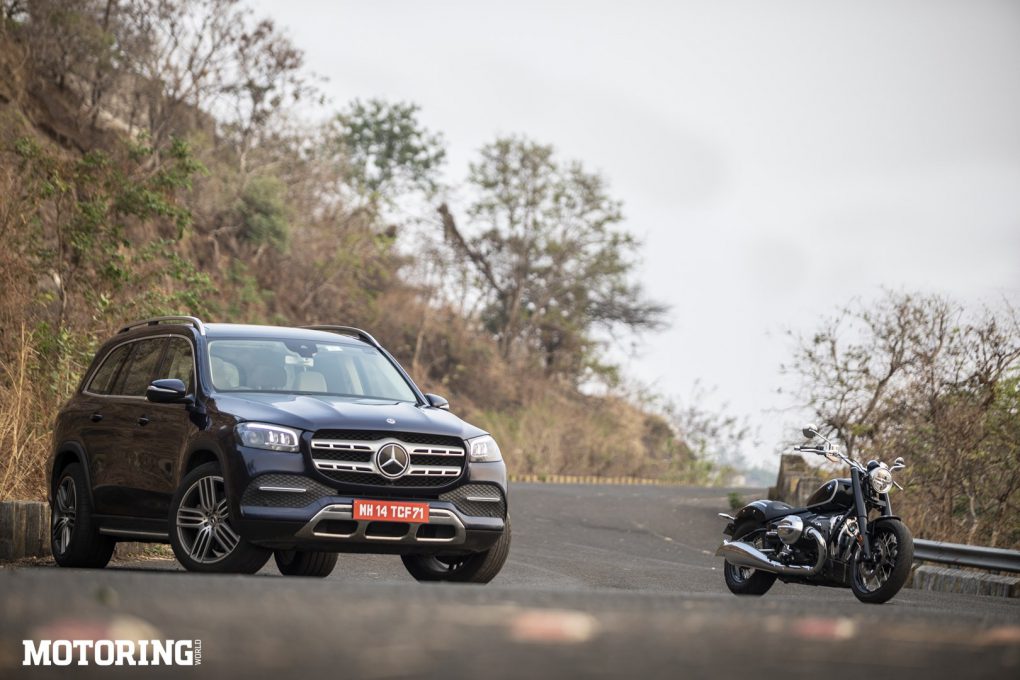 BMW's two-wheeled division rumbled to life in 1923 with the R32, though it was Mercedes-Benz's forerunners, Gottlieb Daimler and Wilhelm Maybach, who invented the motorcycle in 1885. What's more, the third founding father of Mercedes-Benz invented the boxer motor layout in 1897, and it was then called the 'contra engine'. That's quite a hefty inspiration that BMW Motorrad owes its star-grilled compatriot, and you might think there was nothing left for the former to do but come up with the famous white pinstripes on the R32. But there's way more to it than that. To begin with, most importantly, BMW made motorcycles and does so to this day. Mercedes-Benz invented the motorcycle and never looked at it again.
Instead, M-B went for fast and luxurious automobiles, and pretty much became synonymous with that concept. One of the latest outcomes of that quest is the GLS 450 4MATIC, M-B's flagship SUV that's packed with superlatives from wheel to roof. The R18, here in its First Edition garb, is BMW Motorrad's 345-kg projectile aimed first at Harley-Davidsons and the American cruiser market, and then to anyone else who wants a huge-bore cruiser made with beautiful Teutonic quality. I do hope they keep their feet firmly planted on the ground after swinging a leg over it, though.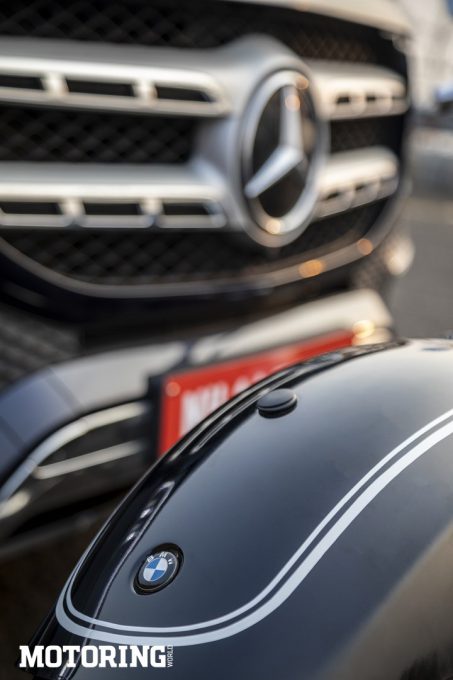 You see, more than a few times after I thumbed the starter button, the R18's violent roaring-to-life torque sway nearly threw me off the bike. And somehow, the bike always seemed to be aware of which foot was on the 'peg and rocked harder in that direction. Nonetheless, it was easy to forgive the R18 when it eventually rolled along at 100 kph at 2250 rpm, a near-perfect blend of wind and industrial harmony. The latter is indeed what it feels like all the time in Roll, one of three riding modes. I didn't really engage Rain except to try it once and it suitably dampened proceedings by cutting power and smothering the throttle response. However, what shocked was Rock.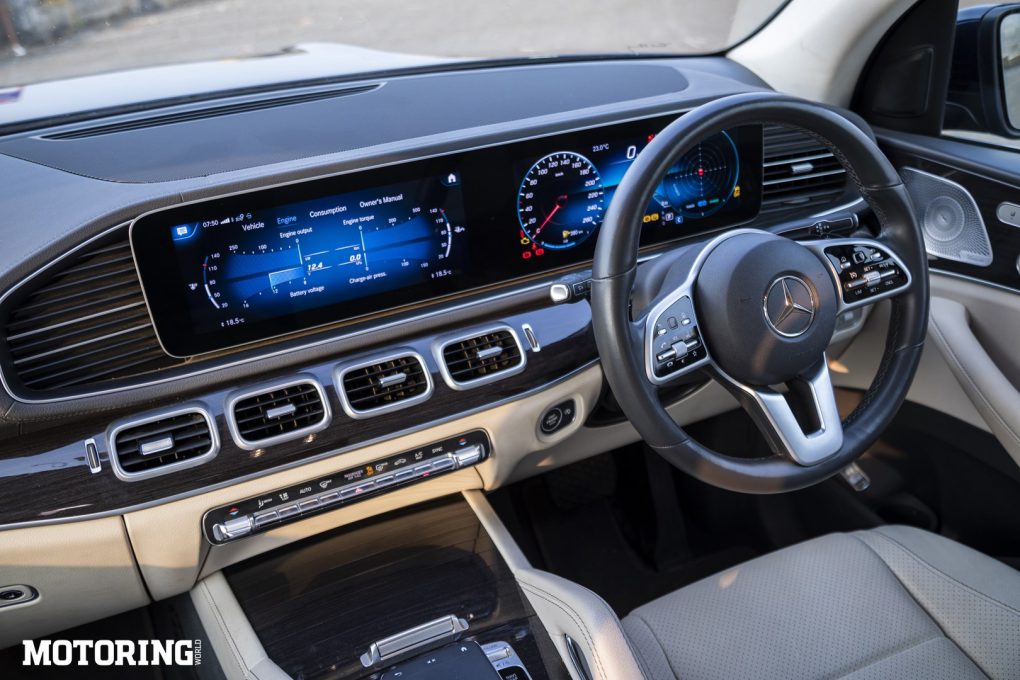 In that mode, the R18's saint-like composure turned into a chest-beating silverback gorilla on a rampage. The throttle became tighter, the handlebar suddenly displayed an urgent need to get away from your arms, and the massive exhaust pipes raged hardest. Even if welcome for short bursts, and even if the R18 was happy to be ridden with aggressive abandon, I imagine the R 18's chrome didn't reflect the passing scenery best in Rock. Roll was where it was at, where the ridiculously smooth R18 felt like the most peaceful motorcycle in the world. And there's a lot to be said about that. In case anyone around you gets any ideas, you can always switch to Rock and leave them in your booming wake. Oh, and by the way, Rock and Roll are easily the coolest names for riding modes ever.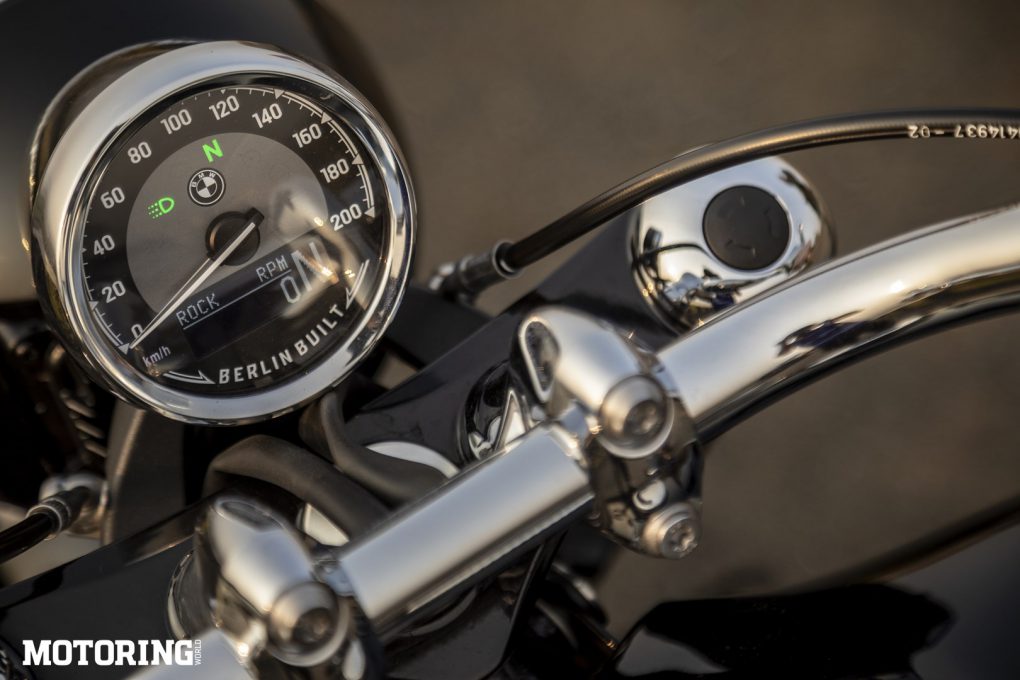 Rock and roll is what I expected the GLS to do in corners, too, but I was wrong. Instead, the giant Merc traced elegant lines through tight and fast bends that triggered immediate salutes to M-B's engineers. Likewise for the R18 and its makers, even if an eight-feet long and two-feet low motorcycle doesn't offer much in terms of cornering clearance, especially with those giant cylinders sticking out more in your mind than they do in reality. Of course, the way the GLS puts down its 367 bhp is nothing like the 90 bhp going down the R18's rear wheel; the GLS is a cruise ship compared to the R18's yacht-like bearing. And yes, it's only right that boat… sorry, both should evoke watercraft. Why not, since both promise to not let land bother you?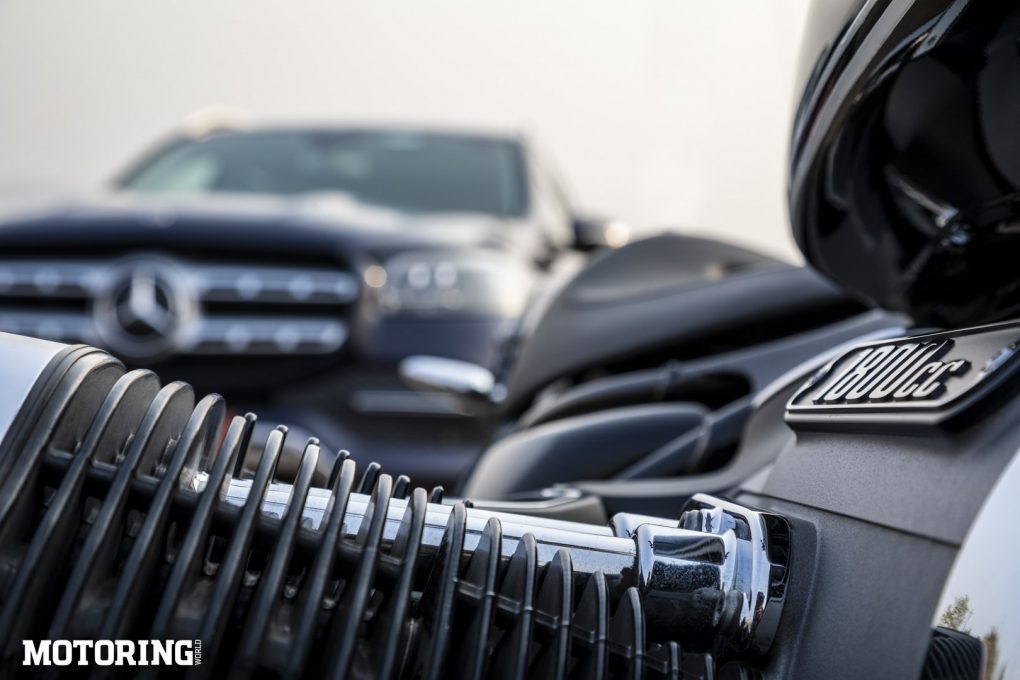 Engineering mastery is the reason why the R18 and the GLS iron out everything on the move, including their own hulking hefts. The GLS, of course, with its dual-screen dashboard among other things, relies more on technology than the spoke-wheeled, single-meter R18. But these are two different thought processes that employ similar means of production. The R18's engineering isn't in its style — it's in the beauty of that drive-shaft coupling, and in the fact that despite being such a low motorcycle, it did not grind its underside on any of the myriad speed breakers it came across. The GLS's engineering is in the way it almost turns into a sensory deprivation chamber, but in the best of ways.
And if you must know, thanks to its 3.0-litre inline-six, the GLS will hit 246 kph after a 6.2-second run to 100 kph, while the R18 is good for a 4.8-second run to the tonne and a top speed of over 180 kph. Not that anyone will be doing these things anyway; after all, these days it's less about acceleration and more about accessories. And both offer plenty in that respect, too, with starting prices of Rs 1.04 crore and Rs 22.55 lakh for the GLS and R18 respectively. Of course, the Merc offers way more than the BMW can, not least of which is the promise of cooled shins rather than fried ones.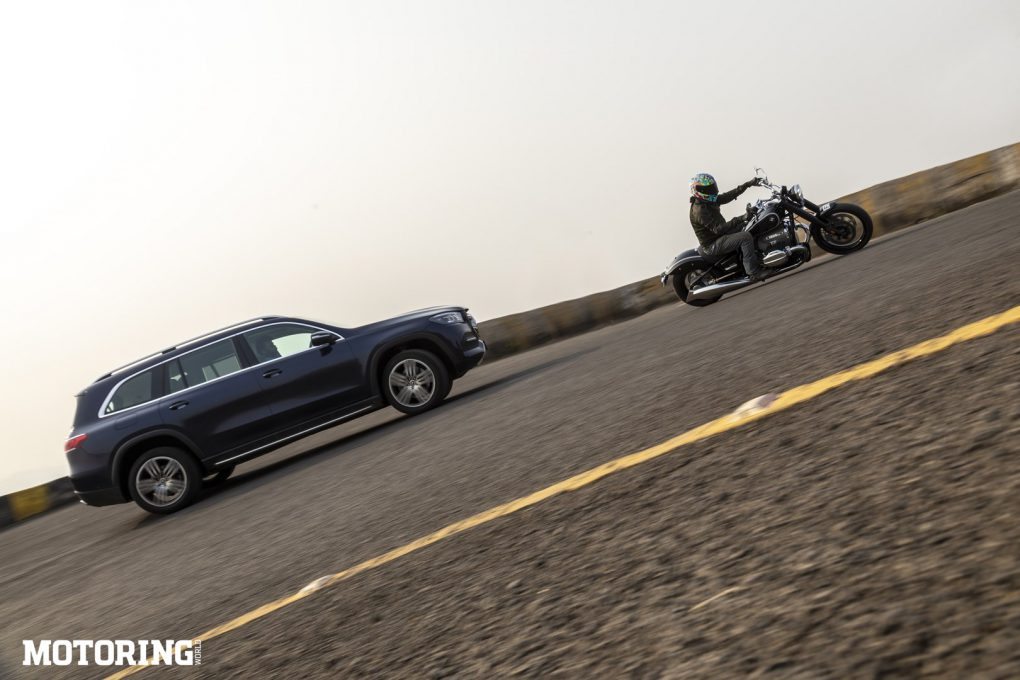 Nonetheless, if I were to pick one, it'd be a stubborn stand with the R18, in the complete knowledge that I have Mercedes-Benz to thank for motorcycles, and also that I'd be missing out on the reality-warping luxury of the GLS. I suppose that's what happens after casting one's lot with motorcycles. Which, of course, BMW Motorrad did, once upon a time in a land far away. And yet, I can't help but wonder, if Mercedes-Benz made a motorcycle, what would it be like? It's impossible to be certain, of course, but I have a feeling it'd be damn near close to the R18.