Suzuki Hayabusa
The 2021 version of Suzuki's mighty Hayabusa looks pretty intimidating even at standstill! In the early morning's soft environment it looked like it was a carnivore resting and planning its next meal. I wanted to show off the Hayabusa's bullet-profile pose and it had to show off its warp-speed capability at a standstill. The one distracting detail for me, though, was the way the front number plate was placed; I am sure even Suzuki's design team would've never thought they'd be trumped by the Indian RTO regulations!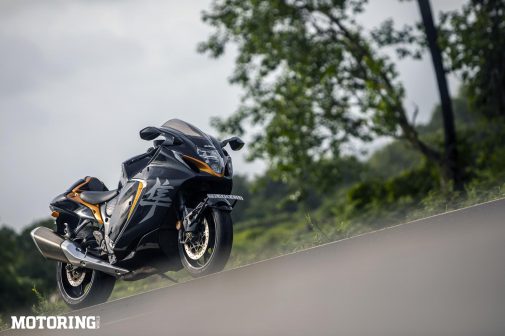 Ferrari Roma
I know that everyone wants a Ferrari in any colour as long as it's red! That thought was turned on its head when the Roma in British racing green came along. It was a real challenge, for sure! It needed improvisation because of the challenges posed by Ferrari's insistence of only driving within a 10-km radius, but the problem sorted itself out given the timing of the shoot. The green also interfered massively because it embraced every reflection of its surroundings and those were tricky to iron out without spoiling the aesthetics of this beautiful Ferrari, though I loved the eventual result.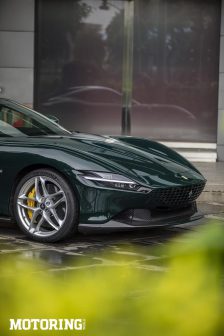 Mercedes-AMG GT R
The rump exemplified. I always had that description in mind, not for any Merc but for Porsche 911s. And when one factors in that Mercedes-AMG has pitchforked this hot supercar slam bang into the 911's hunting grounds — GT racetracks — there had to be some visual lineage that linked these protagonists in some way. The striking yellow shade, those subtle red highlights from the tail-lamp plus the black carbon-fibre contrasts and the AMG badging helped make that shot. Also, the subtle play of shadow and light worked to enhance a simple shot manifold.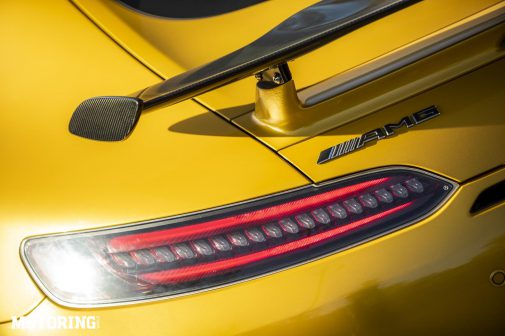 Yamaha RD350 Drag Bike
There is something to be said about the mechanical aesthetic of motorcycles. And this Yamaha RD 350-based motor for a drag racer is unique in its simplicity yet complex enough with its highly modified cylinder heads. Add to that the delectable manner of its twin Mikuni carbs and large colourcoordinated bell mouths. Plus that bit about form following function, notably the springs used to anchor the exhaust headers emerging from the exhaust ports. The colour coordination also held true for the steering damper mounts and the footpegs. And yes, those pants worn by the rider!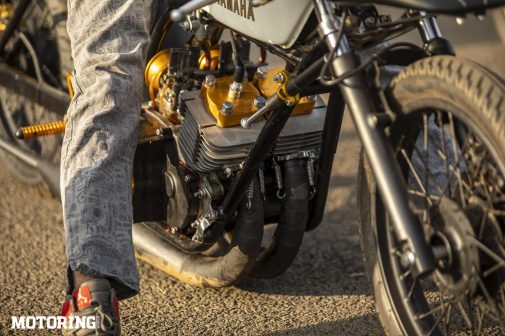 Stunters Galore!
Sometimes life smiles at you when you least expect it. It was the first day of IBW 2021 and the stunt sessions had long been done and dusted. However, my friend and ace stunter Ankit Gupta wanted to get some practice sessions done and I needed to shoot some great action given the glorious riot of colours in the evening sky. With Ankit doing his trickery on two wheels, bicycle stunt genius Rahul 'Ronn' Mishra joined in and made this atmospheric image complete. It was like magic.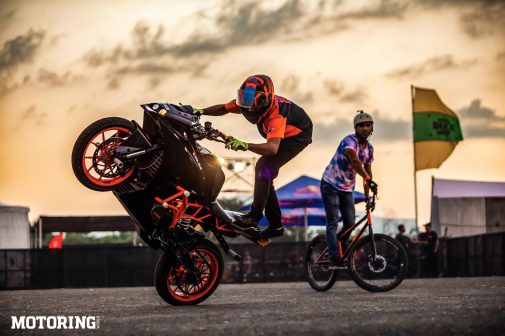 Hyundai i20 N Line
One of the things about getting decent tracking shots has to be the surface, both for the car I am shooting and also for the car I am shooting from. The roads in Rajasthan outside of Udaipur were the reason why this shot happened to be so good for us shutterbugs. We wanted to go below eye level and shoot at low shutter speeds so that the motion is conveyed without being frozen, and we also get the scenery spot on. Just look at the way the road curves and heads to the horizon, and you'll see the thought behind this. Normally, we agonise for a long time for such shots, and the white colour i20 N-Line would've been iffy had it been sunny. But everything came together brilliantly here and the shots were executed in a jiffy.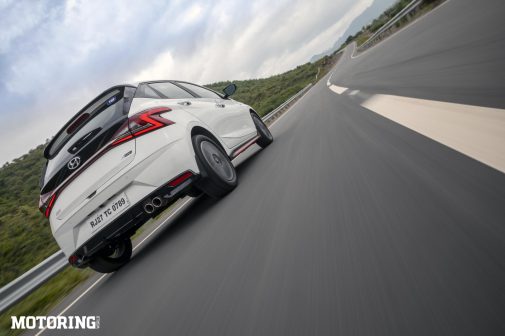 Mercedes-Benz GLS600 Maybach
Who would have thought mud pluggers could rival limousines for comfort, luxury, and sheer pleasure when out on the loose? Well, this isn't a jeep by any stretch of the imagination, but the highest form of automobile hedonism. Hats off to Merc for being bold and taking the 'best car in the world' approach to the GLS super SUV! I was floored by the sheer breadth of features in the Maybach, and it gave me a shock to know that its annual insurance premium could buy me some proper off-roaders. But I could never be as comfortable in them!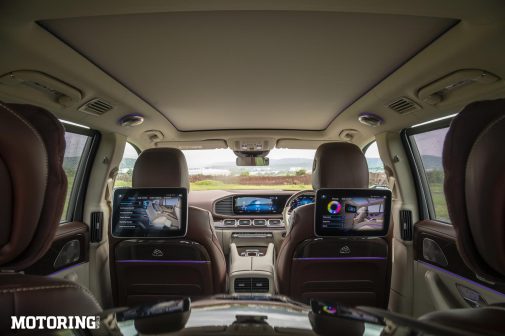 Honda CB200X
This shot was a lucky one, but one that we designed ourselves rather than it being a spur of the moment thing. We had been shooting this tiny adventure motorcycle outside Mumbai during the rains, were mightily drenched, and had nearly packed it all up. As we were ready to leave, we saw a puddle off the road with a few hilly outcrops framing it. Having already been soaked to the bone, we thought of riding through the water, making a splash, and coming up with something dramatic. Janak, who was already freezing and chattering his teeth, agreed. No pain, no gain, and the shot came out great!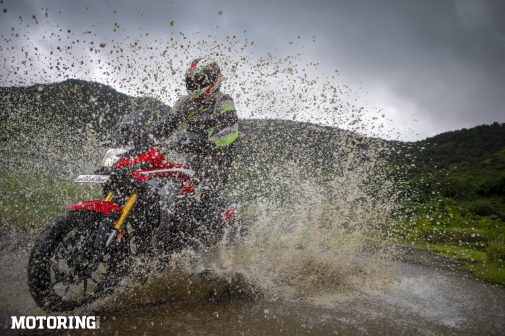 Enduro Ahoy!
Motorcycles pulling wheelies. Some need speed, some are hoisted up at crawling pace, but both require oodles of skill. And I tip my hat to the best in this business with this image. Here is Hrishikesh Mandke who styled for me at the opening of the DirtLogue 100 enduro park in Pune, astride a brand of bike that knows a thing or two about enduros — Husqvarna. My brief was to highlight the park's name while also delivering that visual excitement of what is possible to learn and master on it.
Royal Enfield Continental GT 650
This is purely a shot with an eye for pleasing detail. But when you are Royal Enfield, you also encompass some of the best bits of motorcycling gear to make the experience come alive. We had a set of top-grade café racer leather gloves to go with the Continental GT 650 painted in Rocker Red, and it struck me that the petrol tank, the chrome fuel filler cap and the artistically crafted gloves with their perforations stood out. As my dad would say, 'God — or the devil — is in the details!'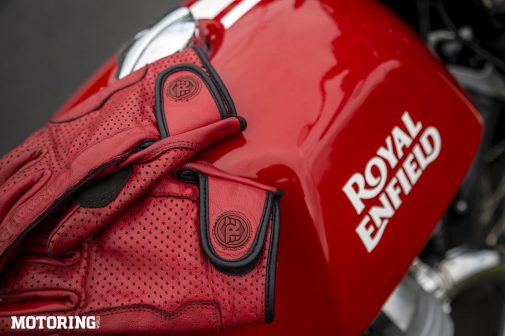 Royal Enfield Classic 350
Man's best friend obliged me when I was out recceing a spot for a future shoot. I had taken the new Classic 350 and had parked it on a hill as I was checking out the scenery when this doggie came along and used the mild shade afforded by the bike. I was far away when I spied him next to the bike, so I was shooting through my long lens. But he was a pro and kept on giving me great moments, so I decided to throw caution to the wind, interchanged the 70-200 mm lens for the 24-105 mm wide lens and crept up close to him. I shot him on the widest end of the spectrum, and he obliged!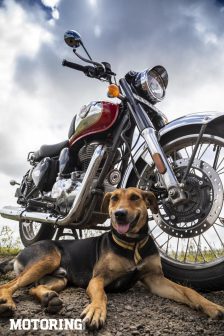 Yamaha Aerox
This is a medley of the old and new. The brilliant architecture of Horniman Circle with the Yamaha Aerox 'plastic fantastic' captured at a time when the sun had yet to rise to its pleasing intensity and also while the streetlights hadn't yet been switched off. This helped with lighting up the surrounding pillars and the background of the paved pathways to give it an ethereal glow, while the first rays of the sun played up the lights on the Aerox. On a more humorous note, many early morning risers who chanced upon the scooter asked if it was badged 'Xerox'! I let them work it out.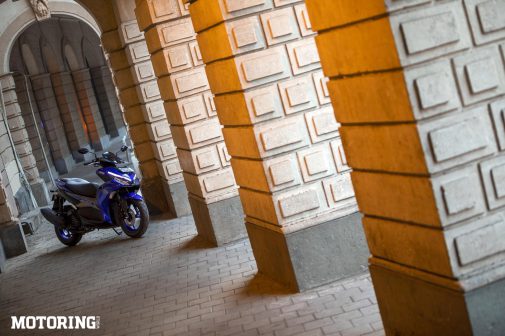 Kawasaki Ninja ZX-10R
I am a skeptic when it comes to drastic changes. The previous-generation ZX-10R was one of my favourites, so when the new Ninja came in, its front end took some time making an impression on me. However, when we got it for our shoot, I saw the method in the madness and slowly but surely the sharp new look grew on me. I got our man to make umpteen runs just so I enjoyed the look and the beautifully violent nature of it accelerating out of corners on the twisty Lavasa roads. And yes, I do know that Valentino Rossi has retired from racing but he hasn't forsaken Yamaha for Kawasaki. That's Kartik wearing Rossi's Goodwood replica lid from many moons ago.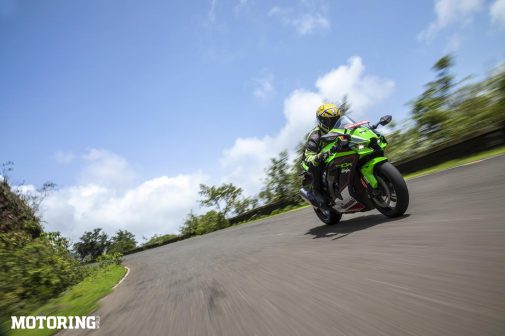 Car VS Bike!
Every April issue of Motoring World has the car-versus-bike theme as its mainstay. There are two themes in the year which I eagerly wait for, this one and Slush Fest. Coming to this shot, we had these two machines which were also the big winners at our annual awards. The Royal Enfield Meteor was framed in a simple manner ahead of the Mahindra Thar, and the medley turned out to make a pleasing and impactful picture that we used on that issue's cover. And that's all, folks!