Daimler India Commercial Vehicles (DICV), a fully owned-Indian subsidiary of Daimler AG plans to launch about 52 new products in 2019 in exports and domestic markets. In 2018 produced 30,000 units of which 7000 units were exported to over 50 countries. DICV exports trucks for Bharat-Benz, Mercedes-Benz, Freightliner and Fuso brands. The German automaker sees Indian technology transition as big boost and will give them edge over local players. They have about 180 touch points in India right now and will reach to 350 touch points in the next two years.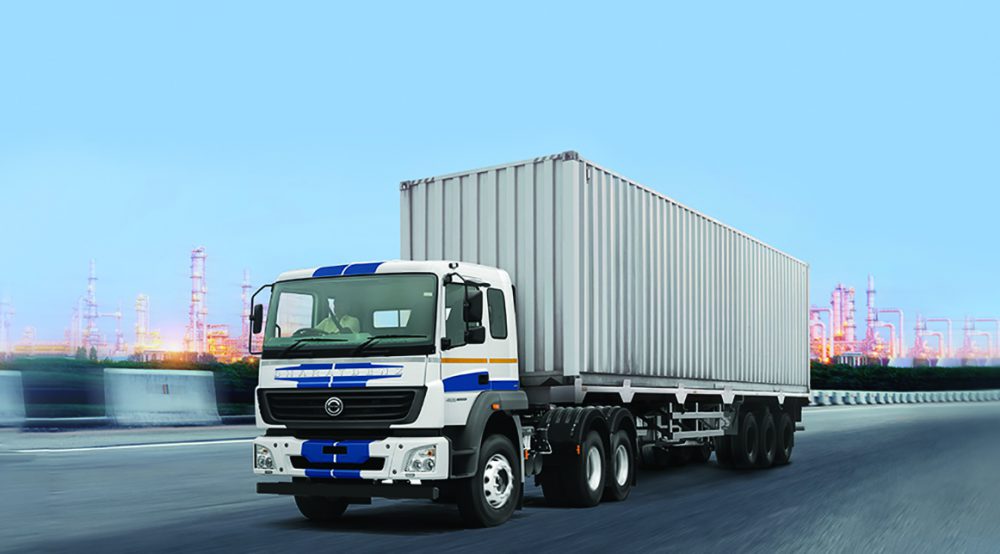 Bharat Benz Trucks:
Bharat Benz offers trucks in a total of 4 categories – Medium Duty Trucks (5 Models), Heavy Duty Haulage (4 Models), Tipper Trucks (7 Models) and Tractor Trucks (2 Models). All Medium Duty Trucks are powered by the same 140bhp and 420Nm motor and are offered in various goods carrier body types. The Heavy-Duty Haulage models consists of single, double and triple axle models.
The Single axle model, the 1617R is powered by a 170bhp and 520Nm engine. While the rest three, 2823R (Double Axle) and the 3123R/3723R (triple-axle) are all powered by the same. The 3123R is a 31 Ton Haulage truck while the 3723R is a 37 Ton giant. The Tractor trucks from the Bharat Benz side are called the 4023T and the 5528T. The 4023T is powered by the 235bhp and 850Nm engine and is rated at 40 Ton while the bigger 5528T is powered by a monstrous 281bhp and 1120Nm engine and has a rated 55 Tons to show off.

Bharat Benz Buses:
Bharat Benz sells buses in three types – School Bus, Staff Bus and Tourist Bus. All the buses are based on a same platform with a wheelbase of 5.3m and a seating capacity of 39 +D. The powertrain unit consists of the familiar 4-cylinder turbo-charged diesel engine putting out 138bhp and 400Nm, mated to a six-speed gearbox. What sets them apart from other buses in the market is the emphasis on safety, with ABS installed as standard across the range, an integrated aluminium bus-body structure, fire-retardant plastics, radial tyres and a pressure sensor that monitors the pressure in the brake chambers to minimize air leakage. Other thoughtful additions include a retractable step, inbuilt wiring for installing CCTV cameras and GPS systems, fog lamps, seat belts and a notice board.