Ashok Leyland, the country's second largest CV manufacture has continued to grow through its 70 years of existence. The company proudly admits that in today's times they have at least one touch point at every 50kms anywhere you go across the country. In fact, Ashok Leyland has been consistently showing up ont eh top ranks of customer satisfaction rankings over past few years. Just in this January, Ashok Leyland's volumes increased 9 per cent to 19,741 units.
Ashok Leyland – LCV and SCV:
The LCV Category of Ashok Leyland consists of three platforms – Dost (5 Models), MiTR (2 models) and Partner.

Dost: The Five models are called – Dost+, Dost Strong, Dost CNG, Dost LiTE and Dost Express. All the variants are powered by the same 1478cc three-cylinder engine. Out of these the Dost + is the most powerful at 60bhp and 170Nm while the rest make do with 58bhp and 157.5Nm. The CNG Variant also has a 1478cc three-cylinder engine but makes a lower 45bhp and 105Nm. All Dost Pick Up variants can pull weight of 1.2 Ton while the Dost Express is in a people mover category and can be had in a seating configuration of – 9 + D, 10 + D, 11 + D, and 12 + D.
MiTR: Both models in this sub-brand are people carrier where one is a School Bus while the other is a Staff Bus. They both get power from the same ZD 30 engine that makes 118bhp and 320Nm. The Staff Bus can be had in either a 23+D – High Back Seats form or a simpler 27+D – Standard Seats form. While the School bus can be had in three different seating arrangements – a 2X2 (Std Width) – 23+D (HB, SD)/ 27+D (STD, SD) , a 3 X 3 (Std Width) – 40+D (STD, SD)/37+D (STD, DD) or a 3 X 2 (Wide body) 34+D (STD, SD) / 32+D (STD, DD). Both MiTR model comply with the latest Bus Body Code (AIS 052).
Partner: This is Ashok Leyland's LCV in the Goods Carrier segment and is powered by the company's ZD 30 engine that makes 118bhp and 320Nm. The Partner offers performance and efficiency on par with global standards. With a modern Euro cab, spacious car-like interiors, and a gross vehicle weight (GVW) of 6 T and 7.2 T, the Partner addresses various applications like parcel goods, durables, perishables and FMCG products, among others. The tilt-able cabin, low loading platform height and runner mounted load body enables service accessibility, customization and a wide choice of load body options. The turning radius and heavy-duty axles in the Partner are augmented for handling tough conditions.
Ashok Leyland – Trucks:
Ashok Leyland's truck category consists of – Mining & Construction (5 Models), Tractor, Haulage (2 Models) and Distribution (3 Models) Trucks.
Mining & Construction Trucks: The 5 Models are called – 2518HD, 3118 HD, Captain 2518, Captain 2523 HR, and Captain 3123 respectively. The 2518HD (8X4 Tipper), 3118 HD (6X4 tipper) and the Captain 2518 Tipper models are powered by the same H series turbocharged intercooled, CRS BS IV engine that makes 183bhp and 660Nm.

The remaining two – Captain 2523 HR and Captain 3123 are for heavy duty usage and are powered by the same N series turbocharged, intercooled, CRS BS IV engine making 230bhp and 800Nm. They both are offered with a state-of-the-art-16-pin on-board diagnostic system cautions you about impending problems.
Tractor Trucks: Ashok Leyland calls its tractor truck series as U4019. It is powered by the H series CRS engine with iEGR technology making 180bhp and 660Nm. It is said to provide best mileage in its class of vehicles, enabling owners to save money on every trip. The peak torque is spread over 1200-1900 rpm band that helps provide mileage over a wide range of speeds, making it an ideal vehicle for a variety of applications.
Haulage Trucks: called the Captain 3718 and the U3118 LA, the Ashok Leyland Haulage series of trucks are offered with the same H series CRS engine with iEGR technology making 180bhp and 660Nm. These two models are considered to be the bst options in the segments by many.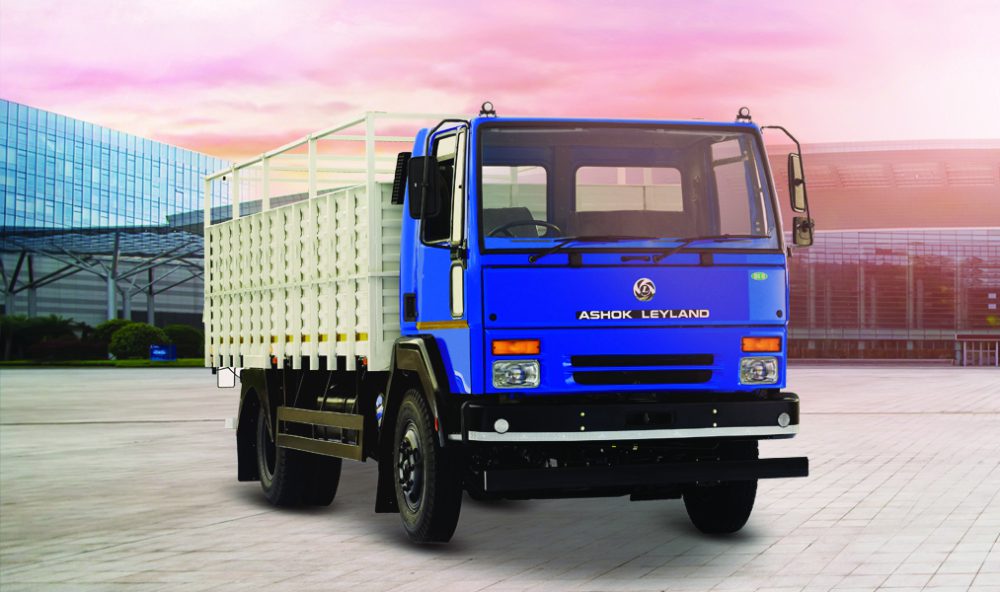 Distribution Trucks: Called the A1 Boss 1413, Ecomet 1214 and the Ecomet 1012 Tipper. The Distribution series of trucks from Ashok Leyland are all powered by the same H series 4-cylinder CRS engine making 130bhp and 450Nm.
The A1 Boss 1413 is among the better styled Intermediate Commercial Vehicles in the market. It can deal with high payloads of 9 tonnes and above. And with loading span of up to 24 feet, it is the ideal fit for applications like packaged goods, parcel services and e-commerce, making our customers the boss of last mile connectivity. Much on the same lines, but for more robust requirements, the Ecomet 1214 is the undisputed load king of its class. It has a GVW rating of 15.7 tonnes, and an accordingly reinforced frame. The Ecomet 1012 Tipper, on the other hand, is Ideal for intra-city movement, market load and construction applications. It has a 10.9 Tonne GVW and loading span options from 14 feet to 19 feet, and has high manoeuvrability and load carrying capacity.
Ashok Leyland – Buses:
Ashok Leyland offers an exhaustive list of Buses with varied application requirements to choose from. It offers – Staff Buses (4 Models), School & College Busses (4 Models), City Buses (10+ Models).

Ashok Leyland offers buses in both forms, chassis only and with body. It small/city bus ranges – the Lynx range is powered by the H series 4 and 6 -cylinder CRS engine's making outputs in the range of 130-145bhp and 320-450Nm. The Lynx Strong and Smart range on the other hand cater to the school, staff and tourist bus markets, with chassis options which can seat anywhere from between 26 to 46 passengers. The Lynx line of buses is available with both the BS3 and BS4 range of H-Series engine, together with an integrated bus body. While the Cheetah range of buses is similar to the Lynx in usage as staff buses, it a bigger with a gross vehicle weight of 16.2-tonne.

The Janbus acts as the top-of-the-range low-floor city bus with built-in air conditioning, air suspension with a powerful 223 bhp engine and pneumatically activated doors. The FESLF model range also acts as the low-floor intra-city transport buses, but positioned a bit lower than the Janbus and eschews the air-suspension and air conditioning.