Photographs by Vishnu G. Haarinath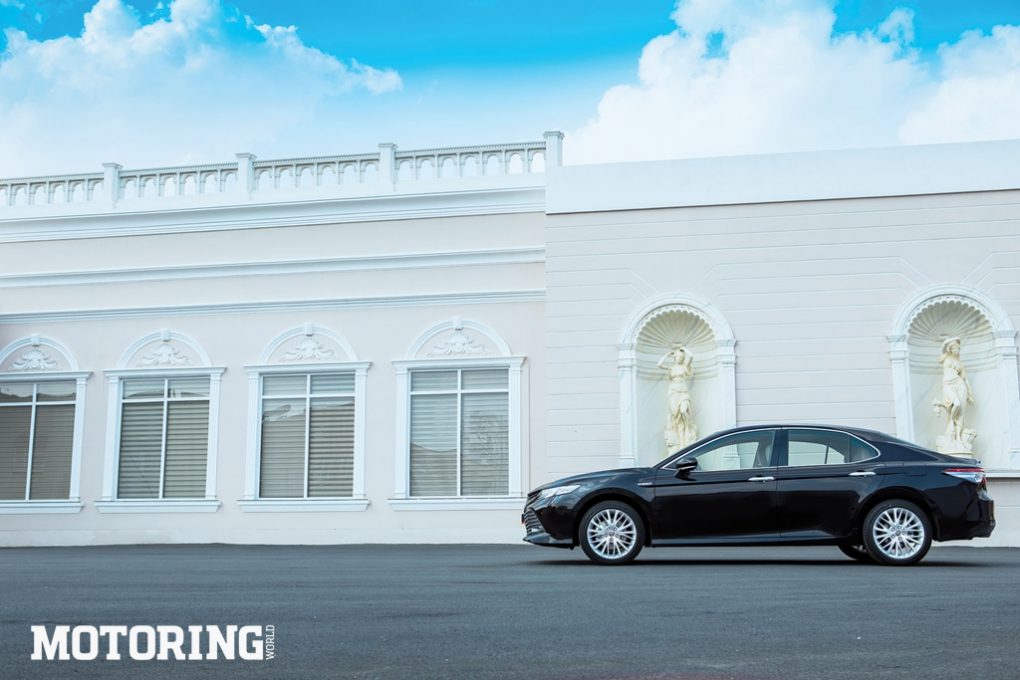 I can't tell you how nice it is to be reviewing a genuine, godforsaken full-fat luxury saloon for a change. With the barrage of SUVs in all shapes and sizes usually bombarding every nook and cranny nowadays, you can see how it might be refreshing to me that a regular, old-school people mover comes my way for a review. In this case, it's the almost-forgotten Toyota Camry, and what a shiny, potent hunk of metal it's turned out to be.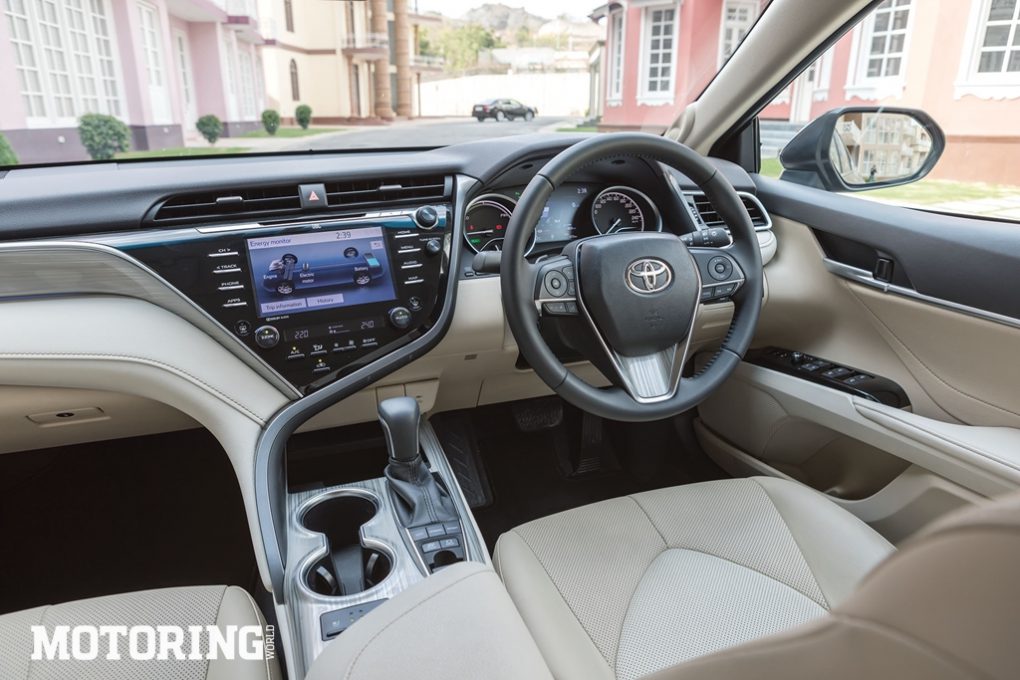 To give you a brief history lesson, the Toyota Camry's been around in the Indian market for a fair while now. More specifically, it's been here for the past 17 years now (can't believe it, can you?), and it needs to be given a hand simply for lasting this long in the face of numerous other competitors coming (and going). The Camry, however, has always been a machine worth looking into, in my eyes. Not to get your high-speed jollies, mind, but simply to expertly manoeuvre your privileged behind in a fairly competent manner. In its eighth generation now globally, though, the Camry sees a bunch of revisions, and the hope is that it manages some sort of relevance in a sea of chunky baby hippos masquerading as modes of transport.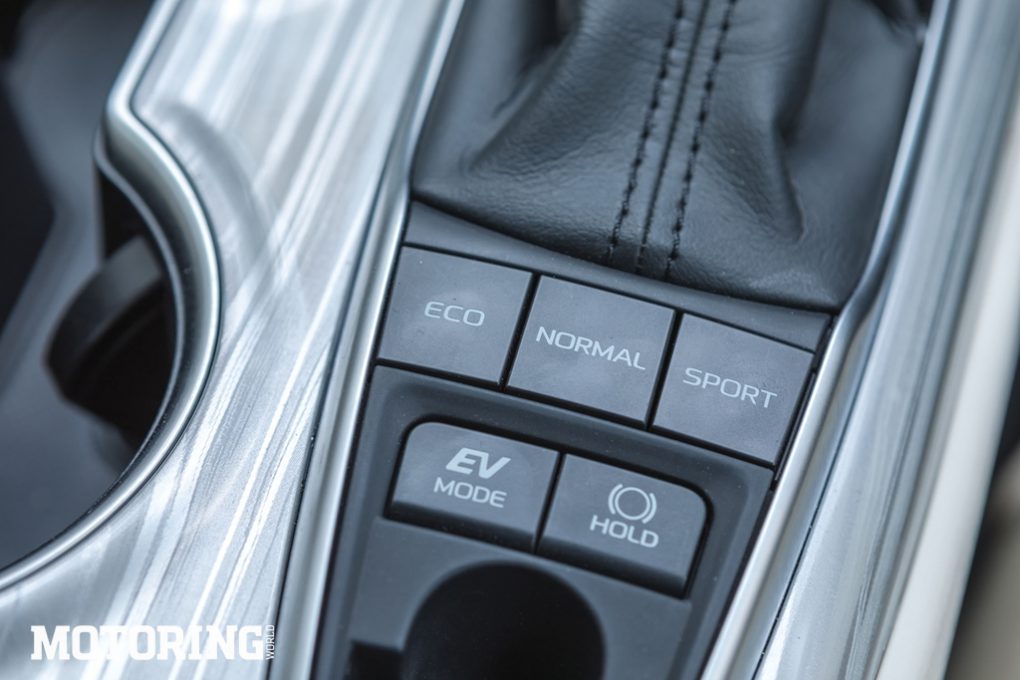 The new Camry is based on the carefully thought-through TNGA, or Toyota New Global Architecture, modular platform. That shouldn't be of any relevance to you, though. What should be is the fact that it's lighter and simultaneously more rigid by 30 per cent. Length, width and wheelbase over the previous car are also up by 35mm, 15mm, and 50mm, respectively. So it's a bigger car overall, and therefore, a heavier vehicle is what you should expect, but it's not as much as you'd think. It's just 30 kg more than its predecessor which, once you factor in the new 2.5-litre petrol engine mated to a hybrid system, isn't all that bad at all. I'll get to that a bit later, though. What I want to focus on, for now, is just how it looks. Seen any of the new Lexus' recently? Liked them? If so, you're in for a bit more of the same here. Sharp cuts and creases are aplenty here, and if the recent trend of slapping on an enormous grille catches your fancy in the least, the new Camry is a deal-and-a-half, all right. Pushed to lend a verdict on the way it looks, though, I'd be happy to comment that I like it. I really do. Grotesque grille aside, it's a very pleasing and striking visual that Toyota's worked on, and seen on the move, I think it lends our roads a touch of class, in my perspective.
Work your way to the cabin and you'll notice that everything's quite nice here, too. The swoopy centre console and the crisp instrument cluster grab your attention first, and once you've had a scan through the rest of the cabin, you'll find that everything is done rather tastefully and there aren't any pain points to speak of. The seats are comfortable, plenty adjustable, and there's enough room for three at the back, although in the true spirit of the aspiring limo, you should stick to two people at best at the rear. And while you're back there, there's plenty to play around with, too. The coolest bit is the touch-operated controls in the armrest, which operates everything from the rear sunshade, audio, climate and the recline for your seats. Speaking of gadgetry, curious to know what the Camry gets? Well, there's nine airbags, ESP, 18-inch alloys, auto LED headlamps, cooled front seats, a head-up display, cruise control, three-zone climate control and a tyre pressure monitor to name just a few. Toyota hasn't skimped, then.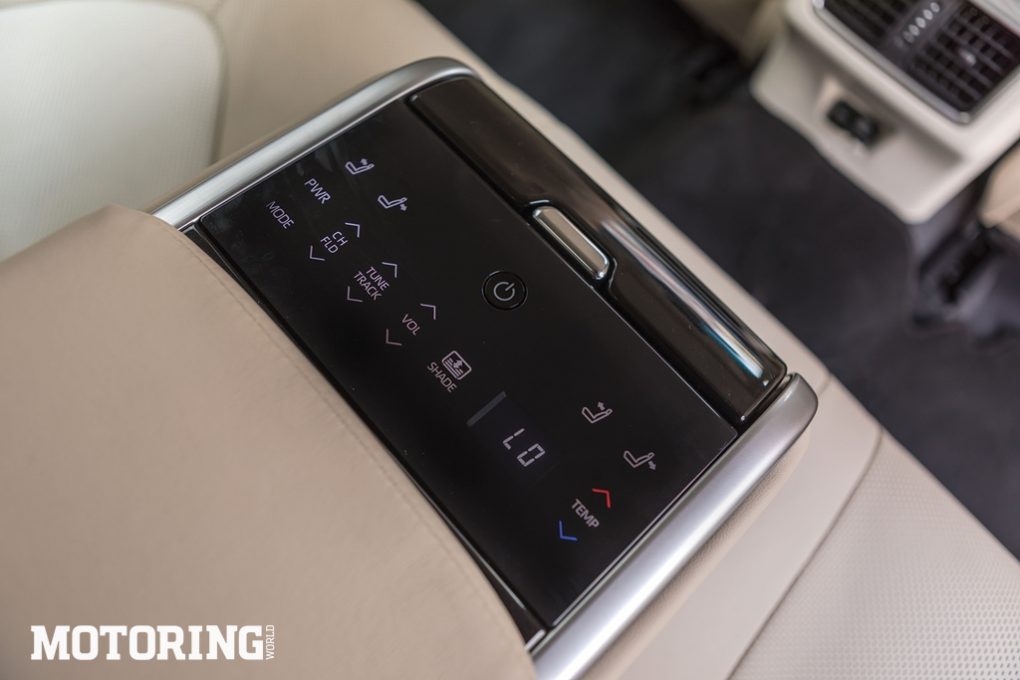 Now, to get to the meat of it: what powers the Camry. There's an all-new 2487cc inline-four petrol engine that makes 176 bhp and 22.5 kgm, which are slightly bumped up figures compared to the older unit. However, in addition to the combustion unit, there's also a 245V Nickel Hydride battery pack and an all-new, fourth-gen hybrid system motor generator that makes 118 bhp and 20.5 kgm, figures that are slightly down, however, on the previous unit. The good news, though, is that together they make more power — 215 bhp, to be precise. Factor in all the gains made in regards to efficiency, and Toyota's claimed figure of 23.27 kpl, while impressive, isn't surprising. What's great is that, and this applies only if you're enthused with the way the future of cars and technology looks, on startup, the Camry feels like it's still off. It's only when you press down on the accelerator gently and start moving that you realise that the car is, indeed, on. If the batteries are charged enough, it will run entirely on EV mode (and unnervingly silently) at low speeds. However, give it anything more than part throttle and the 2.5-litre combustion engine wakes up and takes over. The transition isn't as smooth as you'd expect, though, which is a bit of a dampener, but otherwise it's a pretty neat system to get used to.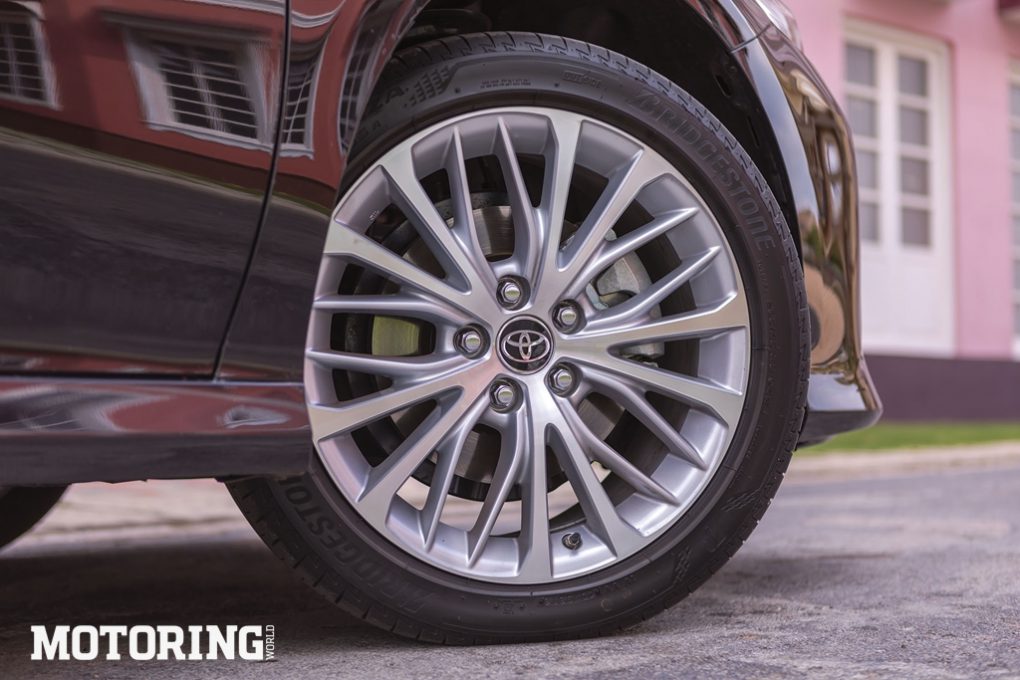 With the power figures quoted, you'd think that this was a pretty quick saloon to zip around in, won't you? Well, you'd be wrong. The Camry is not what you'd call quick. It's more intent on cruising and driving along in silence and comfort; something that it does rather well, might I add. But it starts to get pretty whiny if you push it, and the e-CVT, while effortless in its operation, isn't the quickest around, as you'd expect. So it's best to just stick to ferrying pampered bums at the back in a gracious manner. It's when you come to accept that limitation of the Camry's that you realise that it's really rather good at its job. The ride is quite good, despite the car running on 18s, and even hard changes in direction don't catch a car as long as this out as much as you'd expect. I tried driving it over bumpy roads at high speeds with four onboard and came away pretty surprised at how well the Camry handles things. Everything just responds in a dignified manner when you're driving the Camry in an appropriate manner. For that, I deem it impressive.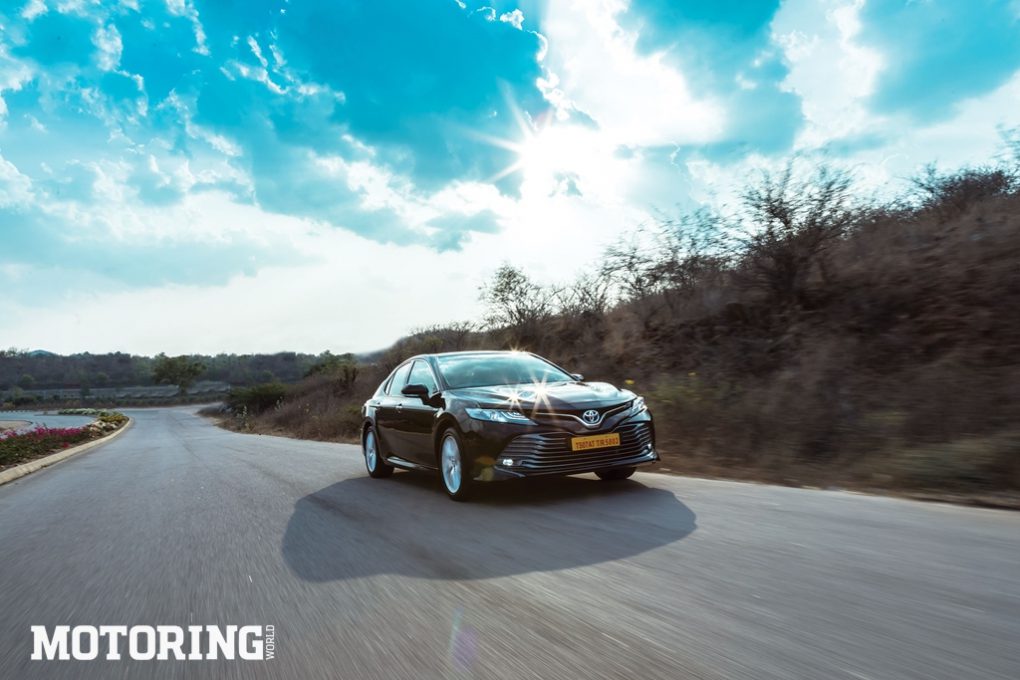 What's the take away from it all, then? It's pretty simple. The formula hasn't changed. Toyota's focused on keeping the Camry true to its original traits by making it a predominantly chauffeur-driven car, and to that effect, the back is genuinely where you'd want to be for the most part. Has it improved in other areas where it was previously lacking? Sure it has, but not to the extent that it could now be called an all-rounder. It's still very much a car that you use to be ferried in. Some might complain that it should have evolved into a more wholesome driving machine, but for those few I question the need. There are lots of other cars in this range that'll do that, but there are very few that'll handle what the Camry knows it's good at with as much finesse. And that, to me, is the definition of purpose-built. Now, question is, do you have Rs 37 lakh to spare?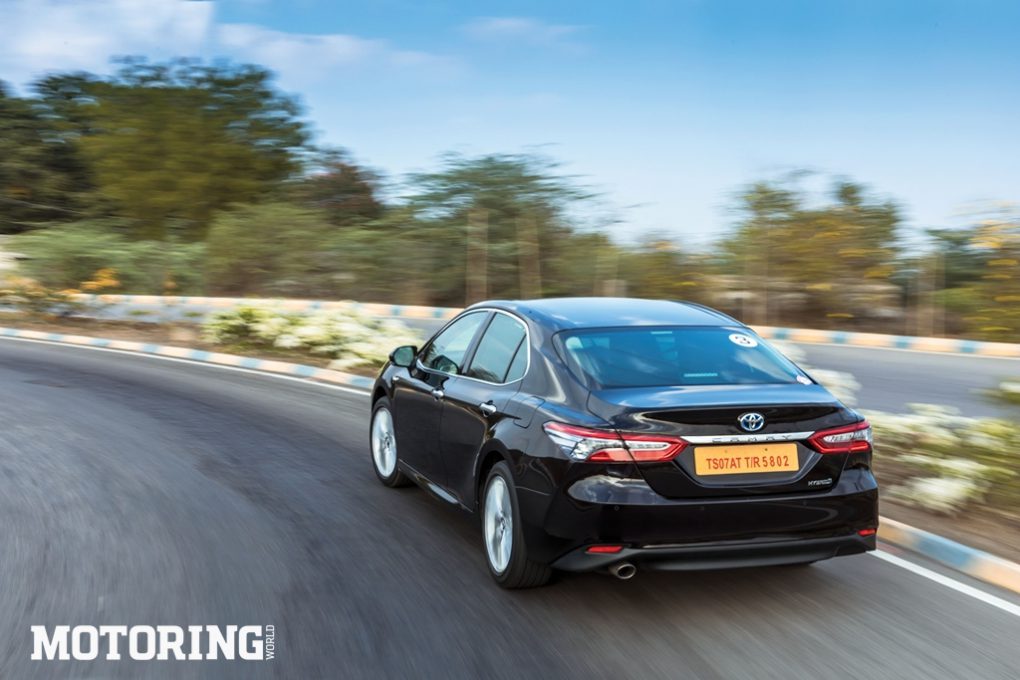 AUTODATA
Toyota Camry Hybrid
POWERTRAIN
Displacement: 2487cc, i-4, petrol/Permanent Magnet Synchronous Motor
Max power: 215 bhp
Max torque: NA
Transmission: CVT
TYRES
F/R: 235/45 R18
DIMENSIONS
L/W/H (mm): 4885/1840/1455
Wheelbase: 2825 mm
Ground clearance: 165 mm
Kerb weight: 1665 kg
Fuel capacity: 70 litres
PRICE: Rs 36.95 lakh (ex-showroom, Delhi)