Photographs by Kartik Ware
There's no other way to put it, is there? The Wagon R, in India, is a huge deal. Two generations of it, and 22 lakh units later, it seems incredible that people haven't had their fill of the compact hatchback. It's been around for what seems like ages now, and it's a testament to just how well-received it's been that it still figures in the top-sellers' list to this day. To think of renovating the ideology behind the car and reinventing it from top to bottom, then, not only seems like a task for the fearless, but also beggars the question, 'Why bother?'. Then again, it's precisely that sort of question that Maruti tends to avoid when it comes to its cars in India, and that's probably also why it is where it is right now: right at the top. So, yes, the Wagon R's been due for an update, but what Maruti's given us here is something that's so much more.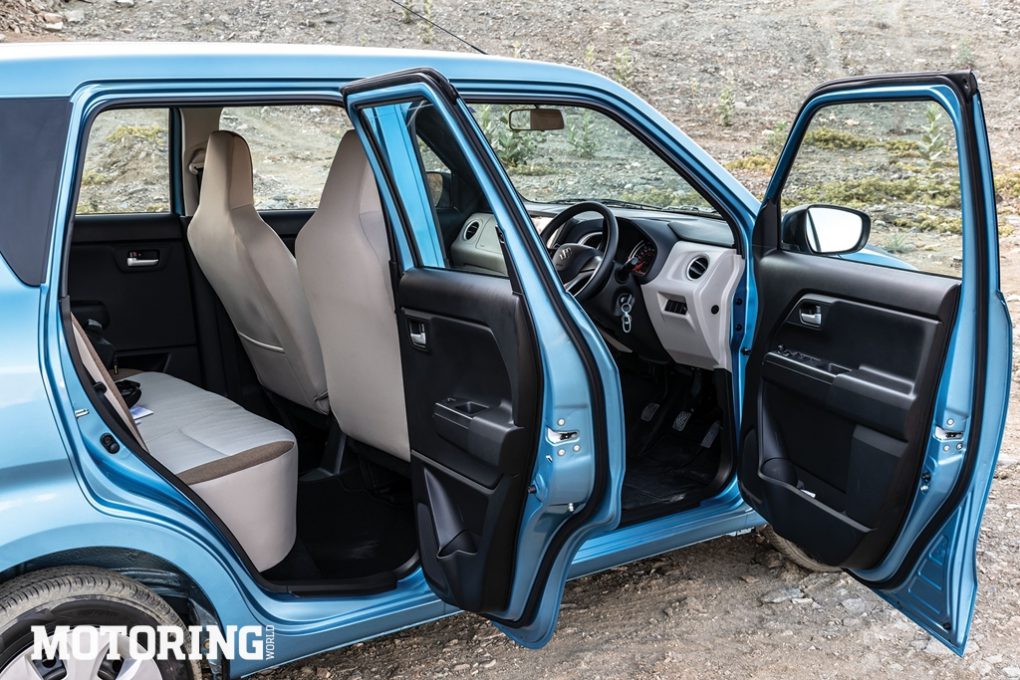 The basics first: the new Wagon R ditches the old A platform that it had for the new Heartect platform that underpins most of its siblings. The benefits of this are obvious: better crash safety, lighter kerb weight and improved dynamics. But it's also given the Wagon R a new lease of life by being able to grow significantly. It's longer by 56mm, wider by 125mm and the wheelbase is up 35mm, too. What this means is that it looks like a substantially bigger car than the outgoing spec, all the while being much lighter (by 65 kg, at that). Sounds like a pretty good deal to me.
Now, I won't go into the aesthetics too much, because I'm sure you can make up your mind about it, but what I will say is that it's a lot more rounded than before, and that's a good thing. I wouldn't go so far as to call the Wagon R good looking, but it's got its moments, it does. That said, I do need to point out that you can't get alloys even on the top spec Wagon R, which is a curious omission, albeit one that's no doubt done to save on costs.
On the inside, there's plenty to like. Thanks to the large door and how tall the car is, getting in and out is a breeze, and the seats afford a great view all around, too. It'd be silly to expect premium materials in the cabin, but that hasn't stopped Maruti from making the cabin a fairly appealing place to be nonetheless. The steering's a direct lift from the Ignis, which is always a nice thing to see, and the instrument cluster and the infotainment system are nicely integrated. It's not the best looking dash out there, but people used to the current Wagon R will definitely see it as a big step up, no doubt. I do have to admit, though, that the front seats, while large, don't really offer much in the way of comfort. I understand that this won't be anyone's first choice to cover long distances in, of course, but knowing how we're sure to lap this car up and the amount of time it will be spending on the roads, it would have made sense to offer beefier seats. Space, however, isn't a concern. At no point was I being forced to rub elbows with my co-passenger, and it definitely feels like three at the back will be able to sit comfortably. And the 341-litre boot will definitely help in carrying a reasonable amount of luggage.
At this point, I should point out that the Wagon R is the first recipient to feature Maruti's new SmartPlay Studio infotainment system. It's a 7-inch touchscreen that features Apple CarPlay, and a fully redefined UI as compared to what you're used to in the current Maruti's. I didn't quite see the fault in the current infotainment systems, however; I quite liked it, in fact. And for what it's worth, this unit doesn't seem as polished as I'd like it to be, but it's decently intuitive and easy to use. Maruti's even chucked in the ability to control the audio system wirelessly via a smartphone app. Could come in handy, that. Other than that, there are steering-mounted buttons, dual airbags on the top spec version, rear parking sensors, and ABS as standard across the range. Got to love those upcoming minimum safety requirements, yeah?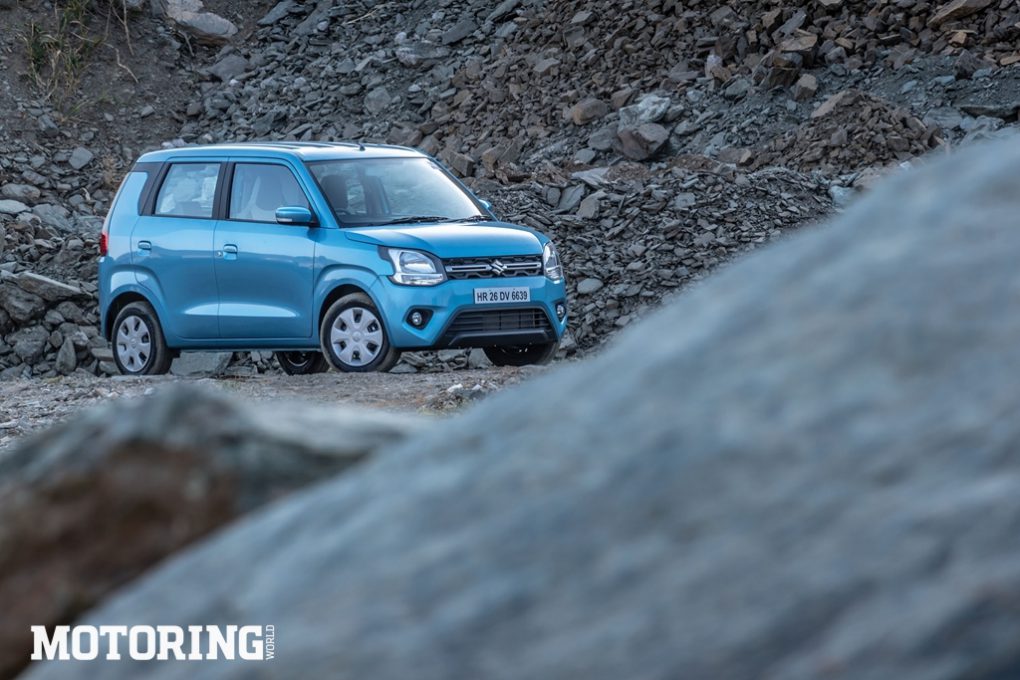 Now, as for the way it drives. Maruti will sell you the Wagon R with two engine options, both petrol. The 1.0-litre three-cylinder K10 unit that it's been selling with so far is the first, and it'll be sold without any changes to it. What we got to drive, however, is the second option: the 1.2-litre four-cylinder K12 petrol. It's the same one you'll find in the Ignis, Baleno and Swift. Where things get fun, though, is once you factor in the weight. Even the heaviest Wagon R, the 1.2 ZXI AGS, as an instance, comes in at only 845 kg. Now, pair that to the 82 bhp 1.2-litre petrol that we know and love, and things are bound to get lively.
The one we had a go in first was equipped with a 5-speed AMT gearbox (or as Maruti calls it, the AGS), which is pretty refined now in its umpteenth generation. It's not quick, but it's come far from its jerky days. If you drive the Wagon R around with a bit of caution on your right foot, it will be a tremendously eager and compliant car to drive. If you feel the need for it, you can even change gears manually, but I'd suggest just sticking to auto and letting it do its thing. It's not decisively fun to drive with the AMT gearbox, but it's no slouch either, and that's about as good as a compliment gets for the Wagon R. Cruising at 80 kph is no problem at all for the gearbox, and it'll happily downshift decently quickly if you have an urgent overtake to make.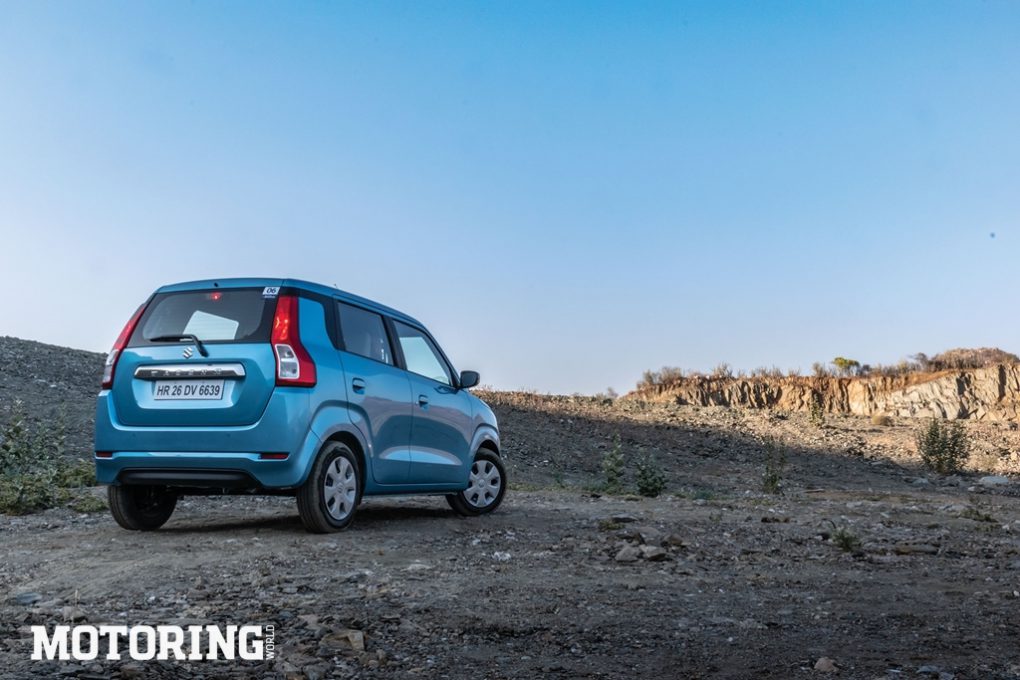 The real fun, though, comes with the 5-speed manual and the 1.2-litre K12. Driving them back-to-back is an exercise in surreal transformation, and you won't believe just how peppy the Wagon R feels. The gearbox itself is slick and easy to shift, and it honestly makes you want to keep driving harder and faster with each passing gear. Even the steering is decently heavy at most speeds, which further helps you when you're pushing the Wagon R a fair bit. Having said that, it's very easy to manoeuvre the car in traffic as well. As for the way it rides, well, it's standard Wagon R fare here. It'll manage most bumps, but the particularly big ones will catch the driver out, so you probably need to watch out for those. It handles fairly well, too, so you won't feel too scared around corners. Body roll is kept to a minimum, as well, unless you're doing truly stupid speeds. As for the cabin insulation, well, it's been worked on and it shows. The Wagon R is pretty silent on the move, unless you're redlining it in every gear, which is when it kind of gets a bit whiny. Keep speeds sane, and you won't have an issue.
I suppose that says it all. In my eyes, there's no reason to not like the new Wagon R. It's bigger, more powerful, lighter, more spacious, safer and as practical if not more than the previous one. What's not to like, really?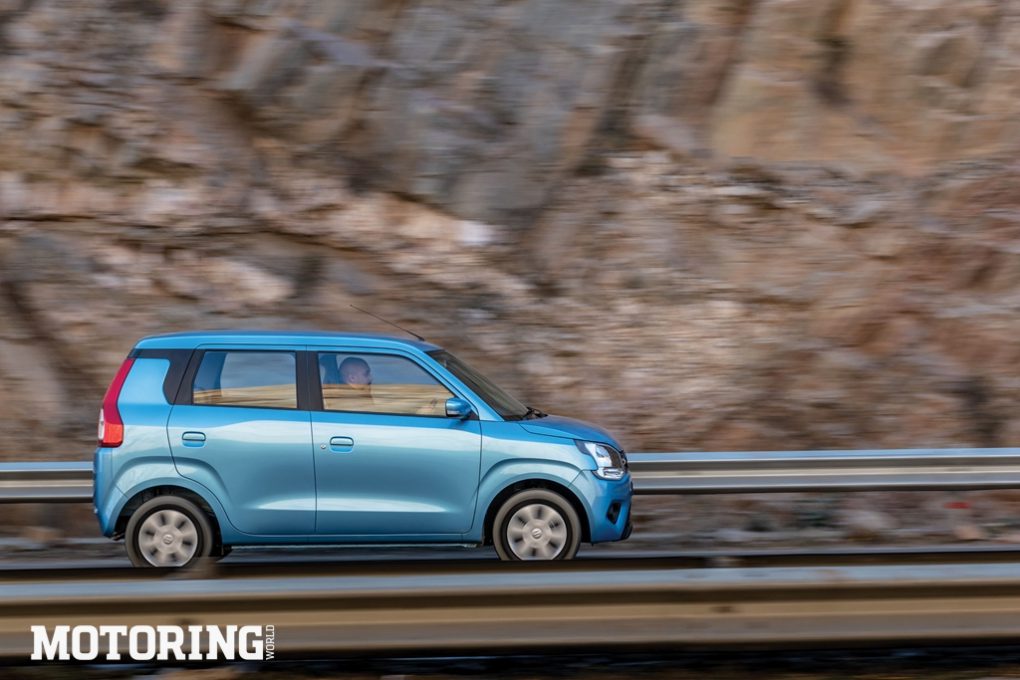 AUTODATA
Maruti Suzuki Wagon R
POWERTRAIN
Displacement: 1197cc, i-4, petrol
Max power: 82 bhp@6000 rpm
Max torque: 11.6 kgm@4200 rpm
Transmission: 5-speed AMT/5-speed-manual
TYRES
F/R: 165/70 R14
DIMENSIONS
L/W/H (mm): 3655/1620/1675
Wheelbase: 2435 mm
Ground clearance: 145 mm
Kerb weight: 835-845 kg
Fuel capacity: 32 litres
PRICE: Rs 5.22 lakh to Rs 5.69 lakh (ex-showroom, Delhi)