If you know anything about cars, you'll be aware that the United States is the pickup truck capital of the world, with these behemoths selling there in such large numbers that you'd think pickup ownership was written into their Constitution. The Toyota Hilux, surprisingly, doesn't feature very high on the sales charts in that country – but it is the largest-selling pickup in the world if you leave out the American market. It's not just a vehicle – it's something of a cultural phenomenon, having developed a reputation for being indestructible, sold in the many millions of units since it was first launched in 1968 and becoming a favourite with everyone from agriculturalists to, er, the Taliban. As for India, pickups have always been an extremely niche segment here, but it's one that's slowly gaining in popularity thanks to Isuzu, so it's no surprise that Toyota has brought its legendary vehicle into the mix; what is a surprise is that it's taken almost a year for us to get our hands on it after it officially went on sale here. Only Toyota can answer why that is the case, but for now, let's dive into what the Hilux is all about.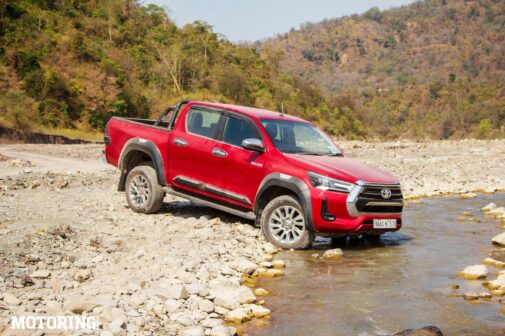 In other parts of the world, you generally buy a Hilux if you want a vehicle that will outlive you. Here, Toyota is pushing it as a 'lifestyle' vehicle, which is a very broad and somewhat vague term, but there you go. I imagine that if your lifestyle involves crossing rivers and driving through deep ruts on a regular basis, you're in luck (or you could just be a resident of Mumbai). In essence, the Hilux is a Fortuner in pickup form, sharing a 4×4 system, a ladder-frame chassis and a 2.8-litre diesel powerplant with the hugely popular SUV; the rear suspension is of course a different one, given the purpose for which the Hilux has been built – world domination.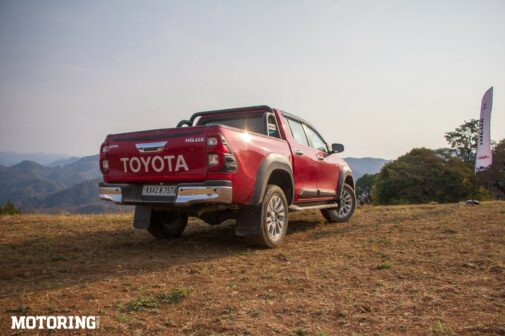 If you want something that's small and compact, look away from the Hilux because it's enormous – you'll need a very generous amount of parking space in your garage. It's over five metres long (I suspect that if you get into the cabin on a Sunday, whatever is in the cargo area will be firmly in Tuesday) and almost two metres high, so 'imposing' doesn't even begin to describe it; street (and jungle, and desert, and mountain) cred is immediately assured. Even in stock form, it's a piece of work, so once you get stuck into the aftermarket accessories section (which you will, let's not kid ourselves), it'll look even more badass; Toyota has its own list of these, and you can get innumerable others from 3-rd party sources. The double-cab version is what is available here (four doors, two rows of seats) and it looks brutally efficient – big wheels, lots of chrome on the front, large headlights, prominent grille.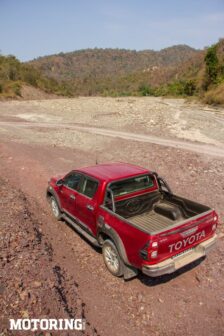 Should you choose to load up the cargo area, you'll need to fold down the (heavy) tailgate and preferably be a powerlifter, because the bed itself is high and isn't the easiest place to haul things into. That said, its floor is built to let you slide things into place, and it'll be easy to keep clean.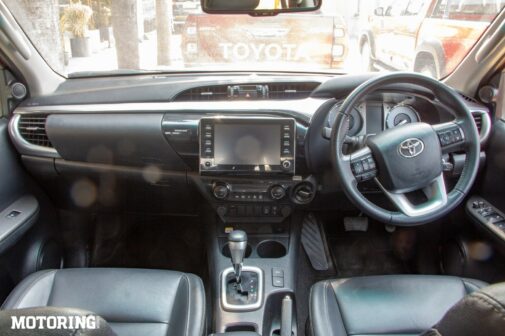 Getting into the cabin requires a significant step up, for which the handles on the pillars are useful. In the top spec version that I was driving, the cabin was – acceptable. It looks over a decade old in terms of design, but it also has the same indestructible feel of the vehicle itself. The all-black theme is par for the utilitarian course, but there are enough nods to mod-cons to keep you happy – a touchscreen infotainment system with Android Auto, Apple Carplay (with actual buttons on the side, thankfully) and connected car tech, an audio system, cruise control, rear A/C vents, powered driver's seat, reversing camera, parking sensors and.. well, what more do you want? The leather front seats are comfortable and the view out through the windscreen is commanding; the rear bench is a bit cramped (the wheelbase has been utilised mainly for cargo space rather than humans) and you'll have to sit upright because of the near-vertical rear bulkhead.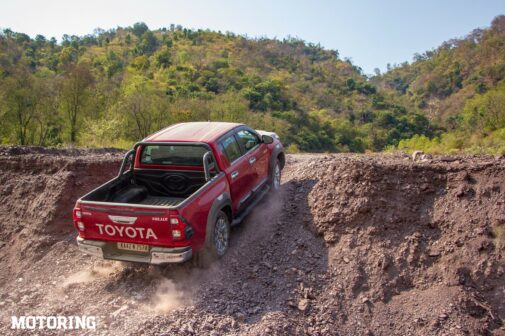 In terms of materials, it's essentially a sea of hard, tough plastic, and there are plenty of bottle/cup holders and storage spaces. All told, the Hilux has a no-nonsense interior that gets the job done and won't fall apart; just don't expect a cabin matching its price tag. Standard features include 4WD with low range, an electronic rear diff. lock, hill descent control and hill start, ESC, seven airbags and ISOFIX mounts.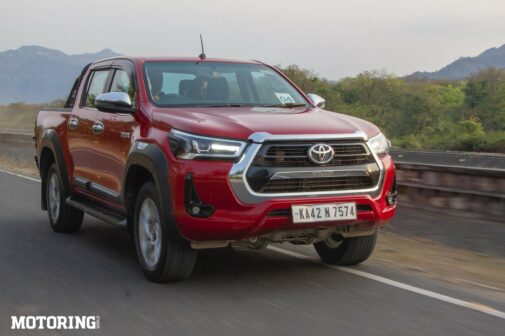 The Fortuner's trusty 2.8-litre diesel engine does duty under the Hilux's bonnet, putting out 201 bhp and 51 kgm of torque (42.8 kgm in the manual variant). There's more than enough shove available to get it up to speed reasonably quickly (for a pickup, that is), and you never get the feeling that you'll run out of reserves. It has to be added that I drove the Hilux with nothing in the carbo bay and two passengers, but I have a feeling that even if you load it up fully (470 kg is the capacity), the Hilux will make short work of the hauling process. NVH levels are well controlled for a vehicle in this class, and although the engine begins to get pretty loud when you rev it hard, it's never that much of a bother. The 6-speed automatic gearbox is excellent – it's refined, it shifts smoothly and in a timely way and is quite sharp when you shift to Sport mode.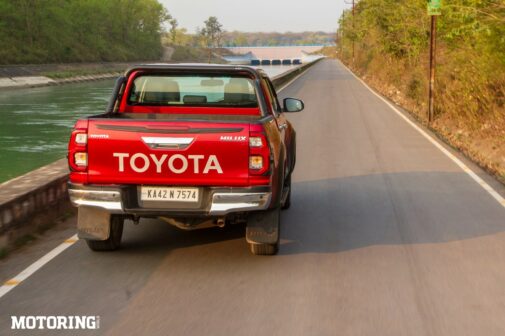 In urban conditions, the Hilux is surprisingly easy to drive and is nowhere as intimidating as it looks; you can, if you so wish, drive it to and from the office if you can deal with its sheer size and heft of its steering wheel (try not to do any U-turns either). Highway cruising is rock solid because of its near-3 tonne weight, and other vehicles get out of your way pretty damn quickly, too. Unless you try something immeasurably stupid around corners, the Hilux will also go around them confidently, but body roll is very much on the cards.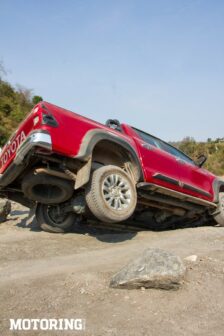 In terms of ride quality, the Hilux is… predictable. It has big tyres, a tall ride height, weight distribution stretching to next month and good old leaf springs, so if you're expecting plushness, don't. If you're driving by yourself, you will bounce around, and with passengers in the back you'll still bounce around – that's just part of the deal, with a truck sprung like this. The upside is that big craters are handled with ease, and that the leaf springs will last well beyond what coil springs would have been able to manage.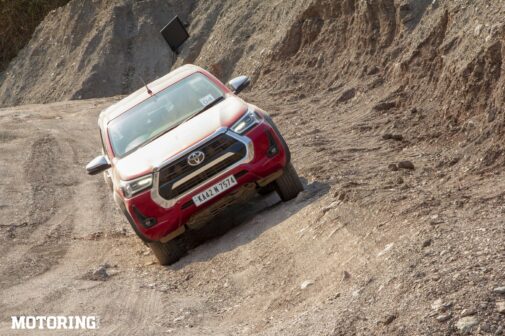 Never mind its urban and highway manners, though – the Hilux was born for the rough stuff, and it's when you take it off the road that its character really shines through. Everything about it is tailored for no-road situations – a limited-slip and lockable diff. which works in 2WD, ground clearance of 310 mm, 265/60 R18 tyres, hill descent/assist, low-range and fording ability up to 700 mm, among others. Toyota had set up a rather impressive off-road course in the middle of a dry riverbed outside Rishikesh, the approach to which was through a series of broken, gravelly roads; the Hilux dismissed these with a laugh, and I could almost hear it say 'Is that all?' The course itself consisted of negative and positive inclines, huge 'moguls', water crossings and steep ascents and descents; again, all it took was a twist of the dial to L4, engaging hill assist and locking the rear diff. to dismiss these almost casually. In all these situations, you can be certain that your nerve will break aeons before the Hilux's does.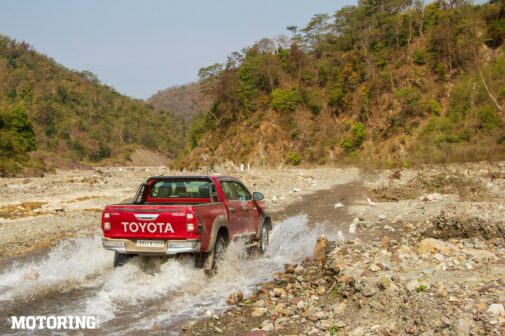 At close to Rs 38 lakh, ex-showroom, for the fully-specced AT version, the Hilux costs over Rs 10 lakh more than the Isuzu V-Cross and is not easy on the bank balance, and many of the things you would normally expect in a car costing this much are simply absent. That said, if you're looking to buy a Hilux, it's a dead certainty that you have other cars in your garage for the everyday (and showoff) stuff, so if it's an incredibly hard-core off-roader you want (with a cargo bay), there's nothing else like it in the country. You'll have to live with things like sheer bulk, a lumbering nature, a bouncy ride and so on, but you'll be secure in the knowledge that it will go to the ends of the earth and back again.
AUTODATA
Toyota Hilux High AT
POWERTRAIN
Displacement:
Max Power:
Max Torque:
Transmission:
2755cc, I4, diesel
201 bhp@3000-3400 rpm
50.98 kgm@1600-2800 rpm
6AT
DIMENSIONS
L/W/H (mm):
Wheelbase:
Ground Clearance:
Kerb Weight:
Fuel Capacity:
5325/1855/1815
3085 mm
300 mm
2910 kg
80 litres
PRICE
Rs 37.90 lakh (ex-showroom, Delhi)