The most anticipated car of the year is finally here. Well, sort of. The official launch of the new Mahindra Thar is scheduled for the 2nd of October, but as part of Independence Day celebrations, Mahindra organised a Freedom Drive to give us a taste of its upcoming SUV. And here are our key takeaways: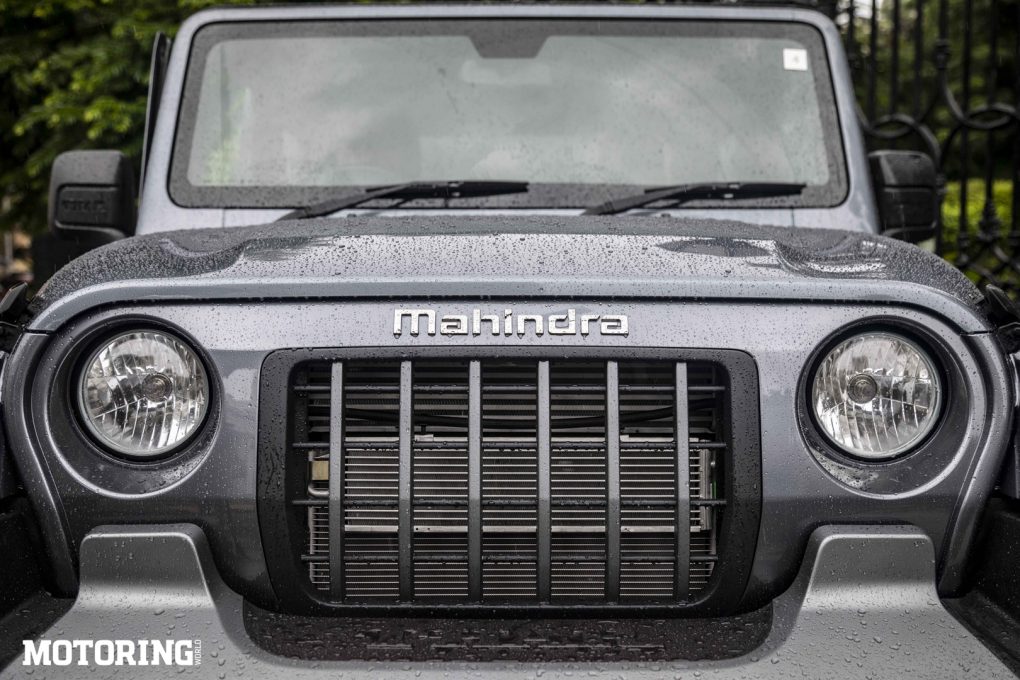 What does it look like?
In the flesh, the new Thar has a very imposing stance. Up front, LED DRLs draw you to the new face which is instantly recognisable as a Thar. Save for the awkward grille, I think it looks great. Large 18-inch wheels fill out the arches, and they're all about functionality. No bling here! Coming to the back, the rear three-quarters of the Thar are probably the best angles, where the wide hips join the tail. A significant improvement over the outgoing Thar is the quality of the build and general fit and finish on the new car.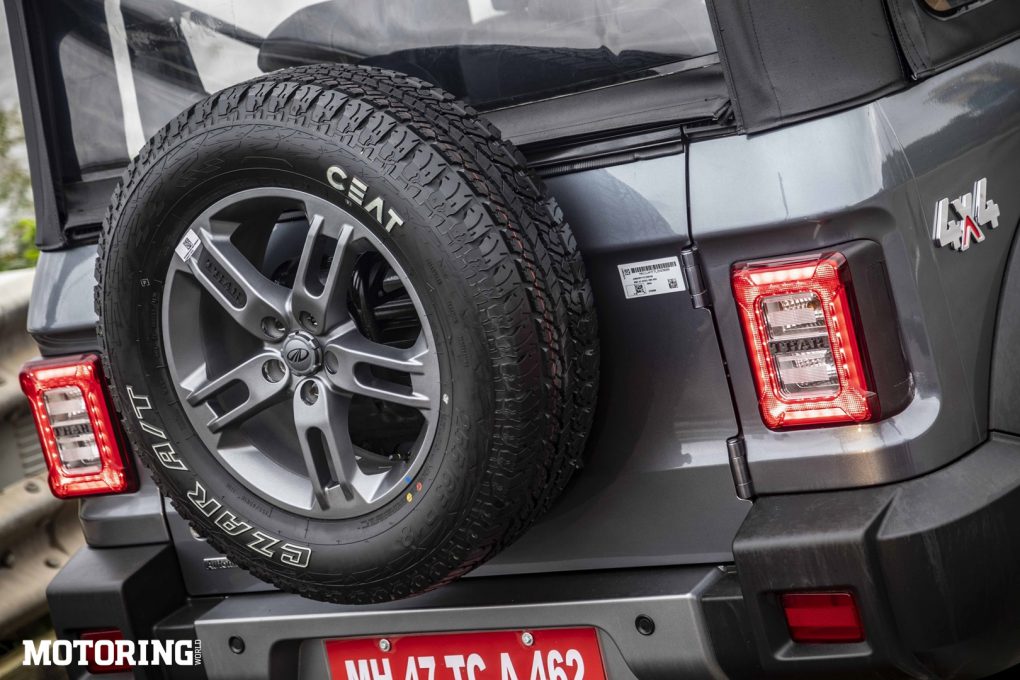 This new version of the Thar finishes what the first-generation started, taking an absolute workhorse of a vehicle and turning it into an aspirational, lifestyle SUV. This isn't just a niche vehicle anymore; I've had some decidedly non-car people come up to me asking to know all about it, and when they can put their money down on one. The Thar has now become a mainstream vehicle.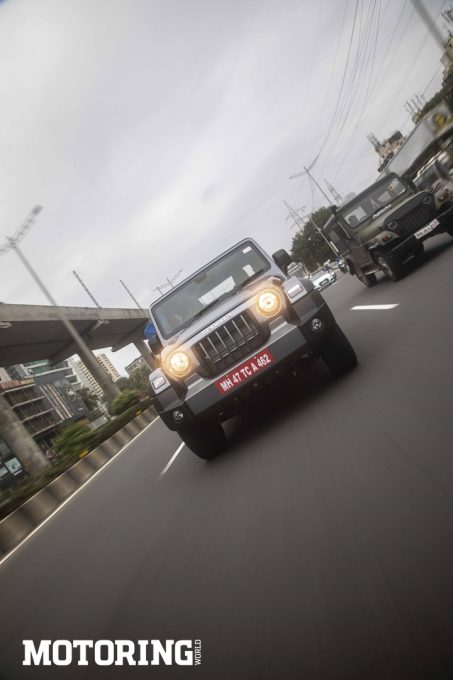 How does it drive?
The Thar is made for off-roading and I'm sure this new version excels at that, too, but how does it handle a regular commute? The last time I drove a Thar on the road was between off-roading venues, and the only thing that made that ride bearable was the anticipation of the trails we'd be crushing later on. This new one, however, is a massive improvement over that. It's actually compliant over speed breakers and other road undulations now. At low speeds, there's nothing that can baulk the Thar on the road.
At high speeds, there is a bit of body-on-chassis wobble, but nothing worth complaining about. However, despite all the improvements, there are some truths you can't get away from. It is an SUV with the aerodynamic properties of a brick, which make it susceptible to crosswinds, so you better have a good grip of the steering wheel.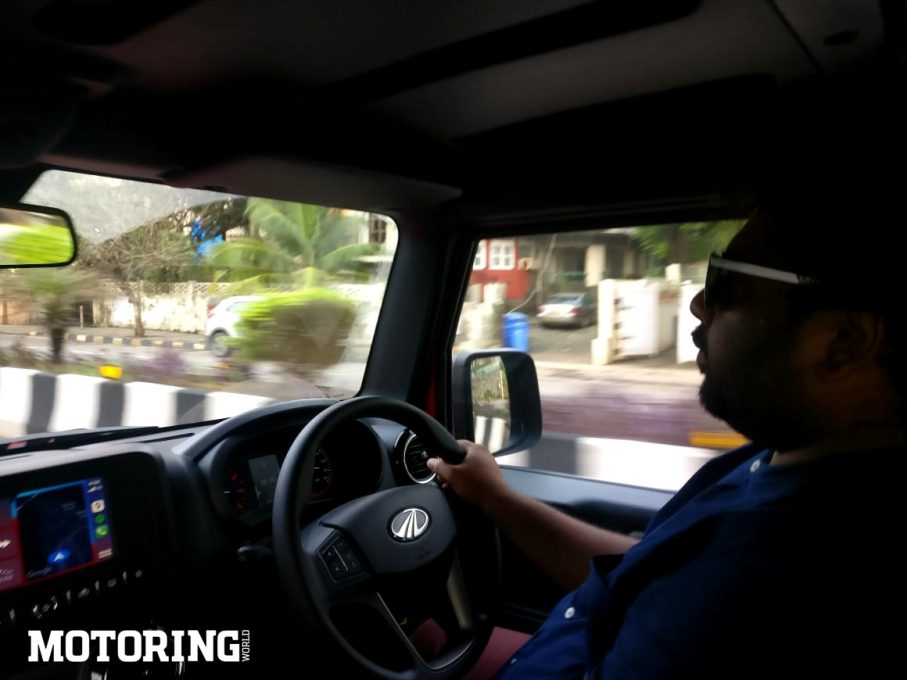 Is it liveable inside?
The interior, too, is a massive improvement over the first-generation Thar. For starters, there is an actual interior now which doesn't seem like an afterthought. The dash is well laid-out, controls fall comfortably to hand, and there are no unfinished bits around. There are a few people who daily-drive their Thars and those people, I'm sure, have a very good relationship with their chiropractors. This new one, might spoil that relationship. The seats are well-contoured and are adjustable for height and lumbar support. I wouldn't go as far as to say it's all car-like, but it's now far more comfortable to spend time in the Thar.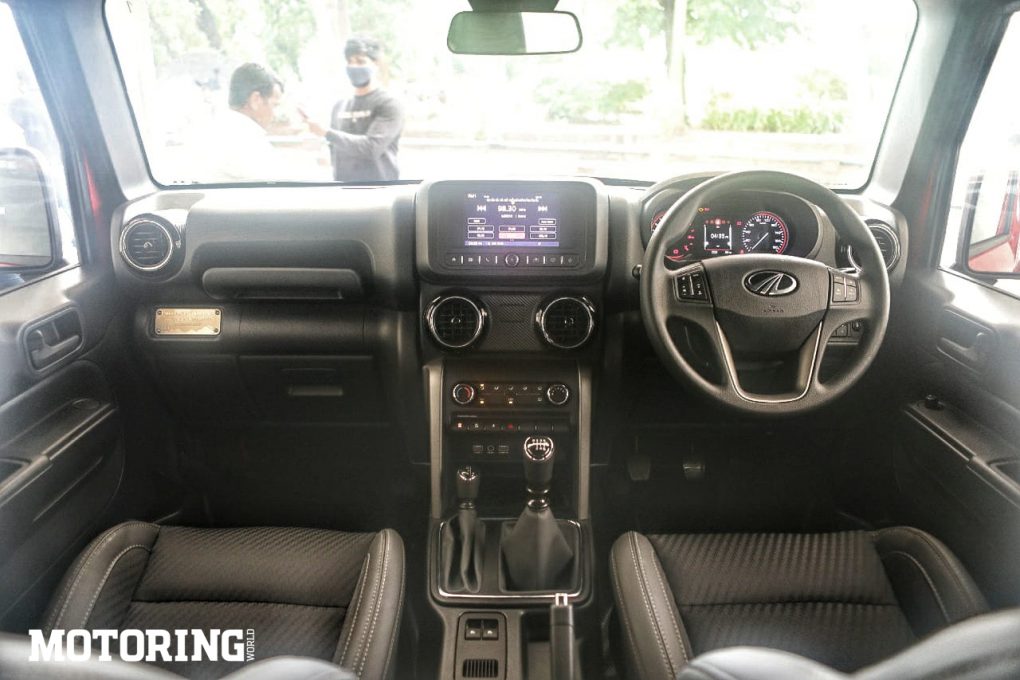 In the back, the front-facing rear seats are tricky to get to, but once you're in them, comfort is excellent. There is plenty of legroom and natural light as well. Space utilisation is good, too; luggage space behind the seats is enough for a weekend trip. The rear seats have a 50:50 split, so you can drop one or both for extra luggage space. The Thar's party trick is the washable interior; after a particularly mucky adventure, you can simply hose down the interior and have it looking new again.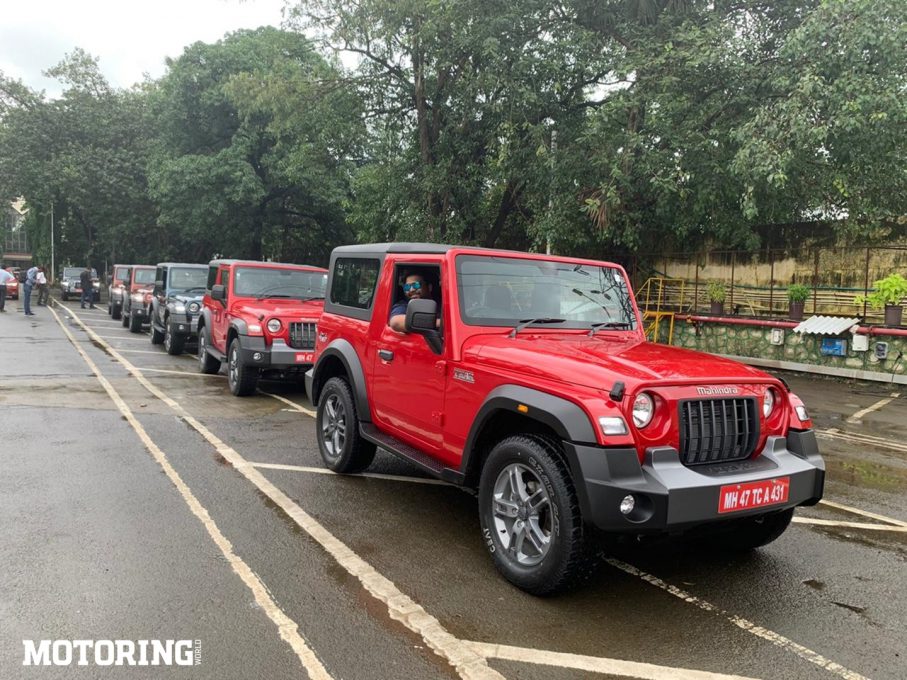 Is it the right car for you?
I drove the hardtop version of the new Thar and on the move, you'll notice the NVH levels are quite comfortable now. You can have a relaxing conversation inside, even at speed. Some wind and road noise gets through, but it's not too bad. There are no vibrations that make their way in from the engine, either, through the pedals or the gear lever. Even ergonomics are better now; after spending two hours in traffic in the new Thar, I can tell you that I didn't experience any fatigue. The new Thar's ride is on the bouncier side of things, but that's expected from a short-wheelbase body-on-frame vehicle.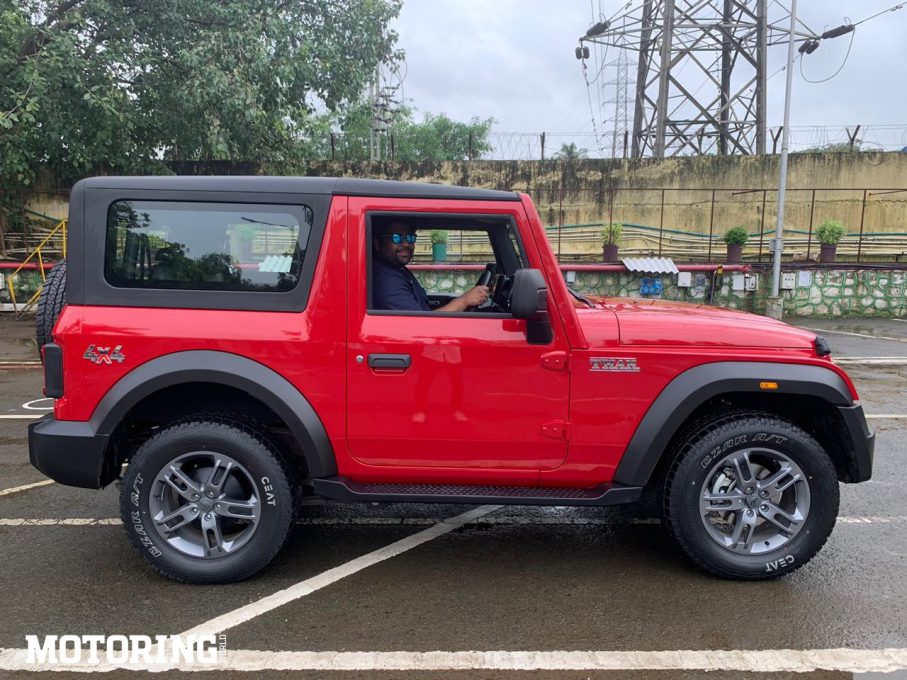 It puts its power down a lot better now, which will no doubt help it off-road. Where the older Thar would wheel hop and slide, this one is more planted. The Thar has more universal appeal and it comes with all the creature comforts you've come to expect in a car of its price range, and some you'll never see in other vehicles. I think you can get away with using a Thar as your only vehicle now. Sure, it's only got two doors, so access to the rear seats is a little cumbersome, but that's for the passengers to worry about. You'll be having too much fun to notice their complaints.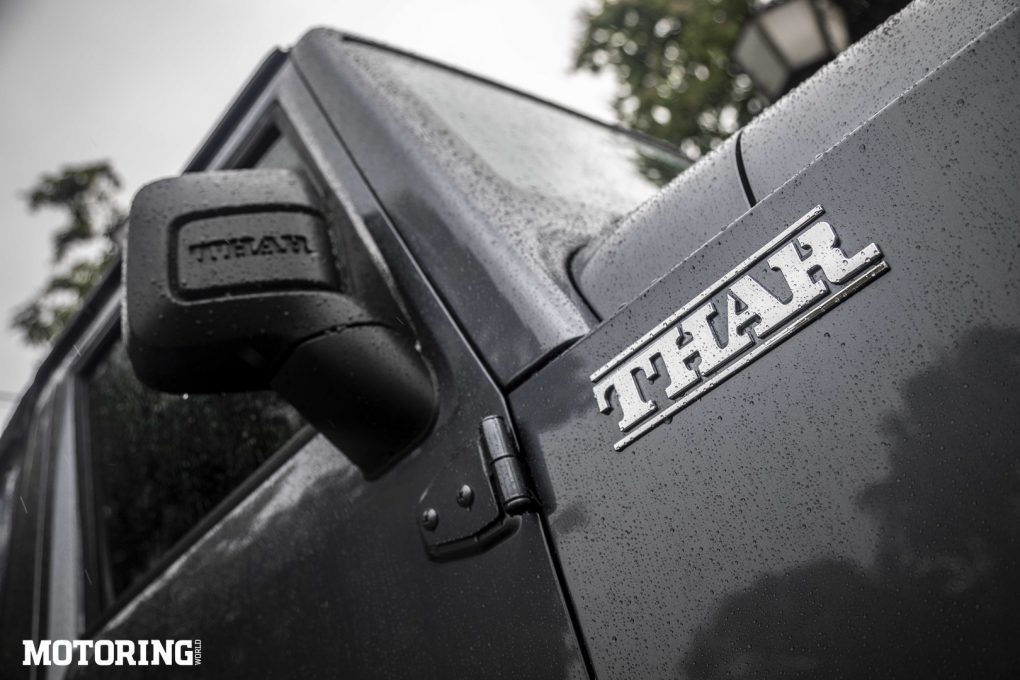 How are the new powertrain options?
There will be two engine options on offer: a 2.0-litre TGDi petrol engine producing 150 bhp and 2.2-litre diesel producing 130 bhp, with 32.63 kgm of torque for both the engines. They are both available with a 6-speed AT and a 6-speed manual. I drove the diesel-manual version and came away very impressed by its refinement. It's geared shorter, for better torque off-road, but it feels like the engine is straining at its leash while cruising. The new petrol engine is the talk of the trails, though. It's quiet, smooth and powerful, too. The top-trim-level petrol variants are only available with an automatic transmission for now. There is talk of a top-trim petrol-manual version, but really, the torque-converter automatic suits the character of the engine really well, smoothing out turbo lag and giving you a constant stream of torque. This version is the ultimate new Thar for me!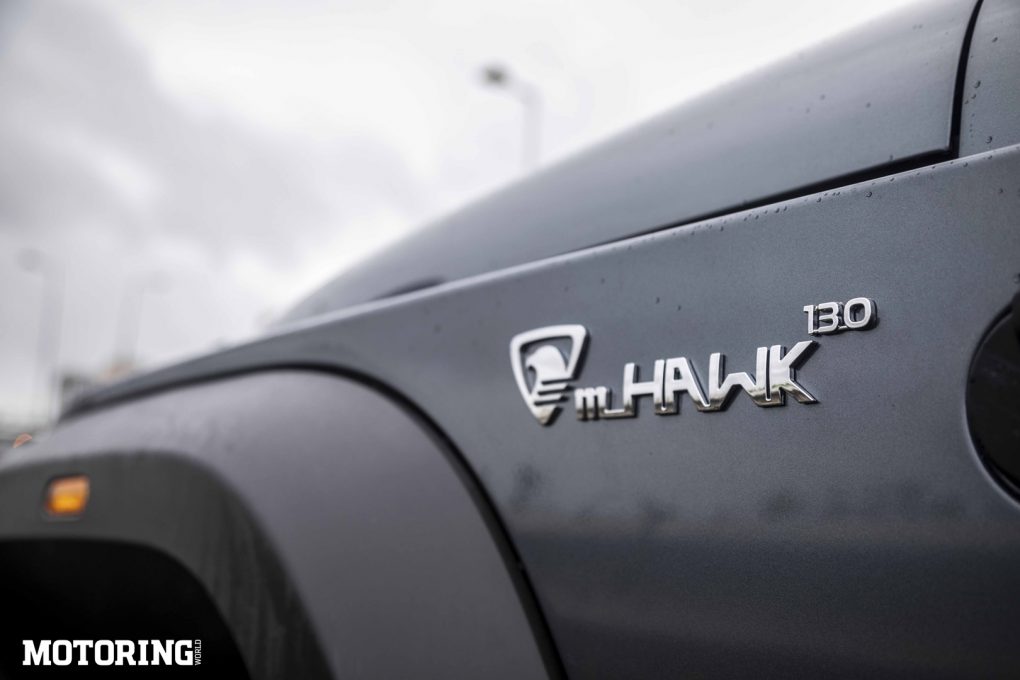 Quirks and features?
Mahindra has scattered Easter eggs around the vehicle for you to find. There's a campsite on the front windshield and a couple of ferns on the rear one. I'm sure I can find the rest of them when I spend more time with the car. The Thar also has a badge on the passenger side that proudly claims that it's built in India! The final quirk of the new Thar is its music system with speakers mounted on the roof of the hard-top version. Talk about an elevated soundstage!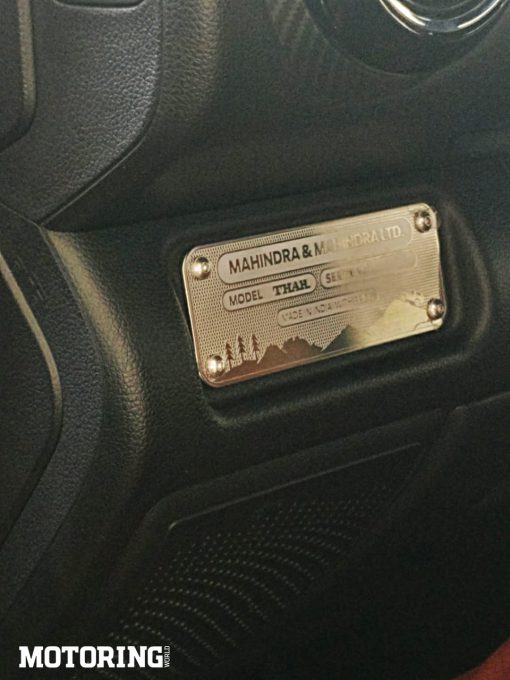 How safe is it?
You can see Mahindra's focus on making the Thar a mainstream vehicle when you take a look at its safety features. It now gets a whole slew of features including dual airbags, ABS+EBD, ESP with rollover mitigation, hill-hold, hill-descent control, a built-in roll cage, 3-point seat belts for all passengers, rear parking sensors, and ISOFIX child seat mounts. Even if you never have to use any of these features, it's great knowing that the car was built from the ground-up with the safety of its occupants in mind. You won't have a nagging feeling in the back of your mind when you daily-drive this Thar.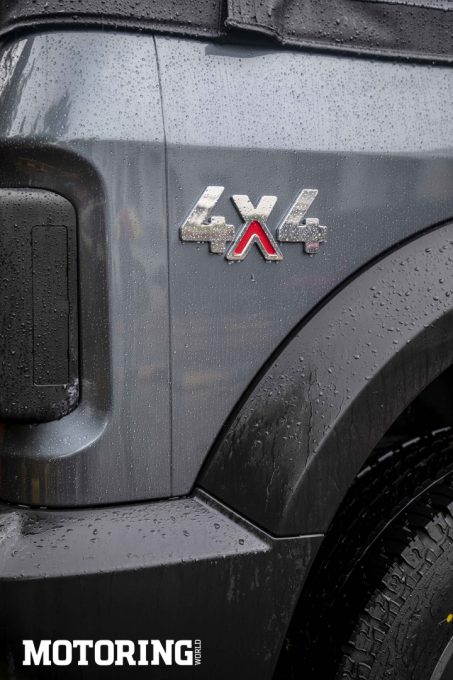 Can I take it on an overlanding adventure?
Whether or not the new Thar is as capable as the old one, we'll only be able to find out when we have some fun with it off-road. But as far as the spec sheet is concerned, the new Thar has all bases covered on the off-roading front. It's got independent suspension at the front and a multi-link suspension setup at the rear, a shift-on-the-fly low-range transfer case, a brake-locking differential, and a mechanical-locking differential on the rear axle. The aforementioned 18-inch wheels lend it some great approach and departure angles, too; approach angle is 41.8 degrees, departure angle is 36.8 degrees, and breakover angle is 27 degrees. Add that to its 226-mm static ground clearance and you can roll over pretty much every obstacle that comes your way. Add a winch to it and you can set off on an adventure straight from the showroom floor, I think.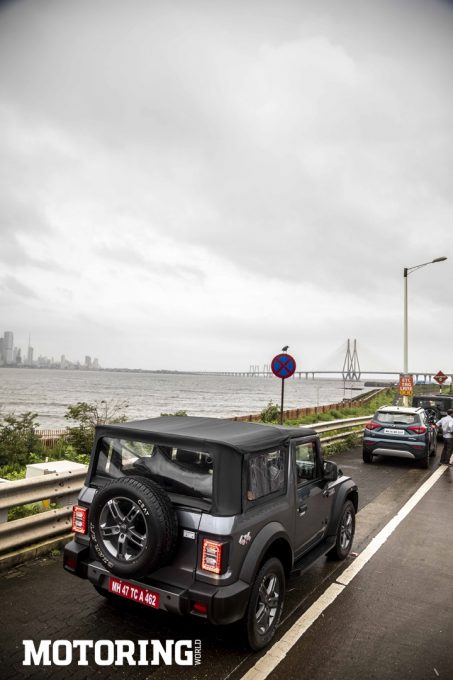 Can I drop the top?
The Thar will be available in two variants. There is the Adventure (AX) variant and a Lifestyle (LX) variant on offer. The AX variant will get an old-school soft top as standard, and a convertible soft top and a hard top are available as options. The base variant comes in a 2+4 configuration with side-facing rear seats. Front-facing rear seats with ISOFIX points and a roll cage are also optional. The convertible soft-top offers enough protection from the elements when you need it and the ability to drop the top when you wish. You can remove the regular soft top as well, but it's a more involved affair that requires tools. The LX variant, on the other hand, is available as a four-seater only and has moulded bumpers and more comfort features as standard. As for me, I'll take an AX Thar with the convertible soft-top.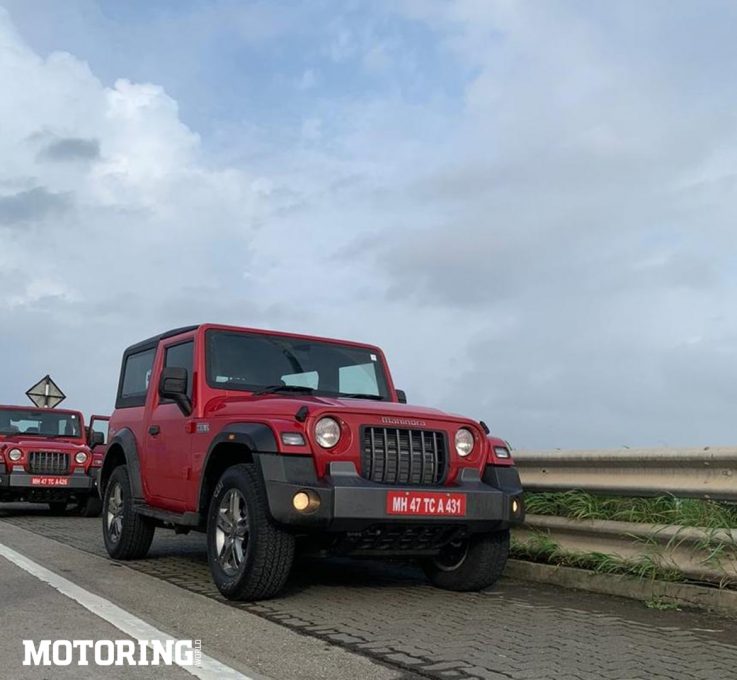 How much will it cost?
This is unfortunately the end of the line for the old Thar which could have been had for as little as Rs 7 lakh for the most basic DI versions. And while I'm sure there will be a base government-spec new Thar that will be available for under Rs 10 lakh, I expect the one we all want to buy, with all the bells and whistles, will be priced around Rs 15 lakh. Take into account all the improvements this makes over the outgoing model and you'll realise it's not a tall ask from Mahindra, really.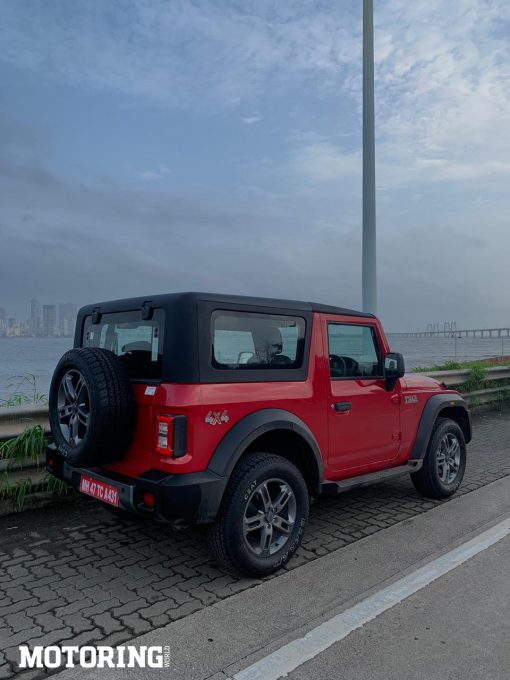 It does represent a paradigm shift for the Thar brand, of course, from a vehicle with a singular focus to an all-rounder. Is it the right move for the Thar? In a word, yes! Historically, anyone who's wanted a more hardcore Thar made it themselves, whether it's adding bigger wheels and tyres, a winch or a lift kit. With a healthy aftermarket, I think these mods are still available to new Thar buyers, but for the people that were on the fence about buying it as their only car earlier, that decision has become a whole lot easier!