Tata Motors, ever since it manufactured its first commercial vehicle in 1954, has had a firm hold on the commercial vehicle market space in India with a vast range of HCVs as well as LCVs. India's top commercial vehicle manufacturer has now brought out its latest range of LCVs, and might I say, they sure are a buff lot. With the launch of the Yodha 2.0, the Intra V50 and the V20 Bi-fuel, Tata Motors promises to offer the highest load-carrying capacity, largest deck length, longest range and lowest total cost of ownership in their category.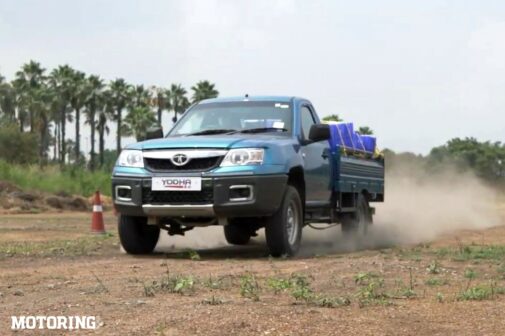 I got the opportunity to drive the Tata Yodha 2.0 with a full payload of nearly two tonnes of cargo, or as my navigator joked, the combined weight of a Tata Nexon and a Nano. Upon starting the vehicle, the low grunt of the 2.2-litre diesel was like music to my ears in this new world of silent EVs. I quickly slot it into gear and eased my foot off the clutch to get a feel of its biting point. The clutch felt light and the gearbox was as refined as it could get for an LCV. Its electronic power-assisted steering was pretty good, considering the practical applications of this vehicle. The Yodha also has a good turning radius despite its length and this means manoeuvring through tight spots is fairly easy.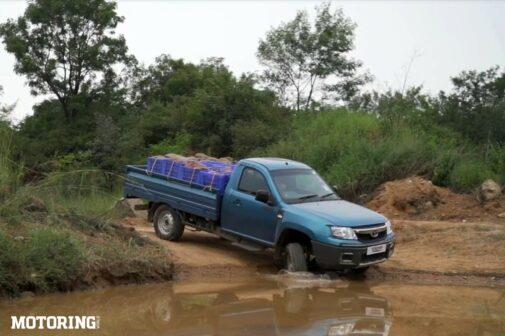 With respect to the exterior, the Yodha 2.0 gets bolder body lines, a reinforced chassis, a three-piece metallic bumper with stone guard and a metallic fender assembly. It also gets an anti-roll bar at the front, along with side and rear under-side protection. It gets 210 mm of ground clearance with 16-inch wheels, which makes it ideal for cargo transportation through treacherous terrain.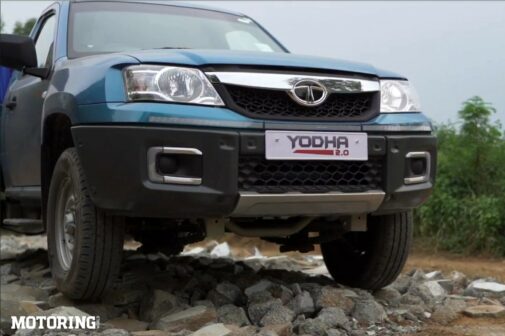 The interior of the Yodha 2.0 is more practically oriented rather than comfortable, but in comparison with other commercial vehicles is not shabby at all. The parking brake is located on the right side, just next to the door. The single-piece dash gets a decent amount of storage options, and the instrument panel is a fairly unsophisticated dual-pod unit. Being a commercial vehicle, one does expect it to miss out on most creature comforts, but it does come with an optional AC unit.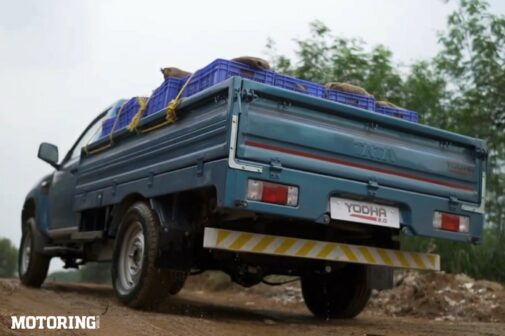 The Yodha 2.0 is powered by a 2.2 litre DI diesel engine, which is more than generously tuned to be able to bear the brunt of its two-ton payload. The engine produces 99 bhp and 25.4 kgm of torque, and comes mated to a 5-speed gearbox. Tata also claims that it has the highest grade ability of 30 per cent, and stating from what I experienced, I would be willing to back that claim. The braking and suspension are pretty good too, considering that it had non-ABS front disc brakes, rear drum brakes and leaf springs on both ends.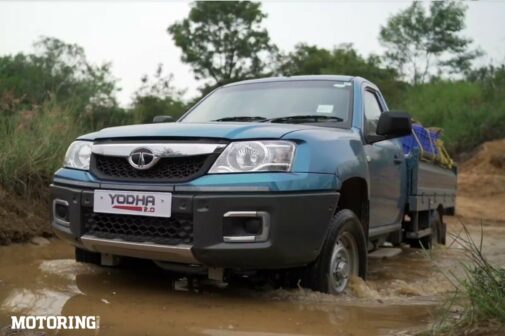 The Yodha is also available in 1200, 1500 and 1700 kg rated payload options, with the option of 4×4 and 4×2 configurations, and single cab as well as crew cab options. It also comes with a comprehensive three-year and three lakh km warranty. The Tata Yodha 2.0 HVAC is priced at Rs 9.99 lakh (ex-showroom) while the Yodha EX Crew Cab with AC costs Rs 10.74 lakh (ex-showroom).
PHOTOS Tata Motors
AUTODATA
Tata Yodha 2.0
POWERTRAIN
Displacement:
Max Power:
Max Torque:
Transmission:
2200cc, Varicor DI, Diesel
99 bhp
25.4 kgm
5-speed manual
DIMENSIONS
L/W/H (mm):
Wheelbase:
Ground Clearance:
Kerb Weight:
Fuel Capacity:
5350/1860/1810
3150 mm
210 mm
1830 kg
45 litres
PRICE
Rs 9.99 lakh (ex-showroom)