As things stand, EVs account for roughly 1 per cent of India's passenger car market — and about 85 per cent of that EV slice is owned by Tata Motors. That figure isn't going to stay this ridiculously large forever, but still, it's an indicator that in the nascent EV space, TaMo is doing a heck of a lot of things right. It's got a bestselling compact SUV in the Nexon, a workhorse compact sedan in the Tigor and now this, the Tiago EV hatchback that's cracked the Rs 10 lakh price barrier by coming in at a starting price of Rs 8.49 lakh (for the version with a 19.2 kWh motor). All that remains is for the Nano to be resurrected in EV form, for the icing to truly meet the cake. We can only hope.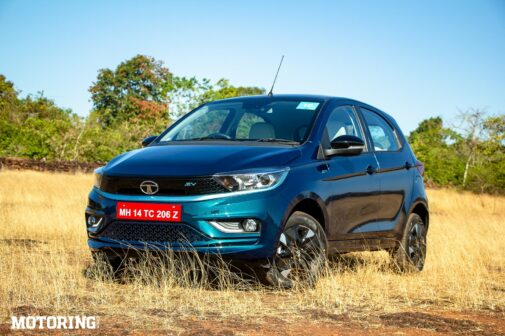 Until such time, the Tiago EV remains the smallest and most affordable EV in the country, and to see what the fuss was all about, I had a go at the car in my home state of Goa. The sunshine state is a place where the Nano is very popular, because its size is perfect for the narrow roads there; indeed, there's a Nano in the family garage, and my parents swear by it. Of late, they've been wondering whether to upgrade to a larger hatchback, and part of the reason I was keen to drive the Tiago was to see if it would be a good fit for their requirements.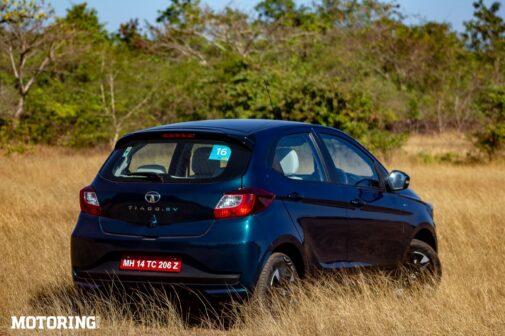 The ICE Tiago is a very pleasant car to look at, and the EV takes the looks factor up by a notch or two. It differentiates itself from its gas-powered cousin with its solid 'grille' with Tata's arrow-shaped inserts, a new air dam, LED DRLs. Projector headlamps and some cool blue accents below the grille and the fog lights. In profile, you'll notice the two-tone roof, the 'Hyperstyle' wheels (essentially steel wheels that have been given the snazzy treatment) with blue inserts and ORVMs and door handles in black. At the back, there's prominent Tiago.ev badging, an integrated spoiler, a stop light set up high, a reversing camera unit, an electric tailgate and a rear wiper and washer. All of these bits and bobs are on the top-spec XZ+ Tech LUX variant, which is what you should aim to buy. Five shades of paint are on offer, with my pick of the lot being Teal Blue.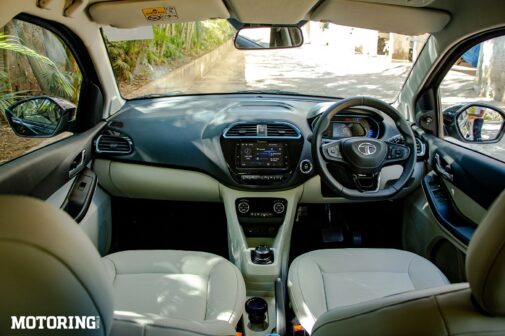 The cabin isn't radically different from the ICE car, either (again, I'm referring to the top-spec model). The digital instrument cluster has been refreshed, to display things like range, charge levels and so on. There's also a mildly refreshed centre console, blue embellishments for the aircon vents, a rotary dial instead of a gear lever with a Sports mode and three levels of braking regeneration. It's pretty well stuffed with features, too — a superb Harman touchscreen infotainment system with Apple Carplay and Android Auto, automatic climate control, cruise control, a reversing camera, a cooled glovebox, tyre-pressure monitoring, a seatbelt reminder, a flat-bottom multi-function steering wheel, connected car tech with smartwatch connectivity and a bunch more (no sunroof or wireless smartphone charging, though). Safety-wise, you get dual airbags, ABS with EBD and rear parking sensors. There's plenty of room in the cabin, and the leatherette seats are pretty comfortable as well, although I'm not able to tell you how comfy they'll be over a long drive, because I didn't drive the car for that long. The boot is on the small side, however, and there's no spare tyre because there's no room for one — you'll have to make do with a puncture kit, which may be a deal-breaker for some.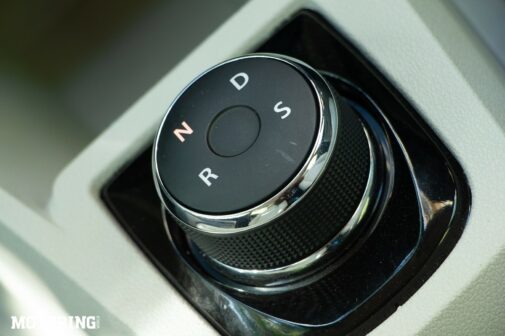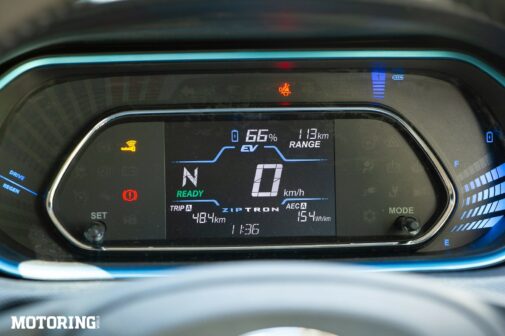 There are two powertrains on offer — a 19.2 kWh battery pack with 60 bhp and 11.2 kgm and a 'long range' 24 kWh battery pack with 72 bhp and 11.6 kgm; the former has a claimed range of 250 km, with the latter offering a claimed 315 km. I would urge you to consider the latter, because no matter what people tell you, range anxiety is real, and India's EV charging network is still sketchy; also, when I began my drive in the 24 kWh variant, the battery and range indicators displayed 99 per cent and 220 km respectively, so I'd take that 315 km figure with a fistful of salt. Tata offers a 3.3 kW wall charger and a 7.2 kW AC fast charger with the car, with charging times being in the region of 9 hours and 3.6 hours from 10 to 100 per cent respectively. A DC fast charger will juice the car from 10 to 80 per cent in just under an hour, meanwhile.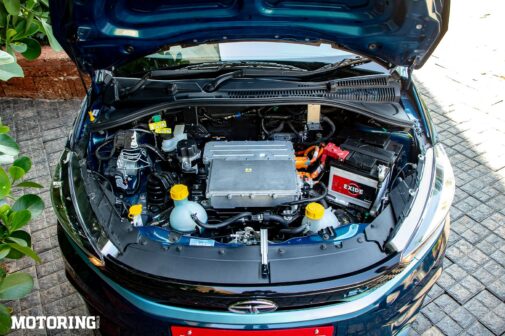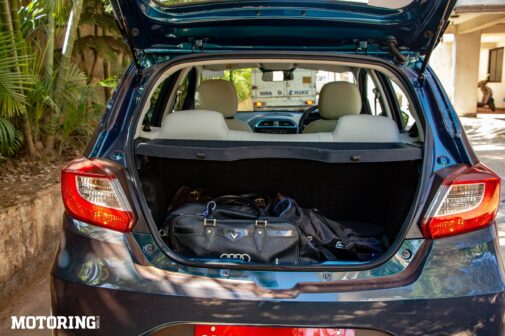 Driving the Tiago EV is simplicity itself. Get in, adjust the controls and seat to your liking, press the starter button, turn the dial to D or S and press the accelerator. The car moves forward smoothly, with a soft whir, and in this regard is like most EVs you may have experienced. In D, which is perfect for city and traffic conditions, acceleration is noticeably restricted, and if you're going up a steep slope, the car struggles a bit; however, it's perfectly adequate for leisurely progress. Sports mode is where the action is, and frankly I drove the car in S for almost the entirety of my time with it. The Tiago becomes a different animal in this mode and darts forward eagerly with each tap on the quiet pedal; if you're on the highway (or on slopes) and need to overtake something quickly, you'll need to be in Sports anyway. It goes smoothly to an indicated top speed of around 116 kph, which will be adequate for most. The whine from the motor is ever-present throughput, and this is something you simply have to get used to, even though it's a bit annoying after a while (welcome to the future, after all).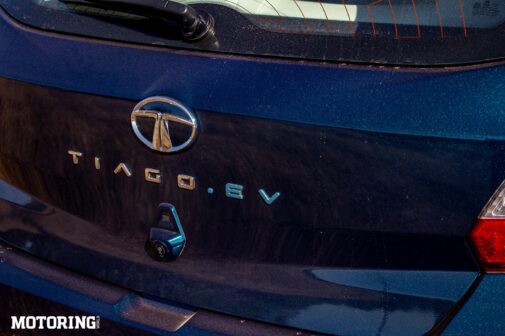 The ride on offer is a little disappointing, with the car bouncing around a bit at cruising speed even on relatively smooth surfaces (check out our short video clip online to see what I'm on about). At slower speeds, however (read city conditions), it's far better, and since this is a car built for the urban run, that should be OK. The steering has been calibrated for ease of use, so it's very light, and in terms of handling the Tiago EV is predictable and safe around corners. There are three levels of braking regeneration, and even with level 3, there is no sudden slowing down when you take your foot off the accelerator. True one-pedal driving isn't possible, but the progression in braking force is gradual enough for you to safely apply the brakes when needed.
This is a vehicle that has been built for a purpose — urban use — and is rather good at it. It looks smart, is spacious and comfortable and very easy to drive, so it could actually be a car that my parents might like to upgrade to. On a full charge, it'll likely be good for about a week's worth of urban running about, and even though practicality takes a small hit (no spare wheel, restricted boot space), buyers will probably learn to live with those drawbacks. I'd say Tata Motors has another winner on its hands.
AUTODATA
Tata Tiago EV XZ+ Tech Lux LR
POWERTRAIN
Battery:
Max Power:
Max Torque:
Range:
Charging time (DC Fast Charger):
24 kWh
74 bhp
11.62 kgm
315 km
58 minutes (0-80 per cent)
DIMENSIONS
L/W/H (mm):
Wheelbase:
Ground clearance:
Kerb weight:
3769/1677/1536
2400 mm
NA
NA
PRICE
Rs 8.49-11.79 lakh (ex-showroom, India)