Over the past few months, Tata Motors has been on a mission to refresh its entire product portfolio, ensuring that its vehicles stay up-to-date with the latest trends and technologies. While the Harrier and Safari are two models that have retained much of their mechanical prowess of their predecessors, they've undergone a transformation in terms of design and tech upgrades. The Safari has always held a special place in the hearts of SUV enthusiasts in India, and now, Tata Motors wants to reignite that with a fresh new appeal.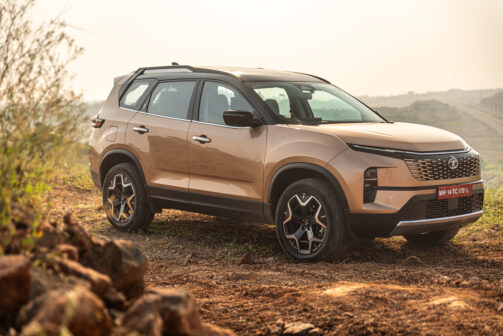 The Safari's slogan – 'Reclaim your life' – has resonated with enthusiasts and families alike, signifying the promise of adventure and a life well-lived. As we explore the latest iteration of this beloved SUV, the question that looms is whether Tata has updated its flagship offering enough to live up to its iconic past.
We've had our hands on the new Tata #Safari, and it's time to share a sneak peek! For the full story on this updated SUV, visit our website https://t.co/whAJ2icnxF. 🌟 #MotoringWorld #TataSafari #NewSafari @TataMotors_Cars pic.twitter.com/e6MqFFS6Wl

— Motoring World (@MyMotoringWorld) October 15, 2023
The Safari's visual upgrade has significant exterior enhancements, an overhauled interior, and a refreshed array of features. Although it has always boasted a handsome front end, Tata has decided to up the ante with the new model. What's commendable is that (in contrast with the face-lifted version that shared a close resemblance with the Harrier) this time around, there are distinguishing elements.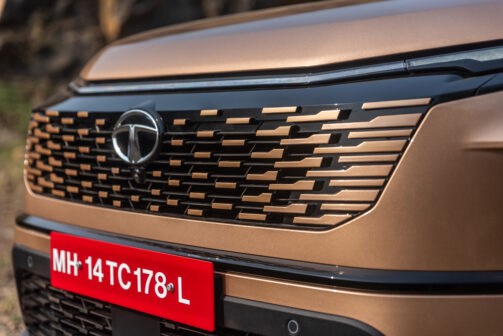 It now sports vertically oriented LED headlamps, accompanied by a revamped grille featuring distinctive inserts. The front also boasts an attention-grabbing full-width LED light bar, now equipped with a welcoming function. On the sides, Tata has refrained from introducing any alterations to the Safari's sheet metal. However, it gets an upgrade in the form of larger 19-inch alloys. Speaking of alloy wheels, the ones fitted on the Safari are a design carried over from the Tata Sierra concept, showcased a few years ago. These wheels complement the Safari's overall look quite well. The eagle-eyed observer will also spot the 'Safari' badging adorning the front doors.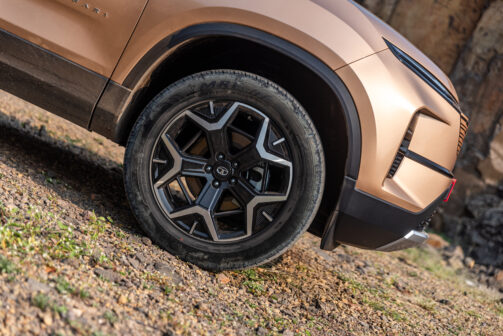 Moving to the rear, a re-profiled bumper and updated connected LED tail lamps greet you, complete with a welcome and goodbye function that amplifies the vehicle's sense of premium elegance.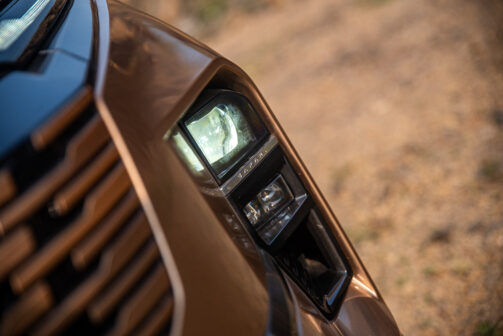 The new Safari retains a familiar dashboard layout, albeit with crisper lines and contours. It's hard to miss the upgraded 12.3-inch touchscreen infotainment system, a step up from the previous 10.25-inch version. The lower console area introduces a new touch-based AC control panel. In the automatic variants, you'll find a new rotary dial with an integrated screen.
View this post on Instagram
The driver's seat greets you with a fresh four-spoke steering wheel adorned with an illuminated 'Tata' logo and convenient paddle shifters. The wheel tends to attract fingerprints, so it's advisable to keep a microfibre cloth within easy reach. Also, the driver-side 10.25-inch digital driver's display offers various views and customisation choices, replacing the previous 7-inch setup.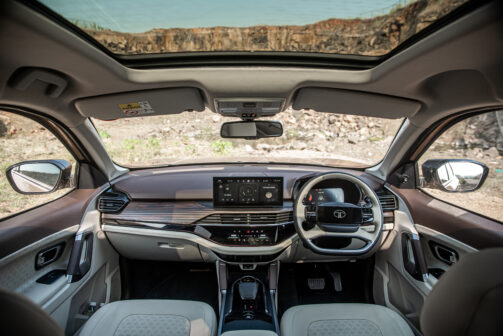 Tata now offers several new features, including a powered rear tailgate with gesture-based opening and an additional knee airbag, bringing the total to seven. The car boasts an updated 10-speaker JBL sound system, dual-zone climate control, and rear sunshades. Other features like wireless Apple CarPlay and Android Auto, connected car technology, and keyless entry with push-button start continue to impress. In the Safari six-seater variant, front and rear ventilated seats add to the comfort factor, along with a panoramic sunroof. The cabin's light interior materials create an airy ambience, and the third row in the Safari stands out as one of the more comfortable third-row options in the market.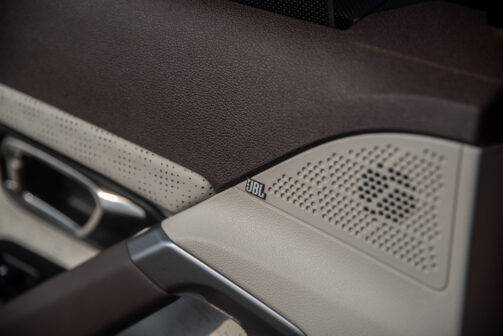 In terms of safety, the Safari maintains its robust features, including electronic stability control, a 360-degree camera, an electronic parking brake with auto-hold, and the previously available advanced driver assistance systems (ADAS). Notably, the ADAS now includes adaptive cruise control, which adds convenience to the driving experience. During our test drive in the busy streets of Pune, we had the chance to try out the ADAS features, particularly the close-distance follow feature in heavy traffic. It's worth noting that the system performed admirably without being overly intrusive.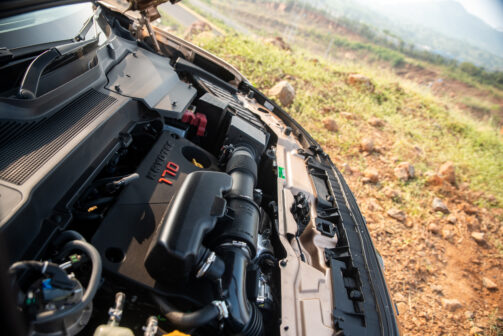 The Tata Safari retains its dependable 2-litre diesel engine, delivering 168 bhp of power and 35.69 kgm of torque. This engine can be mated to either a six-speed manual or a six-speed automatic transmission. Notably, the automatic variant now features paddle shifters, adding a touch of sophistication to the driving experience. In terms of performance, the engine remains noisy when pushed. We appreciated the automatic transmission, as it smoothly shifted both up and down after engaging the paddle shifter. While we didn't have sufficient time to carry out a fuel efficiency test, it's likely to be similar to the previous generation due to the same engine.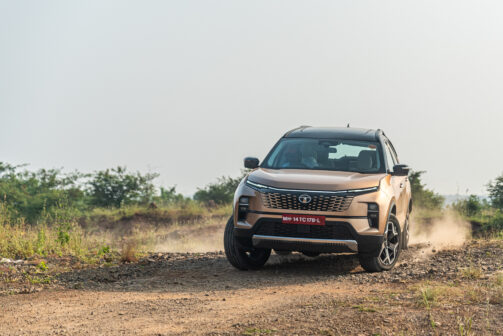 When it comes to handling, the new Safari is literally several generations ahead of the earlier model. It is surprisingly manoeuvrable through turns, thanks to its relatively lower weight, sturdier monocoque and more contemporary suspension. Its ride quality has improved, too, but it's not exceptional.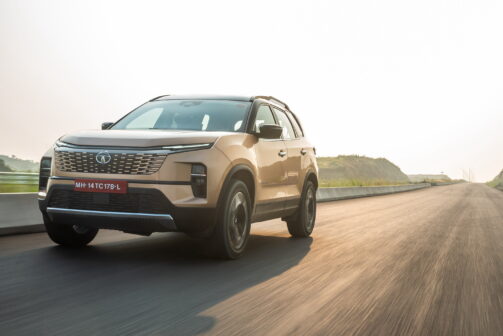 Meanwhile, the steering is quite responsive. The new Safari is surprisingly nimble for its size, offering relatively quick and precise handling. Although there's a slight degree of roll after turning, it remains well within acceptable limits.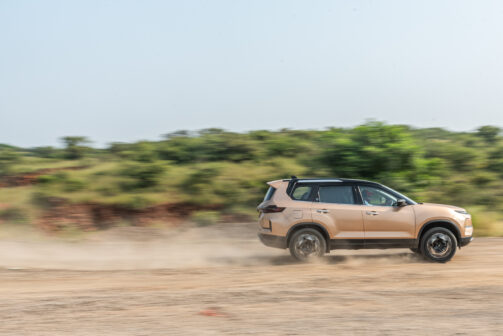 With its fresh design, improved interiors and features, the Safari is a compelling package. It maintains its status as a comfortable and spacious family SUV. However, the engine noise can be a concern when pushed hard.
Competing in a market that includes the MG Hector Plus, Hyundai Alcazar, and the upcoming new generation Mahindra XUV700, it faces hefty competition. On paper, it's an SUV that's ready to help you 'Reclaim your life', but we will have to see if the sales figures also reflect that.