Photographs by Kartik Sadekar
It's a sign of the times we live in that Honda, the ones who've been in love with the combustion engine, sends us a car that essentially casts the idea of burning fuel into a secondary role. Do I feel this demotion is a worthy one? Yes, but it's not one I've come to terms with yet, if I'm honest. Then again, I'm but one in a long list of mourners who are forced to live with that reality.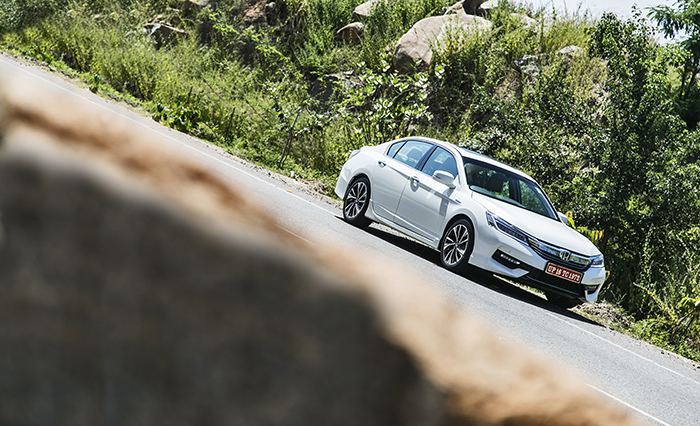 What helps, however, is that being forced to live in the real world isn't all that bad thanks to the innovations that manufacturers like Honda have come up with. The Accord Hybrid is one such example. On the one hand, Honda's brought in its hybrid tech to show that it can be a force to be reckoned with in a tree-hugging future, and on the other it's trying to capitalise on the advantage that hybrid cars in India get thanks to lower excise duties and VAT. Where it doesn't make all that much sense, however, is that Honda won't be able to access the tax break offered here because that only applies to locally produced cars. Bummer.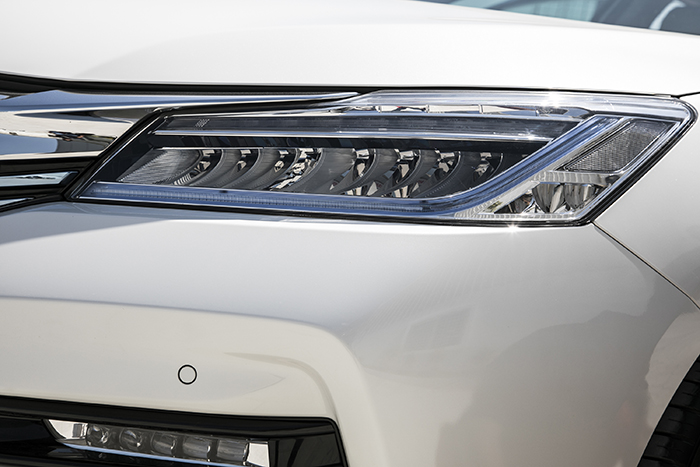 If it helps, though, the Accord has a long list of things going for it. I know that it's a subjective thing, but I just love the way it looks, especially with that NSX-inspired front and the rather generic rear (typical Honda, then). This new Accord is also built on a slightly shorter wheelbase, which allows it to be around 40 per cent stiffer, too.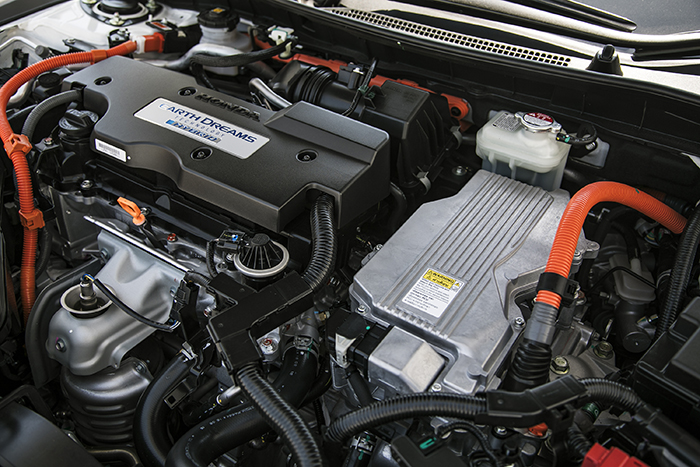 Undoubtedly, though, the biggest thing about the new Accord is its hybrid system. There's some seriously nerdy stuff going on underneath that pretty body, with a 2.0-litre i-VTEC combustion engine assisting two electric motors. Yep, you read that right. All in, you're looking at 212 bhp, and the Accord serves up three operating modes for you to cycle through – Hybrid Drive, EV Drive, and Engine Drive.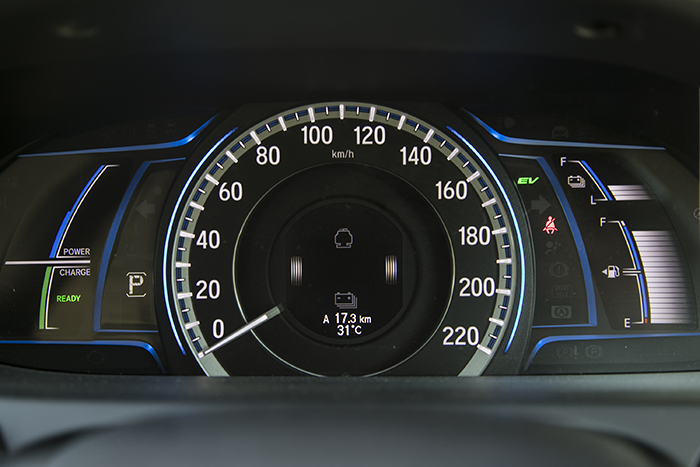 I'll try and keep it as uncomplicated as possible, but essentially the 2.0-litre engine acts as a generator that provides electricity to the electric motor, all the while charging the batteries. This is in Hybrid Drive mode. In EV Drive, the engine shuts off completely and you get a range of about one kilometre on electric power alone. I'll let you in on a secret: that one won't be particularly useful for the most part. The most realistic mode, however, is the Engine Drive mode, which essentially comes into play after you're doing a decent amount of speed. The interesting bit is that only one fixed gear ratio is used here, and for the most part you're running on only the 2.0-litre engine. When you need a little more poke, however, the hybrid system will kick in the electric motors, too, to give you a little pick-me-up.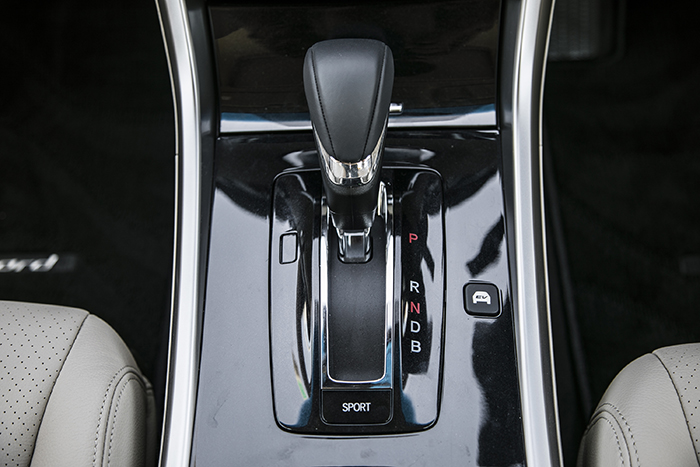 Sounds a little complicated so far? Well, then, let me make it slightly easier for you. The Accord Hybrid, in regular, urban conditions, is ridiculously easy to drive. It's very, very smooth and you can barely tell that it's on. The e-CVT transmission is a bit strange to get used to in the beginning, but it's easy to live with overall. It's not a quick car, but it's no slouch either. If you find an open stretch of road, you'll feel the lack of poke easily enough, and even when you're hurling it from corner to corner, you'll be able to tell that the Accord Hybrid isn't meant to be doing this. It's redefined its priorities to be a comfortable cruiser rather than a sleeper, and that bit might be a big downer for the more enthusiastic lot. I, for one, used to love the old Accord, especially with that insane V6, but it's a past I'll have to live with instead of being allowed to re-live it.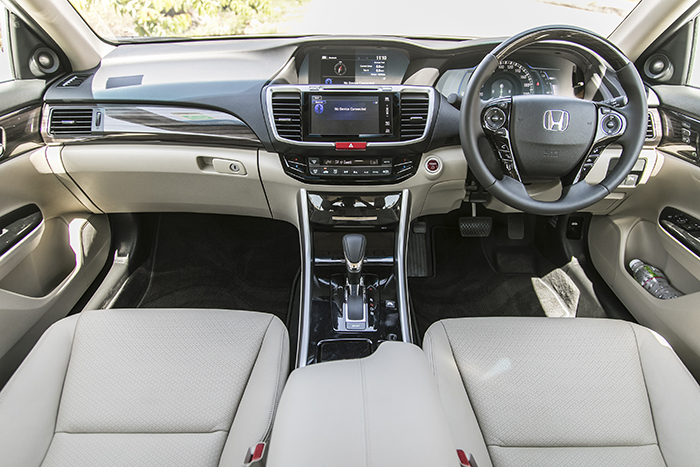 Getting back to it, though. The Accord's new priorities have allowed it to be more focussed on the guys who'll be sitting at the back, and it's a lovely place to be, really. There's acres of space, the cabin is built extremely well and everything just looks so inviting and premium that you'd be forgiven for mistaking it for a car that costs a lot more than it actually does. Honda's also given in and given the Accord Hybrid a lot of cool tech to play with. There's Android Auto and Apple CarPlay, there's a LaneWatch system that uses a camera to illuminate the blindspot in the left rear-view mirror, and there's even an Active Noise Cancellation feature that plays back noises in reverse to cancel low-frequency sounds out. Neat, eh? You can even remotely start the engine and get the aircon to cool the cabin before you reach the car!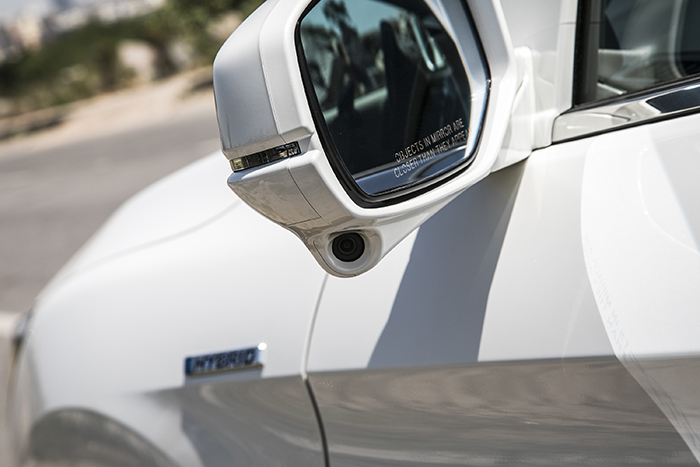 All this makes the Accord Hybrid one seriously impressive car. Not for someone who loves to drive, mind, but definitely for someone who likes to sit back and relax after a stupidly long day. The standout bit is that the Accord Hybrid will give you a ridiculous 23.1 kpl according to the tests done under the Indian Driving Cycle, and that, coupled with the space, the features, the comfort and the looks, makes this a car to definitely consider. You'd, of course, need to have some serious cash to part with, though, because the Accord goes on sale at Rs 37 lakh (ex-showroom, Delhi), which is six lakhs more than what you'd pay for a Camry Hybrid.  Even then, is it worth it? I'd say so. Then again, it's easy to comment when you don't have the bank balance to back it up.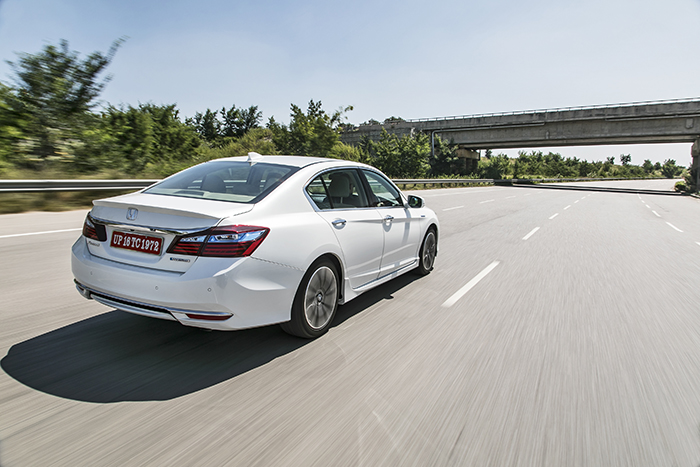 AUTODATA
Honda Accord Hybrid
POWERTRAIN
Displacement: 1993cc, i-4, petrol and two electric motors
Max power: 212 bhp@6500 rpm
Max torque: NA
Transmission: e-CVT
TYRES
F/R: 235/45 R18
DIMENSIONS
L/W/H (mm): 4930/1849/1460
Wheelbase: 2776 mm
Ground clearance: 155 mm
Kerb weight: 1587 kg
Fuel capacity: 60 litres
PRICE: Rs 37 lakh (ex-showroom, Delhi)