Is Skoda trying to make a point with the Kodiaq? Maybe yes. And it certainly needs to, because although the Yeti was a well-rounded product — in fact the only proper crossover on sale — it failed to garner sales. With the Kodiaq, the company moves farther from quirky looks and takes the mainstream route. With a bit of cynicism (and apprehension — I'm a huge fan of the Yeti), I press the conveniently, familiarly located starter button. What happens next might blow your — for an equivalent automotive term — head gaskets.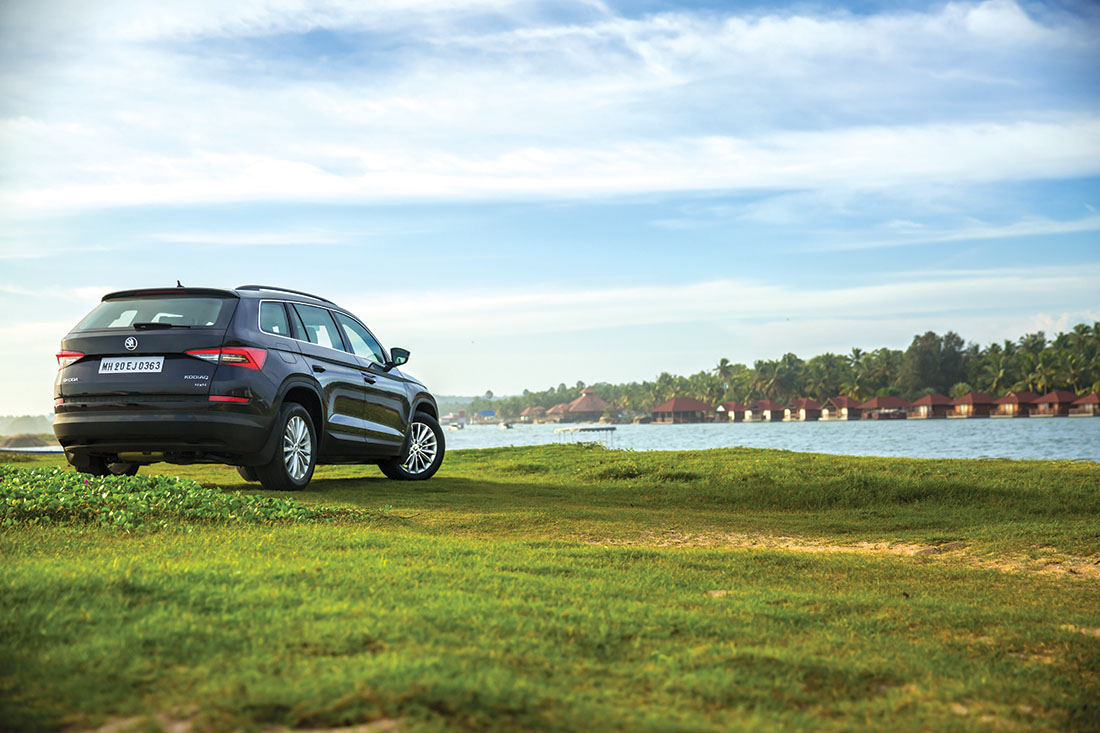 Unlike the Yeti, which was based on an older, heavy platform, the Kodiaq features VW's modular architecture — MQB. But add a diesel engine, an almost impeccable automatic gearbox, all-wheel-drive, seven seats, and sturdy build, and you're looking at a kerb weight of 1799 kilos. That becomes fairly evident when enthusiasm takes over. And you don't need a dozen of excuses to push the car, either, because the chassis and drivetrain combination works as wonderfully as you'd expect from any other Skoda. Sadly, it's not as sharp as the Yeti, so turn-ins are a bit blunt (the steering's electric power-assisted), and direction changes need more space and time (the wheelbase measures a good 2791 mm).
Where that increased wheelbase comes in handy is in interior space. There are three rows for occupants, with 270 litres of boot space in said configuration. And if you're more materialistic than Madonna (that's just the song; I don't know her personally), then you can politely ask the occupants to take a hike, and stuff up to 2005 litres of luggage in the SUV. Ruddy good, I say, because it just makes the Kodiaq a bit more useful where it matters. And it's not short of other useful bits, either. Apart from good leg room for most occupants (the third row passengers are bound to struggle a bit), thanks to intelligent packaging, there's an effective utilisation of space.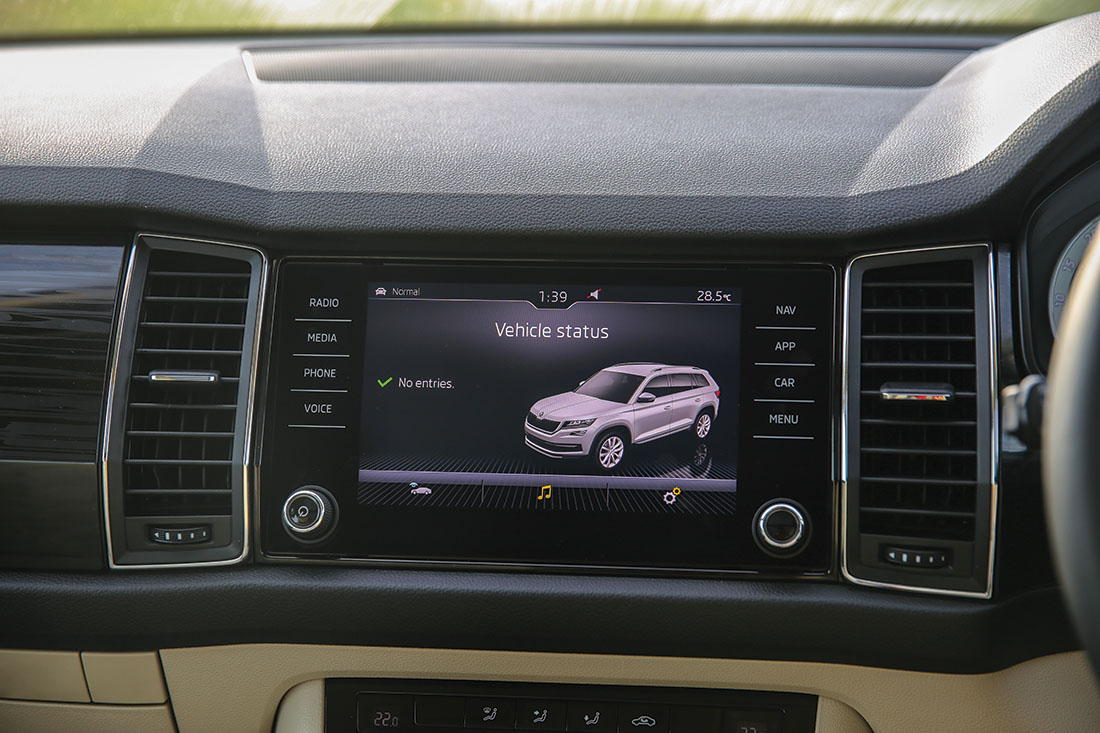 The AC vents are larger than those in other Skodas, and the eight-inch touchscreen system is one of the better-looking devices out there. What makes it even more special is the wide range of information it can display. The usual vehicle status aside, you can even find out how much of CO2 your vehicle has emitted. The government might have overlooked its importance while talking about pollution, but it's a good initiative from a manufacturer nonetheless.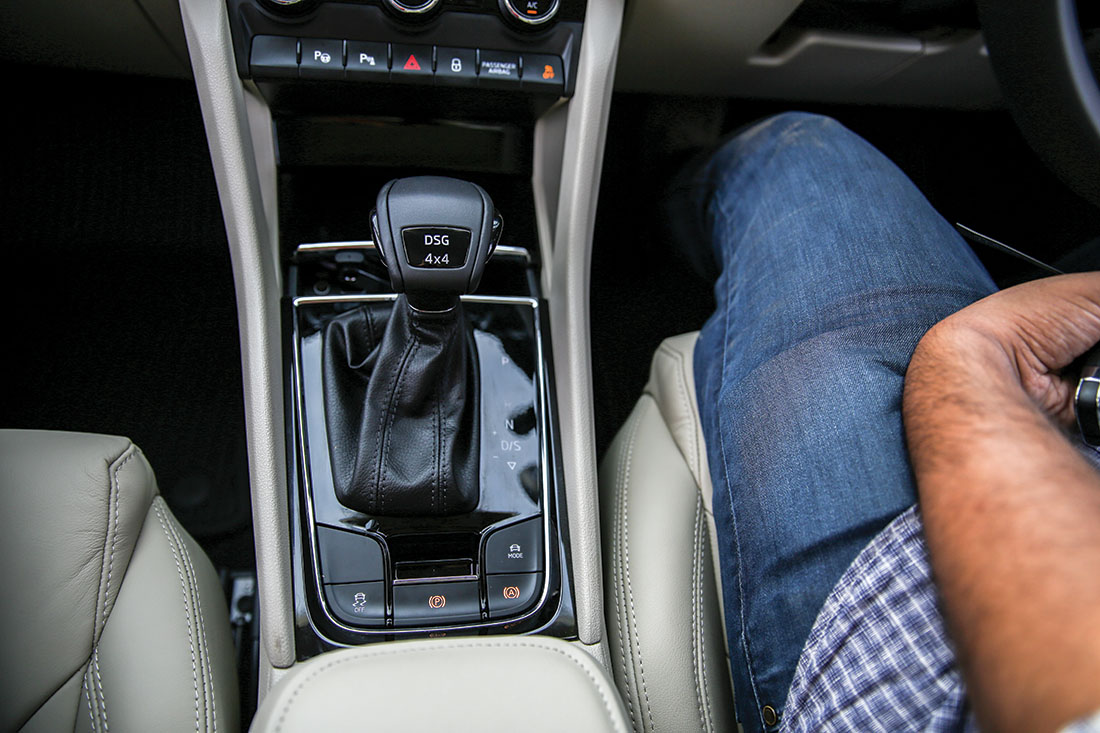 Diesel-gate or not, the 2.0-litre engine works flawlessly with the 7-speed dual-clutch (DSG) gearbox. That it shifts quickly is the story half told. The hugely popular gearbox makes other automatic units seem antiquated in comparison. And the moment you think that you're likely to outwit it, you can always resort to using the manual mode (wherein it holds revs for longer, too) with the steering-mounted, little flappy paddles. Power is sent to all four wheels via a Haldex system, but Skoda isn't targeting the outright off-road enthusiast with the Kodiaq. Thankfully the on-road performance is pleasing to say the least. Almost irrelevant, then, but the unladen ground clearance of 188 mm (140 mm loaded) ensures that traversing pothole-laden roads and conquering mountain-esque speed bumps are the Kodiaq's strong points.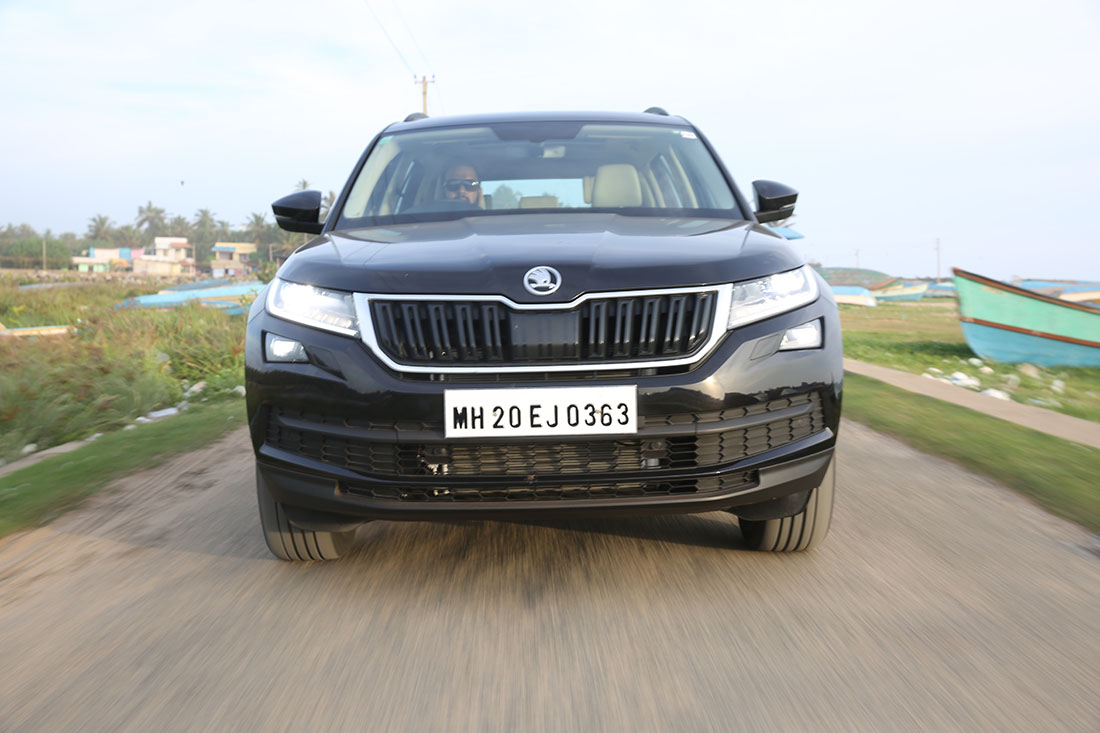 Where it re-establishes itself as a pucca Skoda is on-road performance. The 147.5 bhp (delivered between 3500 and 4000 rpm) and 34.69 kgm at 1750 rpm onwards (to 3000 rpm) mean it's rapid in every gear. Hurling a seven-seat SUV isn't a common thing, but the Kodiaq begs to be driven hard. The steering might not be as serious/enthusiast-orientated as before, but it's light and accurate. Which makes carrying unimaginable speeds into corners anything but rare. A steady 13ish kpl wasn't too bad, either, given that I wasn't easy on the accelerator. And the ability to manually switch gears without having to wait for the Earth to complete a revolution, was enough to warrant increased use of the paddles — and downshift at every possible occasion. You can vary the sharpness of throttle and gearshifts, and traction by choosing one of the drive modes.
Effectively shutting all of the naysayers, the Kodiaq can brake as impressively as it picks up pace — thanks to a sharp, all-round disc setup. Other standard bits like nine airbags (woah!), multi-collision braking, etc. further up its safety quotient. Which has thankfully never been a problem with most VAG products. And ensures that you're comfortably having more fun more often from behind the wheel.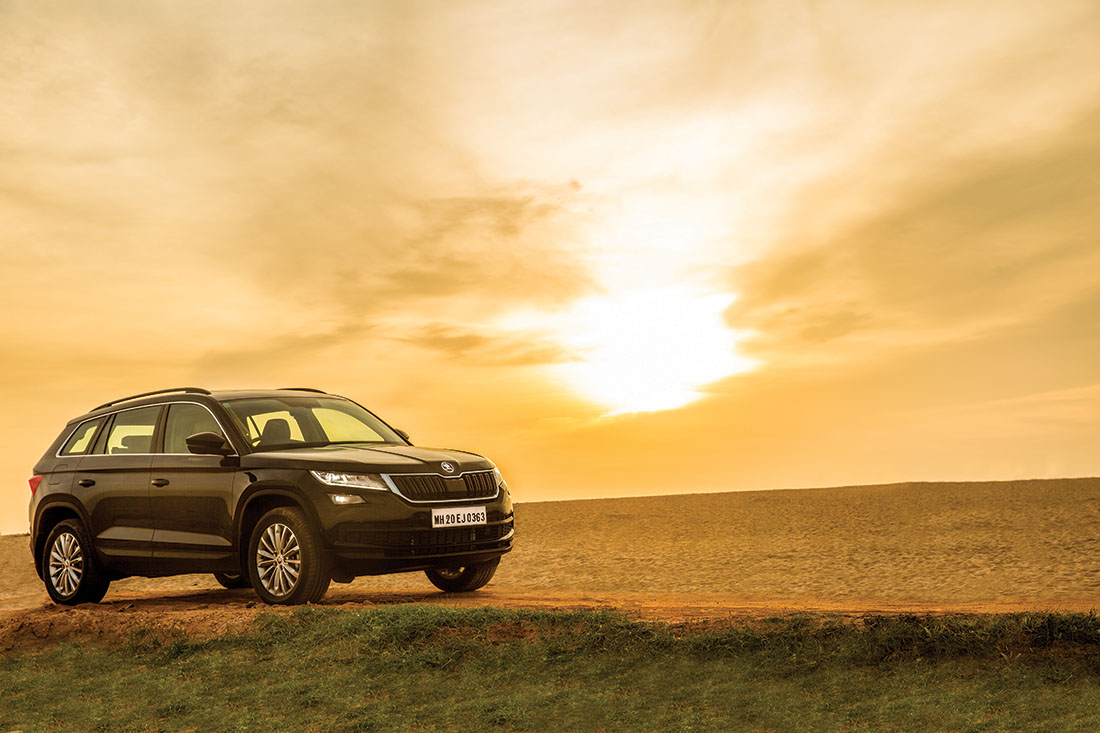 Surprisingly none of that is likely to infuriate the rear-seat passenger. Especially if they have the Power Nap kit — it adds neck support along with a cushion and blanket for the rear seat occupants. Your move, S-Class! There's also a 3-zone climate control — an effective one, that — and the 575-watt speaker system also proves to be a rather effective way of making the cabin more home-like — or comfortable, if you were looking for the word. And that's not just for the passengers! With a nice-to-hold, manually adjustable steering and electrically adjustable seats, the Kodiaq has most seat-steering combinations covered. As far as ride quality is concerned, it soaks most bumps without causing too much trouble to the occupants. Although at the same time, I must add, the slightly stiff suspension aids in keeping the car in shape, even at unthinkable speeds.
The Kodiaq might be newer but it lacks the charm of something like the Yeti. But with the newcomer being so good, it's a compromise most of us — Yeti owners included — won't mind making. If priced right, it will surely give the Czech brand a jump start in the SUV segment, and help it make a point: that Skoda can continue making driver-orientated cars without having to take the road less travelled.
PRICE: Rs 34.49 lakh, ex-showroom
You can have a look at more photos of the Kodiaq in our gallery here.
The first drive story appears in the October issue of Motoring World.
Walk-around video: