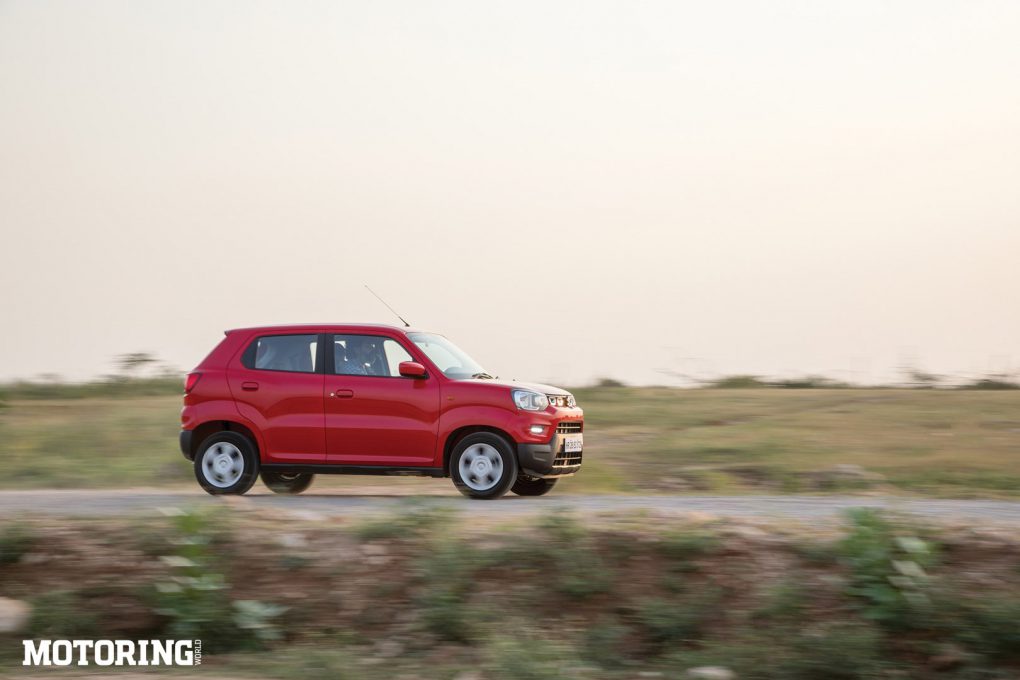 For an established car manufacturer to try new things is both difficult as well as essential. For Maruti Suzuki to show the way to the rest of the Indian automobile industry is a bit of a given. And by now it's a proven fact that even if you stick an 'SUV' tag on a bicycle, chances are, it'll sell very well in India. The preceding statements might seem a bit unconnected and may very well be exceedingly generalised, but they are three of the main reasons why the new S-Presso was brewed. Maruti Suzuki is pegging it as a mini-SUV, and it's not a bad idea at all. If nothing else, our backs will be thankful.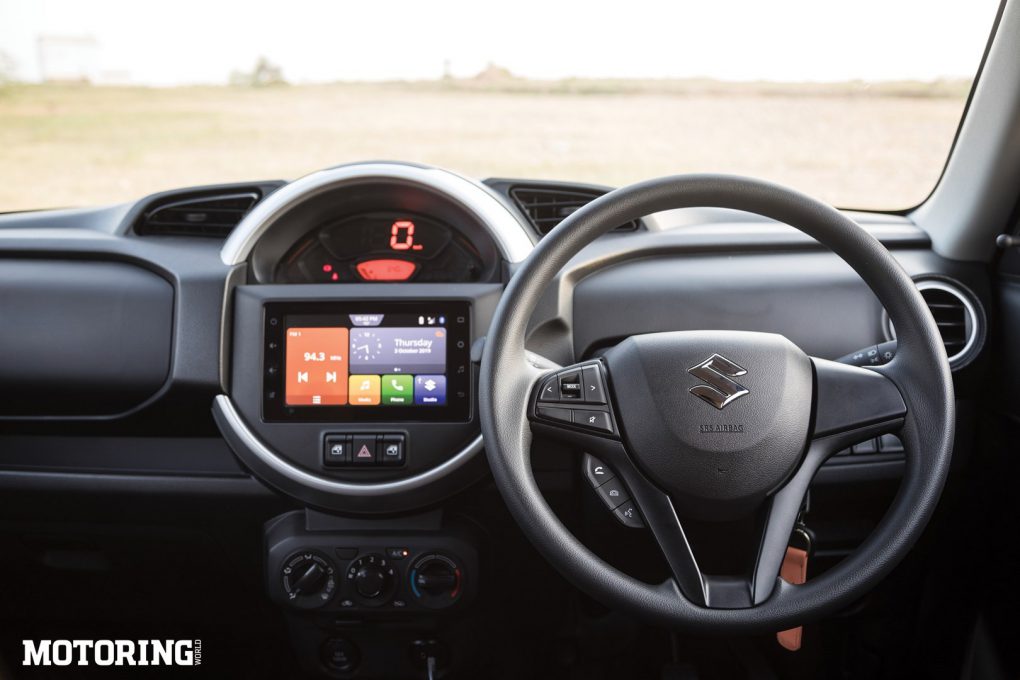 To base something on the ultra-successful Alto makes a lot of sense; it's the company's bread-and-butter model, and a bit of coffee to go along with it makes for a satisfying breakfast. And on our roads, better suspension always helps in keeping the morning meal down. Visually, the S-Presso even manages to cram in SUV proportions into its demitasse-sized dimensions. However, it looks a bit awkward, especially in person, and someone remarking that it looked like the love child of a Mahindra and the Jeep Compass didn't help. At the drive, there were a couple of exhibit cars that had dealer-level fitments like wheel-arch claddings, and those looked a lot better than stock, honestly. Thankfully, things don't get worse after you see the S-Presso.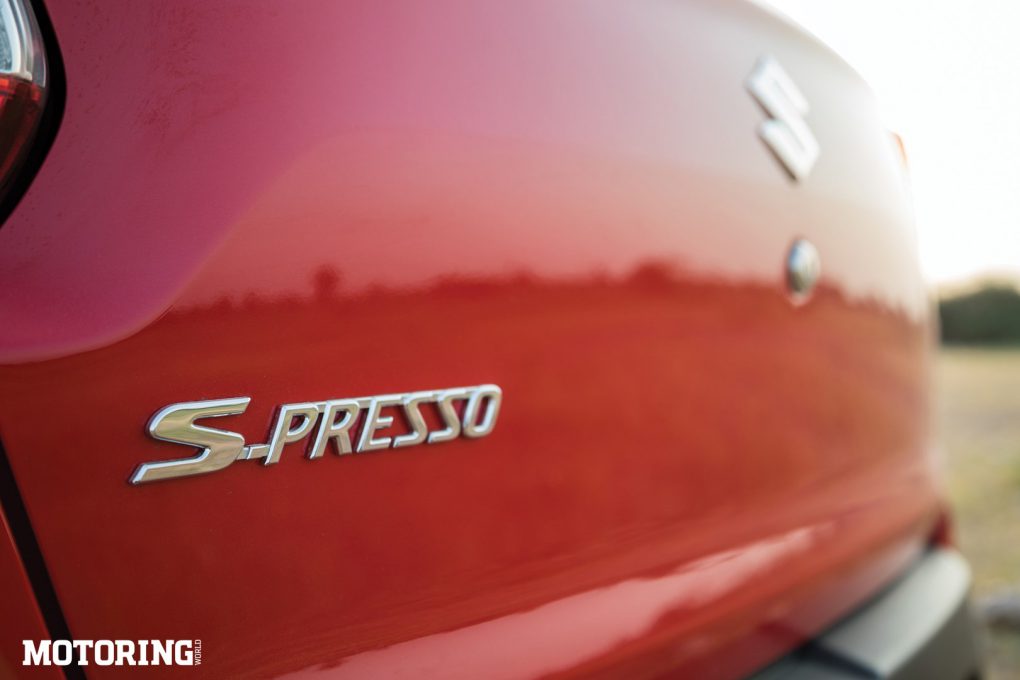 All four doors open wide, almost perpendicular to the car, to make for excellent access to the cabin. Once inside, there's ample space, especially so for a car in this segment. However, the fixed steering wheel does make it tricky to find the ideal driving position; for a six-foot me, it was not possible, but for shorter drivers, I hope it will be. As far as interior quality goes, the S-Presso does its best to cheer you up with its central-design console with coloured accents. It's basic stuff, mostly, except that the top-spec variants get a touchscreen with all sorts of connectivity to all sorts of phones, as well as a few steering-mounted controls.
The seats are comfortable, as I found out on a 100-km drive between Jodhpur and Khimsar, even if I never sat in the rear except when stationary. However, what was truly surprising was the ride quality. It certainly doesn't feel like a hatchback anymore, be it in the city or on the highway. It's planted and absorbent, and makes the S-Presso feel a lot more capable. Yes, because of its compact dimensions, the car does bounce around a bit on constant undulations, and its narrow-and-tall stance does mean that the occasional crosswind may get in a sideways word, but the suspension remains the S-Presso's highlight.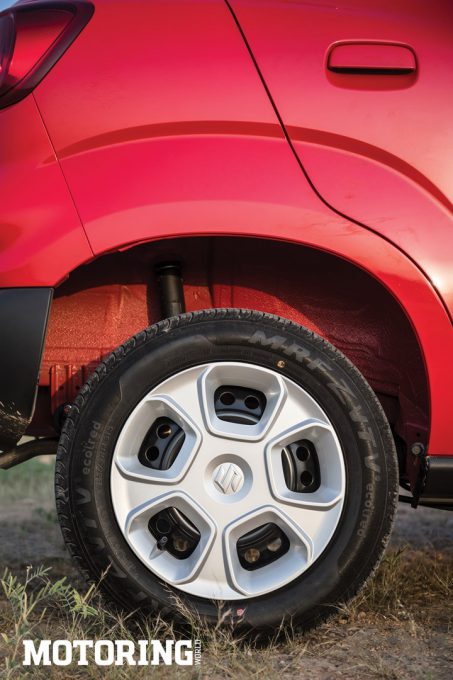 And even when I took it for a spot of off-roading looking for suitable shots, I didn't have to worry about the many rocks strewn about. Thanks to its light weight and ample ground clearance, the S-Presso simply bounded over them like a goat. Can't say I was happy for the economy-biased tyres, though. The brakes (ABS with EBD) are good, and stopped the S-Presso from making a tiny splash on the many big cows that lined the road between Jodhpur and Khimsar. Stability under braking was good, too, though there was quite a bit of weight transfer to the front. The expected pitfalls of being a mini-SUV, I suppose.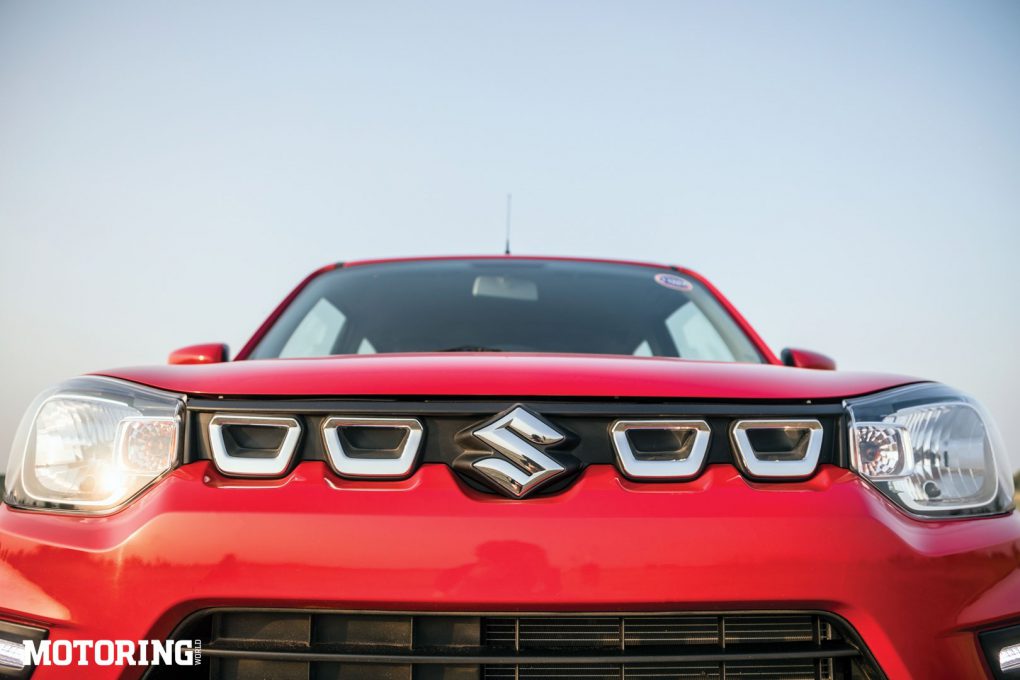 And since there wasn't a single proper corner on the way to Khimsar and back, I cannot comment on how the S-Presso behaves under hard cornering, although I did try throwing it around off-road, and it didn't complain. Of course, this was at low speeds, so enthusiastic chucking around on tarmac was left for another day. It went around fast sweepers well, though, and remained stable and confident. However, whatever body roll I experienced did make me thankful that there were no sharp corners around.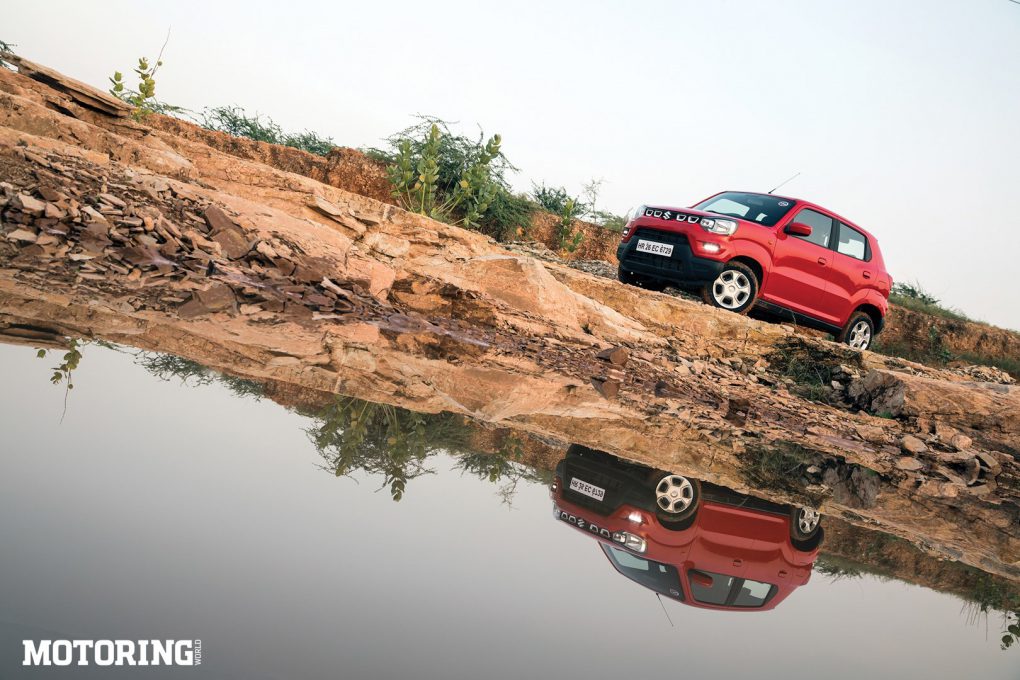 The engine, as hundreds of thousands of Indians already know, is what it is — smooth, efficient and reliable. The S-Presso gets the BS-VI version of the 1.0-litre three-pot motor; 67 bhp, a shade over 9 kgm, and claims to get 21.7 kpl. The 5-speed manual is the same as before, though the S-Presso also gets Maruti's AGS system which is its proprietary way of saying AMT. Both versions are easy to drive, but the AGS is obviously easier. It's smooth in its operation, and even though it can be a bit confused at times, it's definitely the pick of the two. It even comes with a manual-shift option, so I could mess around with the gearbox however I wanted to. Overall, I doubt there's a better combination of automatic convenience, suspension travel, price and peace of mind.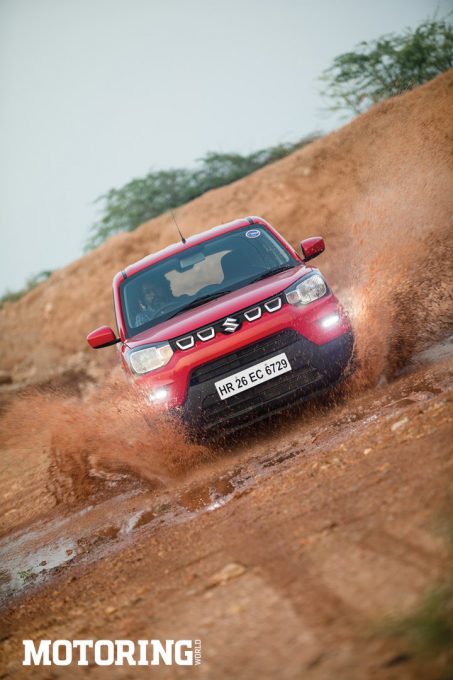 As an idea, a mini-SUV, the S-Presso shows a lot of promise. To be honest, put in purpose-built tyres, and I'll be very interested to see what it can do. Sure, it won't go participating in the Rainforest Challenge, but I can see it prancing along dirt trails just fine. Perhaps an all-wheel-drive system or a proper 4X4 is too much to ask for, no? Times aren't easy, even for India's largest carmaker. But an S-Presso shot might just help in getting through a long day.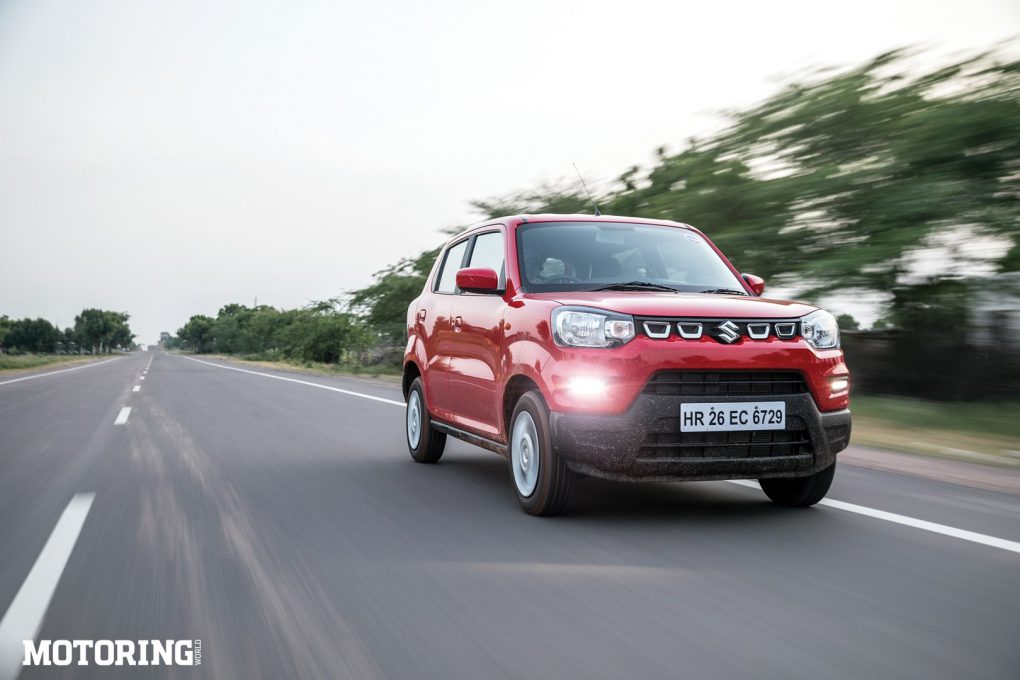 AUTODATA
Maruti Suzuki S-Presso
POWERTRAIN
Displacement: 998cc, inline-three
Max power: 67 bhp@5500 rpm
Max torque: 9.17 kgm@3500 rpm
Transmission: 5M/5AMT
TYRES
F/R: 145/80 R13
DIMENSIONS
L/W/H (mm): 3565/1520/1549
Wheelbase: 2380 mm
Ground clearance: 180 mm
Kerb weight: 726 kg
Fuel capacity: 27 litres
PRICE: Rs 3.69 – Rs 4.91 lakh (ex-showroom)