There was a time when every new sportscar had to prove its sporting potential with a blisteringly fast lap of the infamous Nurburgring Nordschleife. Maybe they still do and I've just stopped paying attention, but even SUVs have jumped into that particular game now, and the Audi RS Q8 is the latest fastest SUV around the 23-km circuit. That's all well and good, but I'm more interested in how it can handle our roads.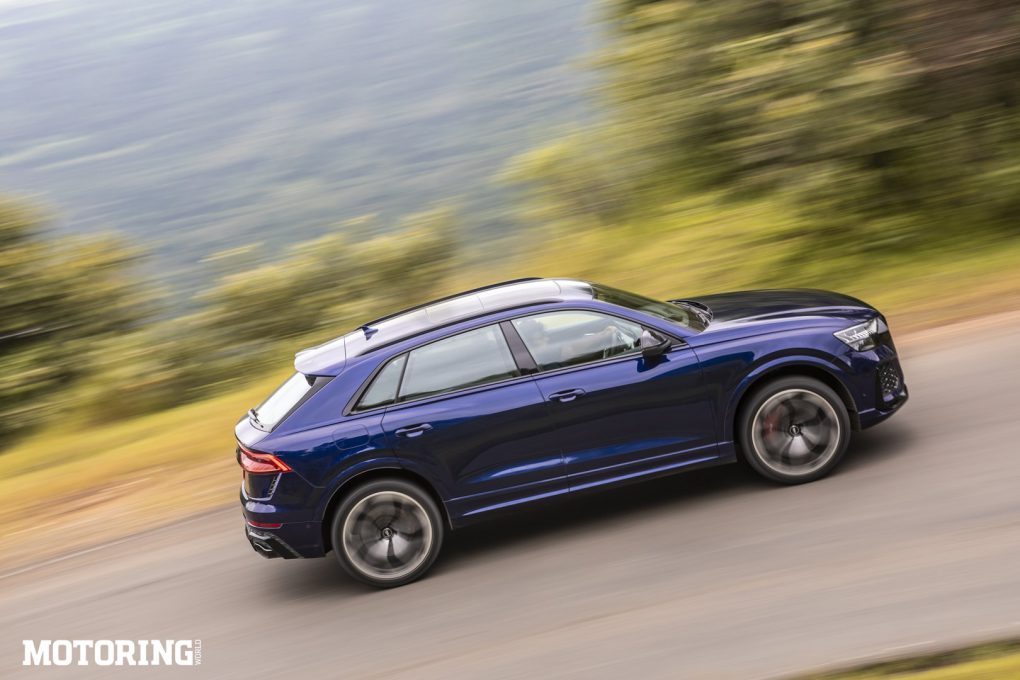 Without even looking at the whole car, I can tell you that the RS Q8 looks the part of a sportscar masquerading as an SUV — the first things you'll notice are its massive 23-inch wheels shod in rubber-band tyres which nearly jam into the wheel arches. The Q8 is already an imposing SUV, and in its RS guise it dials that up to 11. The all-black honeycomb grille is now flanked by two large air intakes to feed the 4.0-litre twin-turbo V8 under the hood. Save for a sliver of red on the RS badges, all the exterior logos are blacked out, but that won't keep anyone from recognising the RS Q8 for what it is.
The all-black motif carries on inside the car as well, but this time, the monotony is broken up by some bright-red contrast stitching on the seats, steering wheel and gear lever. There's also some customisable ambient lighting if you want to add more colour to this interior. Taking a page out of BMW M's book, Audi has added an RS button to the steering wheel; you can toggle between two customisable RS modes, from cruising to full-attack mode at the press of a button.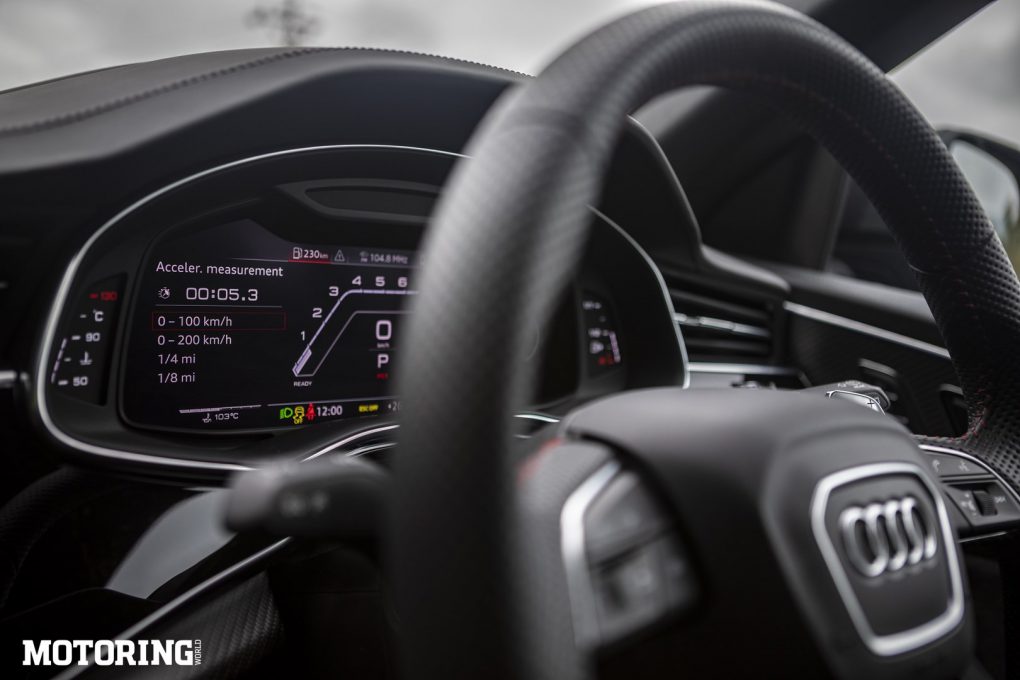 The Alcantara/leather sport bucket seats are comfortable and grip you very well. It's a good thing, that, because the RS Q8 accelerates so quickly from a standstill, it can give you whiplash; 592 bhp and an insane 81 kgm of turning force is put to the ground through a ZF 8-speed automatic transmission. Just like the regular Q8, there's no DSG here, but it's definitely for the better, I think. The torque converter lets the engine stay on boost through shifts, giving you better acceleration overall. Shifts aren't nearly as quick nor as violent as a DSG, but the 48V mild-hybrid setup more than compensates for that with added electric thrust.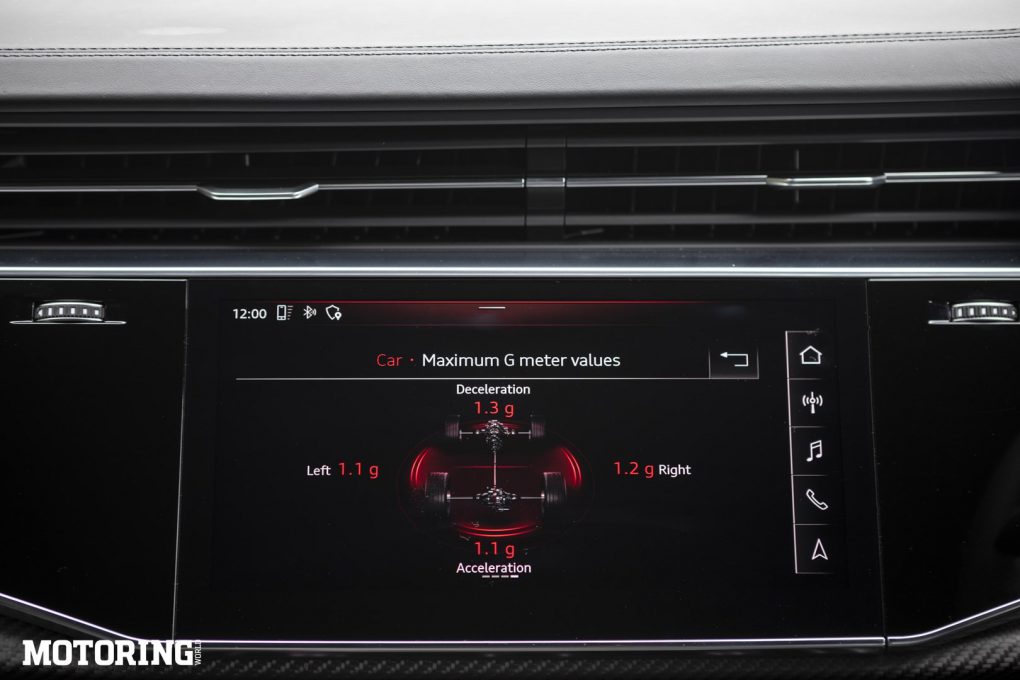 Acceleration is relentless regardless of where in the rev range you are, and braking is just as intense; 23-inch wheels afford clearance for dinner-plate-sized brake discs which come in handy when you're fast approaching a corner at ludicrous speeds. What these brakes lack in pedal feel, they more than make up for in sheer stopping power, so no complaints there. Speaking of lack of feel, the steering isn't the most communicative, either; it tightens up significantly when you're in one of the RS modes, but there's a distinct lack of feedback from all four corners. It handles incredibly well, mind you, with all-wheel steering turning this 2.5-tonne SUV into quite the corner carver. It shrinks around you and the quattro all-wheel-drive system with a sport differential even lets you bring the rear end out to play. It's all fun and games until you realise there are four people and their luggage being tossed about in the car!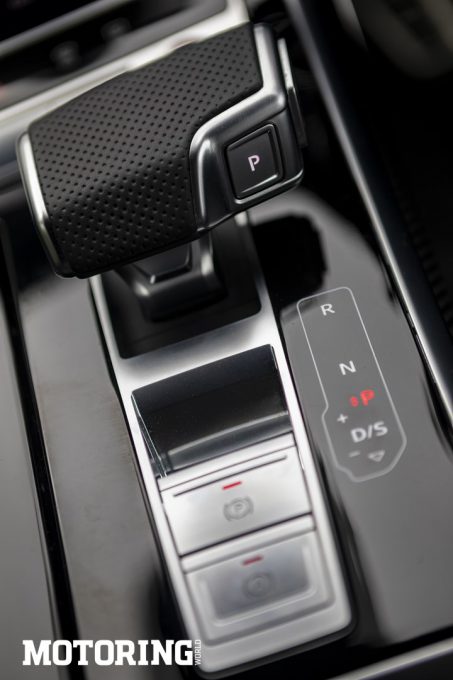 The one thing about the RS Q8 that sneaks up on you is just how comfortable it is on bad roads and broken tarmac. With its massive 23-inch wheels, you'd think every bump would be transmitted right through your spine, but the suspension takes care of all of that. I guess it has to if it's to tackle the 'ring since it's full of bumps and undulations, after all, and to really go fast, suspension has to be tuned well to take all of that in stride. And if you're worried about scraping something, just flick the suspension to its highest setting, which happens to be the 'offroad' mode. I didn't bother with that, though, I found the second-highest setting, the 'allroad' one, suited my purposes perfectly.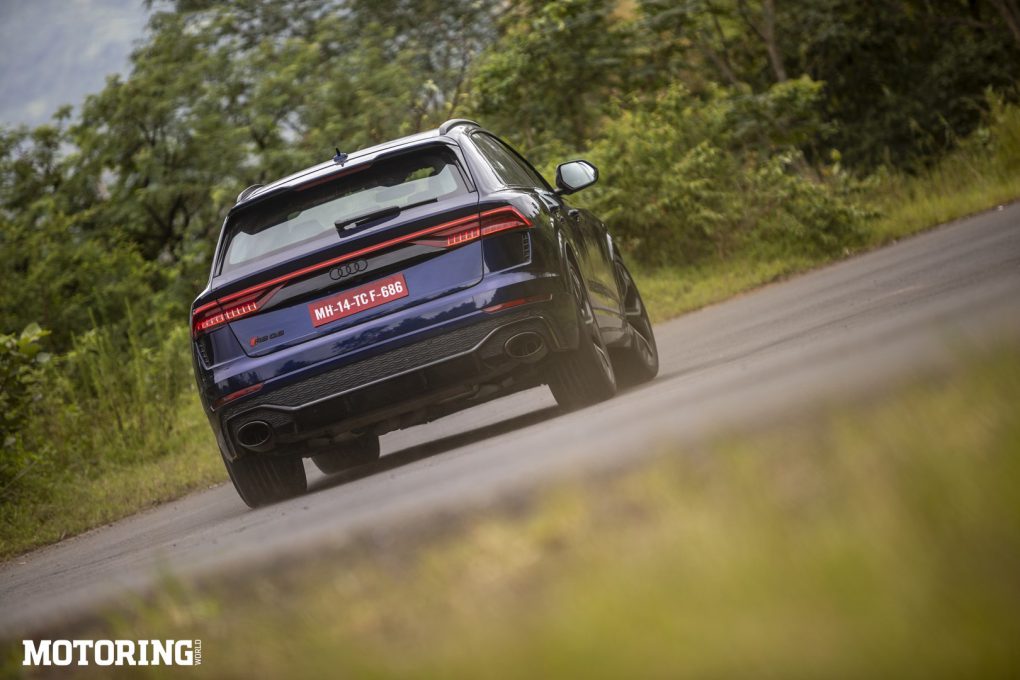 It feels odd to call a Rs-2.07-crore automobile a bargain, but that's what the RS Q8 is. You're getting performance to rival the Lamborghini Urus for nearly half the price. What's not to like here?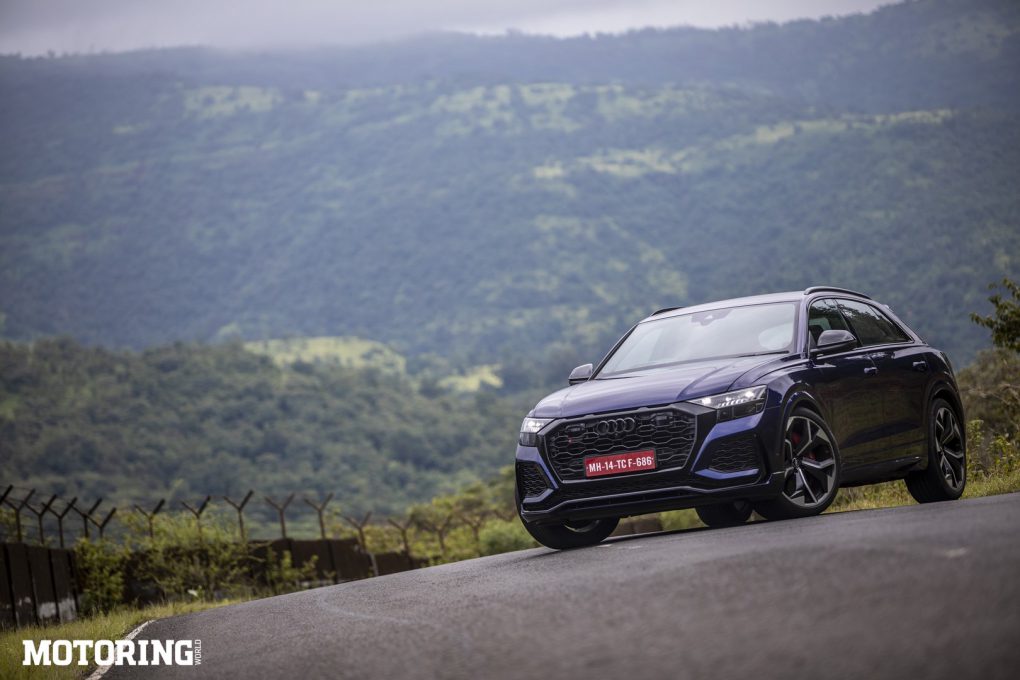 Click here to view more detailed pictures of the Audi RS Q8.
AUTODATA
Audi RS Q8
POWERTRAIN
Displacement: 3996cc, V8, turbo-petrol
Max power: 592 bhp@6000 rpm
Max torque: 81.6 kgm@2200-4500 rpm
Transmission: 8AT
TYRES
F/R: 295/35 R23
DIMENSIONS
L/W/H (mm): 4986/1995/1705
Wheelbase: 2995 mm
Kerb weight: 2390 kg
Fuel capacity: 85 litres
PRICE: Rs 2.07 crore (ex-showroom, India)