Photographs by Vishnu G. Haarinath
A clear blue day saw us getting into the new Renault Captur. 'Look-uh very nice, da. Make-uh for good day, da,' said my photographer. Compliments usually catch me off guard, so I brushed it aside with a confused grunt, but it dawned on me later that he was probably talking about the car. Or maybe he was talking about me. I can't tell most of the times because of his thick accent.
Anyway, the point is that, on the supposition that he was, indeed, referring to the new Captur, I can't help but agree with him. Renault, currently in India being primarily represented by rather odd-looking oddities such as the Lodgy, the butch-but-far-from-pretty Kwid, and the boxy Duster, hasn't really hit a home-run with its cars in the looks department. The Koleos or the Fluence might have been better-than-average efforts, but the Captur, to most eyes, is undeniably one of the best-looking Renaults around.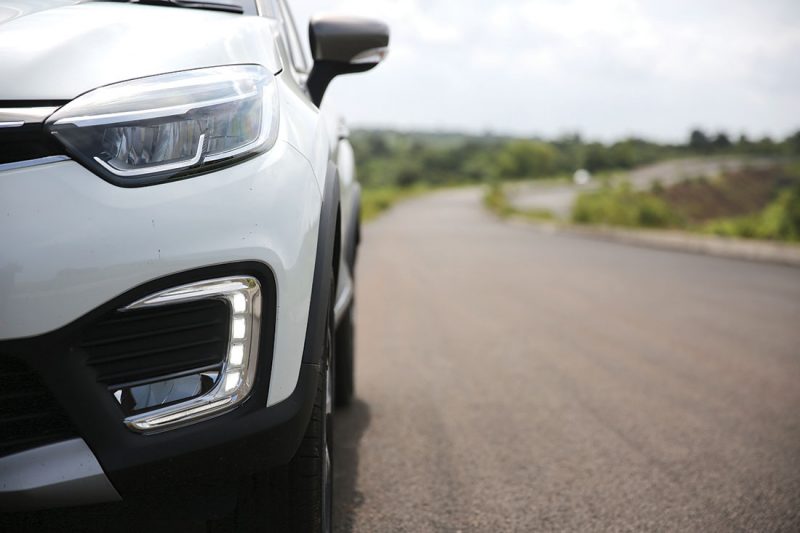 In that, I think, Renault's crossed more than half the hurdle. It's hard to get people to notice you, let alone stand out, with the amount of cars we have on the roads today. There isn't really a dearth of options out there, so where the Captur stands out is in the aesthetics department. Smooth, flowing lines, proportionate panels, some lovely detail in the headlamps and that's all complemented by a nice set of DRLs right below it. Switch to the back and you'd think you're looking at a jacked-up Kwid's rear because the tail-lamps are shaped nearly the same, but somehow it works well. It's not ungainly or anything; it's almost like it was meant to be on the Captur since the beginning. Point is, there isn't much most would want to change on the outside.
Since we're on the topic, I'd like to point out that pictures do very little justice to the size of this thing. It's big. Short overhangs front and rear indicate that Renault's eked out as much from the wheelbase as possible, and it looks all the better for it. I've tried to encapsulate just how long the thing is by lying down between the wheels. We tend to take our job a little too seriously sometimes, admittedly. Anyway, I'm six-feet tall and there was still a little room. What this obviously means is that it isn't the best handler in town, but it's an SUV, guys. You couldn't possibly expect it to be as sharp as a Porsche around the 'Ring. Nevertheless, you'd think this is good news for legroom, and you'd be right for the most part. There's zero reason to worry in the front, but the rear legroom could have been a lot better. Three sitting side-by-side is easy enough, but they'll end up being a little cramped if someone taller than five-feet-eight is sitting in the front. Some real calculated consumer advice, this, eh? Really, though, the rear seat mostly comes as a disappointment. Apart from the space, the cushioning is almost nil, which is in direct contrast to the seats at the front.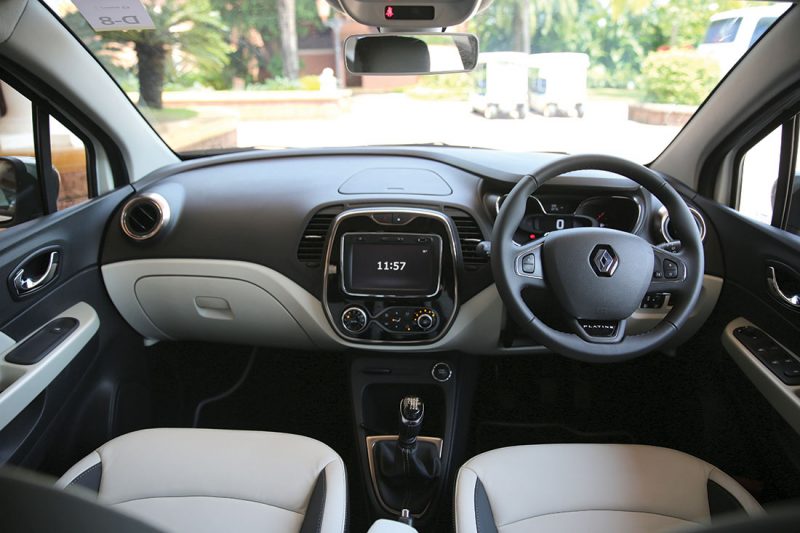 Another place I feel Renault dropped the ball is in the way it's packaged the dashboard. It's perfectly nice and everything but it just feels… spartan. Renault had the chance to make it feel as special as the outside, but it just didn't. It's not bad, don't get me wrong. I've seen much worse. I just don't think it's what people who'll be paying as much money will be expecting is all. Even the instrument cluster isn't as legible as it should be. Kudos to Renault for trying to make it funky, but it doesn't quite work in my opinion. If I were to try to summarise it, I'd say that the dashboard is functional, spartan, and lacking that special feel, and that's a bit of a blow to the overall aspirations of this car that shows massive potential.
Where it claws back some points is in the way it drives. Renault's plonked the familiar 1.5-litre K9K engine in the Captur, so the way it drove wasn't really a surprise. It's a thoroughly balanced drive from the diesel (there's a petrol option, too, but we didn't have one on the media drive. Oops?). How does it feel? Well, it feels pretty much like a two-wheel drive Duster to drive. Smooth and with enough grunt for most trips. It's just that the turbo takes a bit to kick in, so the first couple thousand revs are a bit devoid of any power, but if you can learn to keep it in the thick of the torque band then you should be good. It's true that it feels a little more laggard than the Duster to drive, but it's not something that's glaringly evident. Attribute this to the change in dimensions compared to 
the Duster and things start to make more sense.
On the move, things get better the faster you go. At speeds of 100 kph, the car has this lovely balance to its ride that's pretty neat to have when you're traveling four- or five-up with luggage. Slower speeds see (alliteration!) the car bounce and jiggle a bit more, but it's far from an alarming amount. It's definitely in the comfortable zone. Corners, as I mentioned before, aren't its strong suit. It's best to tread cautiously with this car, which is what you should be doing anyway considering it's a people mover first and foremost. All this power is funnelled to the front wheels via a six-speed manual gearbox… only. Yep, Renault will only be shipping the Captur with a manual 'box initially. The auto's expected to come some time later.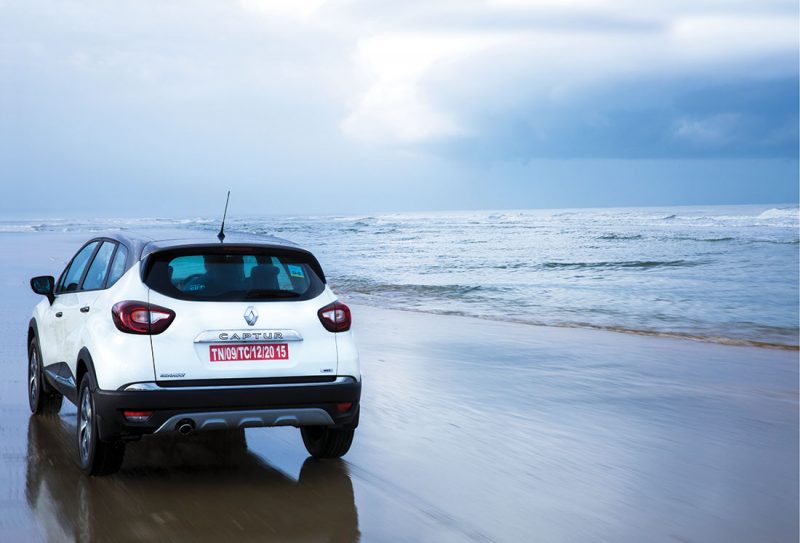 What's the deal, then? The Captur is, for all intents and purposes, a good, solid people-mover. It's got its fundamentals right. Typical of most Renaults, it's got a few quirks, like the barebones dashboard and the fact that the rear seat is mostly inadequately equipped. What it does do right is look good and drive well (for the most part), and that's a big win for Renault. The next big win will be when it announces the price for the car. If what I've heard regarding its price is to be believed, then Renault's got another done deal in its bag. And it could do with another success after the Duster and the Kwid to cement its status as a brand that's here to stay. One thing's for sure: this isn't another Koleos. We all know how well that turned out for it. Now, when's that all-wheel drive variant with the auto 'box coming out again?
AUTODATA
Renault Captur
POWERTRAIN
Displacement: 1468cc, i-4, turbodiesel
Max power: 108 bhp@4000 rpm
Max torque: 23.6 kgm@1750 rpm
Transmission: 6-speed, manual
TYRES
(F/R): 215/60 R17
DIMENSIONS
L/W/H (mm): 4329/1813/1619
Wheelbase: 2673 mm
Ground clearance: 210 mm
Kerb weight: 1568 kg
Fuel capacity: 65 litres
PRICE: Rs 9.99 lakh onwards (ex-showroom)
Detailed price-list for the Captur:
| | |
| --- | --- |
| CAPTUR RXE (Petrol) | INR 9,99,999 |
| CAPTUR RXL (Petrol) | INR 11,07,999 |
| CAPTUR RXT (Petrol) | INR 11,69,999 |
| CAPTUR RXE (Diesel) | INR 11,39,999 |
| CAPTUR RXL (Diesel) | INR 12,47,999 |
| CAPTUR RXT (Diesel) | INR 13,09,999 |
| CAPTUR Platine (Diesel) | INR 13,88,999 |
You can opt for the dual-tone paint scheme at an additional Rs 17,000.