I have a genuine question to ask: what on Earth do the Land Rover guys consume, and where can I get some of it? If you're second-guessing my intentions at the very start of the story, allow me to make one thing very clear. The Land Rover Range Rover Velar is by far and away the most brilliant-looking SUV I've seen to date. There isn't a single bad angle on it, in my eyes. The casually low silhouette, the gorgeous head- and tail-lamps, and the whole stance leaves you in awe at just how JLR managed to pull something like this off. Then again, we're talking about the same manufacturer that brought us the F-Type, which is essentially and practically fault-free. Still, though. Kind of makes you wonder what the other guys are doing…
So what, then, is the Velar? Well, it's the fourth in Range Rover's burgeoning line-up. It sits between the Evoque and the Range Rover Sport if you'd like a visual cue, and it shares its aluminium-intensive construction and wheelbase with another rather nice-looking SUV from the same house: the F-Pace. And it's filled with cool, innovative bits like the way the door handles pop out when you unlock the door. So thanks to the way it looks and the presence it has on the road, there's never a moment when the Velar doesn't bring with it a sense of occasion.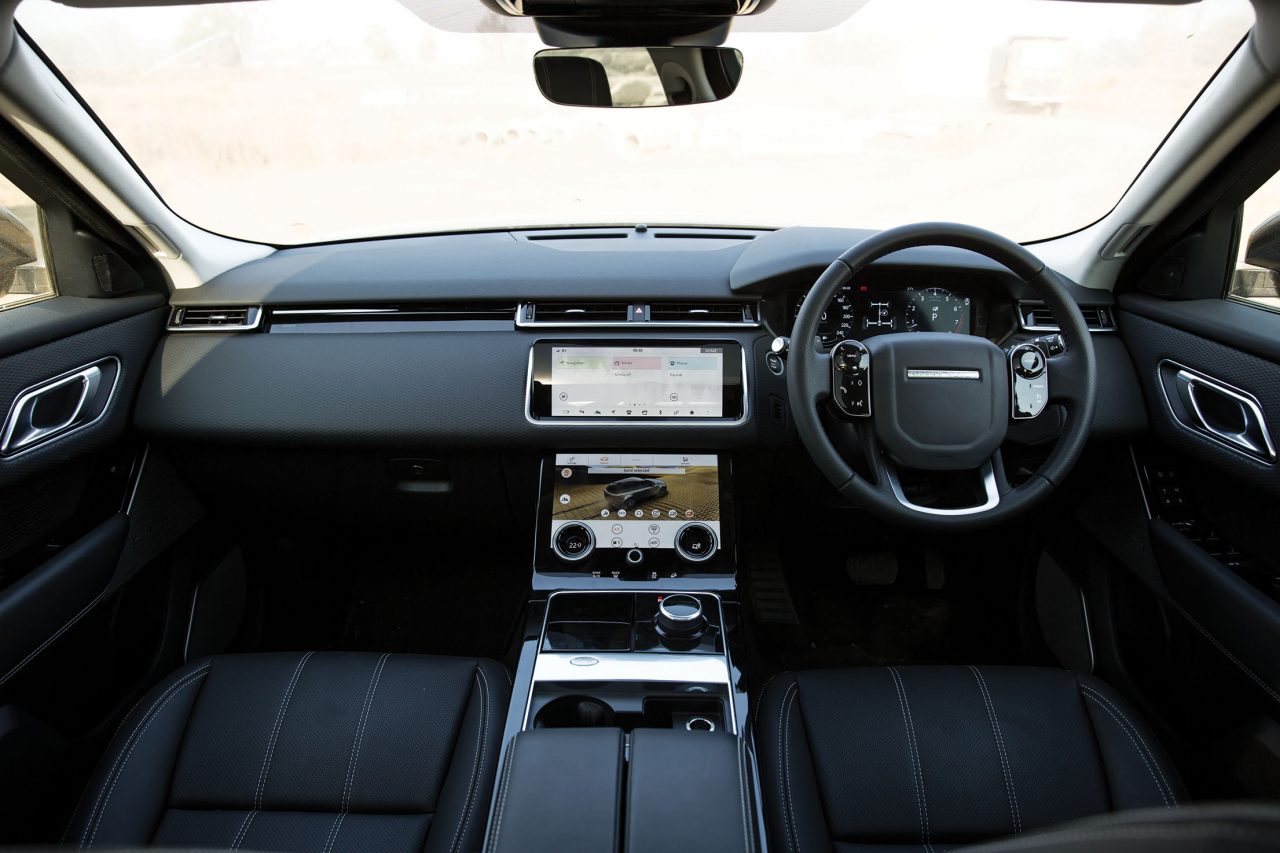 Things only get better once you open the doors and get in because there's one heck of a cabin waiting for you. Now, I'm not certain who went up and moaned about the fact that there weren't enough touchscreens in a car, but whoever did, I'd like to give him a generous pat on the back. The Velar's insides scream luxury the moment you lay eyes on them. There are two rather large touchscreens in the centre. The one on top houses all your infotainment requirements, your navigation needs, and other small functions of the car. The one below focuses on the aircon, the driving modes, and if you need it, what peculiar song is playing from your library. A bit much? Definitely. Unnecessary? Definitely not. The Velar's intent is to make you feel special, and it does that very effectively. What this Touch Pro Duo (as Range Rover calls it) goes to achieve is that there are only three control knobs on the entire centre console. Yep, physical buttons are for the weak.
The over-the-top treatment doesn't end there. The instrument cluster is a hi-res digital display, while the steering buttons have touch sensitive surfaces, and even change according to what's being used at the time. If you're getting a call, for instance, the left surface switches itself into touch-sensitive points to answer or decline a call. Want the volume higher? Simply scroll on the dial until you've got the volume to just where you want. Brilliant.
Other than that, the seats are large, comfortable, and cushy enough for both long and short journeys. Helping that feeling is the full-length glass roof that gives the people at the back a (nearly-)unrestricted view of the sky (or bird droppings, depending on when you last paid the guy who washes your car). The rear has plenty of legroom, enough space to spread out and relax, and you could even squeeze in a third if things get desperate. The boot space isn't what you'd expect, but it's far from being bad. If you need the extra flexibility, you could always use the option of the split folding rear seats to liberate some space. The best bit is that the Velar comes with a full-size spare.

Now, it must be noted that the Velar I got on test was a P250 SE, which isn't as high as you can go in the hierarchy. That is slightly worrying considering this trim already has pretty much all you'd need from an SUV in this segment. The 19-inch wheels, for instance, can go up to 20s, and they look a lot better than the former, too.
The big question to be answered, though, is just how well it drives. The one we got for the test, like I said, is the P250 SE. To give you an idea of things, there are eight trims and four engine options to choose from. The one I got to drive was the less powerful (of two) petrols. It has a 1997cc inline-four turbo that makes a nice 247 bhp and 37.2 kgm, which seem like adequate figures until you see what the two diesels and the more powerful petrol get. That said, it's not all bad. Of course, you can feel that there could be a little more grunt, but that feeling only lasts until you get to an open stretch of road. Once you let the Velar let its hair down, there's very little stopping it. Okay, scratch that. It stops just fine, too, but what I meant was that it thrives at higher speeds. Ask it to do anything above 120 kph, and the Velar happily obliges, and goes on to some very scary and illegal speeds without you noticing.
This has a lot to do with just how planted and reassuring it feels. The steering's hooked up, the car sits flat, undulations are nothing more than a bother for a second or so, and the confidence it shows blitzing into corners is very cool to see, and the 8-speed auto 'box is in its element when you're pushing it. This is good news because anyone wanting to go long distances in the Velar is set for a treat. The slower stuff, however, is where it stumbles a bit. You can feel its weight in traffic, and while you'll love how responsive the engine feels in the Dynamic driving mode while driving quickly, at crawling speeds it feels too jerky. Switch to Comfort or Eco and it just gets too dull. It does everything else like ride and handle well, but it just doesn't seem like the P250 likes going slowly is all.

The Velar also gets Land Rover's Terrain Response System, which essentially allows it to perform magic over surfaces like sand, mud ruts, and the like. It's a rear-biased all-wheel drive system and there's an all-independent suspension setup with double wishbones up front and a multi-link arrangement at the rear. So, be it on the road or off it, the Velar should have your back at all times. Okay, so maybe you can't do heavy off-roading in it, but you wouldn't seriously consider putting that through devastation, would you? Besides, Land Rover has other options if that's a deal-breaker for you.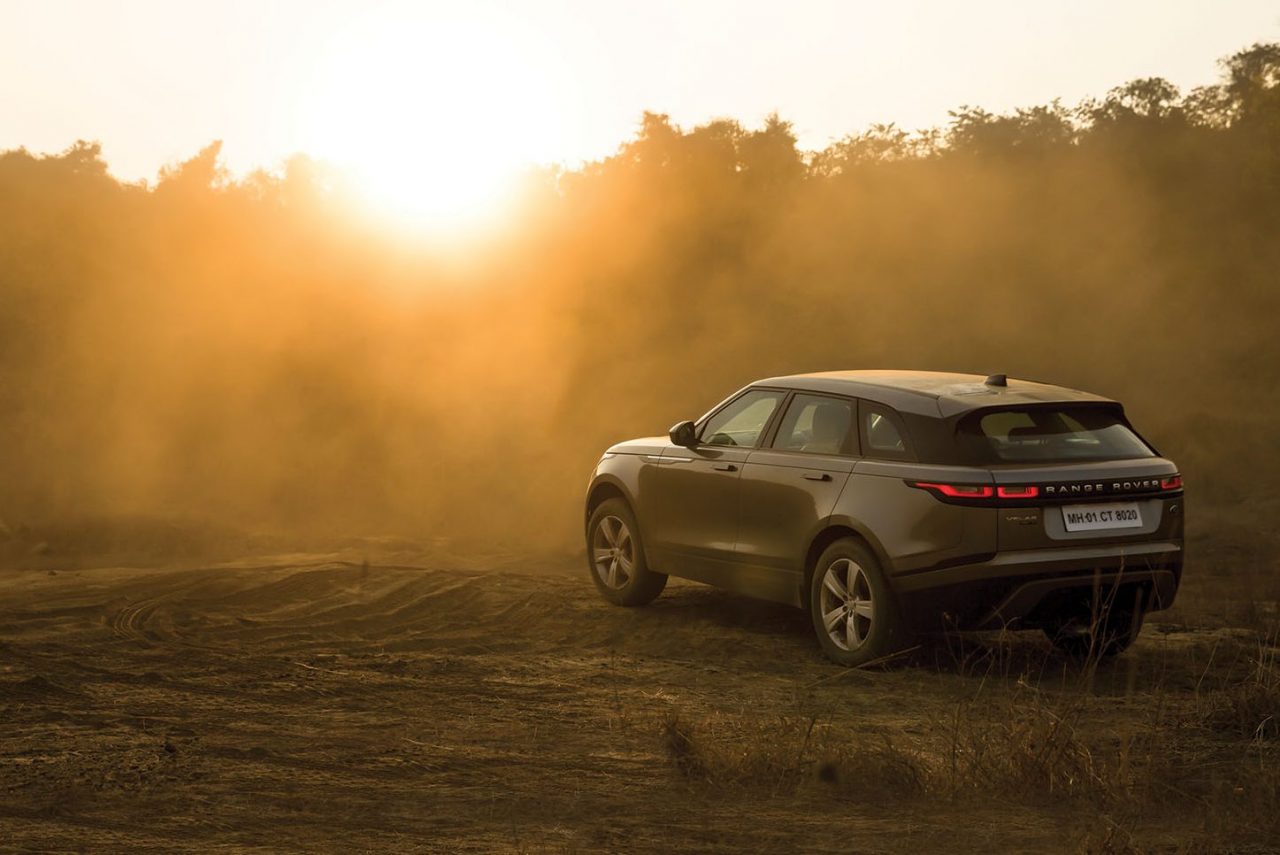 I remember wondering where Land Rover wanted to slot the Velar in when it was announced. I mean, it already had the Evoque at one end and the Range Rover Sport at the other, with the Discovery and even the F-Pace in between. After having driven the Velar, though, I… nope, I still don't get it. But I suppose that's hardly the point of it. The Velar is a very cool SUV by Land Rover. It might be overlapping in certain ways and places, but that doesn't make it irrelevant in any way. It's a good way to blow through that much money. It's got some serious tech in it, a wide range of engines and trims, it's refined, comfortable, luxurious, and it drives pretty well once you've picked up some speed. The Velar, to me, is worth it. If you do plan on getting one, let me know if you manage to get your eyes off it any time soon.
AUTODATA
Range Rover Velar
POWERTRAIN
Displacement: 1997cc, i-4, turbopetrol
Max power: 247 bhp@5500 rpm
Max torque: 37.2 kgm@1500 rpm
Transmission: 8-speed, auto
TYRES
F/R: 255/55 R19
DIMENSIONS
L/W/H (mm): 4797/2145/1665
Wheelbase: 2874 mm
Ground clearance: 210 mm
Kerb weight: 1855 kg
Fuel capacity: 70 litres
PRICE: Rs 87.13 lakh (ex-showroom, Delhi)