The Range Rover stands as a symbol of opulence and off-road prowess on a global scale. Even James Bond himself, in recent films, turned to the Range Rover to navigate himself out of a tight spot. It boasts a style fit for the red carpet and a ruggedness suitable for the wilderness. Some might mistakenly believe that 'Range Rover' constitutes the entire brand name, a testament to its iconic status.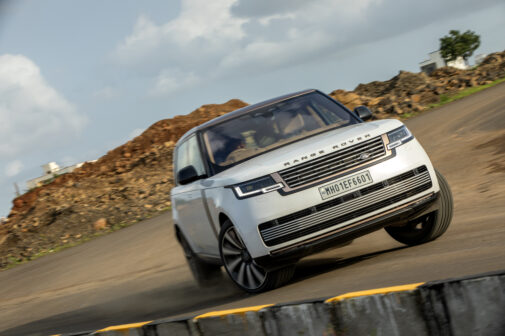 This is the vehicle that titans of industry favour. If it were a person, it would leisurely sip champagne on a velvet couch. But here's the twist while some pamper it like a runway model, cruising on smooth roads, the genuine off-road potential often takes a back seat.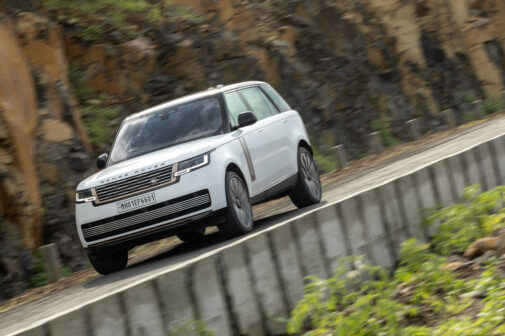 The Range Rover's journey since the '70s has been a steady evolution. The original Range Rover blazed a trail, introducing luxury SUVs to four-wheel drive, defining its sleek waistline, and pioneering the floating–roof design. Subsequent generations fused innovation with heritage, securing a special place in people's hearts as the quintessential luxury SUV.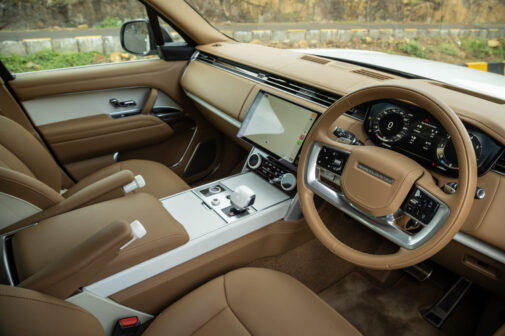 Whispered in hushed tones, the Range Rover name signifies 'luxury SUV royalty.' The Range Rover SV is a regal high–street parade showcasing a fresh array of enhancements spanning design, technology, features, and performance. The new Range Rover encore sustains its glamour, presenting a sleek, sculpted visage that proclaims, 'I've been chiselled from pure aluminium,' a rejuvenation akin to a spa day for the traditional Range Rover design.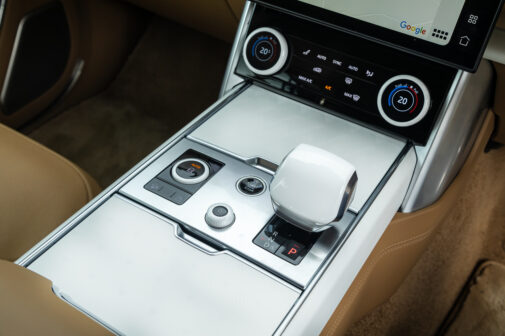 Gone is the chrome trim, a relic of last season's trends. In its place, a smooth, suave finish reigns, it's precision rivaling snug post-holiday jeans. The Range Rover embodies luxury, technology, and design honed to the keenness of a tailor's needle.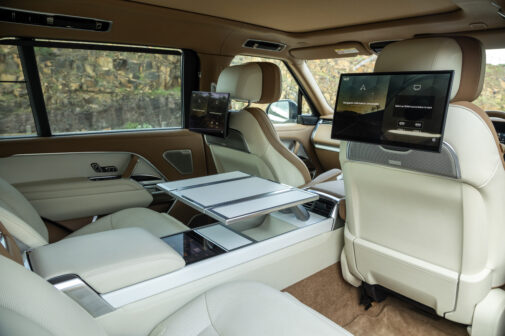 Distinguishing the SV version from the regular one requires an adept eye for detail, a level of subtlety that many might envy. The Land Rover badge on the grille up front ditches its green attire for a slick black ensemble. The grille boasts an intriguing new slat design, while the lower air dam dispenses with fog lamps in favour of a minimalistic appearance.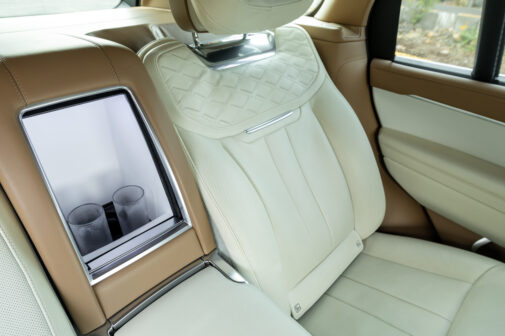 Progressing to the sides, those charismatic 23-inch wheels continue to steal the spotlight. The classic 'slat' vertical elements on the doors maintain their presence, now adorned with a bronze touch and a sophisticated SV emblem at their base. The iconic 'Range Rover' lettering persists, but the true subtle design delight is the ceramic SV badge on the tailgate.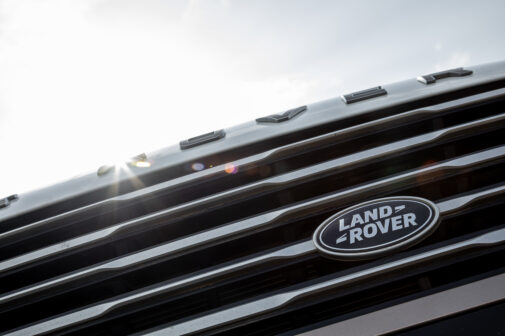 Speaking of ceramics, the interior reveals more exquisite ceramic details, akin to those found on high-end wristwatches. In essence, the Range Rover SV embodies a plush limousine on elevated stilts, particularly in its long-wheelbase allure. The VIP treatment is most evident in the rear seats. Yes, the rear seats. The Executive Comfort Plus model's back seats offer an array of luxuries, from reclining and memorisable settings to heating, cooling, and even massage functions. To top it off, they include plush pillows for an utterly relaxed experience.
And that's not all. Embarking on the SV welcomes a choice between the dark ambience of the SV Intrepid or the light and airy cabin vibe of the SV Serenity. It's akin to selecting between a sunny beach day and a midnight adventure. This decision, in turn, leads to a range of elegant colours and trims, with certain instances replacing metallic accents with ceramic ones.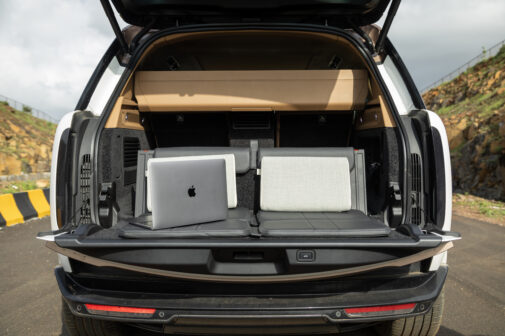 Need to carry a tonnes of luggage? The 725-litre trunk space has you covered, with even the spare wheel displaying impeccable manners. But here's the cherry on top: lower the SUV to 'access height,' and your luggage enjoys a VIP entrance over the split tailgate. Feeling extravagant? Unfold the 'event suite' bench, instantly creating a picnic spot. Add some tunes to the overhead speakers, and you become the reigning king of outdoor leisure.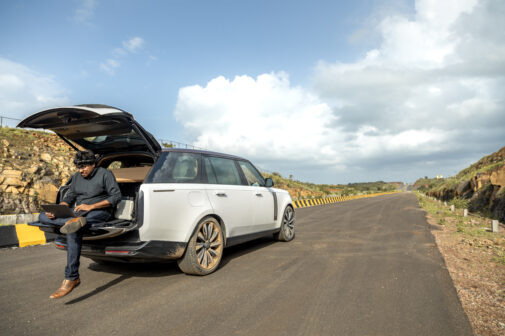 The Range Rover beckons with a technological wonderland where luxury permeates every surface. A central 13.1-inch touchscreen and a 13.7-inch digital instrument cluster constitute the two expansive screens. Rear–seat infotainment screens, each up to 13.1 inches, rival your television, treating rear passengers to a visual feast or as I like to call it the rear sat IMAX experience.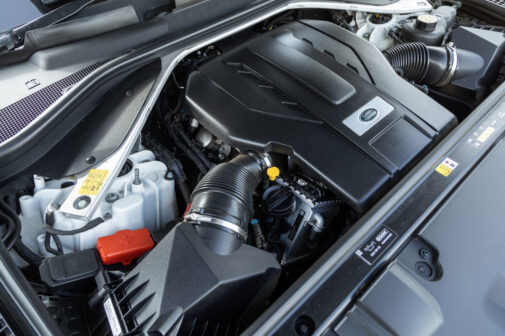 Now, delving into the powerhouse that propels this majestic SUV, one finds various engine options. However, the V8 seems the logical choice for those fully committed to the SV Range Rover. It stands as the crowning achievement of the engine lineup the BMW-sourced  4.4-litre V8 twin-turbo delivering 522 bhp and 76.47 kgm of torque. This collaboration between JLR and BMW mirrors a brilliant engine swap in the realm of high-end luxury cars. It's akin to exchanging worn-out sneakers for turbocharged rocket boosters.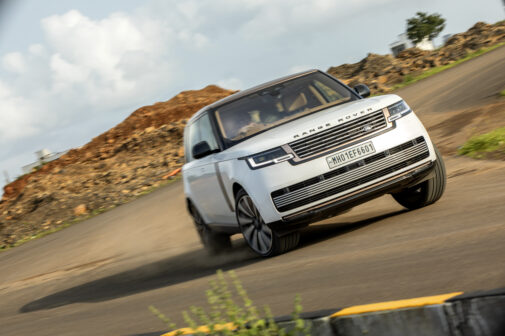 Opting for the V8 entails more than just speed, though a 0-100 kph acceleration in 4.7 seconds certifies its agility. The V8 embodies refined prowess, aligning with the league of sophisticated SUVs boasting robust turbocharged powerplants. Yes, it's a BMW engine, yet it integrates into this Range Rover as seamlessly as a well-tailored tuxedo, offering smooth comfort. Think of it as the SUV equivalent of indulging in a gourmet coffee; it's not solely about the caffeine kick, but the entire experience that brings a smile.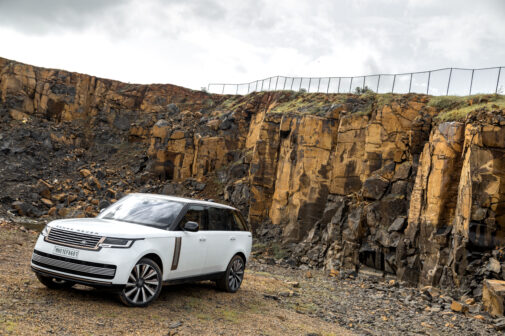 Imagine the Range Rover SV cruising with an air of opulence, skillfully navigating its 2.6-tonne frame with a grace akin to a ballet dancer. This is luxury writ large. At an imposing length of 5258 mm, the SV commands presence, possessing the stature and heft that distinguishes it from the sedans masquerading as luxury limos.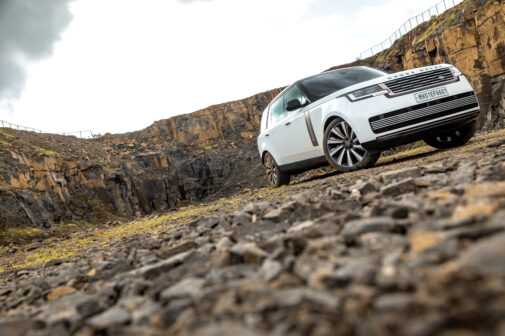 The new five-link rear suspension translates into a delightfully smooth ride experience. Yet, the 285/40 tyres and 23-inch rims present a challenge. Much like dancing in high heels on cobblestones, they exude style while delivering a jolt when encountering sharp bumps. For a more comfortable ride, the 22–inch wheels emerge as a preferable choice.
Settling into the Range Rover's driver's seat unfolds with the ease of butter melting on a hot pancake. Yes, it's that luxurious. Surprisingly swift for its size, it outpaces smaller, ostensibly 'sportier' SUVs.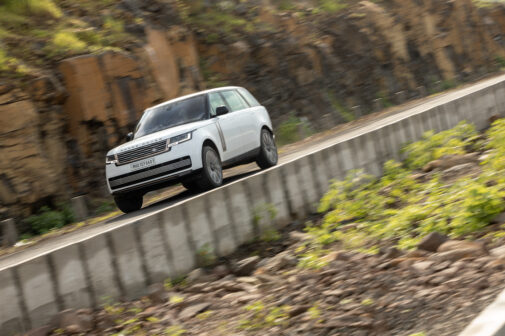 Steering this substantial luxury SUV proves effortless, striking the ideal balance between responsiveness and stability. It's the perfect formula for confident manoeuvring, thanks to rear-wheel steering assistance. Though not a race car, it's akin to an SUV multitasker – excelling in traffic, dominating the expressway, and handling country roads with finesse. One almost forgets its dimensions rival those of a small country. Speed bumps, those perennial annoyances, become inconsequential. Picture the Range Rover elegantly traversing them while leisurely sipping tea.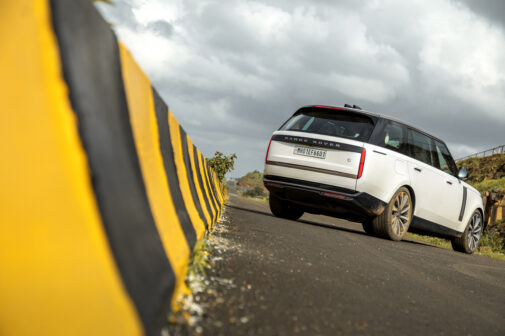 With an ex-showroom price of ₹ 4.17 crore (ex–showroom), the Range Rover puts Maybach, Rolls Royce, and Bentley on notice – literally offering a posh soirée where the ticket's cost exceeds that of a small island. Astonishingly, it surpasses the already impressive Autobiography trim by ₹ 85 lakh. Hold on – some of those elegant add-ons are compatible with the Autobiography as well. It's akin to sharing a dessert menu. Yet, what sets the SV apart? Its exclusivity – a unique exterior, sophisticated interior choices, and a rear cabin split that epitomises 'cool'. The Range Rover's essence remains intact – functionality intertwined with a touch of extravagance. Opulence beckons with the Range Rover SV, 'Let's party but with a touch of class.'