Photographs by Vishnu G. Haarinath
Wait, what? This has to be some sort of one-off, I hear you say. Well, colour yourself impressed, because it isn't. You can actually buy one of this off the showroom floor, if you so please. This is the new Range Rover Evoque Convertible, and I like what I see. Why is it in existence? Well, why not? If you could take one of the sexiest luxury SUVs around and lop its top off, thereby doing it a great service, why wouldn't you? That seems to have been the consensus over at JLR when mulling over the Evoque Convertible, and I'm glad they're thinking along those lines.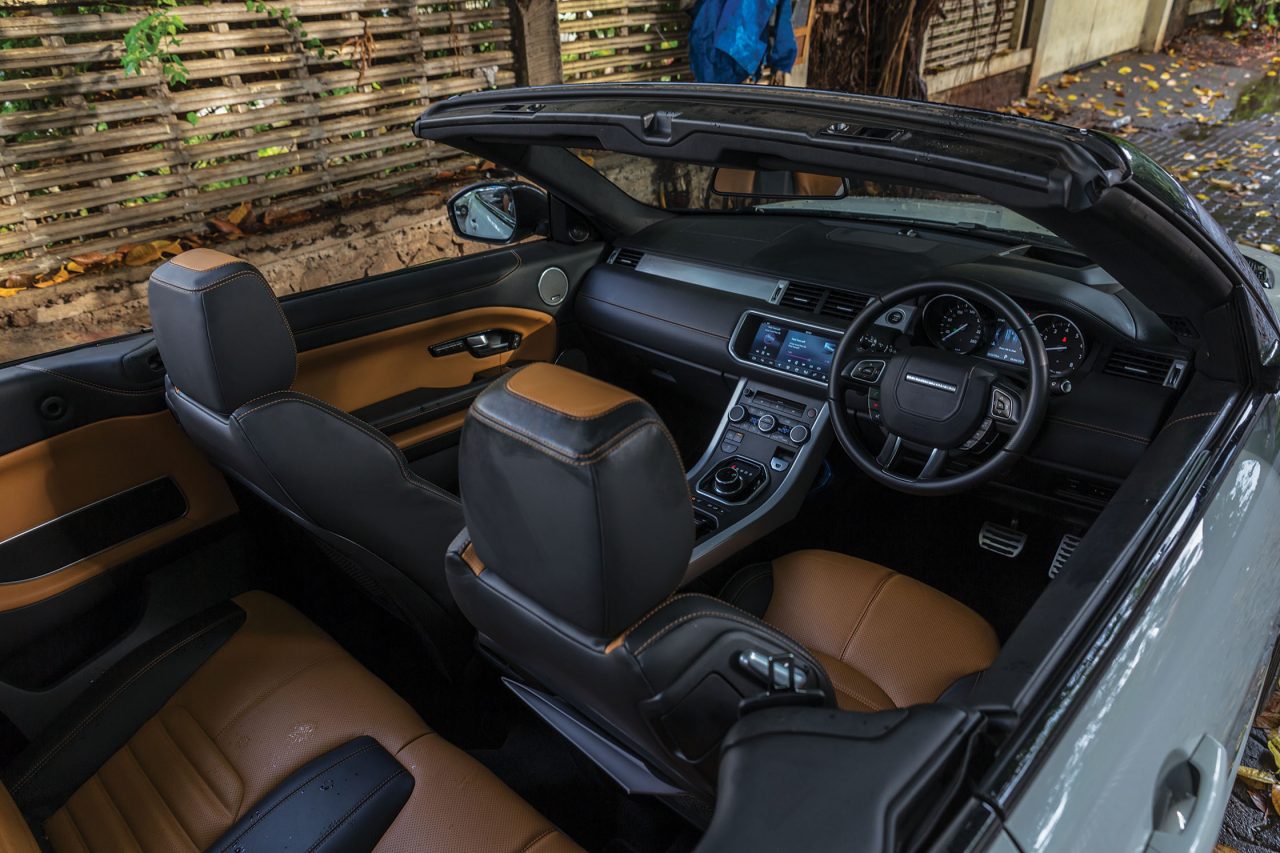 What's different over the standard Evoque, then? A fair few things, actually. The front is the same, but things get radical after that. The A-pillar's shorter and there's more rake, the roof's been chopped off and you can cover it all up by way of a fabric roof when things get a bit, um, wet. For all other occasions, though, keep it down, because it really looks far better that way. There's absolutely no shortage of the amount of exclamations this thing gets while on the move, and that's bloody splendid for those looking to get their share of attention. What's also different is that it only has two doors, so you'll have to get your rear occupants to scramble a little bit while they get in the back. The rest of the journey will be fairly pleasant, though (considering it's a sunny day, that is), and they won't be left wanting for space, either. It's decent for two adults at the back, but better if you have a set of dogs to ferry around. What's impressive is that they've even managed to cram a decent 251-litre boot into the thing, so grocery runs aren't all that strange an occurrence. What's cool is that the amount of boot space stays the same despite a folding roof because the housing for the roof is fixed. And you can drop the top at a surprisingly fast rate at speeds of up to 48 kph. I'm liking this car more and more by the minute.
As for the amount of kit you get on board, well, it's a nice list to have. The Evoque Convertible is available only in the HSE Dynamic trim, which affords you things like a 12-speaker Meridian sound system that sounds great, park assist, auto LED headlamps, powered front seats, a 10-inch touchscreen, and infinite levels of headroom when the top is down. Sounds good enough 
to me.
Now, as for the way it drives, the Evoque is a bit of a mixed bag. You can only have it in a petrol spec: the 2.0-litre Ingenium engine. This is good for 237 bhp and 34.6 kgm, which makes it quite a sprightly drive. It's mated to a nine-speed auto, and it gets AWD, which is always a nice thing to have when you're speaking of JLR. Keep the accelerator down to 50 per cent, and the car is in its element. It's really good on the uptake, as long as things aren't too hurried. Thanks to the linearity of the Ingenium unit, things are relatively fuss-free for the most part, and it makes a pretty nice noise higher in the rev range, too. The only place it's left wanting is the gearbox, which gets slightly frazzled when you ask it to do an all-out sprint to the finish line. This gets slightly better when you take control of the shifts yourself, but it's still not an ideal unit. But, like I said, expect sane responses from it and it will deliver. You can't seriously be expecting the Evoque to be something you'd have races in, of course.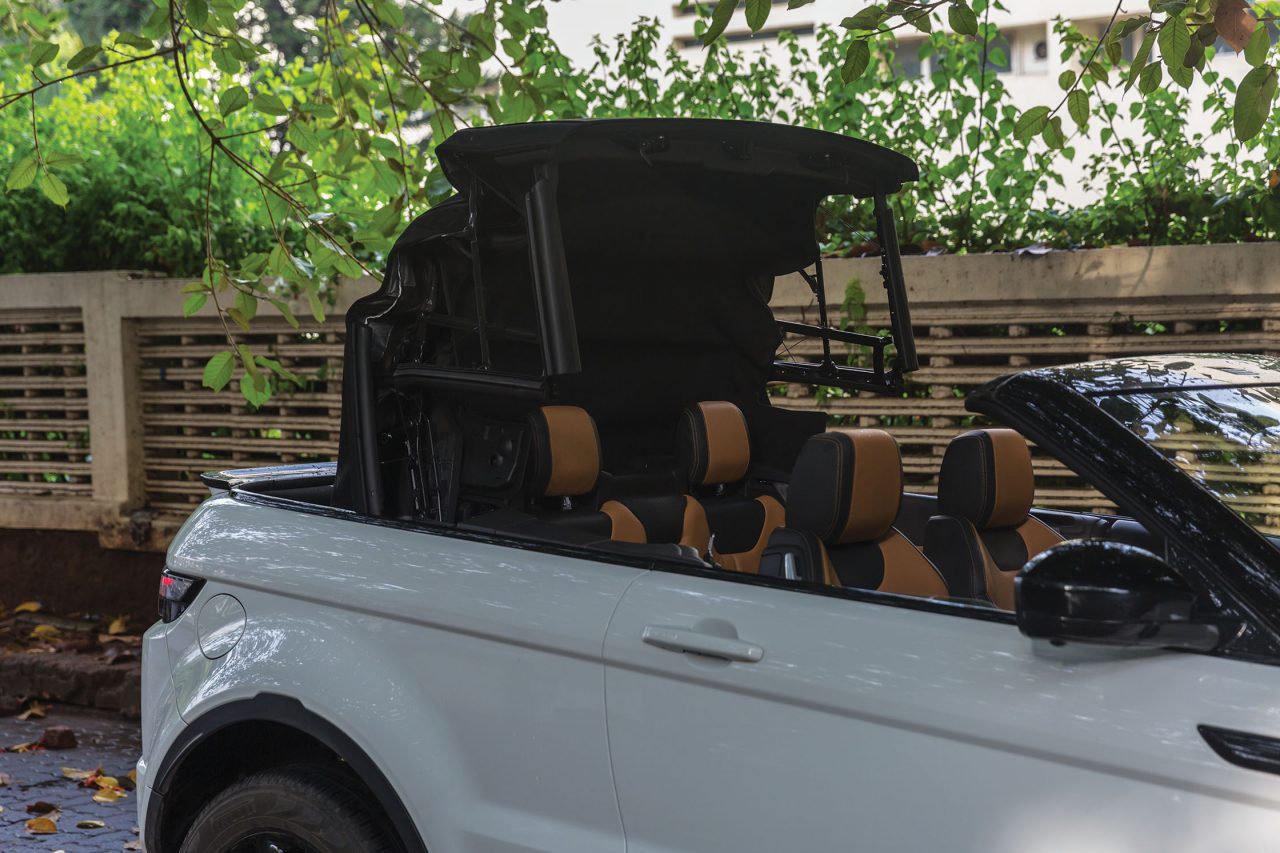 So, as long as you keep things rational, the Evoque will have your back. As for the ride, well, it's pretty decent. Bumps and speedbreakers are dealt with pretty easily, even the nastier of the lot, and it holds steady even at speeds above 100 kph, so that's a good thing. Where it falters a bit is when you try to push it too hard. It's not that it gives up, but it just gives you the impression that you're being a bit of a twat in expecting it to corner as though it's on rails. There's a bit of a wobble if you push it and the tyres do tend to start protesting under excessive forces, but that's hardly unexpected. That said, it is surprisingly good with quick direction changes, although you'll have to keep the severity of them in check to avoid making the car do something silly and unexpected. To sum up, though, it's perfectly good for the city runs and the occasional topless highway jaunt. Quite as expected. I didn't quite take it off the road, because, well, why would you, but that doesn't mean that it can't. Remember, this is an Evoque after all; a machine that's impressed us at Motoring World with its off-road prowess on a number of occasions. I'm sure this will be as capable thanks to the Terrain Response system.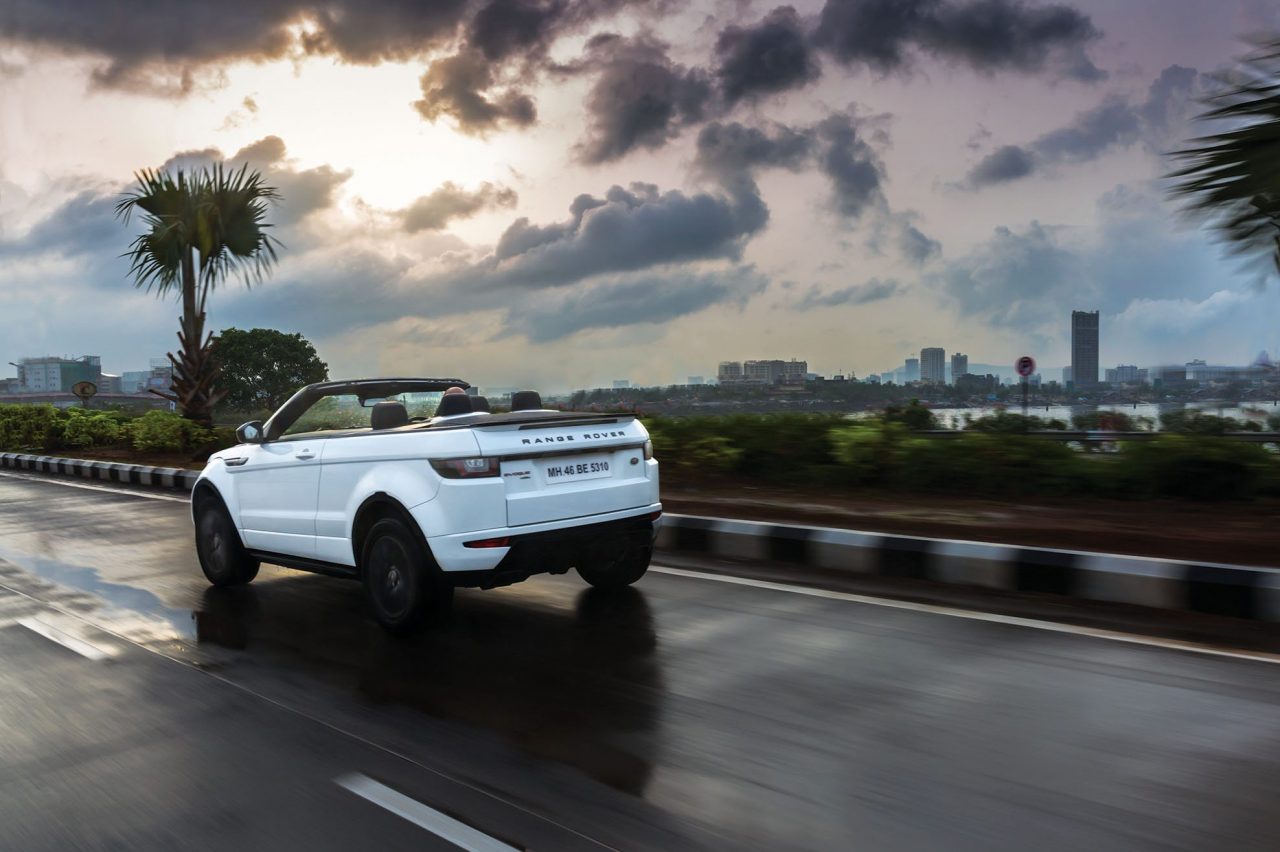 All that brings us to whether this machine is reaching for a non-existent target. I don't believe so. The fact that Range Rover is being gutsy enough to bring a car that's in a class of its own currently is saying a lot about the faith it has in this market. The Evoque Convertible will find homes. And that's simply because it's bold and competent. We aren't the biggest buyers of convertibles in India, but that doesn't stop us from picking up a fair few every year, either. The Evoque Convertible, for me, tops that list of cars in India at the moment. It's smart, sexy, neat to drive, and comes with a whole load of kit. And if it comes with the option of being topless while at it, why wouldn't anyone go for it with their eyes closed, I wonder.
AUTODATA
Range Rover Evoque Convertible
POWERTRAIN
Displacement: 1998cc, i-4, petrol
Max power: 237 bhp@5500-6000 rpm
Max torque: 34.6 kgm@1500-4000 rpm
Transmission: 9-speed, automatic
TYRES
F/R: 235/50 R19
DIMENSIONS
L/W/H (mm): 4370/1900/1609
Wheelbase: 2660 mm
Ground clearance: 170 mm
Kerb weight: 1740 kg
Fuel capacity: 55 litres
PRICE: Rs 69.5 lakh (ex-showroom)