I grew up in an era when cubic capacity was king. And I am fifty years old, so do the maths!
'Dikra, there is no replacement for displacement' was an oft-proclaimed phrase, usually broadcast by bombastic bawajis who owned gas-guzzling big-bore American relics from the 1950s and 1960s. A 'miniscule' 2.5-litre engine was looked upon with disdain and considered as one that would struggle to climb the Bhor ghat from Khopoli to Khandala.
The burble of the back pipe, the pulsations of pistons, and roar with respect to rpm, were the yardstick by which the mettle of a motorcar was measured.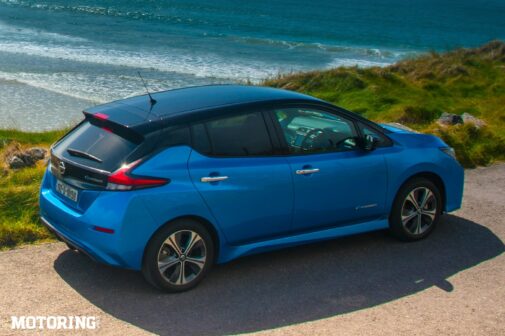 So at the wheel of the electric Nissan Leaf clipping along silently and effortlessly at 120 kph, on the N7 in the Republic of Ireland, I smile, because this car gives those bawajis a birdie, does so without emitting any malodorous emissions into the environment, and only by egging on electrons. Earlier Michael Coghlan — who heads Nissan's EV division in the Republic of Ireland — had kindly picked me up from Dublin airport, and we'd driven to Nissan's Head office in Park West Business Park, Dublin in a Nissan Qashqai. It's where the Nissan Leaf was parked, its 62 kWh bank of batteries charged to 100 per cent.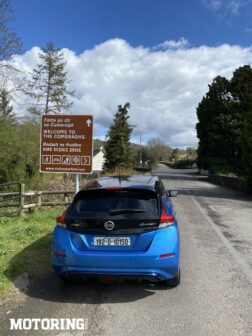 Michael gave me a little orientation about the car, controls, and multimedia menus, and I was off. Now, on the N7, I am headed to Naas, which is just 30 km away, but at 120 kph, the 160-kW motor seems to be sucking out the juice with a hosepipe, instead of being slowly sipped through a straw. However, I am not concerned because I know for a fact that the Killashee Hotel that I am staying at has charging points, so I am maxing the speed limit and thoroughly enjoying it.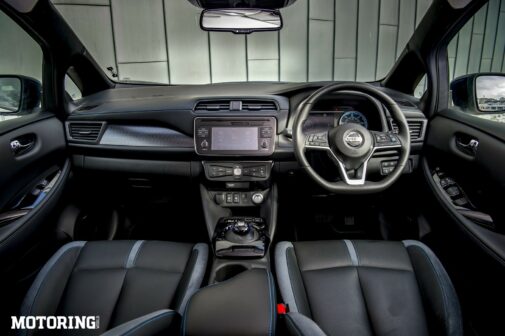 Because, while the surge of electric power when I step down on the throttle does not come with the fanfare and fervour of an ICE motorcar, this is more like an invisible force field, propelling the car forward. Which, come to think of it, is exactly what is happening inside the armature of the electric motor — an invisible force created by current flowing through a magnetic field.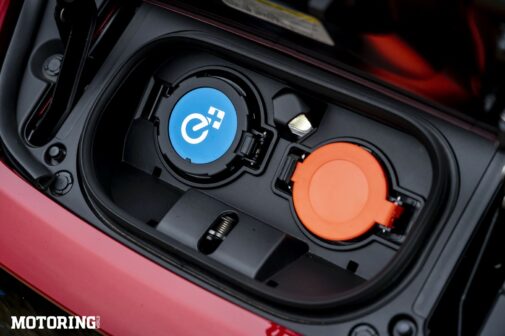 At Killashee, I realise what I have not accounted for is the popularity of electric cars in Ireland. All the fast chargers are occupied, however, there is also a domestic socket in the charging bank, and I plug the Leaf into one of the 13-Watt outlets. If my battery were completely depleted, then this would take about 32 hours to full charge. But since I have only done 30 km, and am not even down to 80 per cent, I have a fully-charged car waiting for me the next morning.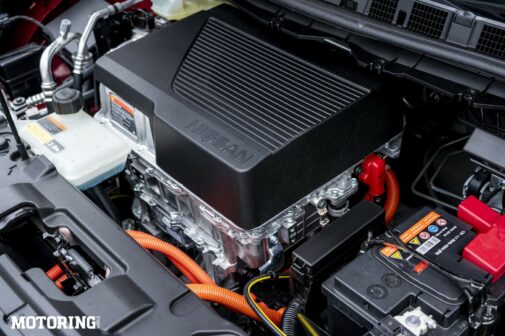 I, on the other hand, am fully charged on the 45-gram rib-eye steak from dinner last night, and the full Irish breakfast this morning. Unbeknownst to me, this is going to become a way of life for next week.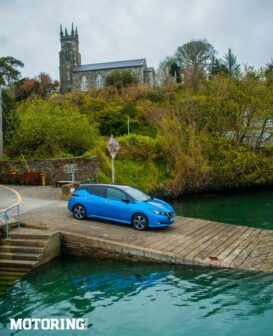 My day's drive needs me to be in Kinsale for the night. If I go directly, it is 247 km, largely on the M8, and then on the N40 and the R600. But the allure of Ireland is that it coyly compels you to want to take the long way home, just by virtue of being such a pretty country. It is a beautiful day, one that begs for frequent detours. However, because I am driving an electric car I have to keep its range in mind, so there is no anxiety later in the day. So, just as I am clocking 100 km down the M8, I see a services sign that also indicates that e-cars can be charged on the premises, and I pull in. In the 20 minutes it takes for me to grab a coffee, and slowly sip and relish it, the Leaf is up to 92 per cent and good for about 300 km, more if I drive like your grandma.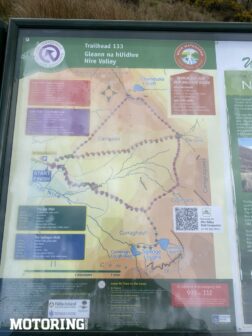 So I take a diversion into County Waterford towards Ballymacarbry, and do part of the Nire Valley Drive. Situated in the heart of the Comeragh Mountains in Co. Waterford, this drive gives me a first taste of rural Ireland on this trip. I drive through colourful copses and past content cows. Since my car is so silent and there is no tyre tread rumble now on this country road, I hear bird calls, and the gurgle of flowing brooks. Like many parts of Ireland, here, too, there are splendid walking trails, ideal for working off the guilt of indulgent breakfasts. I do part of the 4-km walk towards 'the Gap', and return suitably chastised about my calorie intake that morning.
The weather is holding strong with no rain in the offing and bright sunshine, so I decide to make the most of it and detour some more, driving past Kinsale, through Clonakilty, known for its black pudding, and for being the hometown of Michael Collins, the Irish nationalist leader. However, I am more in the mood for the rugged landscapes and ocean views that County Cork affords, rather than food and history, so I head down to Galley Head. It is a splendid drive down the R598 past the beach village of Castlefreke, which is home to the ruins of a castle, and Long Strand beach. My first view of the Galley Head lighthouse is across a blue ocean that matches the colour of my car, interspersed by slivers of rocky outcrops covered with moss, grass, and gorse.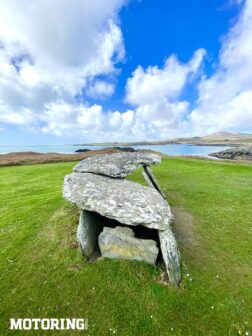 With one eye on the range, which is still quite reassuring, I drive further west — away from Kinsale — to another charming seaside village called Castletownsend, which is home to, well, a castle. It is snuggled at the edge of a picturesque harbour, ideal for kayaking and other water-based recreation, and is surrounded by woodlands that are great to explore on foot. But the most attractive allure is that the castle is a charming family-run B&B still owned by the Townsend family with whom it has been since the 1650s.
Making a mental note to stay here the next time around, I ponder upon my battery range and do some quick Google Maps maths to plan my next move. I still have daylight left and the clouds in the sky are translucent, seemingly without the threat of rain.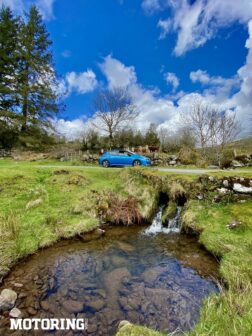 But the weather should always be treated as whimsical in Ireland because of its geography. It can go from temperate to tempestuous without warning. And since it is holding up I push further west towards the Mizzen Head Peninsula. There are five peninsulas that make up the south-west of Ireland, namely (from the bottom to the top) the Mizen, the Sheep's Head, the Beara, the Ring of Kerry, and the Dingle. And each of them have scenic drives around them, which are a visual overload, thanks to some stunning beaches that are lapped by the Atlantic Ocean, and the latter itself that has shaped much of the landscape of this Emerald Isle. I take a leisurely drive around the Mizen Peninsula, often stopping to take photographs and shaking my head with a little bit of disappointment, because they just don't do justice to what I am seeing around me. There is so much history from hallowed antiquity here, one of them being the Altar Wedge Tomb near Toomore Bay, said to have been erected around the early Bronze Age that ran from 2500 to 2000 BCE.
Finally after visiting the Mizen Head Signal Station that is linked to the mainland by a 127-ft suspension bridge, I point the Leaf towards Kinsale. It is 113 km away, and I have about 150 km of range left. Recipe for a cocktail of concern? Not really! Because, by now, I know that the range metre is pretty accurate, and my route is down 'R' roads, so I can't really step on it. And true enough, I get to my hotel in Kinsale with about 15 km of range to spare, with the battery charge at 7 per cent. There is no charge point at this hotel but just 1 km away is Smith's SuperValu, a supermarket that has a fast charger in its parking lot. I don't bother about charging the car right then, because all my sightseeing has made me mighty thirsty, so I sit and quaff down Ireland's 'Chyawanprash', aka a pint of Guinness, because you could arguably say that it has somewhat the same nutritional values to be imbibed, though, in a more pleasurable form.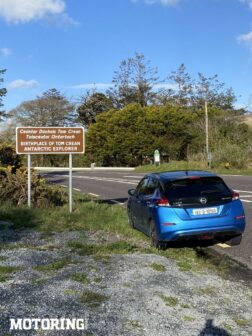 Over the next few days, I explore the Sheep's Head Peninsula and the Dingle Peninsula, overnighting at Kenmare, Ballybunion, and Inch Beach. By the end of it, I sampled delicious food like slowcooked lamb shanks, and enjoyed a variety of Irish beverages, from beers from microbreweries, to small batch whiskeys. I have driven scenic country roads through landscapes that have continuously taken my breath away, and met a bunch of friendly folk in warm and welcoming pubs. All through this, the Nissan Leaf has been my reliable companion. It has been fun to drive, and quick to charge — because I would always come across a CHAdeMO fast charger somewhere or the other, and this would charge the batteries of the Leaf from single digits percentages to 80 per cent in about 45 minutes. Usually, these would be in car parks in the towns I would want to explore. Even if they didn't have the CHAdeMO fast charger, and just the 240- volt charger public charger, I could juice the battery up enough to get me to my next destination, because distances in Ireland are small.
And finally, at hotels where there were just household electricity 13- Watt plug-points, the 12 to 15 hours the car was parked was enough for me to get the batteries sufficiently charged for at least 150 km of range, during which I would definitely come across a fast charger.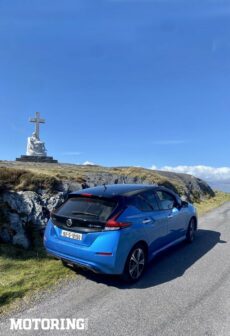 Besides all that, the Leaf was easy on the wallet, had a great sound system, its 215-bhp electric motor propelled it from 0 to 100 kph in a shade under 7 seconds, and it could have easily hustled it to a top whack of 160 kph, the most I did was 120 kph, though.
While travelling in it, the only carbon dioxide coming out of it was what I was emitting, and it helped me leave a miniscule carbon footprint in the Republic of Ireland, never mind that I wear size 13 shoes!
AUTODATA
Nissan Leaf
POWERTRAIN
Battery:
Max Power:
Max Torque:
Range:
62 kWh
215 bhp
34.67 kgm
385 km (WLTP)
DIMENSIONS
L/W/H (mm):
Wheelbase:
Ground clearance:
Kerb weight:
4490/1788/1545
2700 mm
135 mm
1726 kg