SUVs — we all love them, don't we? Well, I'm not so far up the infatuation scale, but there is some sort of fondness for them, I suppose. Generally speaking, though, the population can't seem to get enough 
of it, and this story is more good news for them.
This is the new Volvo XC40. Get a nice, long look at it, because the way Volvo's going in India, it looks like there's going to be a fair few of these on the roads when it launches later this year. So what is it, exactly? Well, for starters, it's a damn pretty sight, all right. I got to drive it in Barcelona, where there's absolutely no shortage of beautiful sights, and it was plenty eye-catching there, too. There could possibly be the complaint that it looks a bit like the XC60 shrunken down, and to that I say, 'Good eyes!' Sure, it has the family look going, but in person, that's not the first thing that comes to mind, really. It's much bigger than it looks in pictures, for starters, and the detailing on the car is exceptional. I love the way this car looks, because based on the competition I've seen in India, this one is by far the most attractive of the lot. It's also a big deal for Volvo because it's based on its new Compact Modular Architecture (CMA) platform, which will also underpin its upcoming '40' series of cars. What's it mean to you? More rigidity, flexibility, better ride and handling, and better looking cars, that's what.
The options Volvo showed us for the wheels in Spain ranged from 17 to 21-inches, and while it isn't confirmed yet, expect India to get the 18s. They're awfully good-looking and complement the overall design of the XC40. It should go down pretty well in our market where a car with high ground clearance, an upright stance, big wheels and clean lines are in demand.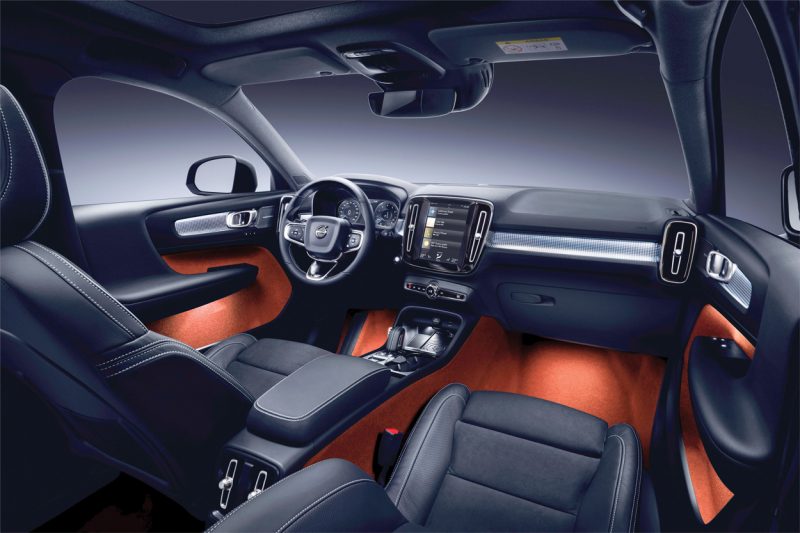 The insides do pretty much as good a job as the outside. The dashboard has a clean layout, and while it's obvious that it's borrowed from the bigger 60 and 90 ranges, there's absolutely nothing to complain about because it just looks and feels rather special, which is more than what you can say of the cars in this segment currently. There's a big 9-inch touchscreen right in the centre that houses almost all of the functions of the car, right from the air conditioning to the drive modes. Oh, and it also gets Apple CarPlay and Android Auto, which is a must in today's cars, as I hear it.
Space? There's quite a bit of it. Enough to surprise you, at least, the front two are pretty cosy, and I mean that in a good way. At the back, though, while it's plausible that you could fit three, it's best to stick to two. It's juts more comfortable that way. The seats have plenty of cushioning and do a swell job of maintaining your comfort. I drove for the better part of six hours in one day and found almost zero fatigue setting in. There's also a lot of storage space, should that be a concern on your list of criteria. Door pockets are huge, the front seats get an under-seat tray, a big glove box, and even a dedicated space for your phone to be placed and charged using an inductive charging pad. As for the boot space, with the rear seats folded, you can have up to 1336 litres to play with. With them upright, there's 460 litres, which is good enough for a car this size, honestly.
Now, the part that most will be wanting to know: the engines. When it comes to India, the XC40 will get two options, the D4 diesel, which 188 bhp, 2.0-litre inline-four diesel and a 245 bhp, 2.0-litre inline-four petrol T5. Sadly, the D5 diesel won't feature in the XC40, but that's not to say that the D4 is inadequate in a car this size. I got time with both, and they're very impressive.
The D4 is a silky smooth unit. You can hardly tell that it's a diesel, and its refinement is complemented by immediate power delivery. It's quick, smooth, and punchy in the mid-range, which is where it will most likely be spending most of its time. you could be cruising at 100 kph at an insignificant 1500 rpm, and it will feel like it could go on like that forever. The petrol T5, on the other hand, feels slightly more lively, as expected, but it also feels a bit rough around the edges. Contrary to what I thought, it didn't want to be revved right to the rev limit, and it's happier just trundling around at city speeds. As for the gearbox, well, both come mated to an 8-speed unit that is just right for the XC40. It's not the quickest, but it's far from being dim-witted, too. You could take control via the paddle shifters, but it's best to leave it in auto and let it do its own thing, honestly. Of course, the driving modes help, too. Eco slows things down dramatically, while Comfort is the one I stuck to for the most part. In Dynamic, things just seem a little unpredictable.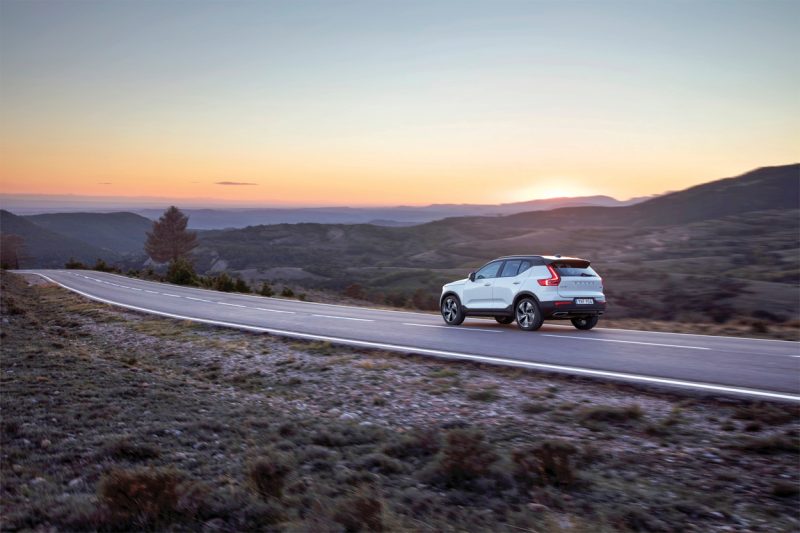 As for the ride and handling, Volvo offers two chassis setups on the XC40 — a standard Dynamic setup and a sharper Sport setup that only comes with the R-Design trim that gets a blacked-out roof and aluminium inlays in the cabin. Of course, it was a bit hard to tell how the ride was with the smooth roads there, so it'll be interesting to see how it fares in India. The Sport setup does reduce body roll a bit on twisty sections, but it's not a drastic change. The XC40's chassis is setup to be as neutral as possible in that sense, so that's a good thing.
There's really a lot to like about the XC40. Sure, it may look a bit like the other SUVs from Volvo, but that's hardly a bad thing. Even then, I feel the XC40 has its own unique traits that will appeal to a bigger audience than Volvo's been used to so far. It looks great, drives really well, has a lovely interior and plenty of space. There's no word on pricing just yet, of course, but if I had to take a guess, I'd put it in the Rs 35-40 lakh bracket, considering Volvo's tendency to competitively price its products. Should you buy it for that much? Definitely. It's got a lot more going for it than the other SUVs in its segments. Good on you, Volvo.
AUTODATA
Volvo XC40

POWERTRAIN
Displacement: 1969cc, i-4, petrol, 1969cc, i-4, diesel
Max power: 245 bhp@5500 rpm (P), 188 bhp@4000 rpm (D)
Max torque: 35.6 kgm (P), 45.8 kgm (D)
Transmission: 8-speed, auto
TYRES
(F/R): 245/45 R20 (P), 235/50 R19 (D)
DIMENSIONS
L/W/H (mm): 4425/1863/1652
Wheelbase: 2702 mm
Ground clearance: 211 mm
Kerb weight: 1684 kg (P), 1733 kg (D)
Fuel capacity: 54 litres
PRICE: Rs 35-40 lakh (Estimated, ex-showroom)