So, these covered drives are now a thing. The upcoming Skoda Slavia was put through one such exercise, and I discovered that these events are as amusing as they are enlightening. The latter part came from watching my learned colleagues point out how the pre-production prototypes behaved and what could be improved, and from speaking to Skoda personnel. The amusing bit came from me, as I mostly nodded along knowingly with the gravest expression I could muster. Most of all, though, it was a very interesting experience, one that made clear Skoda's intentions of moving forward in India. But first, the Slavia.
The camouflage design, created by a chap called Shreyas Karambelkar, was selected from among more than 200 entries into the 'Camouflage With Skoda' competition. And that's all I can really tell you about the exterior, since the guy made sure no one can see any detail on the car, especially since almost all surfaces were padded under the camo for maximum deception. There's nothing to report about the interior, either, since it was in a most unfinished state, far from final. I did see the meter console, but between all the embargos and warnings, I'm not sure I can tell you anything about it except that it's quite nice.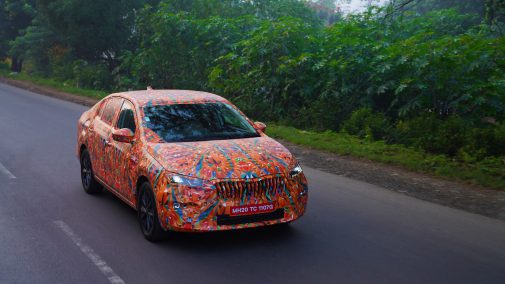 What I can tell you about are the engine/gearbox options. There is a 1.0-litre three-cylinder TSI motor that makes 113 bhp, and a 1.5-litre four-cylinder TSI with 148 bhp. The standard transmission is a 6-speed manual, and the smaller engine gets an optional 6-speed automatic gearbox, while the 1.5 can be specced with a 7-speed DSG. The biggest difference in the motors is feel — the 1.5 is very obviously the faster one, but the 1.0 is no less fun. The latter sounds great and is refined as well which encourages enthusiastic driving. I'd go so far as to say that it even feels better to drive hard than the 1.5. However, if it's ultimate velocity you're chasing, the 1.5 is the way to go. It's effortless and smooth to get up to speed and it stays that way regardless of road conditions.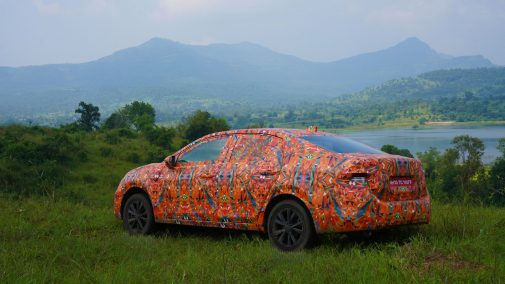 Speaking of which, the Slavia feels very much like a Skoda on our roads. The cars we drove had various differences in their suspension settings which were still being finalised, but ride quality was great in all of them. However, the rear end could be more sorted and Skoda engineers assured us that the production versions would be more planted on bumpy roads at speed. Also, the steering feel on the 1.5 was noticeably lighter than the 1.0's and we were told this was to compensate for the more powerful motor's tendency to torque steer. Final brake settings were also up in the air, although all four cars were stable and predictable even under hard braking.
The Slavia is based on VW's MQB-A0-IN platform and is longer (4541 mm) wider (1752 mm) and taller (1487 mm) than the first-generation Octavia which wasn't exactly a small car, so you can set expectations of comfort accordingly. The Slavia also exceeds a number of GNCAP standards and will be available with six airbags as standard. Now this is all good news, but why a sedan in these SUV-obsessed times at all? Well, Skoda believes that in the next ten years, the midsize premium-sedan segment will grow to the tune of 138 per cent, and it wants to steal a march on its competition with the Slavia. Given that sedans are more fun to drive and look decidedly better than awkward hatchbacks on stilts, there is more than a chance that Skoda is right.
However, there is one trick that I think Skoda has missed with the Slavia — the quintessential Skoda notchback. I asked why the Slavia didn't have one and was told it was to keep costs down. Fair enough, but I still feel a premium Skoda sedan should have one, even if customer surveys say that they don't really care much for it. Even the first-gen Octavia, that the Slavia's dimensions are compared with, had one. Speaking of origins, the name 'Slavia' comes from Skoda's big-bang moment, when Skoda founders Vaclav Laurin and Vaclav Klement first sold bicycles with that name. That's a mighty historic name for the upcoming sedan, and if my feeling is right, it's going to be a good second beginning for Skoda which celebrates its 20th anniversary in India. Good thing the launch is near, too — I had to use all my willpower to not peel the camouflage off the thing.