These days, it doesn't take too long to tell if a car is good or bad. It's even easier when the car comes from a certain manufacturer/s, too. That's not being biased or anything; said manufacturer/s have built their reputation/s by giving their customers exactly what they need, and then some. And it all translates into healthy sales figures for the companies and happy motoring for the public, a win-win for everyone involved. Hyundai, of course, belongs to that list of manufacturers. And with this, the new Verna, it's only going to cement its reputation further.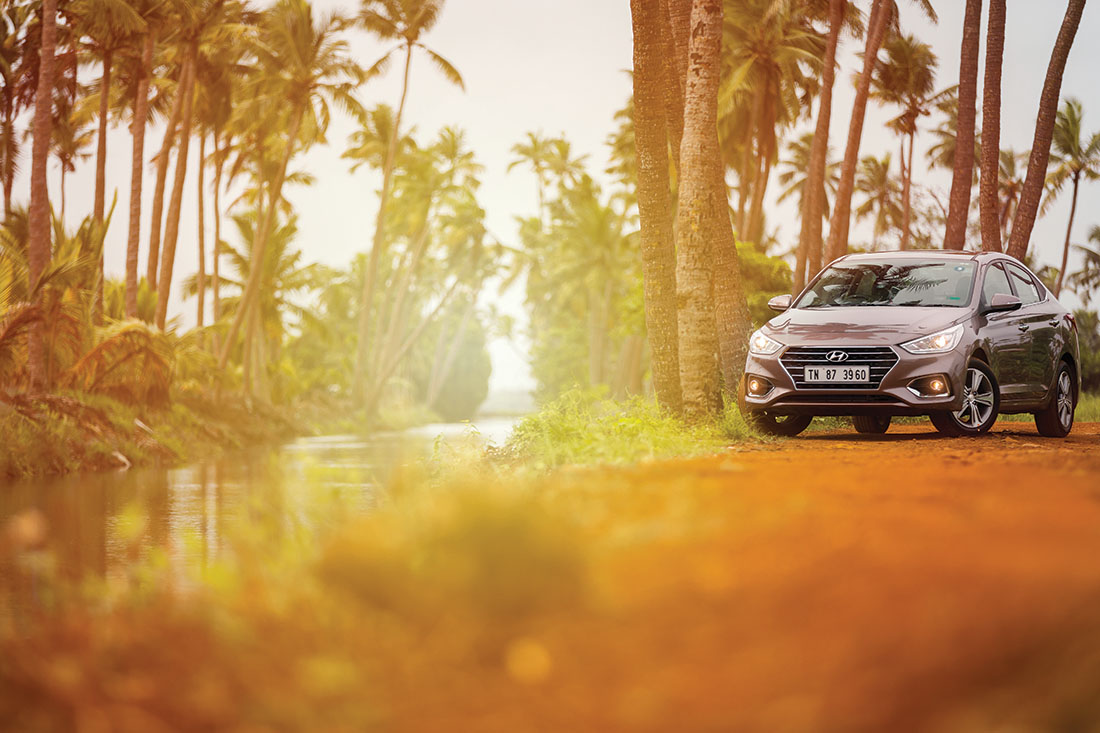 Now, given India's peculiar demands and needs when it comes to four-wheelers, it's somewhat of a surprise to me that the premium sedan segment is still doing decently enough. Well, enough for manufacturers to persist with it, at least. If convenience is prime, hatchbacks make more sense for suffering urban areas. If it's comfort you're after, crossovers, with their extra room and ground clearance, make more sense for our road conditions. And overall, hatchbacks and crossovers drive pretty well these days, too. However, I'm willing to bet that when you say 'car', a sedan is what pops up first in the audience's mind. For a lot of people, still, a car needs to look like a car. Even if it is under four metres long. Thankfully, the Verna is not. How could anything based on the Elantra platform be?
Yup, you read that right. Hyundai has built the fifth-generation Verna on the same structural aggregates that make up its bigger sibling. Fifty per cent of the chassis is now made of advanced high-strength steel; Hyundai says that comparable cars use only 13 per cent of the material. I doubt anyone's going to take a few cars apart to verify that claim, but it definitely helps the Verna to be safer and more planted than before. What also helps is that the new chassis is wrapped up in rather good-looking bodywork, where again the Elantra influence is all too apparent. And that's a good thing, in case you were wondering.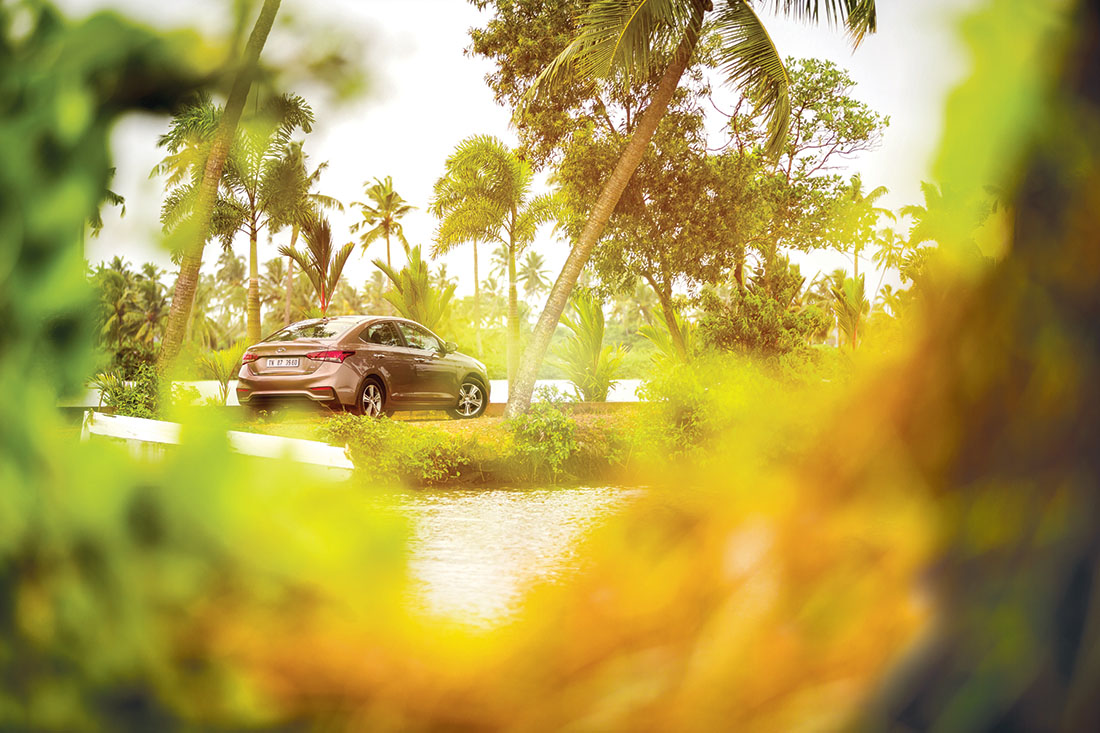 After going through Hyundai's website and my own unreliable memory of the product briefing, I couldn't recollect any mention of the word 'fluidic'. Perhaps Hyundai is moving on from its highly successful design theme, and looking at the Verna's sharp styling, it's understandable, too. I mean, nothing this edgy can be fluid, right? However, it is still very recognisably a Hyundai and looks like a stylish evolution of the previous-gen Verna with cues liberally inspired from the Elantra, especially those LED tail-lamps on the smart-looking rear.
The Verna's face is now an aggressive one, with a bold grille flanked by swept-back headlamps, along with chrome trimmings that define the main shapes. LED DRLs do their bit in making the Verna look cool, too. And both attractive ends of the car are joined by a smooth forward-slanting profile, with the whole design sitting on cool-looking wheels. The overall effect throws up two keywords in my mind's modest search engine – 'balanced' and 'premium'. Also, I have to mention the bright orange colour option; we didn't get to shoot that colour, but it looks simply smashing, an eyebrow-raising relief in the list of otherwise bland paint options. Yes, I'm a sucker for brightly coloured automobiles.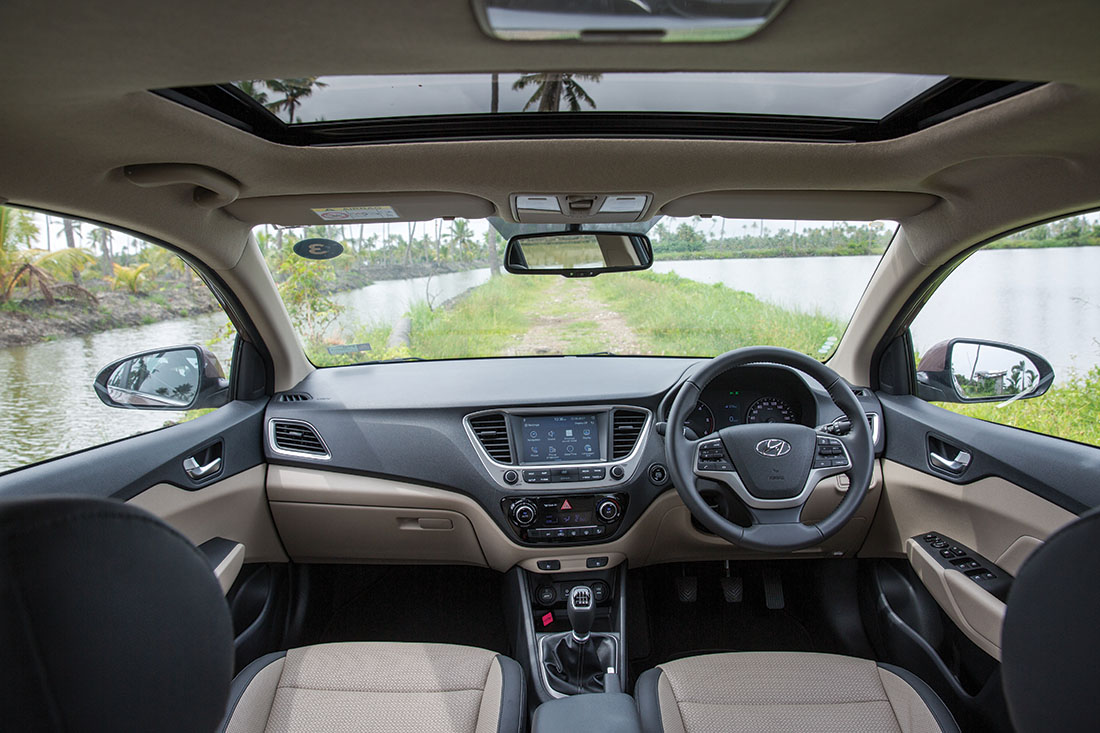 The Verna's new design also comes with a lot of new features to match. If I remember correctly, Hyundai says there are 21 new features in it, though I can only remember those which matter the most — cornering lamps, cooled front seats, a rear air-con vent, and a sunroof. The music system is great, too, as are the steering-mounted controls, and I doubt anyone would complain about Hyundai skimping on features with the Verna, whether they are for convenience or for keeping on the premium side of things. However, I do think that the dashboard design could be better; nothing wrong with the way things work here, but it somehow doesn't looks and feel as fancy as the rest of the car.
What doesn't leave anything to be desired, though, is the Verna's performance. It comes with two engine options, a 1.6-litre 121-bhp petrol and a 1.6-litre 126-bhp diesel, easily the most horsepower you can get in this segment in either case. Both options come with 6-speed manuals or 6-speed automatics, which makes life easier (or more difficult) while making a choice. While I drove the diesel automatic briefly, I spent way more time in the manual versions of the Verna, so that's what I'll focus on.
Quick and clean getaways are almost mandatory with both engines. The diesel is the slightly more powerful one here, but it's vastly more torquey which helps with both acceleration and for ferrying around fellow overweight motoring journalists. The cabin is pretty well insulated from the diesel motor's noise, too, to the extent that snores are more annoying than they are in other diesel cars.
Standing on the throttle results in a rapid rate of progress, with every shift of the 'box producing an impressive surge forward. The spec sheet says that the diesel makes maximum torque from 1500 rpm, but according to the tachometer, there's a very obvious surge from around 1800 rpm, so the engine is best kept spinning above that mark. The diesel does make for a more effortless driving experience, that's for sure. However, that doesn't mean that the petrol is hard work. Quite the opposite, in fact, and it also happens to be my pick of the two.
The petrol motor is the strong and silent type when you're taking it easy, virtually inaudible inside the cabin. And once you get serious with the throttle, a subdued yet purposeful internal-combustion hum issues from under the hood as your mind immediately appreciates the levels of acceleration on offer. It's fast, all right, and can make short work of long distances. I once saw the speedometer needle pointing at a highly stupid number that was closer to the double-hundred mark than anything else. But you can also slot the 'box into sixth and waft around at 40 kph, if you so wish. I like the blend of flexibility and outright speed you get with this motor, especially the free-revving bonus of a spark-plug-enabled combustion. Gearboxes on both the motors are precise and the clutches are easy to work with. And, of course, the pedals in the middle are up for the task, too.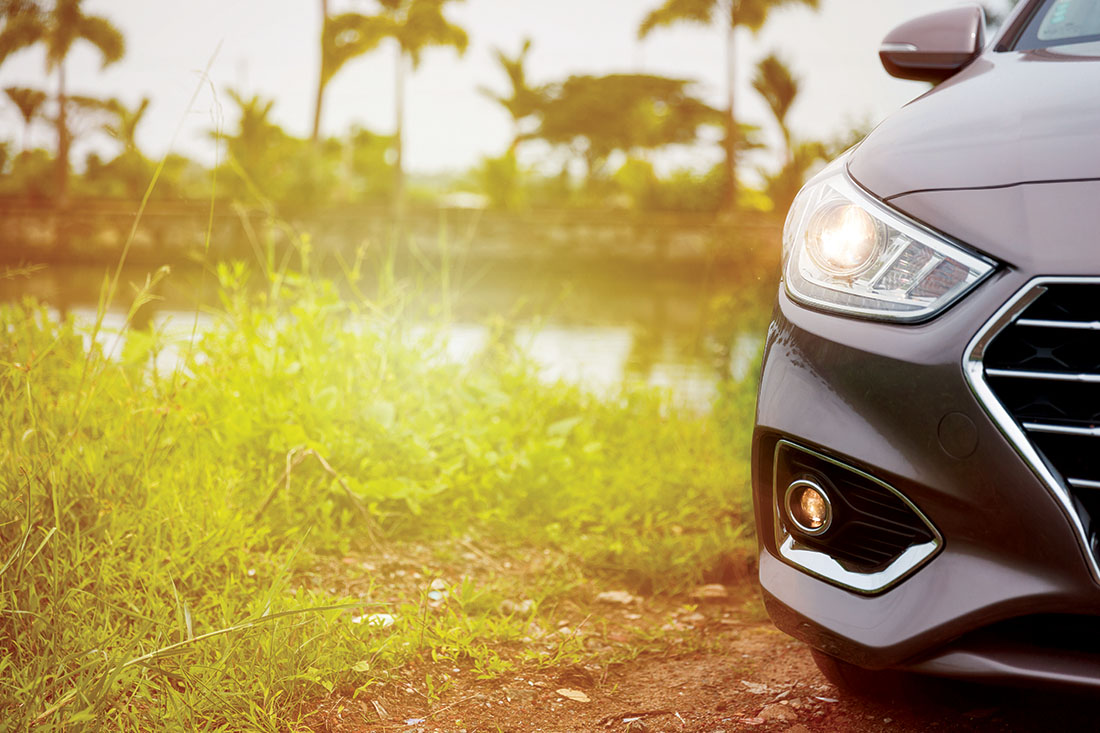 There were quite a few instances where I was slightly taken aback when the Verna closed in on traffic with unexpected rapidity, and the subsequent summoning of the brakes left nothing to be desired. The steering is very obviously tailored for comfort, not feedback, and it does its job well. I also noticed a tiny dead zone in the diesel's steering when the wheels were pointing straight. This was absent in the petrol's steering which worked perfectly well. Perhaps a touch more servo to compensate for the diesel motor's 
added weight?
Anyway, the biggest improvement to the Verna is certainly in its dynamic abilities. For a car that is setup for comfort, it handles in a neutral and balanced manner. Now, you won't mistake it for a German, but you won't find any disappointments built into its handling on a day-to-day real-world basis, either. Don't take it to a racetrack and you should be fine. On the road, the Verna's suspension setup absorbs bumps and potholes with a composure that certain world leaders could look up to. Overall, you get the feeling that a lot of work has gone into making sure that the underpinnings go about their business in as unobtrusive a manner as possible, leaving its occupants free to think about whatever worries they have in their lives.
Not many people will worry about the Verna's pricing, though. Even though the prices mentioned in the Autodata box are introductory ones, I'm pretty sure that the Verna will remain a value-for-money deal even after the numbers on its price tag eventually go up. Yes, rear-seat space is not as good as I'd expected, and the dashboard isn't as striking as the rest of the car, but the Verna easily compensates for these shortcomings, and then some. Take one for a spin and I'm sure you'll find, as I did, that it's a very good car, indeed.
AUTODATA
Hyundai Verna
POWERTRAIN
Displacement: 1591cc, I-4 (P) / 1582cc, I-4 (D)
Max Power: 121.31 bhp@6400 rpm/ 126.24 bhp@4000
Max torque: 15.4 kgm@4850 rpm / 26.5 kgm@1500-3000 rpm
Transmission: 6-speed manual
TYRES
F/R: 195/55 R16
DIMENSIONS
L/W/H (mm): 4440/1729/1475
Wheelbase: 2600 mm
Ground Clearance: NA
Kerb Weight (kg): NA
Fuel Capacity: 45 litres
Hyundai Verna 1.6 VTVT SX (O)/1.6 CRDi SX (O)
PRICE: Rs 11.34 LAKH / Rs 12.68 LAKH, ex-showroom, Delhi
You can take a look at more photos of the Verna in our gallery here.