There exists a fundamental conflict between discretion and lust, I have learned. It results in an actual biological reaction in the human body, and while there may be a scientific word to describe it, in essence this activity sometimes involves nothing but lots and lots of screaming. That is all you can do when you are strapped into a seat of the car you see here. Go on, scream. No need to stop yet, we still have a few more gears to go.
Wait, What?
Is that a Supra?! Heck yes, it is. It is just impossible to have conversations about street car modifications and aftermarket performance upgrades without a mention of this legendary car. It's an icon, and is undoubtedly one the most significant cars to have helped define car culture the world over. It's a car that you can customise down to its molecules and turn into a freaking missile.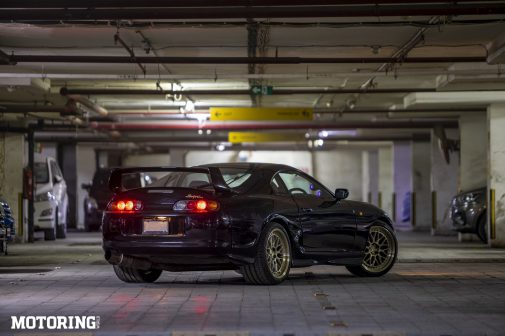 The Supra here is a project that is being handled by Anant Pithawala, who runs N1 Racing Autowerks, an aftermarket performance part and tuning shop located in Mumbai. If you were to visit the workshop, on any given day, you'll be surrounded by cars ranging from exotics to tuners to track-builds; it's very easy to be distracted and lose track of time once you are there. But today, or rather this evening, my eyes were glued on just one car – the Supra.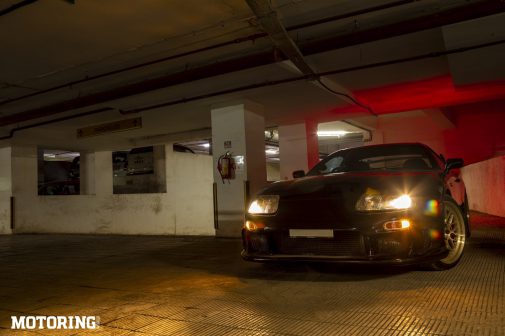 It must be modded, right?
You don't even have to ask. After spending a lot of time in hibernation, this Supra – which was once stock – has undergone a transformation, receiving a long list of upgrades that make it run faster, better and prepare it for the next bag of upgrades that are planned for the future. For now, it has got an AEM engine management system to have a custom map, in order to alter how the engine breathes and the power and torque curve is shaped. While the Supra is famous for the famous 2JZ-GTE motor, the folks at N1 have swapped the stock twin-turbo setup with a single turbo conversion kit from Titan Motorsport, with a larger and more powerful turbocharger from Precision Turbo.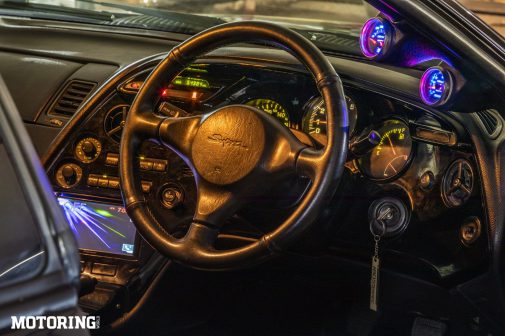 With that comes a bunch of upgrading plumbing for the intake and the exhaust, to sustain the jump in boost. Furthermore, to make sure the engine is always running at optimal temperature, the cooling system has been upgraded with parts and components from Mishimoto. With more air being filled into this 3.0-litre inline-six engine, an upgraded fuel pump is necessary to match it. And to transmit all of that added power to the rear wheels, it employs a stage 3 clutch system. While all of that takes care of the engine compartment, the car runs a fully-adjustable coilover suspension kit with upgraded brakes and wheels, to offer more grip and the ability to handle all that power through corners.
Is it quick, then?
Although this Supra is currently in the initial stages of the many other modifications that are planned, it currently produces 358 bhp at the wheels and with all the mechanical upgrades, it is blisteringly quick the moment the boost kicks in. At very low revs, it is very hard to estimate the kind of potential it has, as it putters around. Also, there is no point in trying to blend in with Mumbai's night traffic, thanks to the deep hum produced from the big HKS muffler. But then again, what's the point of hiding? Instead, you find an open stretch, do a pull, and you'll leave everyone around you completely shocked.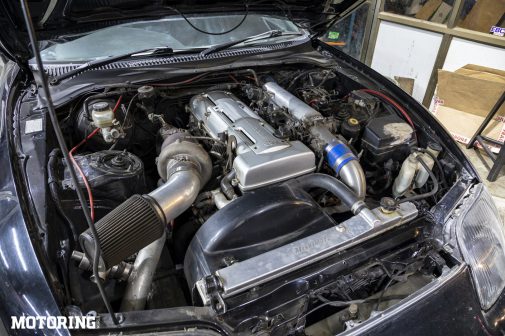 That was exactly what I did. Every time I found an empty patch of road, I would drop a gear or two and then be prepared to hang on to the steering wheel with my life, as the boost pushed me back into the seat. The thing about the Supra is that it is a very mechanical car, unlike modern fast cars. While being seated in it, I could feel exactly how much power the rear tyres were transmitting, how the engine was reacting to my throttle inputs and what the front wheels were doing at any given point of steering input. All of this is extremely crucial when you are dealing with a car where your right foot is your traction control system, rather than a computer.
And fun?
What a silly question. Of course it's fun, and not just because it's a Supra but because of how well Toyota has engineered this car and also the upgrades that have gone in to make it even better. With all that power and torque, I even happened to kick the tail out while powering out through one of the corners. The proof of that was instant, as I stopped at a signal and the smell of rubber entered the cabin. The only logical thing to do after the tyres were warmed up and super sticky was to wait for the light to turn green and launch it. It shot off like the proverbial missile, blurring my peripheral vision in no time.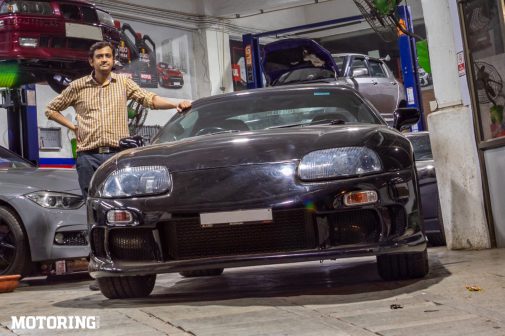 With all the raw power on tap and despite all the grip and control that is available, the Supra can quickly bite back at you if you don't know what you're doing. Machines like these require the skill set to not only be able to drive, but also to pick up the information that the car is providing through the seat, steering wheel and controls. For me, it was a very special experience, a date with a Japanese legend that I will cherish for years to come.
Want something like this for yourself? The chaps at N1 Racing AutoWerks will be more than happy to help you realise your dream.
MOD LIST
AEM engine management system
TITAN Motorsport single turbo conversion kit
Precision turbocharger
Titan Motorsport downpipe
HKS end-muffler with custom piping
Titan Motorsport intake
Mishimoto intercooler, radiator and fan
BC Racing 2-piece forged wheels
Titan Motorsport fuel system
Stage 3 clutch kit
Adjustable coilover suspension kit