The Skoda Octavia RS needs no introduction. It was one of the first 'hot hatches' to grace our shores, and in its current RS 245 form, it's one of the rare performance cars available to us. The car you see here isn't the Octavia RS, of course, but if you missed buying one of the 200 limited-edition Octavias, the new Skoda Superb is your ticket to performance. It gets a mid-cycle update with updated looks, a new base Sportline trim and, most significantly, a new power plant as well. The facelifted Superb comes with a larger grille, slimmer headlights and a reprofiled bumper.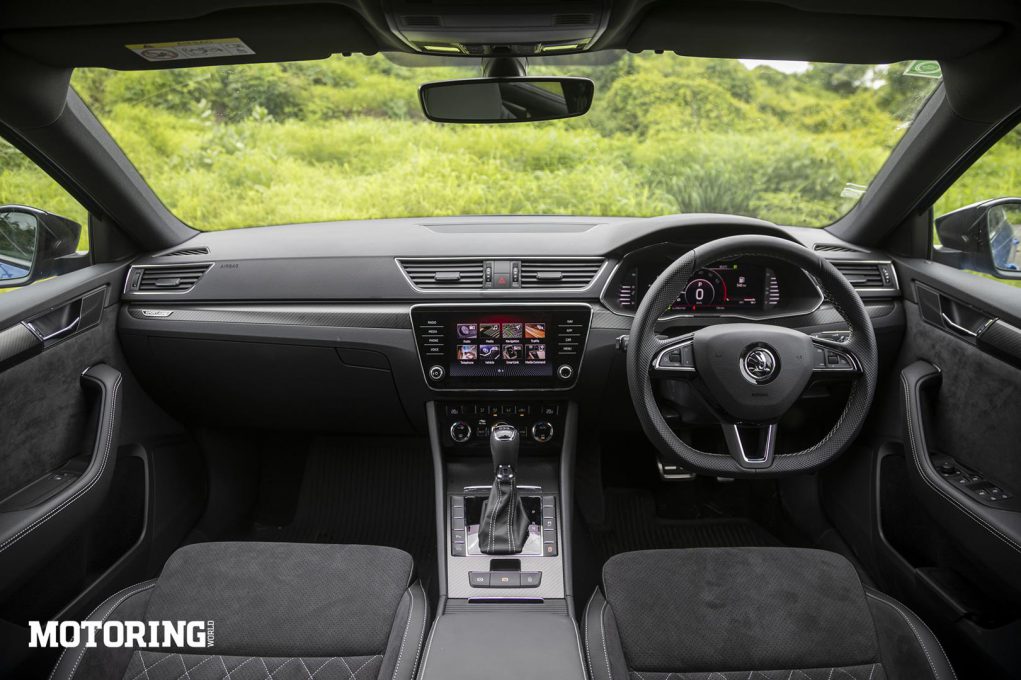 In the more luxurious L&K trim, you get a lot of chrome detailing, but on our Sportline version, it's all been replaced by gloss black. There's not a hint of chrome anywhere on the outside of this car. Out back, the Skoda emblem has been replaced by wide-spaced Skoda lettering which is also blacked out. A subtle lip-spoiler finished in gloss black rounds out the appearance package. Even the wheels on this version are finished in gunmetal. There might have been a slight risk of all these changes looking tacky, but the car's Race Blue exterior colour complements these bits perfectly to give it an aggressive stance.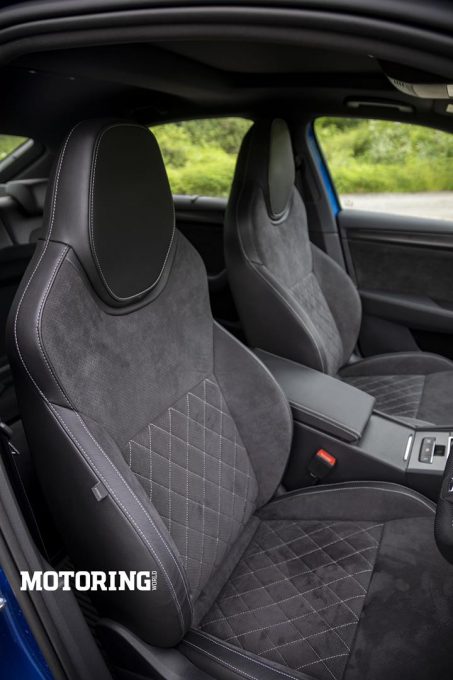 Inside, not a lot has changed in the L&K variant, but the Sportline model gets an RS-inspired all-black interior complete with alcantara-clad seats, a flat-bottomed steering 
wheel and a digital instrument cluster. These changes transform the Superb into a sports sedan. It's slightly odd that this more driver-focussed version doesn't get ventilated seats or drive modes — these are reserved for the L&K variant — but overall, it's a nice place to be. The Superb is roomy enough on the inside that the all-black motif doesn't get claustrophobic, and in case it does get a little stuffy, you can always make use of the not-so-panoramic sunroof.
My biggest gripe with the Superb's interior is that the rear seat isn't comfortable for three-abreast seating. For a car whose primary purpose is the rear-seat experience, the enormous center tunnel takes away valuable leg-room from the middle passenger. With just two people, it's extremely comfortable, as you'd expect. You get a separate climate control zone to yourself in the back plus acres of leg-room and a good view outside as well.
Okay, enough faffing about, let's get to the most significant update on the Superb — the engine. The 1.8-litre engine has been replaced by a 2.0-litre turbocharged-petrol engine making 187 bhp and a healthy 32 kgm. If you were wondering why I was pushing the Superb as a replacement for the high-performance Octavia, hopefully it'll make sense now. This is the same engine you'll find in the Octavia RS, albeit in a lower state of tune, paired to a brilliant 7-speed DSG. It's about 55 bhp down on the Octavia and has to lug around a little more weight, but once you're behind the wheel, you'd be hard-pressed to tell the difference in the way the engine pulls. Initial throttle response is good, but once the turbo is fully spooled, you're treated to a very strong mid-range. And just as you leave the engine's wide powerband, the transmission slots into another cog and you're back in the meat of the revs again.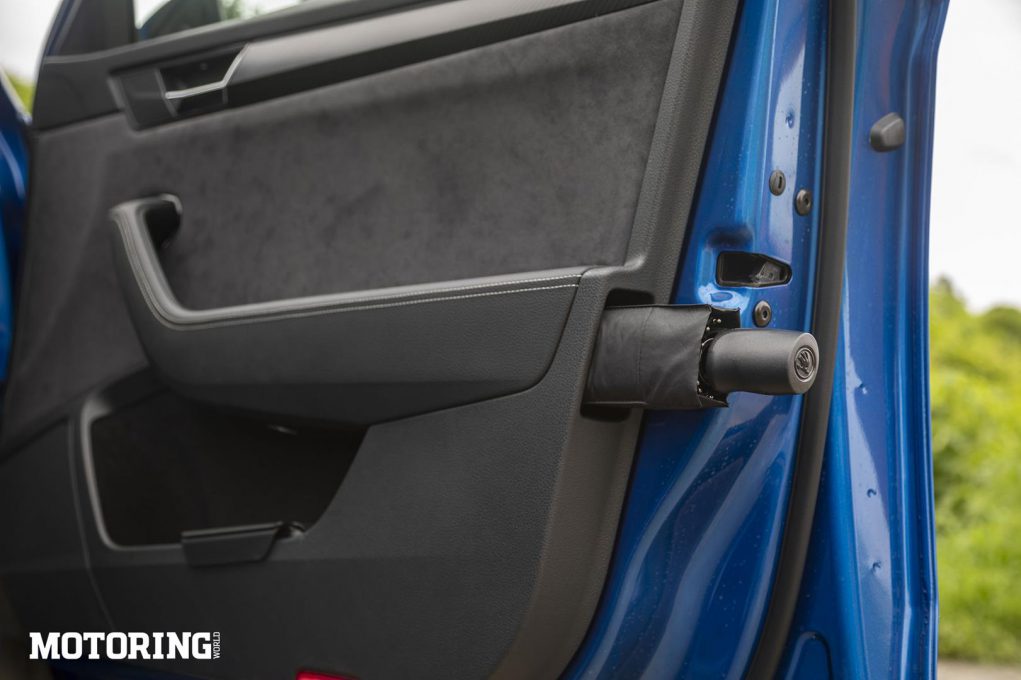 There are no drive modes in this variant, but the transmission does get a Drive mode and a Sport mode. Leaving it in Sport ensures that the transmission is always in the right gear, but you can also take over shifting with paddles on the back of the wheel. The paddles are smaller than I like, but they make up for that with their quick response. To use an overused cliche, the transmission metes out lightning fast upshifts and perfectly rev-matched downshifts. In fact, I'm quite convinced it can actually read my mind, because by the time my fingers moved the paddles, the car was already in the gear I wanted.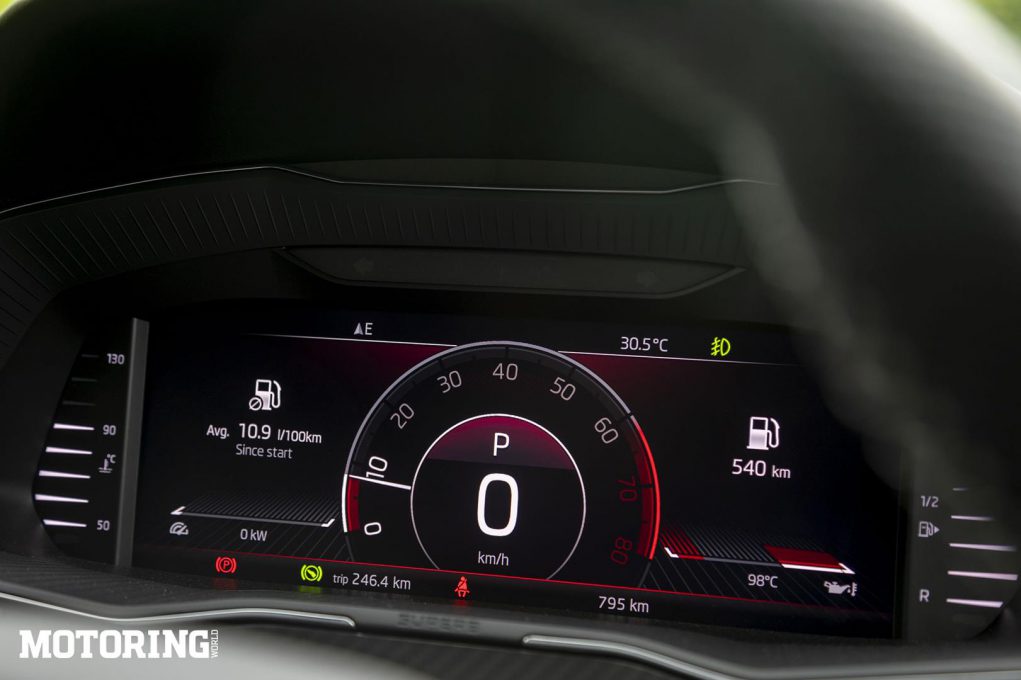 The only downers in this whole experience are the brakes, which give you a great initial bite, but the brake force seems to taper off. Not exactly what you want when the engine and transmission egg you on to greater speeds. It gets stopped, no doubt, but not without a few code-brown moments. While I'm complaining, I'd also like to mention that the exhaust note is too subtle. It might suit the L&K version, but this menacing blue car could do with a throatier note.
In the past, the Superb has gotten complaints for its harsh ride and Skoda's fixed that by making it a tad softer. It doesn't crash over rough roads as much, but the handling is still very good. On a twisty road, you might even forget that you've got more room behind you than most SUVs. Prices for the Skoda Superb Sportline start at Rs 29.99 lakh, ex-showroom, India. Even if you could still get the Octavia RS245, which you can't, you'd have to shell out an additional Rs 6 lakh for it. Now that's a lot of money left over for go-fast goodies!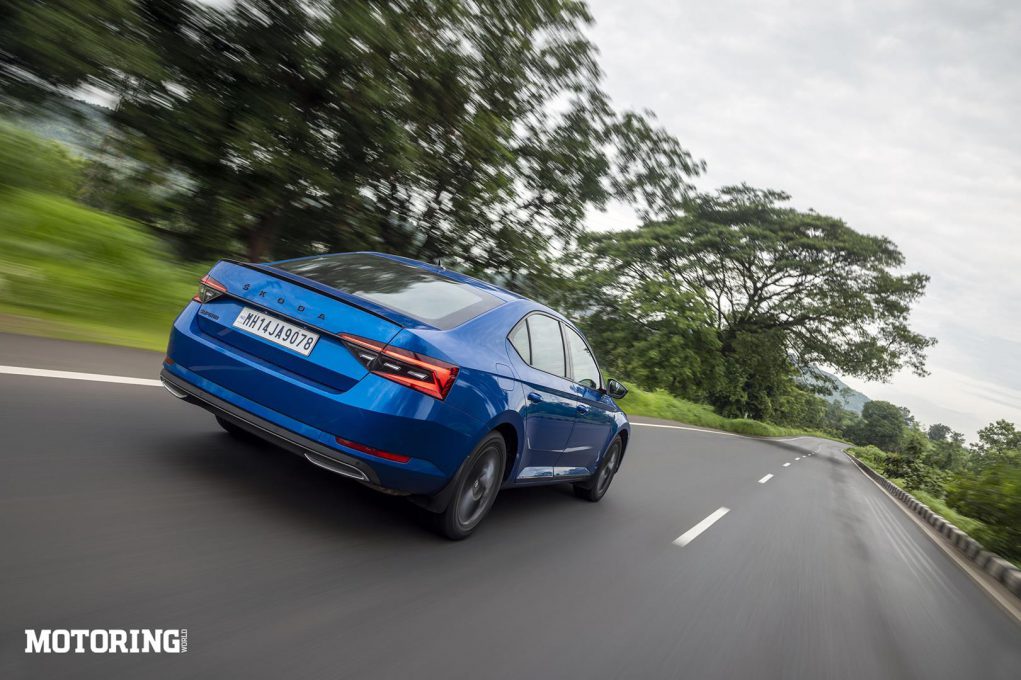 AUTODATA
Skoda Superb Sportline
POWERTRAIN
Displacement: 1984cc, I-4, turbo-petrol
Max power: 187.4 bhp@4200-6000 rpm
Max torque: 32.6 kgm@1450-4200 rpm
Transmission: 7-speed, DSG
TYRES
F/R: 215/55 R17
DIMENSIONS
L/W/H (mm): 4869/1864/1469
Wheelbase: 2841 mm
Ground clearance: 156 mm
Kerb weight: 1562 kg
Fuel capacity: 66 litres
PRICE: Rs 29.9 lakh (ex-showroom, India)