What is this?
The happiest car in India! And the cutest, too! In fact, the Mini Cooper S Convertible was always that, and with its newest version, its cheerful nature gets a boost, particularly with the new 'zesty yellow' paint job which is sprayed only on the Convertible, not other Minis. Perfect. The visual update is all about tweaked details — the Mini Convertible was always pretty much perfect, so there wasn't any need to indulge in a wholesale revision. Indeed, I don't even know how Mini can better this design.
Its big bug-eyed LED-ringed headlamps almost beg for exaggerated eyelashes around them. That Union Jack tail-lamp design is simply inspired and never gets old. Its ORVMs look like Mickey Mouse's ears. And there's the drop-top with a subtle grey Union Jack design. Okay, maybe the new grille is too busy to match the smoothness of the rest of the car, but it's nothing to be heartbroken about. Anyway you look at the Mini Convertible, you can't help but smile!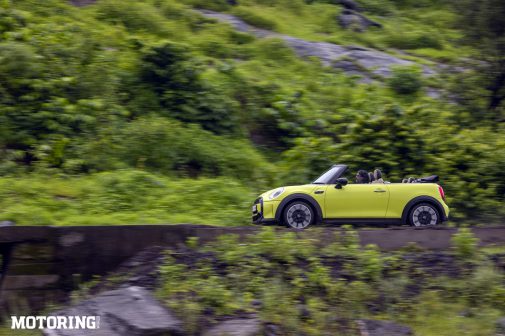 Whom is it for?
For those who want to be the life of the next traffic-jam party. It's for men, women, and their dogs. One dog if it's a big one, since the rear seat isn't all that spacious. Four people can squeeze in if they're all Tetris champions, but it'll only be good for a short drive. And that's the thing — they won't even complain. With the top down, whizzing along in the Mini Convertible is an experience like no other. The interior gets the biggest update; while the lovely jukebox-like design of the centre console continues, it's much better than before with LED mood lighting and touchscreen functionality. And the chunky steering wheel inserts the following crucial thought into your head once you hold it.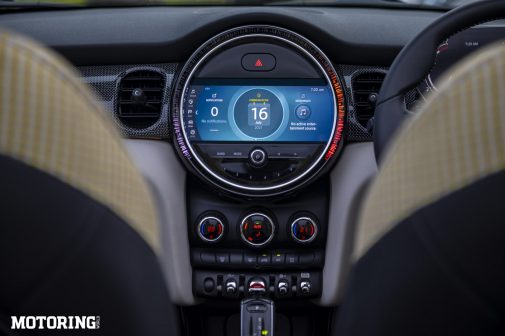 All gimmicks and updates aside, there is no doubt that the Mini Convertible is for those who love cars, love driving, and love convertibles most of all. For the kind of motoring escapade it provides, Rs 44 lakh, ex-showroom, feels like complete value for money, at least to me. Then again, I can never see straight when it comes to the Mini Convertible. Perhaps it's for me, too, but certainly not for my bank account right now. However, if I ever buy a car, I'm pretty sure the Mini Convertible will be it. And it's easy to see why — there's nothing quite like it. Oh, and the toggle switches are still the best controls ever!
Does it handle?
Oh, yes! The Mini Convertible has four 17-inch wheels at each of its corners, and said wheels are shod with sticky low-profile tyres. Combined with the tight steering and short wheelbase, it's a recipe for laughing maniacally around corners. Also, I did feel every bit of the road thanks to the firm suspension, but even my weak lower back didn't complain after a couple of hours behind the wheel, so it should be fine for everyone else. In fact, the suspension is the reason why the Mini Convertible feels so connected to the road, and that's a big part of its charming ways.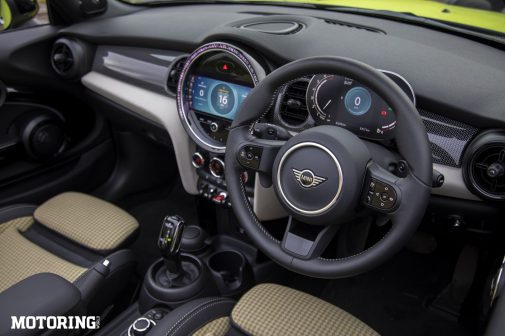 How fast is it?
It feels faster than it is! Then again, 200 kph with the top down will do just that. And that's more than enough speed anywhere you go. With 192 bhp and 28.55 kgm to dart around with, the Mini Convertible scoots from 0 to 100 kph in 7.1 seconds. The 2.0-litre four-cylinder turbo-petrol engine is smooth, linear, and fun to play with via the 7-speed gearbox's steering-mounted paddles. Three driving modes — Green, Balance, and Sport — do what their names say. In Green, the Mini Convertible floats around efficiently, quiet and content.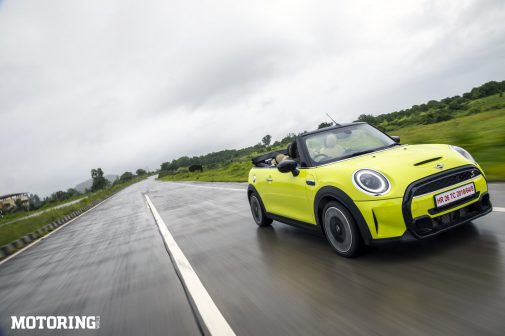 It's a worthwhile thing to do, too, since it puts into perspective just how much of a riot Sport is. Flipping the toggle switch to Sport turns various lights and dials to red, and fills the surrounding air with a deeper boom from the twin-pipe exhaust. It holds on to gears longer, and generally feels like a bulldog on a sugar rush, waiting to be let loose and run free. If you indulge it, the Mini Convertible never fails to reward you with a head full of wind and a face full of smiles. If you don't want to mess up your hair, though, the top comes back up in 18 seconds. Spoil sport.
Is it fun?
Is the Pope Christian?! The Mini Convertible's look, sound and feel are as unique as they're cheery. I can't think of a more fun car for the price, and if real motoring entertainment is what you're seeking, your next stop should most certainly be the nearest Mini showroom. Few cars have a soul like the Mini Convertible. And none of them are happier!