Hands up if you're as puzzled by Mercedes-Benz's alphabet soup of models as I am. With the amount of three-alphabet cars it has in its line-up, I think I can be forgiven for having head-spin moments while trying to immediately figure out the difference between a GLA, a GLC, a GLS, an EQS and an EQC. Take the car you see here, for example — the GLB. It's derived from the smaller GLA compact SUV (and A-Class sedan), but has more in common with the larger GLC (and even the GLS). Confused yet? Good, we can begin in right earnest.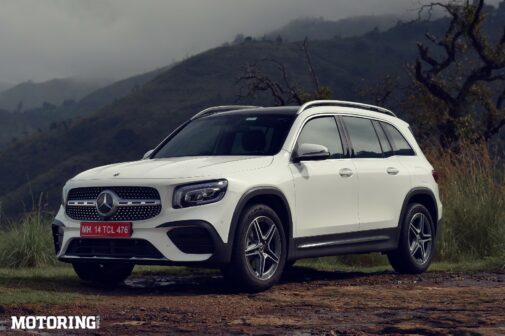 As mentioned, the GLB is based on Merc's MFA2 front-wheel drive architecture, and is the biggest model in that particular set of cars. Indeed, it's taller than the GLC (which is a class above it) and almost as long, thus giving it a sort of shrunken-GLS vibe. The GLS is, of course, the full-fat Merc SUV — seven seats, supreme comfort, hulking road presence et al. If you think about it, Merc creating a more compact seven-seater at a much lower price point makes oodles of sense, especially for India where buyers begin to swoon when they hear the words 'seven seats' and 'less money' spoken in the same sentence; a three-pointed star on the nose serves to sweeten the deal to diabetic levels.
Externally, the GLB looks like a box — a box made by Mercedes-Benz, but a box nonetheless. You wouldn't be penalised for visualising a honey-I-shrunk-the-car GLS — as I did — and that's no bad thing because the GLS has plenty of street cred, which trickles down to the GLB as well. It's a chunky car, and the nose plummeting 90 degrees off the bonnet (and an almost straight tailgate) serve to accentuate this; the front has a tasteful grille, which goes well with the scoops and flares on other parts of its face.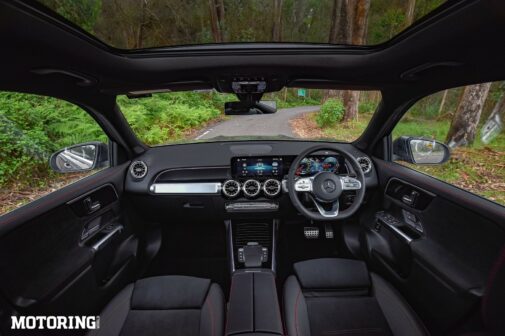 From the side, the resemblance to a GLS is most apparent, and the wheel arches are well filled out by the sexy 19-inch AMG alloys (in the 220d 4Matic that I was driving). I particularly like the shape of the exhaust tips in the 220d 4Matic — very slick. This is not a beautiful car (I don't think beautiful cars are made any more, but that's another story), but it's good-looking enough for plenty of potential buyers to line up at showrooms.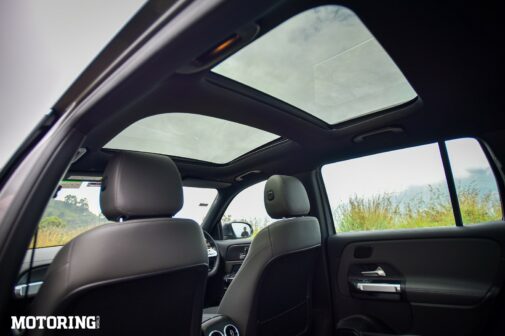 The cabin is what Mercedes-Benz is most proud of, and I'd say justifiably so on balance. For starters, there are those seven seats. The second row of seats is set high, so the view out on the road is unhindered, and there's plenty of headroom because the roof is tall; the panoramic sunroof also adds to the sense of space. The seats are roomy enough for two adults, with three a bit of a squeeze. Also, the 220d 4Matic comes with pretty stiff seat cushioning, which becomes a bit of an issue over long drives; the seats in the lower variants are actually comfier. This row split folds and also can be slid back and forth, and the backrest can be reclined, so the passengers here can really sprawl out. If there's anyone in the third row, however, forget about this.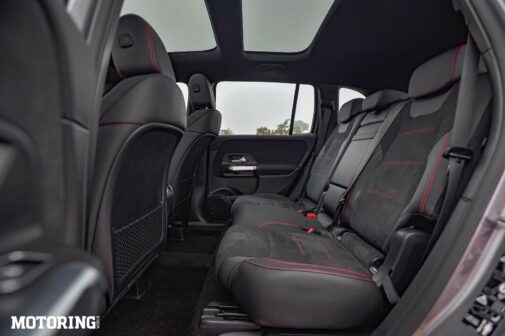 Speaking of the third row, it's not very spacious (there's only so much room to play with in this car), but if you play around with the second row a bit, two adults will fit, although this row is best left for children. Getting into these seats is another matter, however — the second row folds but doesn't go forward all the way, leaving a pretty narrow gap to squeeze yourself into and out of. With the third row up, boot space is limited to 130 litres, but you get a substantial 500 litres with it folded down.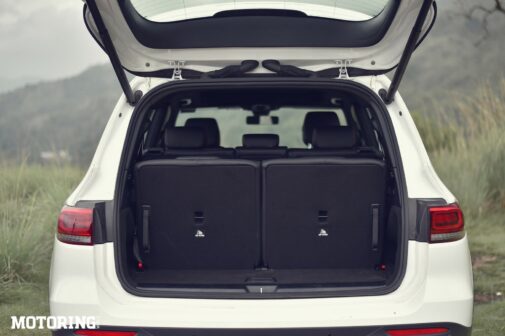 In terms of interior trim and equipment, the top-spec model comes with all the bells and whistles — sports seats, a 10.25-inch digital screen, ambient lighting (rather cool when the A/C vents light up), wireless smartphone charging, powered and ventilated front seats, Android Auto and Apple CarPlay (not wireless, though), rear-view camera and front/rear parking sensors and various other things that most buyers have come to take for granted today. The MBUX-infotainment touchscreen can also be operated with a scrolling controller between the front seats as well as tiny touch controls on the steering wheel; there are voice-activated controls as well, which don't always work properly. Thankfully, you still get proper rocker switches for the climate control system. Overall, the GLB has a cabin that looks good and is well put together, but some of the materials that are below your eye line aren't the best, and off-hand I can think of a couple of competing cars that have nicer cabins.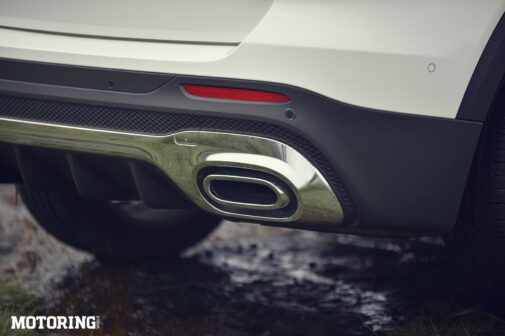 The GLB can be had with either Merc's 1.3-litre four-pot petrol engine or its 2-litre four-pot diesel, and I'd definitely recommend the latter. The petrol is a bit anaemic even in smaller and lighter cars like the A-Class and the GLA, and if you're planning on hauling a full load of people and/or luggage, you'll struggle with that one under the hood; the 7-speed automatic gearbox is a bit sluggish as well. The engine under the hood of the 220d 4Matic makes a pleasing 187.7 bhp at 3800 rpm and an extremely useful 40.78 kgm at 1600-2600 rpm, and it feels muscular enough for the GLB, hustling it from 0-100 kph in a seat-of-the-pants 7.5 seconds. There's significant grunt between 1600 rpm and about 4500 rpm, by which time you'll really be motoring along given enough road. The 8-speed auto 'box is excellent, and pairs really well with the engine's flexible nature, and the levels of refinement are high.
You'd be unreasonable to expect a seven-seat SUV to carve corners like it's a sprightly sportscar, which the GLB is not. It's very competent, though, and feels a lot smaller than it is when you're driving it. It's composed, and the steering wheel is accurate and weighs up nicely as you push the car, with very little understeer on display. I was frankly surprised by the amount of grip on offer (the 4Matic has all-wheel drive), and you can actually have some fun with the GLB on twisty roads (just make sure your passengers haven't just eaten). The ride quality is a little on the stiff side, and the car does thud over potholes and bumps.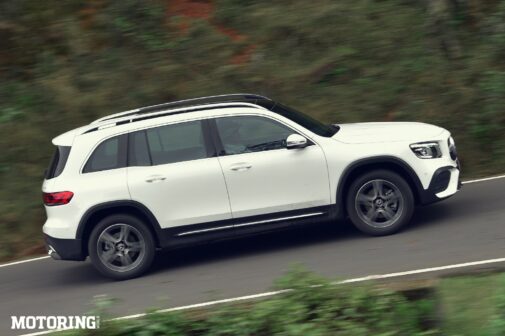 The GLB thus slots neatly into the Mercedes-Benz line-up, offering itself up as a comfortable, feature-loaded, practical and purposeful people-hauler that's also reasonably entertaining to drive. It'll likely be priced around Rs 60 lakh onwards, which isn't exactly light on the pocket, but it won't break the bank to the extent that a GLS does, so there's that. Does it, however, make Merc's naming system any easier to understand? I'll get back to you after I scratch my head a bit.
AUTODATA
Mercedes-Benz GLB 220d 4Matic
POWERTRAIN
Displacement:
Max Power:
Max Torque:
Transmission:
1950cc, I4, diesel
187 bhp@3800 rpm
40.78 kgm@1600-2600 rpm
8AT
DIMENSIONS
L/W/H (mm):
Wheelbase:
Ground Clearance:
Kerb Weight:
Fuel Capacity:
4646/1850/1706
2829 mm
NA
2457 kg
60 litres
PRICE
Rs 69.8 lakh (ex-showroom, India)