There was an Amazon Echo Dot lying on the cabinet in my hotel room in Goa, when I checked in for the A-Class seda… sorry, limousine drive. It was plugged in – as if a previous occupant had done so – which made both me and the attendant who had brought me to my room wonder if I was in the right one. Puzzled, he left and promised to find out what was going on. I stood around and wondered whether to immediately leave the room (because COVID) or to investigate the Dot (because curiosity); the latter urge won.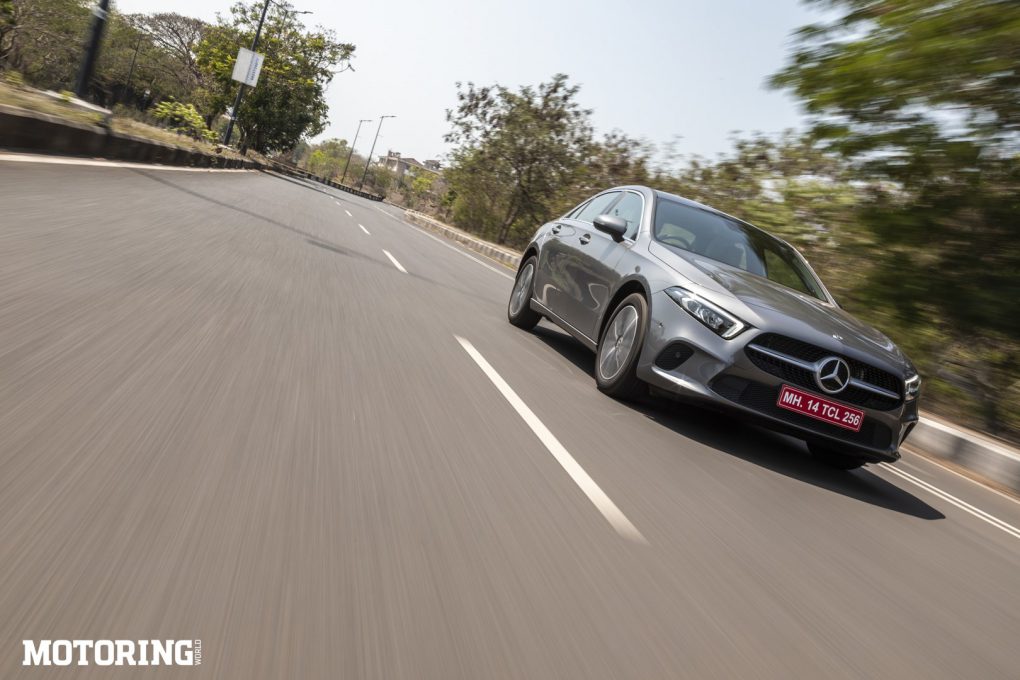 It turned out that I was indeed in my assigned room, because next to the Dot was a card with a number of questions I could ask Alexa about the new A-Class, questions such as where my car was, what its fuel situation was, where I could find coffee shops (Alexa rather unhelpfully suggested several in Mumbai) and sundry others. I was suitably amused, and also struck by the fact that you can never seem to escape some kind of connected technology these days. You couldn't call me a vocal proponent of it – I prefer to get in a car and just drive – but I do realise that buyers of today, especially younger ones, consider it an essential feature, surgically attached as they are to their smartphones.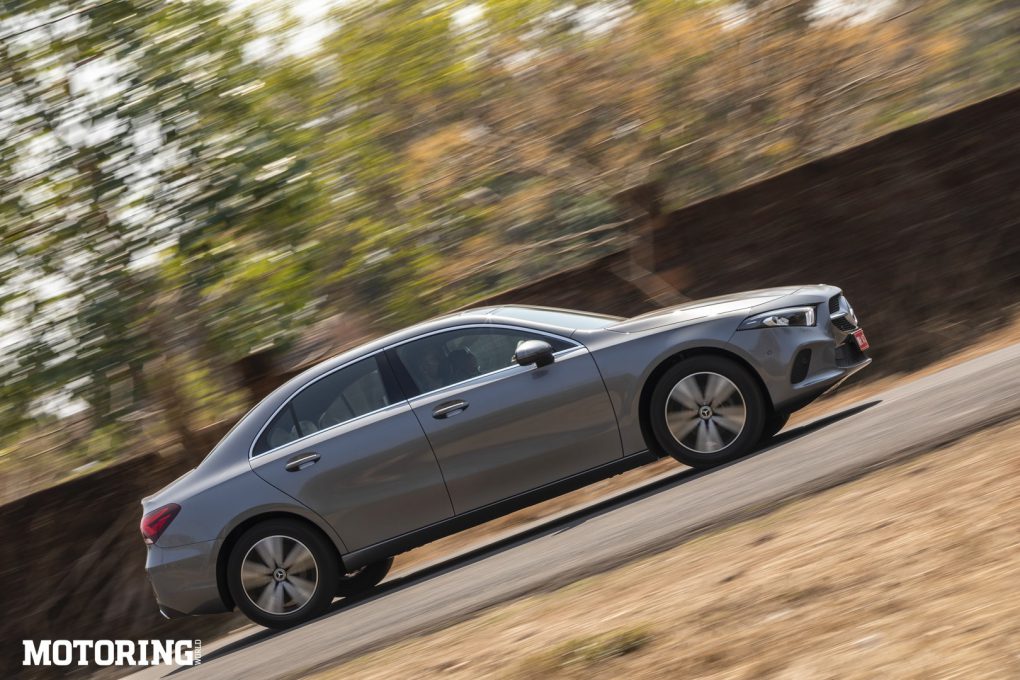 Thus in the A-Class, you get Mercedes me connect via the me connect app, which lets you do the usual things – remotely lock/unlock your car, set up a geo-fence, access vehicle health stats, send addresses from other apps and so on. There's Alexa and Google Home integration, and you can say 'Hey Mercedes' to fire up the system and ask for navigation guidance, weather reports, roadside assistance and more. In all honesty, I didn't give most of these a go, because I left it to tech junkie and fellow auto hack Tushar 'The Professor' Burman, with whom I was sharing the car and who spent most of the drive trying to get these features to work. TL;DR – some did, some didn't.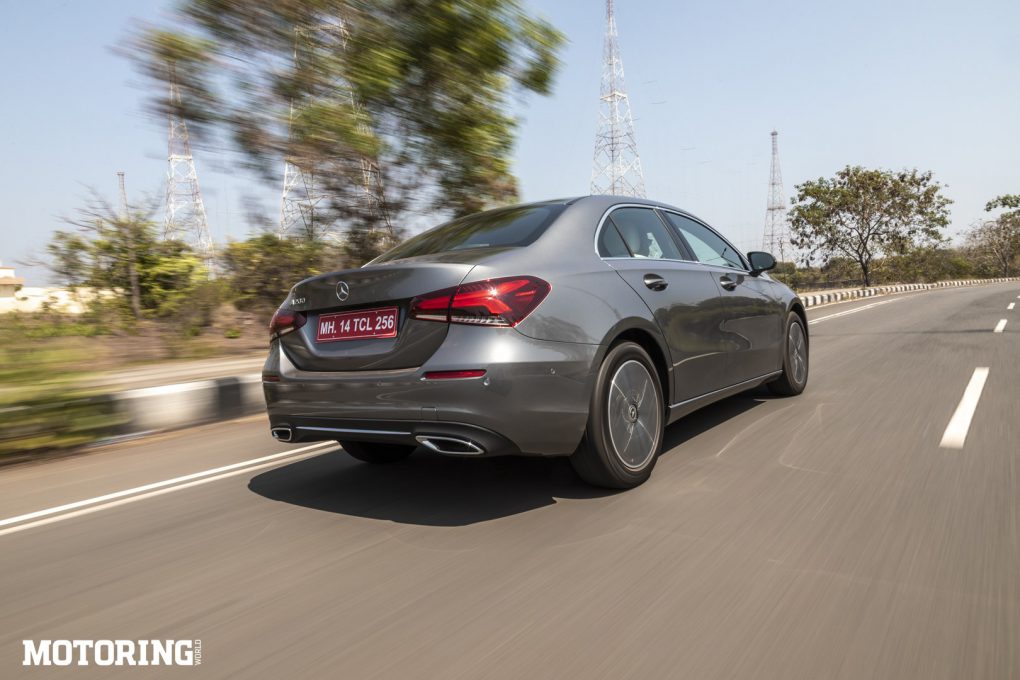 Never mind that, though. You buy a Mercedes because, among other things, you want a plush and well-built cabin experience, not because you want to fiddle with connected technology. In this respect, the A-Class scores, as you would expect it to. There's high quality leather, wood and soft touch materials, as well as a number of touch operated surfaces – controls on the steering wheel, a touchpad ahead of the central storage bin and the high res 26 cm infotainment screen, which is housed in the same piece of glass as the 26 cm digital instrument cluster, giving it an impressive panoramic width.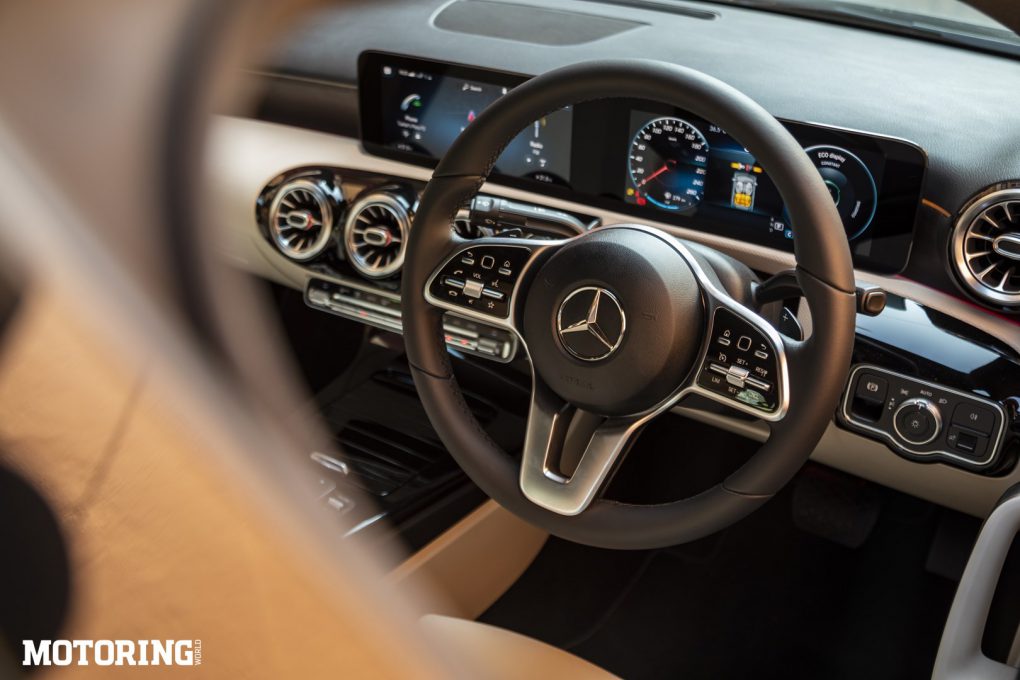 The front seats are powered and very comfortable, and the ones at the back are spacious, but lack a bit of under-thigh support; also, this is a 4-person cabin, since a 5th passenger isn't going to be especially happy during long drives. I particularly like the chrome A/C vents, because they look like the mouth of some kind of extraterrestrial being. All told, if you buy this car, you're not going to feel short-changed by its interior, except perhaps by the flimsy fabric that sits under the sunroof – I see no reason why a solid sliding unit couldn't have been used, in a car of this price.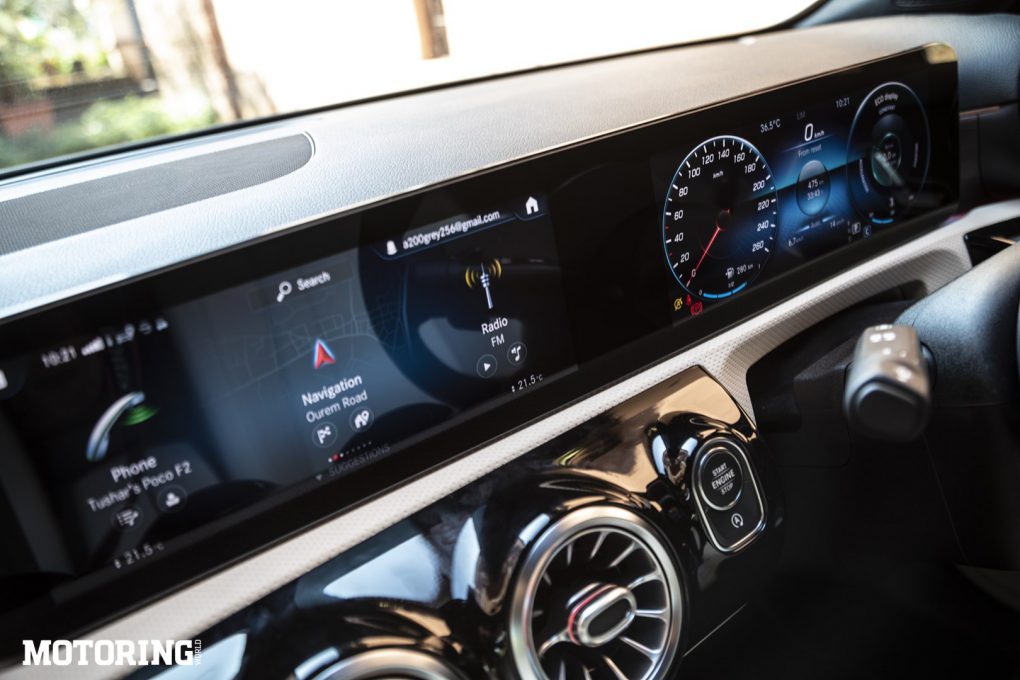 The A-Class takes the understated approach in its exterior design. From the front three-quarter, it looks a little bland, with its smooth, largely featureless bonnet that flows downward gracefully enough; the headlights are tastefully integrated, and the nose and grille are complementary of one other. The car looks best when viewed from the side – it's very sporty, and the swooping roofline accentuates this. It's also extremely aerodynamic, with a Cd of 0.22, which Mercedes says is a world record; the 17-inch alloy wheels have piano black aerodynamic aids between the spokes, which give it an electric car touch.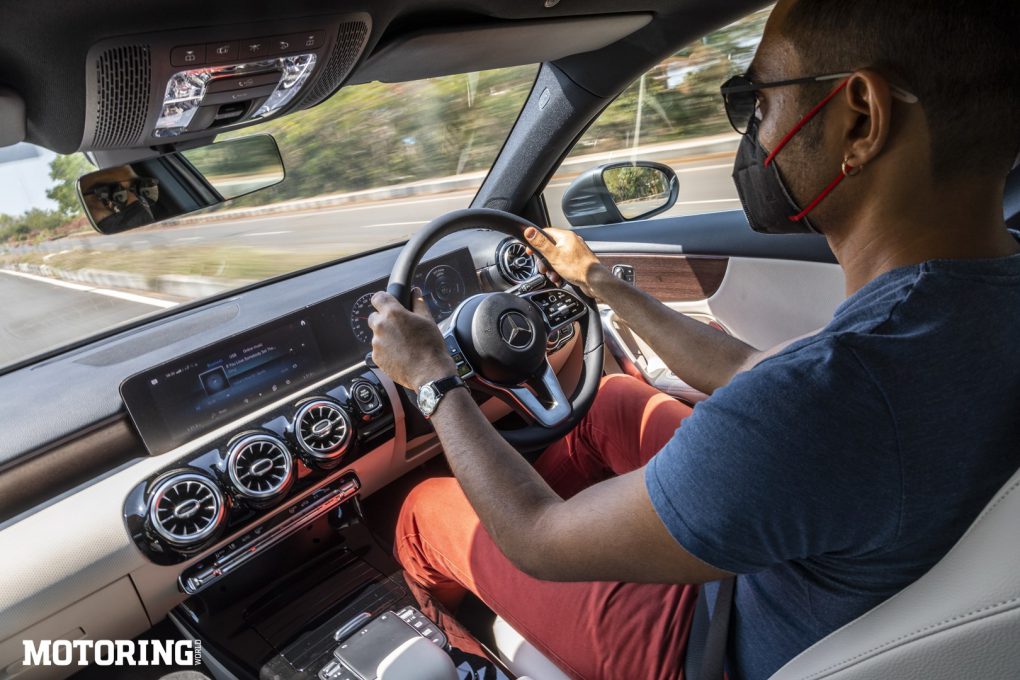 The car also has a substantial presence, with its 4549 mm length, so it certainly doesn't look like a 'baby' Mercedes, and with its 944 mm height, it doesn't look too squat either. The rear section tapers up sharply, and the back has large, typically Mercedes tail lights and a neatly integrated boot, with a wide stance. The firm describes the A-Class' design as Sensual Purity, so make of that what you will – I think it plays it safe, but it does so to agreeable effect.
I had the A200 to play with, a car with a 1.3-litre, 4-pot turbo petrol under the hood. An engine that small in a Mercedes-Benz may seem a bit odd, but don't go by cubes alone, because there's 161 bhp and 25 kgm of torque on offer. At idle, like most small capacity turbos, the engine is somewhat vocal, especially from the outside, but this is to be expected and isn't a drawback.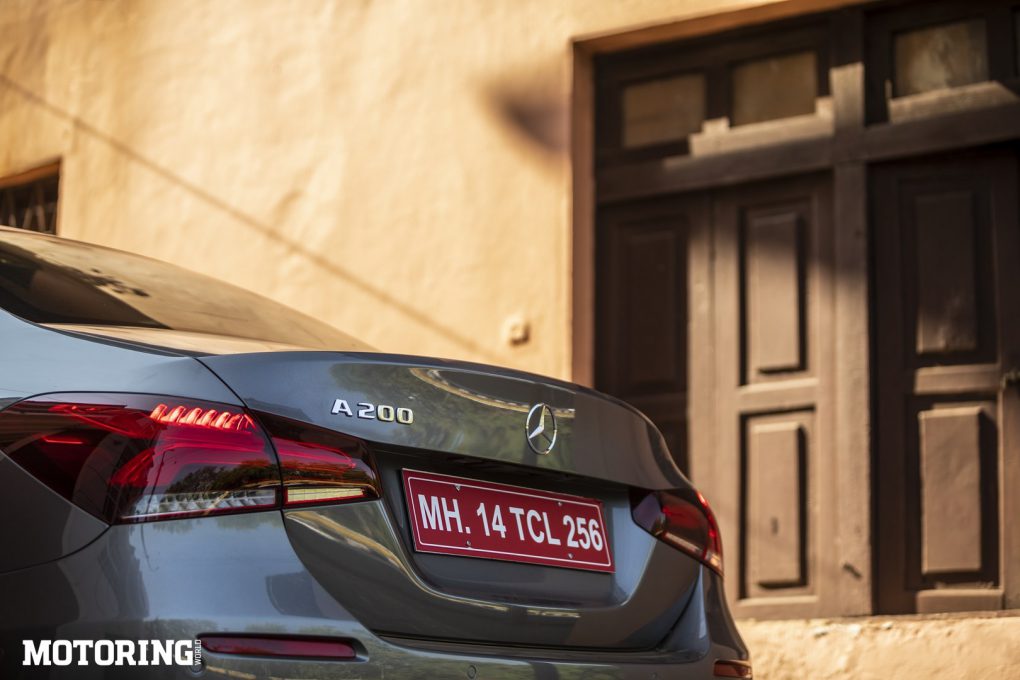 Flooring the accelerator clears any doubts you may have about the car's capabilities, because it sprints to 100 kph from standstill in just over 8 seconds, with a nice, linear spread of shove helping it along. The 7G-DCT keeps up superbly, and you never feel like it's searching for answers, no matter what driving mode you're in; even Eco mode offers enough to keep you entertained, with Sports mode sharpening up the steering, suspension and engine map (paddle shifters are on offer in case you want to play boy-racer and make vroom-vroom noises). The engine is also very refined, contrary to what its noises may indicate, and speaking of noises, the exhaust note could have been more raspy – but I suppose they had to save something for the AMG version that will drop soon.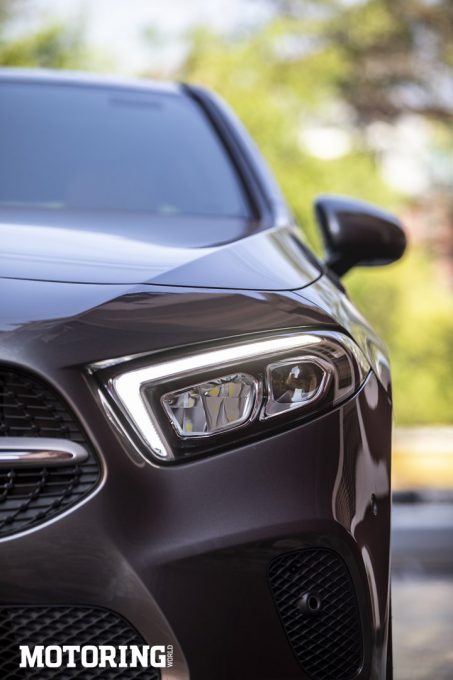 I was struck by how well the car rode almost as soon as I set out on the drive. Sections of the road outside the hotel were in pretty poor shape, and even at a fair clip, the A-Class went through without being unsettled in any way, and with no thuds or crashes intruding into the cabin. Out on the highway, the car felt absolutely solidly planted at any speed, with overtaking manouevres a flick of the steering wheel away. Similarly, around corners, it was supremely confident and very entertaining – the usual procedure of aim-gas-turn-power through applied here, and very efficiently too. The brakes are as you'd expect – super sharp and with a very progressive bite. This is a car that combines comfort and sharp handling in an excellent manner.
Mercedes-Benz India says that despite SUVs raining down from the skies, 53 per cent of the cars it sold last year were limousines (as it likes to call sedans). Clearly there's still a market for them, which is why the A-Class is being thrown into the fray at the bottom of the Mercedes pecking order here. The firm is betting on m money-heavy millenials who are keen on showing up at the newest ultra-hip organic café in a 3-pointed star, but who aren't yet burdened with the kind cash that an E-Class asks for. As it happens, so is BMW, with the 2 Series Gran Coupe, and a shootout between these two cars would definitely be a proper riot. Looked at by itself, the A-Class is a very accomplished, fully-loaded (there is no base variant) and entertaining car with an additional kicker – an 8-year warranty, valid across its dealer network and fully transferrable to another owner. At an expected price of Rs 35 lakh onwards (ex-showroom), I'd say that's tremendous value.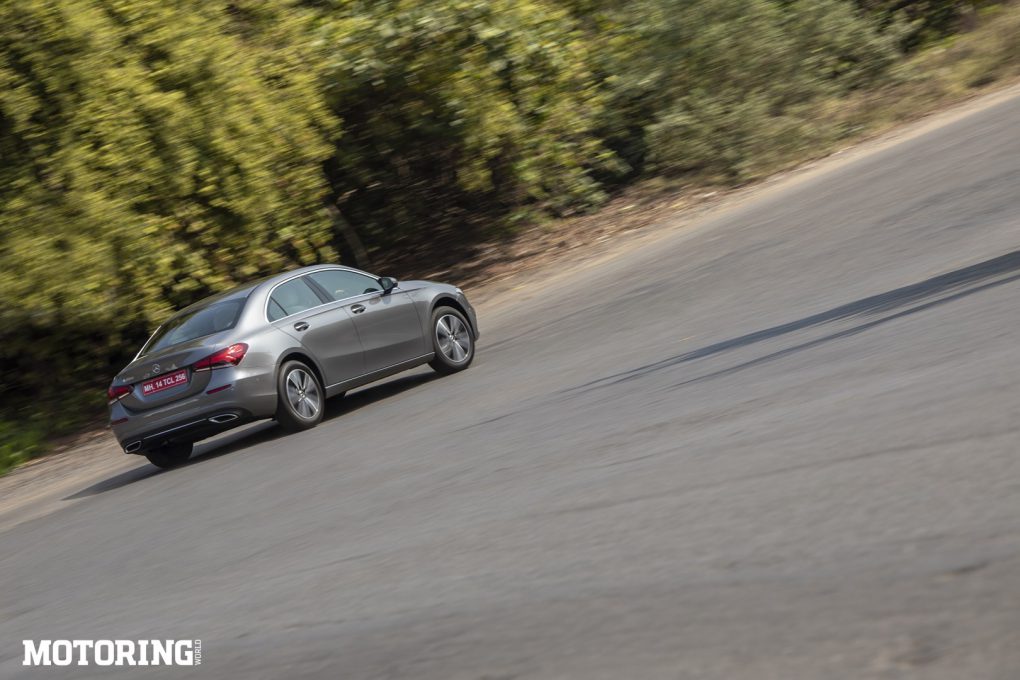 AUTODATA
Mercedes-Benz A-Class
POWERTRAIN
Displacement: 1.3-litre, 4-cylinder turbo petrol/ 2.0-litre diesel
Max power: 161 bhp/ 148 bhp
Max torque: 25.49 kgm@1620-4000 rpm/ 32.63 kgm@1400-3200 rpm
Transmission: 7G-DCT/ 8G-DCT
TYRES
F/R: 205/55 R17
DIMENSIONS
L/W/H (mm): 4549/NA/944
Wheelbase: 2729 mm
Ground clearance: NA
Kerb weight: NA
Fuel tank capacity: NA
PRICE: Rs 39.9 lakh (A-Class 200)
Rs 40.90 lakh (A-Class 200d)
Rs 56.24 lakh (AMG A 35 4MATIC)
All prices are ex-showroom, India.