Photographs by Vishnu G. Haarinath
I'm sat snug. There's a predominantly black theme running all around me. I quickly glance outside through the windscreen to see an unusual amount of panic in everyone. They're all seemingly waiting for me to get a move on, as though I'm the one causing an immense delay in a hurricane evacuation. My photographer seems especially keen to get going. This is not how I pictured things would go. It's funny, really. A week's worth of a build up to this day on the track and everything seemed to be going exactly how it shouldn't. I'm in what Mercedes-AMG calls the GT R, a lurid green example of what it deems is the most hardcore of its AMG GT lineup in India, and I agree. It's Mercedes-AMG's newest flagship sportscar, and it's packing a lot of firepower to justify its position at the top.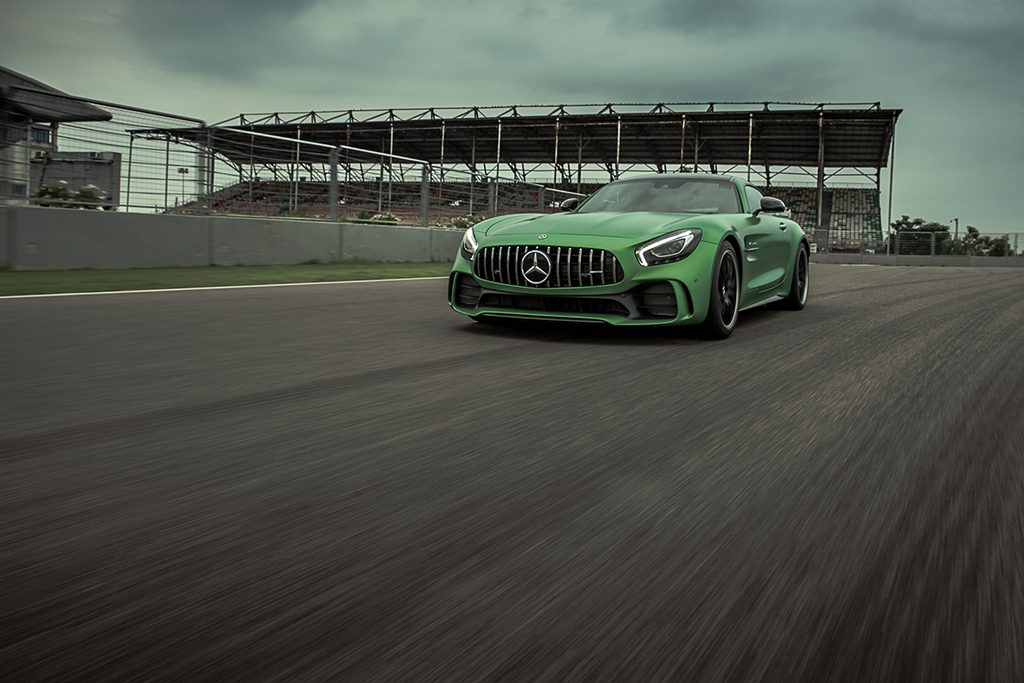 There's a 4.0-litre V8 for starters, and in the R spec it makes 577 bhp and 71.3 kgm – enough and more to help you through those dull mornings trudging to work, I'd say. What those figures don't convey, however, or maybe they do, is the fact that there's a brutality and rawness to it that just numbs your senses the moment you've explored anything more than part-throttle acceleration.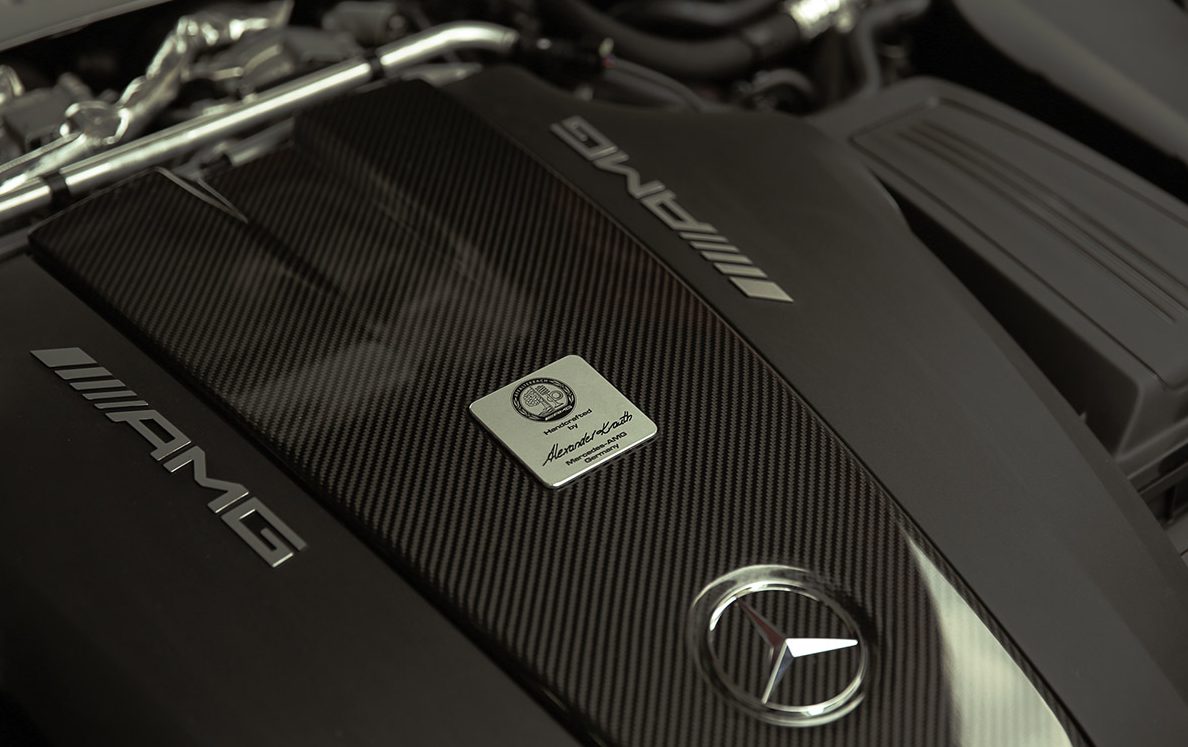 A slow crawl out the pits to ensure my photographer gets his shot done with, I think the child in me took over. Flick the dial to your left to Sport+, cut traction control, set the ride up to be a bit firm, and you're in a zone that's ready to decimate your perception of speed. I understand if that line seems to be a bit of an exaggeration, but I've come to figure that that's the only way to describe seat time in an AMG GT R. It took me all of one straight and a sharp corner to understand that the lap record it recently shattered, right here at the Buddh International Circuit, was no one-off. If you can see yourself through a lap behind the wheel of this thing then you can see yourself wanting to do another, and another, and another, right until you've realised that the only bits of grip you're getting are from your will to not crash a Rs 2+ crore car.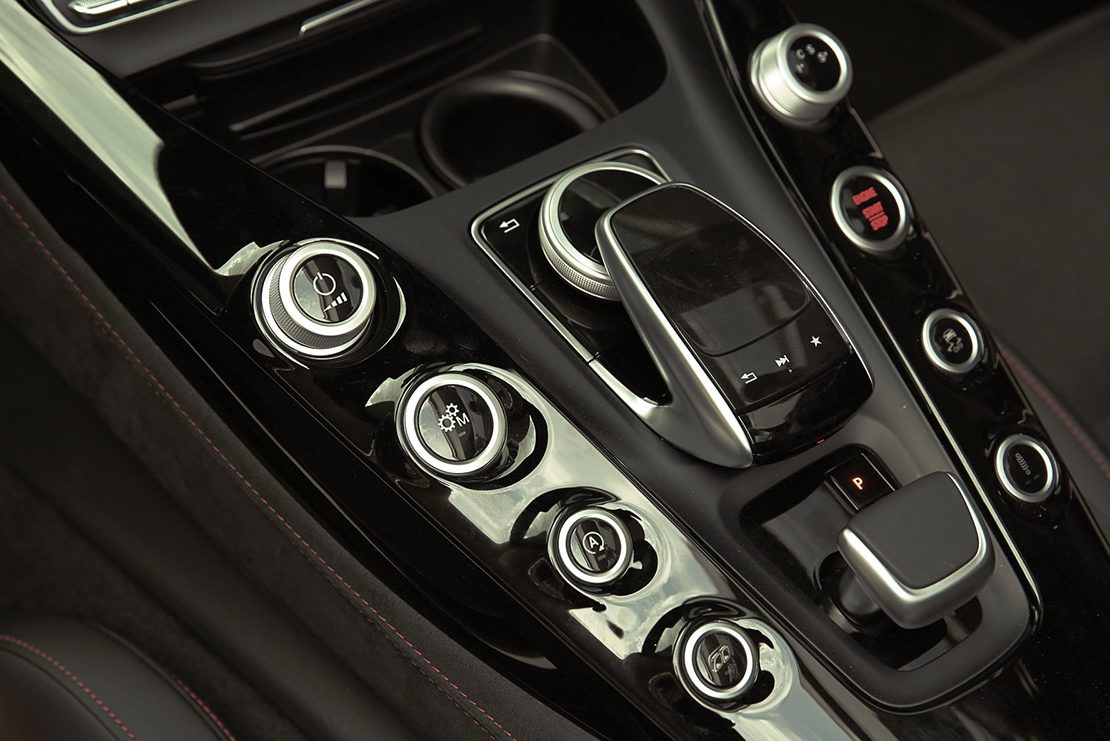 Unfortunately, that point never came. You see, the panic and restlessness I'd mentioned earlier were because we were on a tight schedule. Four others like me were in line to get a few laps in the GT R, and this happened because someone (not me) decided to slither into a giant gravel trap for 'a picture'. This delayed everyone by at least an hour, and we were forced to condense our already ridiculously condensed schedules. Anyway, the point is that I'd have liked a lot more track time than I was afforded, but the fact of the matter remains that what little time I did get with it was good enough to make me a believer. This machine is outrageous.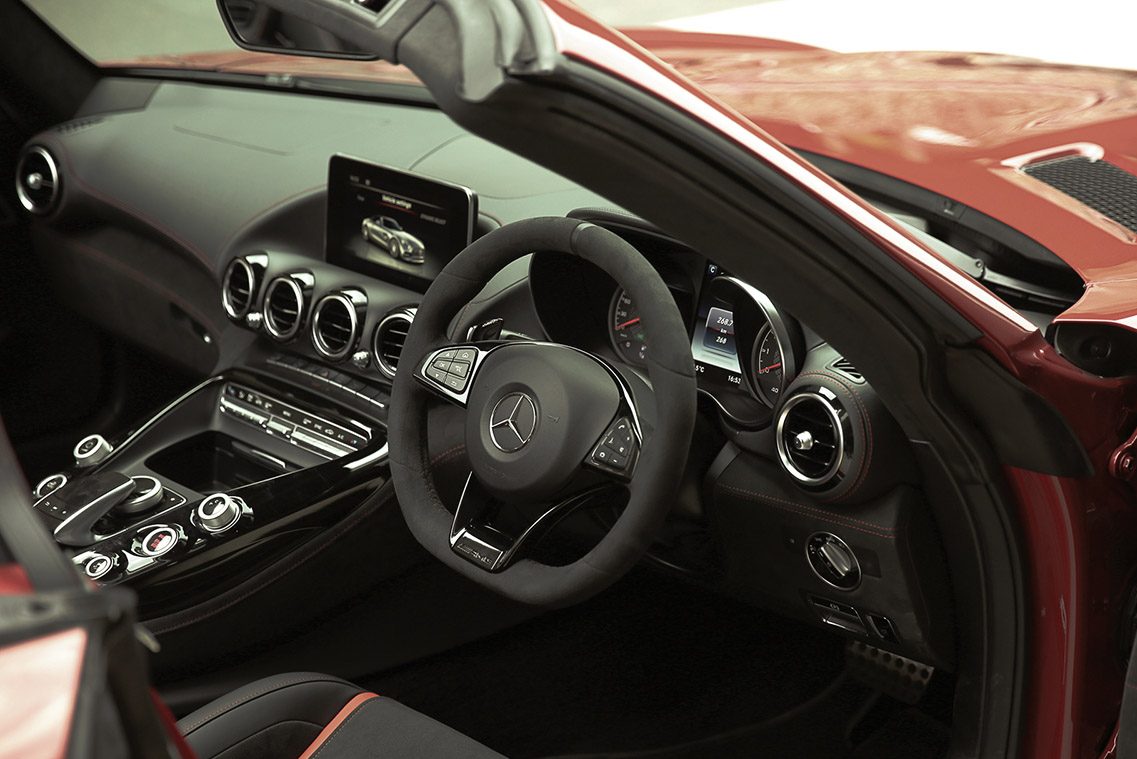 Mercedes actually calls it a detuned DTM car, and that seems about right, even though I've never had a go in a DTM car. There are active aero flaps in the front, a carbon-fibre roof, a titanium exhaust, active rear-wheel steering (!), optional ceramic brakes, and there's even nine settings for the traction control. Going over the top, then, was definitely one of the mandates for the AMG team while going bonkers making this car.
The thing is, it all works. The purpose of the active rear-wheel steering is that they turn in the opposite direction of the front wheels at speeds less than 100 kph, thereby shortening the wheelbase, as such. Bless such tech. To find a car that feels as nimble and poised as the R around bends is so rare, and keep in mind that it's no small car. It's pretty bulky when you look at it when it's stationary, but the combination of that lively steering and that beautiful bit of tech ensures that it feels tremendously flickable. Enter a corner too hot, much like I did after the Parabola, and you start thinking of what the after-life might be like after you've splattered yourself all over the armco (pardon the graphic image), but you'll be fine, really. The R's got tremendous stopping power and that gives you some massive faith in a car this quick. Slowing down a car that's 1.6 tonnes is hardly a joke, but the R treats it like one nonetheless.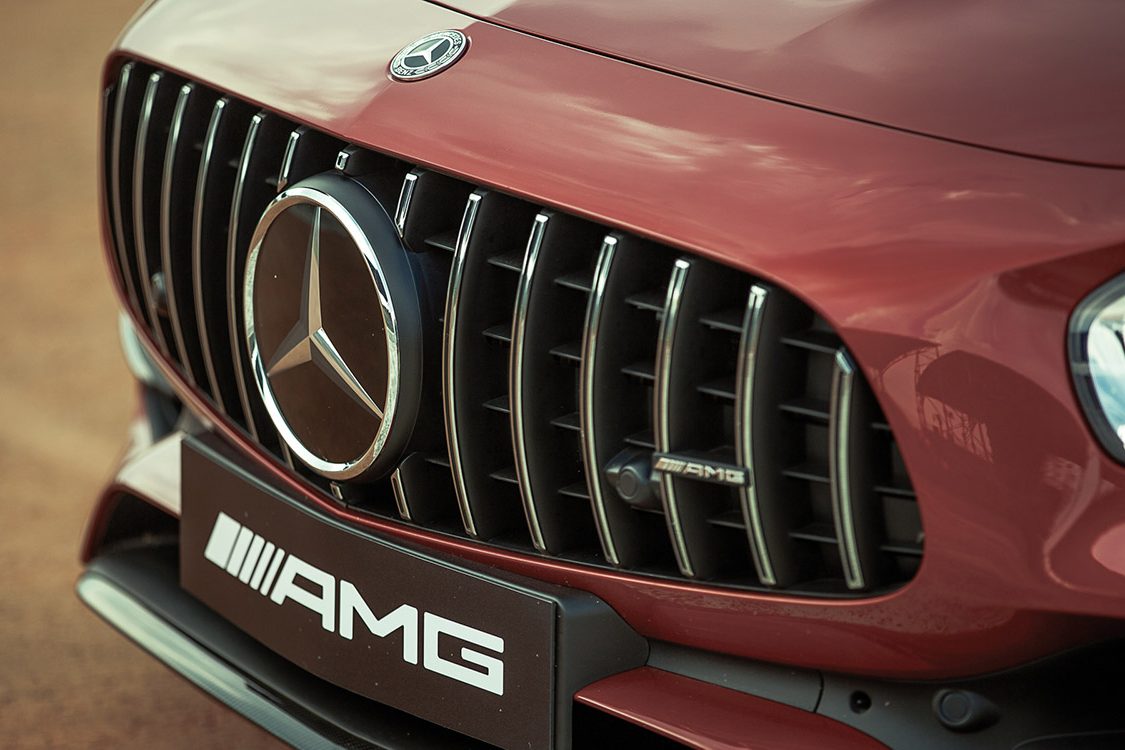 Another big reason to attribute to this playfulness is the fact that despite being a front-mid-engined car, the weight distribution is actually 47:53 front to rear. This gives it the weight in the right place for you to be able to drive it like there's no tomorrow.
Through all this, though, I've been asking myself one question: isn't this overkill? Sure it is! It's bonkers to consider driving this around every day in traffic that will make you want to blow your brains out, but the truth of the matter is that some people like it like that. Those people have deep pockets and a lot of fun on a regular basis. I envy them. It's the same logic behind having a 911 GT3 RS as a daily driver, and to you, gentleman with no concept of normalcy, I doff my proverbial hat. To those who still want the AMG GT, but think the S Coupe is a bit passe now, I'd like to direct your attention to the red car on these pages.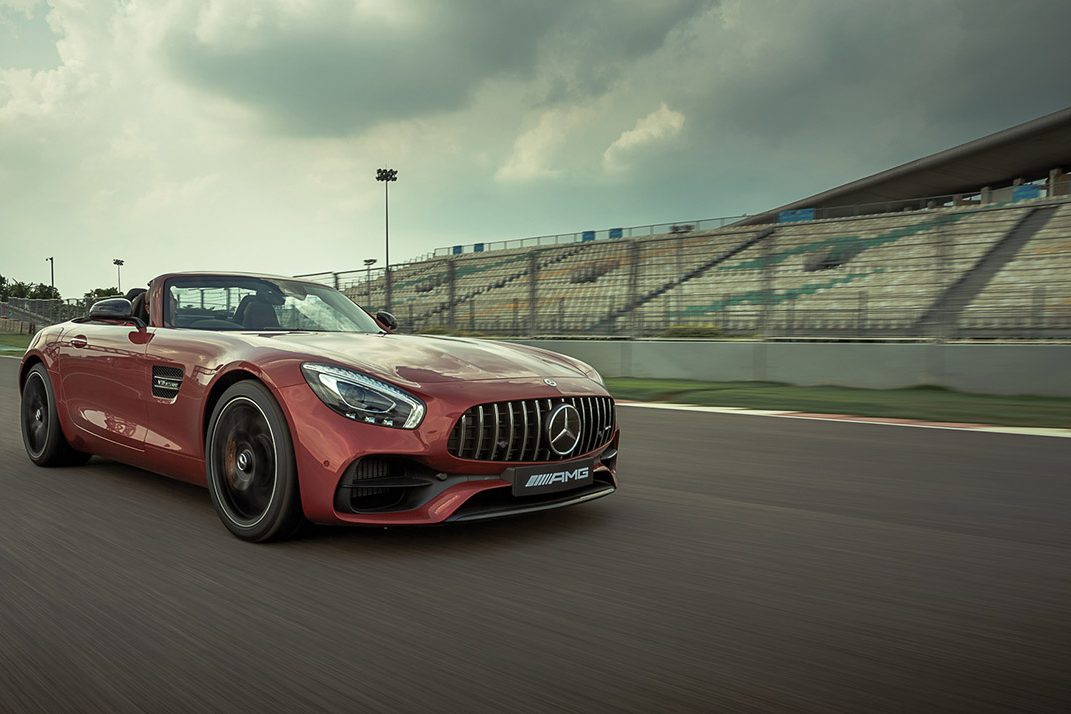 Say hello to the AMG GT Roadster. Still as gorgeous to look at, now with the added benefit of being able to drop the top in 11 seconds up to a speed of 50 kph, if you so choose, and it'll still scare the crap out of you and your passenger, albeit slightly less urgently.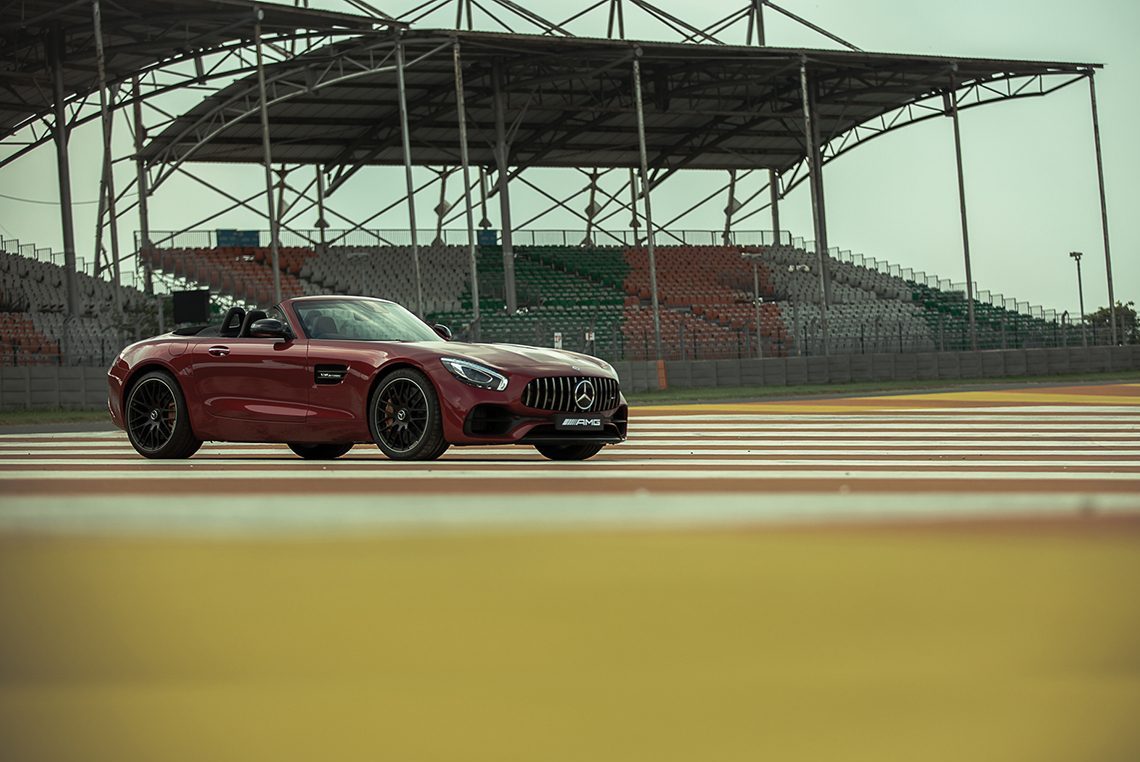 You see, the Roadster is slightly down on power and that's the only caveat. It makes 469 bhp and 64.2 kgm, but even that's enough to get you to 100 kph in four seconds. Saying the near-100 bhp deficit is too much to live with is like saying the bird excrement on the 53rd floor of your flat's balcony isn't as exquisite as that of your 54th floor neighbour's. It's good, usable power is what it is. It feels more clunky around corners, isn't as raw as the R, and definitely sounds more tame, but out on the road, I'm assuming it'll make sure you don't notice any of it. It'll compensate by having the roof down and you'll probably be having too much fun to notice anyway.
That's the best way to look at it, I feel. The AMG GT is now thrice as good as it was before, and while the R is the obvious pick of the lot, the Roadster makes for one compelling buy, too. At an almost why-even-bother-thinkng-of-stealing-one ` 2.2 crore, it makes a whole lot of sense. Buy it. Be blown away. Oh, and call me when you've managed to wrap yourself around a tree. I'll be there in a huff. M
AUTODATA
Mercedes-AMG GT R
POWERTRAIN
Displacement: 3982cc, V8, turbopetrol
Max power: 577 bhp@6250 rpm
Max torque: 71.3 kgm@1900-5500 rpm
Transmission: 7-speed, auto
TYRES
F/R: 275/35 R19 / 325/30 R20
DIMENSIONS
L/W/H (mm): 4551/2007/1284
Wheelbase: 2630 mm
Ground clearance: 110 mm
Kerb weight: 1689 kg
Fuel capacity: 70 litres
PRICE: Rs 2.23 crore (ex-showroom)
You can look at the photos in all their glory in our gallery here.