It's hard to fathom an E-Class that's more for the driver than the rear passenger. An unparalleled rear-seat experience is a hallmark for the Mercedes-Benz E-Class, especially in India where we get a longer wheelbase version than the one on sale in European markets, and then along comes AMG with the E63 S 4MATIC+. The latest update to what can only be called a super sedan arrived in India in July at an eye-watering `Rs 1.7 crore, ex-showroom, India, and brought with it some aesthetic changes, tweaks to the suspension, an upgraded gearbox, and some tech meant to pamper.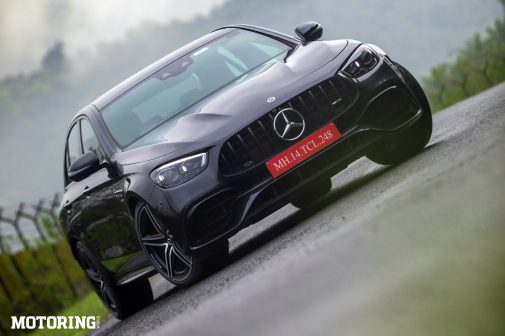 There's no shame in that the 4.0-litre twin-turbo V8 engine churns out the same 603 bhp and 86.68 kgm as the pre-facelift model; it's still one of the most powerful iterations of the award-winning motor, as even in the race-bred AMG GT R this V8 makes 577 bhp and 71.38 kgm. Mercedes-AMG's claimed 0-100 kph time of 3.4 seconds may give you an idea of just how quick it is, but there are few words for the feeling of exhilaration when you floor the throttle. It's a constant, hard shove into the highly adjustable and comfortable front seats, and there's no sign of letting up even as the needle on the crystal clear (and highly configurable) 12.3- inch digital display swings past the 200-kph mark.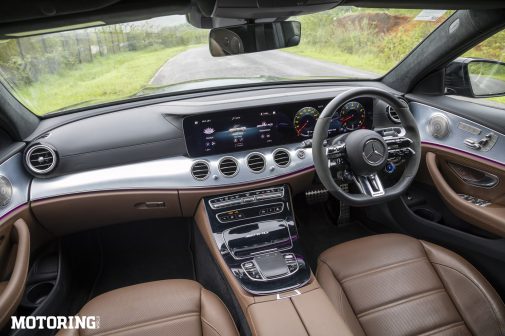 Mercedes-AMG's updated 9-speed automatic gearbox, which sends drive to all four wheels when required via the 4MATIC+ system, is superb. Not only does it kick through gears (up or down) with breath-taking alacrity, it even shines in Comfort mode by doling out the massive amounts of torque generated by the V8 in well-metered increments in extra-urban environs.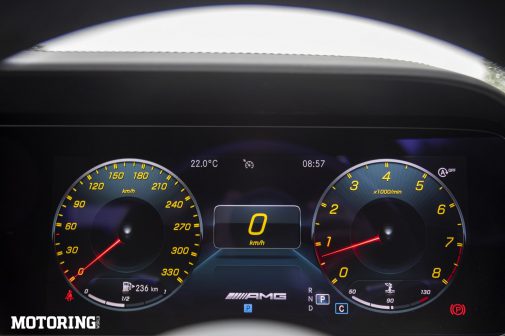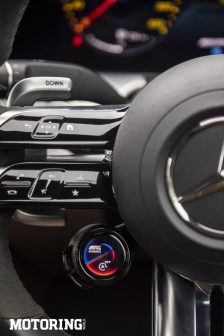 Due to this ease of driving, mile-munching is another of the E63 S's many talents. Closing gaps on the highway is ridiculously simple. Although it's easy to get carried away and you really do have to keep an eye on how fast you're going, the braking setup reins it all in an extremely reassuring manner. A sweat doesn't break out when you have to brake hard for the ever-present two-legged and four-legged pedestrians on our roads. There are typical top-of-the-line safety features to keep everything in check when needed, which makes this bruiser a cinch to drive at city speeds, too. What does cause some amount of stress is the active brake assist function. With pedestrians, and two- and three-wheelers nipping about without any regard to proximity (a common occurrence anywhere in India), the autonomous braking system takes matters into its own hands more frequently than you'd like, and it's a bit jarring.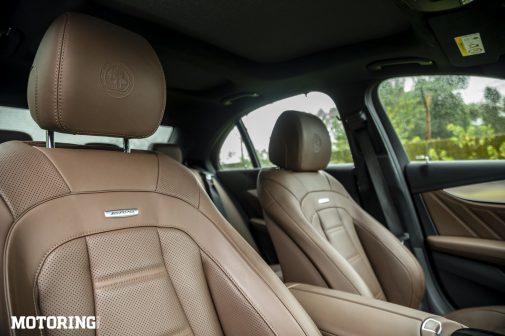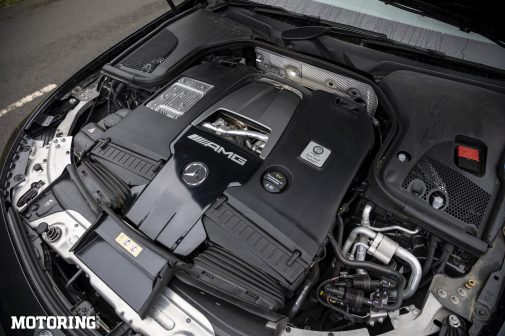 Still, it's nice to know the safety net works effectively because this machine is built for speed, and keeping you comfortable at those speeds. What enhances the feeling of speed is a brawny growl coming from the quad exhaust tips, though it is slightly muted when compared to the model that came before. You can at least still get the requisite pops and crackles in Sport, Sport+ and Race modes, which really do change the way this super sedan drives. You'll get to use the launch control function and the drift mode in these modes as well, which are just an absolute delight if you're in the mood for some (safe) hoonery. For most road conditions, though, Comfort mode is your best bet.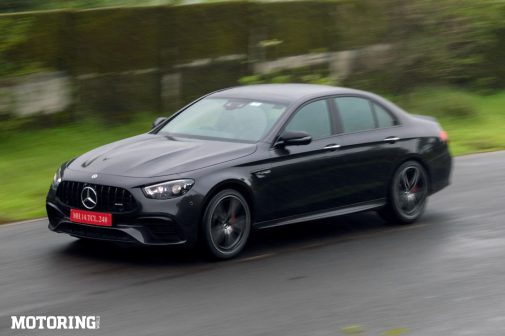 Ride quality feels more supple now despite the sweet-looking 20-inch AMG rims and low-profile 265/35 R20 tyres and that's down to the revised air suspension. It works more silently over medium undulations and larger bumps, but you can still hear a thud over the sharper ones. Nonetheless, there's a significant improvement in overall ride over the pre-facelift E63, which makes it easier to live with. Now don't get me wrong — just because it's a bit softer doesn't mean it can't be dynamic. Weighing in at 2010 kg, the E63 S is a bit portly, which isn't surprising considering the luxury on offer and that heavy all-wheel-drive system. It's not the most agile cornering machine, but the grip levels are immense and inspire a great deal of confidence when throwing it around a set of twisties. Where it truly excels is in the longer, flowing corners, urging you to floor the accelerator out of each one.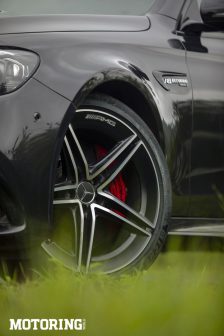 Another aspect that makes the E63 S more of an everyday driver is the way it pampers you. The front seats get cooling, heating and massage functions, and everything you need — from the infotainment settings to the drive modes — can be accessed with relative ease via the steering wheel. However, I feel there are too many buttons on the unit and the slider controls do take some getting used to. The touchpad control mounted below the front armrest for the excellent 12.3-inch touchscreen infotainment system is also not the most intuitive to use at first.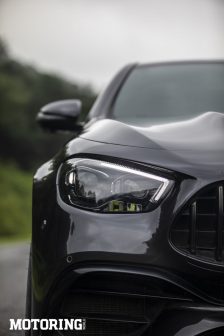 Honestly, the only factor that works against the E63 S 4MATIC+ is that you'll have to tank up the 66-litre fuel tank often. While there are fuel-saving measures such as a cylinder-deactivation mode (which switches off four of the eight cylinders) and start-stop tech, there's no pretense about the model being frugal; Mercedes-AMG does not offer an Eco mode at all.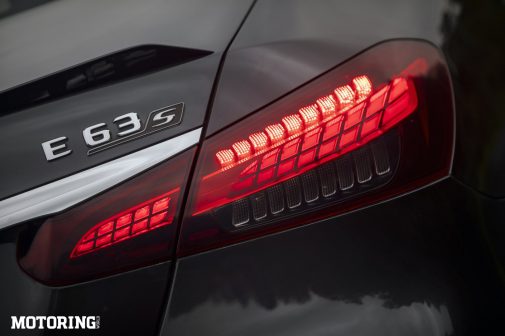 Oh yes, I nearly forgot about the rear seats (see what this E-Class does?!). There's really no cause for complaint when sitting in the back. There's four-zone climate control, charging ports and a sunroof to keep occupants happy and the seats recline for a more comfortable angle, too. I have only two points of contention and they're really minor ones; there's no massage, heating or cooling here. The second is that the standard E-Class on sale in India gets a noticeably roomier rear bench area than this E63, and that's because the super sedan has been brought in as a CBU and is in Euro-spec, which means its wheelbase is 140 mm shorter than the India-spec E-Class.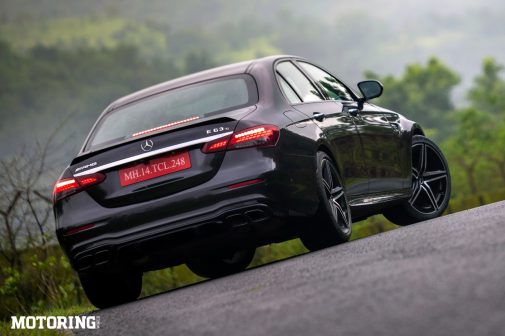 Unfortunately, I can't wholeheartedly say that everything about this facelift is better than the previous model. I am partial to the older E63 S's more aggressive nose and feel the AMG-spec 'Panamericana grille' has made the E63 S look more sedate. And there was the aforementioned slight lack of aural drama. Still, it's definitely worth the approximate Rs 20 lakh premium over the older car and is officially a contender for most exhilarating drive in my book.
AUTODATA
Mercedes-AMG E63 S 
POWERTRAIN
Displacement: 3982cc, V8, turbo-petrol
Max power: 603 bhp@5750-6500 rpm
Max torque: 86.68 kgm@2500-4500 rpm
Transmission: 9-speed auto
TYRES
F/R: 235/35 R20
DIMENSIONS
L/W/H (mm): 4984/1907/1460
Wheelbase: 2939 mm
Ground clearance: NA
Kerb weight: 2010 kg
Fuel capacity: 66 litres
PRICE: Rs` 1.70 crore (ex-showroom, India)