As one grows older, there are fewer and fewer firsts — the first time I drove a car was over two decades ago, my first self-driven 500-km trip was about a decade ago, and my first supercar drive was just two years ago. On the other hand, the firsts have now become more special, because I've realised that there will be less of them moving forward. Which is why, the time I lost my 'Conv-irginity' is something I will savour for the rest of my life. And I have the Mercedes-AMG E 53 4Matic+ Cabriolet to thank for that.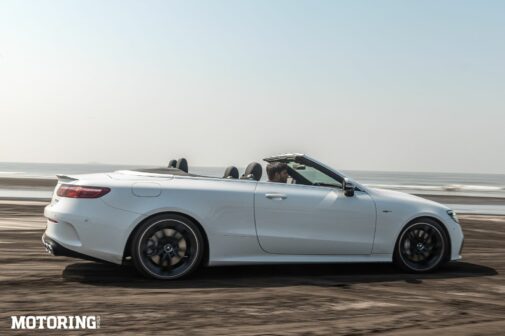 In order to make this first even more of an occasion, I decided to take the E 53 Cabriolet to the beach. After all, being topless at a beach is almost a given, and there's room aplenty (and a certain lack of traction) to really explore what this drop-top AMG has to offer. Of course, the beach we had chosen was well over an hour away, so that gave us a chance to experience what the convertible would be like on Mumbai's regular roads, through chock-a-block traffic and on the open highway.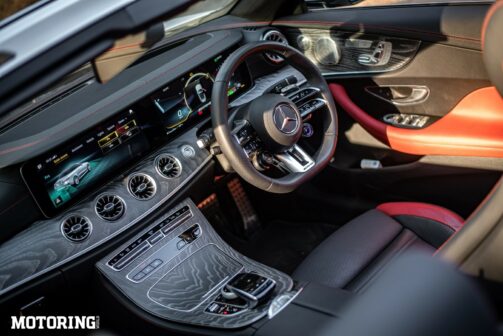 Typical of our shoot schedule, we started off early in the morning, and naturally, the first thing I did was hit the button on the centre console that would allow the cloth roof to go down into the boot — I could chug along at 50 kph while doing so, and it took about 20 seconds. Unfortunately, it wasn't a typical winter morning, and the heat of the day began soon after the sun rose. Despite that, the cooled seats (they also get a heating function, but there was no point in that), and the superb three-zone automatic climate control kept Govind and I chill as we headed out of Mumbai on the unsuitably named Western Express Highway.
In spite of our leisurely cruising speed, we managed to reach the outskirts of the Maximum City just as traffic was getting a little heavy, so well had we timed it. The E 53 Cab felt so easy to drive at normal highway speeds that I was a bit taken aback. 'Is this even an AMG?', I asked Govind. Well, to answer that, we set out on a tangential road, one that had a brilliant set of twisties, and is nearly always empty of vehicles. There, the E 53 Cabriolet showed it definitely had the chops, and earned that AMG badge (and that sporty yet understated Panamericana grille).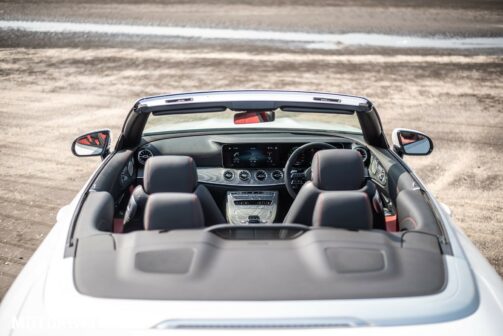 The 429-bhp 3.0-litre inline-six turbo-petrol engine (which gets an additional boost from a 21-bhp electric motor) isn't as overwhelmingly brutal as the 4.0-litre V8 in the E 63, for which I was thankful. That doesn't mean that the E 53 is a pushover by any means. Use that multi-function flat-bottom AMG steering to select Sport or Sport+ mode, and this engine is capable of hitting 100 kph in 4.5 seconds, and producing all the aural drama you could want — from that inline-six scream at high revs, to pops, bangs, and crackles when you lift off the go pedal. With the roof down, you can even hear the turbo whistle, and in a tunnel, all the sounds produced by the engine can get addictive.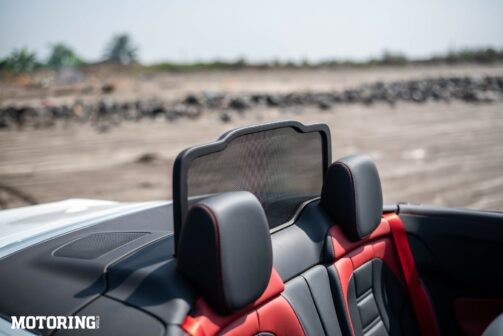 The brilliant 9-speed automatic (along with the 25.49-kgm electric motor) do a superb job of masking any turbo lag, and the 4Matic+ all-wheel-drive tech made sure there was enough traction to bull this near-two-tonne convertible through even the sharpest corners. Yes, the lack of a proper roof means chassis rigidity isn't as good as the E 53 sedan, but for a drop-top, the Cabriolet's handling is well above par. Sport+ mode is required to stiffen up the suspension, but I was slightly disappointed that the all-wheel-drive system isn't as rear biassed as I'd like — even with the traction control off, drifting the E 53 Cab is quite difficult.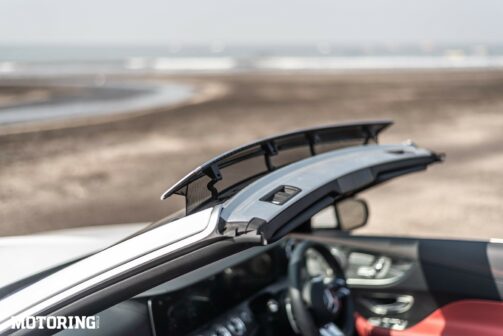 The air suspension works quite well to round-off bad roads, especially in Comfort mode, but there isn't a ride height adjust function, which means I had to be very, very careful over large speed breakers. When the top is down, there's a fair bit of road and tyre noise, but you can drown that out with the superb 590W Burmester audio system, or have the top back on, which does manage to insulate you from the outside, despite being a soft-top. It's a sad truth, though, that over time, our less than decent roads will cause some rattles in the roof's mechanism.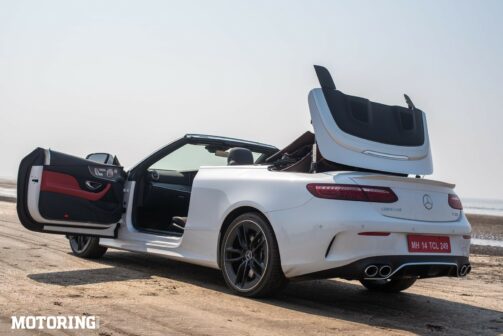 As I pulled up to the beach and set up for our first shots of the day, I took a moment to look around me. The interior is standard E-Class fare — you get that familiar twin-screen layout, four air vents, and a wide centre console with more than a few buttons, knobs and switches for a variety of in-car functions. I'm a fan of this sporty trim, and I love the way the cabin's aesthetic is a bit more than a match for the exterior. I also like the steering, but those capacitive touch buttons on the wheel are not as easy to use.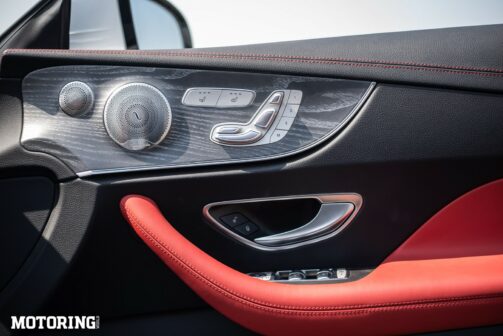 Unlike the standard E-Class on sale in India, the E 53 Cab is based on the shorter wheelbase version on sale in European markets. However, even by those standards, space at the rear is compromised — this is a car best used by two — and getting to the rear seats requires a certain degree of dexterity. It's nice that those seats fold flat to liberate more luggage space, because with the roof folded down (there's also a spacesaver in there) there's barely enough space for two large backpacks. To be fair, this isn't a car one buys for its practicality and sensibility.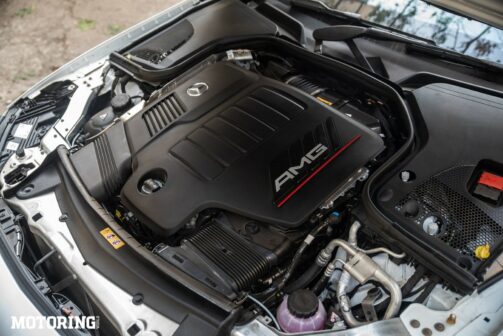 With our static shots done, it was time to see what the E 53 Cabriolet could do on a sandy (yet firm) beach, and other than the lack of the tail stepping out, I had an absolute blast chucking the convertible around. Even in low grip conditions, the car doesn't seem to want to be destabilised, which is brilliant if you look at it from a safety perspective, but a bit of a downer if you're in the mood to frolic without a care. I was suitably impressed with the Mercedes E 53 convertible, seeing as it morphed from capable mile-muncher to something that can thrill, with a flick of the dial on the steering.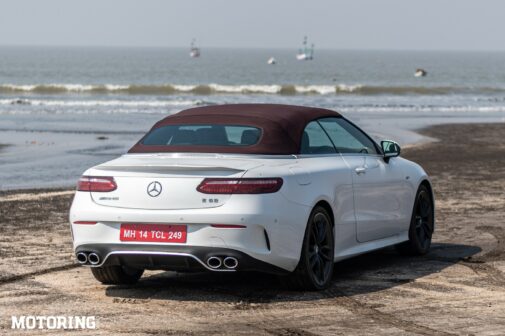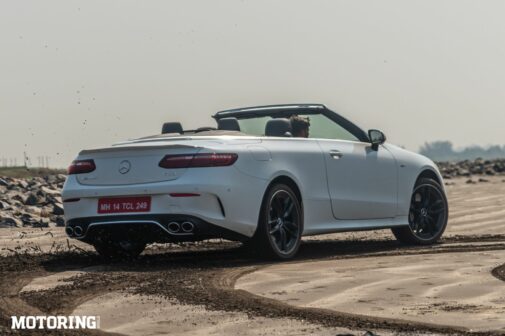 On the way back home, despite the heat of the day, and the bumper-to-bumper traffic, I still had the roof down — I was going to savour every bit of my time with this droptop. Even with trucks and busses expelling black exhaust gases, a threat of people spitting out of taller transport, and the concrete dust flying from the Metro construction, I adamantly kept that roof down, and I had a whole lot of muck and the resultant pimples on my face as a consequence. But, even in hindsight, I wouldn't have had it any other way. After all, your first may have its ups and downs, but a first is a first, and my time with the Mercedes-AMG E 53 Cabriolet will become a core memory — one filled with laughter, enjoyment, and the feeling of basking in others' envy.
AUTODATA
Mercedes-AMG E 53 4MATIC+ Cabriolet
POWERTRAIN
Displacement:
Max Power:
Max Torque:
Transmission:
2999cc, I6, turbo-petrol
429 bhp@6100 rpm
53 kgm@1800-5800 rpm
9AT
TYRES
F/R: 245/35 R20 / 275/30 R20
DIMENSIONS
L/W/H (mm):
Wheelbase:
Ground Clearance:
Kerb Weight:
Fuel Capacity:
4846/1860/1426
2873 mm
NA
2071 kg
66 litres
PRICE
Rs 1.3 crore (ex-showroom, India)