Photographs by Aniruddh Kaushal
Corner 1: Missed the braking point, completely ignored the apex, thankful for the immense run-off area.
Corner 3: Missed the braking point, completely ignored the apex, really, really thankful for the immense run-off area.
This was a recurring theme while I tried to familiarise myself with the C 43's abilities. In hindsight, I do admit that I took the car for granted and viewed it as the poor man's C 63 AMG, which most certainly goes to prove that my advancing years have no direct correlation with my wisdom. Even at first glance, as my eyes casually surveyed its facade, there wasn't much to create a lasting impression. Ever-so-slightly flared wheel arches, marginally larger wheels, a rear lip spoiler and some rather non-descript cladding is about all there is to set it apart from the regular C-Class.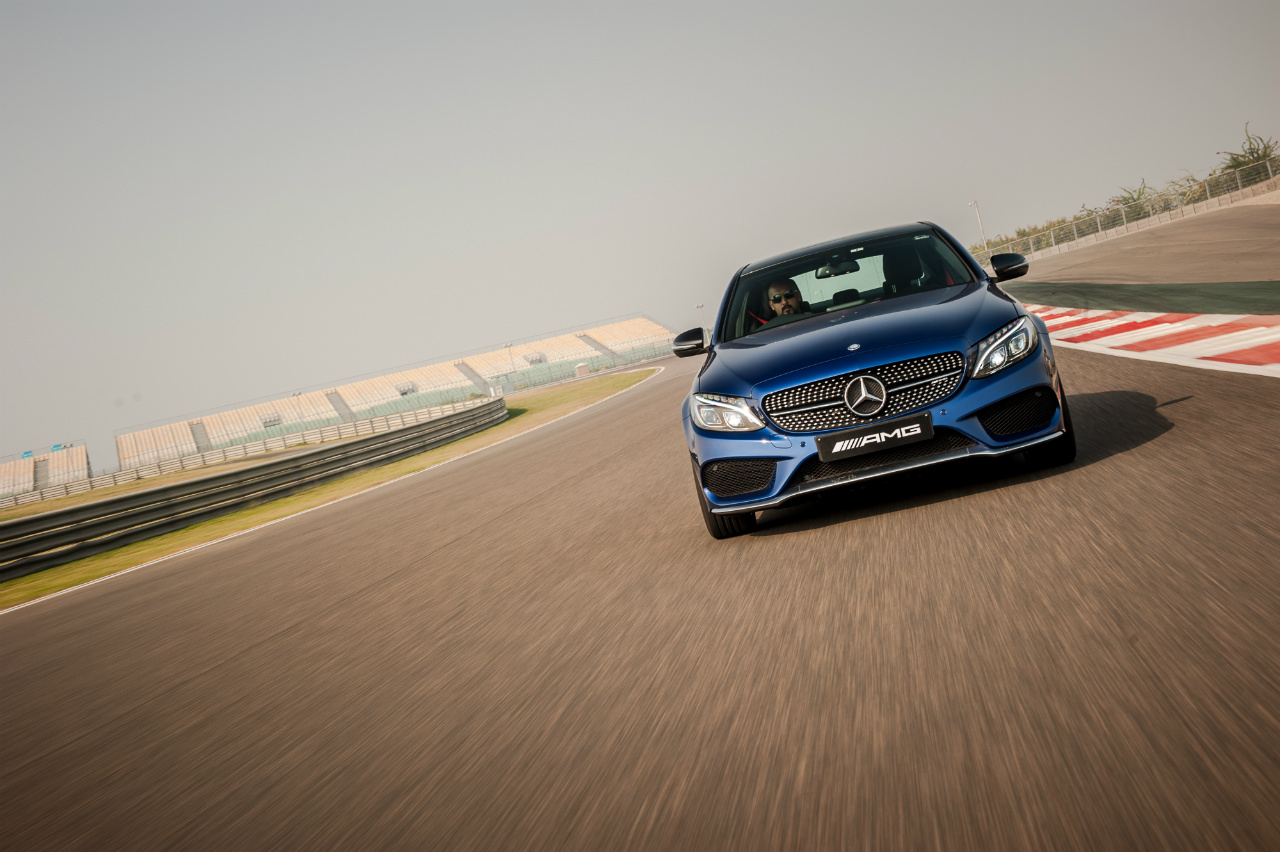 There are some that want their cars to compensate for their insecurities with excessiveness, and I do mean their insecurities, not the car's, but the C 43 doesn't play that futile game. It deceives you by allowing you to be comfortable thinking it's just a toy, but what Mercedes has brought to the ground is essentially a Gurkha soldier that's been made to look like Felicity Jones attending a movie premiere. It's a stretch, that last line, but keep the exaggeration aside and it should be clearer.
Of course, I, too, fell for the act because I'm far from the sharpest tool, but I suspect that that's one of the most endearing traits of the C 43. The more you push it, the more it slaps you on the wrist, and by the end of it you're a much calmer driver, which more often than not leads to being far quicker around a lap of a race track. This isn't to say that the C 43 is vicious or problematic in any way; it's far too easy to drive for that. The C 43 needs a sensible hand guiding it, because it doesn't share the same personality as the angry, outrageous, yet phenomenal C 63 S. It's brilliant because, just as you'd imagine, it slots in right between the C 300 and the C 63 and has a personality all of its own despite all three of them sharing a common letter. It doesn't spit fire and wag its tail unnecessarily around corners, and yet it can be loud enough to elicit a gentle nod of approval as you see it tear past. It's light and easy on its feet – surprisingly so, at that – enough to make you look good even after you've managed to c**k up the same corner for the third time running. Underestimate it like I did and you'll make an absolute mockery of corners and apexes; overestimate it and you'll end up doing the same. The C 43 is a restrained hooligan, and you need to be one, too, to get the most out of it.
The static, single-dimensional experience of a race track, of course, isn't thorough considering how rarely it would end up there, but it's what Mercedes felt would be the ideal starting point to experience its latest AMG. Given that, it's one heck of a performer, and even the parts of the allies played by the 9-speed auto 'box and the steering were more than happy in this particular setup; the former quick and responsive (especially in Sport+ mode), while the latter made things simple by being direct. I suppose it falls short when the car is loaded up going into a corner because it doesn't weigh up as much as you'd expect, but let's be realistic about its intended purpose here. It's not a shortcut to fame on a race track, more like an overly-capable road-legal machine. Just how well it would go in the real world is still a bit of an unknown, but subsequent months should give us the answer to that.
What Mercedes has done by allowing us access to the C 43 is quite smart. If you look at the current C-Class lineup, you'll be forgiven for thinking that they're all similar-looking (more or less) machines that have a few bhps separating them. On paper, that's absolutely the case. What you don't expect, however, is that the three of them drive so differently that they feel like entirely different cars. It's not just a matter of saying, 'I like lots of power, so I'll just throw money down on a C 63 S.' Mercedes will want you to actually spend some time with them because they all appeal to different driving styles, and that's a pretty unique thing. I love big, powerful machines that can eat up their tyres in the time it takes you to say, 'How much did you say a new set costs?!', but after driving the C 43, I'm honestly tempted to say that it might just be my new favourite C-Class. Now, the only toss up is whether one should commit to the C 43 or go slightly smaller, topless, cough up a little more money, and get the brilliant SLC 43. Not a bad position to be in if you're Mercedes, mm?
AUTODATA
Mercedes-AMG C43
POWERTRAIN
Displacement: 2996cc, V6, bi-turbo
Max Power: 362 bhp@5500-6000 rpm
Max torque: 53 kgm@2000-4200 rpm
Transmission: 9-speed, auto
DIMENSIONS
L/W/H (mm): 4702/1810/1434
Wheelbase: 2840 mm
Ground Clearance: 157 mm
Kerb Weight (kg): 1690 kg
Fuel Capacity: 66 litres
PRICE: Rs 74.35 lakh (ex-showroom, Delhi)