I can't begin to believe the words I'm writing. The Maserati Quattroporte is the picture of loud and sensual Italian design, yet here I am calling it a sleeper and understated?! Well, there's a pretty good reason for that, and I'm going to try and convince you of this point of view, too. You see, it was only at the very end of 2019 that Maserati India introduced its range of V6 petrol engines that are made in collaboration with Ferrari. And that has made all the difference, particularly when compared to the diesel engine that was previously available.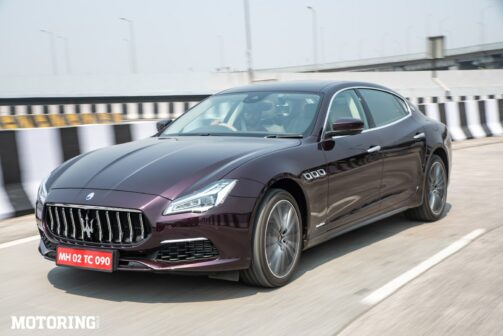 Not that the 271-bhp V6 diesel was a slouch, especially with the 61.18 kgm of torque it produced. However, even on paper, the 3.0-litre turbo-petrol V6 — making 345 bhp and 50.99 kgm of torque — is a cut above. Which is why I needed to take it for a speed run and find out just how much above. And as one of the few auto journalists in the country to get my hands on this version of the Quattroporte (it launched just before COVID-induced lockdowns, and by the time it was ready to be given out, it was, apparently, old news), I needed to justify this specific need for speed.
My thinking was thus, 'A Ferrari would be great for our Summer of Speed special, but I can't get my hands on one in time. If I can't source a Ferrari, why not another pure-bred Italian with an engine developed in conjunction with the famed Italian marque?' I charted a course of sorts that had a mixed bag of empty city roads, country roads, and highways, and started from near my home. My first run — to the first of many shoot locations — was hampered by an unanticipated broken-down truck, which meant that I couldn't get a proper feel for it.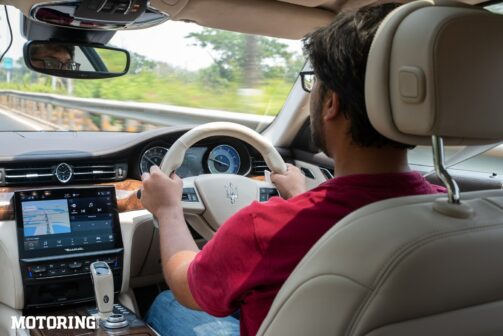 However, a hint of that sleeper characteristic did come through as I had an extremely relaxed drive. Some road and tyre noise did filter through, but most of what I could hear came from the 2979cc 60-degree V6 engine, and it sounded sweet. Resigned to what could only be considered a 'chill drive' — as I wanted to hear those pipes blaring — I came to see the Quattroporte as quite effortless. I leaned back into the well-contoured ventilated seat, and blasted my usual playlist of Red Hot Chili Peppers, enjoying the bass-driven songs on the excellent sound system.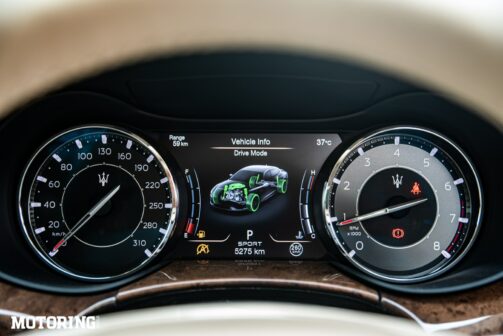 My hypothesis, that the Quattroporte is a sleeper, took a bit of a hit when I was moving on from the first marker to the second. This stage involved more city driving, and the number of looks the svelte sedan pulled was nearly enough to change my mind about the whole thing. But what brought my confidence back in my theory was a 'chance' encounter with a modified Skoda Laura. At the signal that led to a completely deserted and unrestricted highway section, the guy (a good friend and a proper boy racer) pulled up next to me saying, 'I got 350 bhp in this thing. Do you think you can keep up?'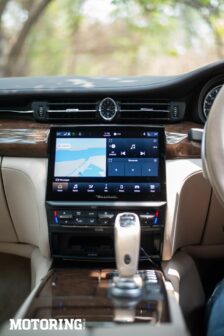 I wasn't too sure, but I thought to myself, 'I'll be damned if I'm not going to find out.' The signal turned green, and we smashed our respective go pedals, charging to the 100-kph mark. It was a close thing, but the 5.5-second time quoted by Maserati (and achievable when you use Sport mode) helped the Quatroporte edge ahead. A satisfied smirk on my face, I kept the throttle pressed on the long, straight, and well-paved highway, leaving the leering boy racer behind as the speedo needle swung well past highway speeds.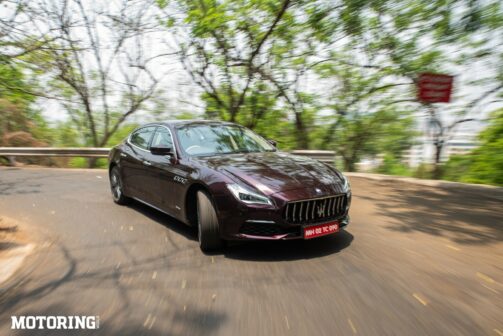 It was rather funny that the guy took a look at the long statuesque luxury sedan and just assume his hardcore mod-job was a match. And it went some way to prove my premise. Next on the list was a twisty road in a hilly area, which was a slight cause for concern. Afterall, this is a near-5.3-metre long luxury car, and my experience with most of those is one of leisure, not speed or dynamism. Well, the Quattroporte sure showed me how it could morph from luxury barge to a fire-breather.
The braking setup does an admirable job of keeping this near-2-tonne sedan in check, and the steering feedback is excellent, telling you exactly where this long, regal luxury car is headed. And all of this is just gravy. The meat is the suspension, the gearbox, and the afore- (and oft) mentioned V6 engine.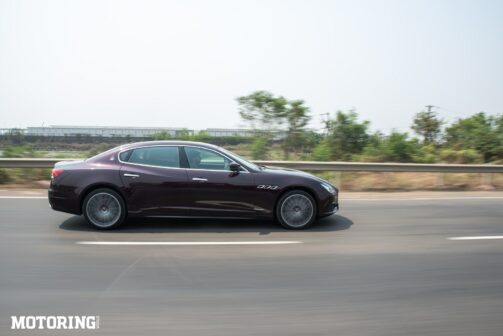 An addendum to the Sport mode is the Sport suspension, which — like the Sport mode — can be activated with the push of a button next to the gear lever. It made the ride quality harsher, but, in my book, that was an amiable compromise, especially when I felt the way it handles. This rear-wheel-drive sedan grips, and grips, and then grips some more, while the superb 8-speed ZF gearbox keeps the engine in just the right space to deliver the optimal amount of output. I was astounded with how well the Quattroporte flowed through a set of long corners, and the sheer volume of fun I was having during.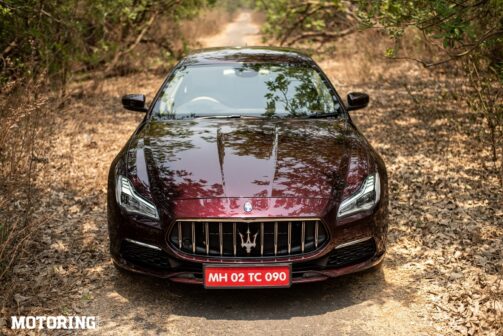 And part of that fun was the burble from the V6 motor, which rose to a bassy growl as the tacho needle climbed. Sport mode also allows for the exhaust flaps to open further, which helps accentuate that feel of just blasting past anything on the road. As per the plan, there was a tunnel in the next part of the 90-km route, and I was really going to enjoy it. Windows down, Sport mode engaged (though not the Sport suspension as the going would have become too rough for this particular road), and the lowest possible gear selected, I entered.
From grumble to roar, the symphony that emerged from the pipes was proving another aspect of its sleeper nature. It can be quiet and demure, and then it can sound like a shrieking warhorse charging at a frightened enemy. Those inputs Ferrari gave for the engine are working their magic, and how. And I have to say the automatic gearbox gels so well with the V6, whether I'm listening to some chillstep (hence, driving calmly), or whether I'm listening to the aural pleasure coming from the exhaust.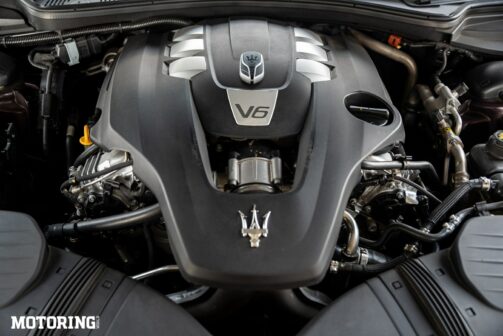 I have to admit that for the last leg of the speed run, I let the chillstep play and cruised back. It's so entertaining that I didn't realise just how much I had done today, and so called it quits. After all, I think I've sufficiently proven my theory as to the Maserati Quattroporte's understated yet boisterous nature. It may not be the value for money, or the space and opulence of its rivals, and it doesn't have the price tag to match, but this well-crafted example of a fun luxury barge is worth every penny of its Rs 1.73 crore, ex-showroom, price tag.
The interior of this GranLusso trim is only lacking in the high-tech gizmos its rivals possess, and maybe in terms of space. But that's not exactly why you buy a Maserati now, is it? You get one because you'd like to stand out, and have something that thrills. That the Quattroporte does that, and still gives out a stately vibe makes it even more desirable.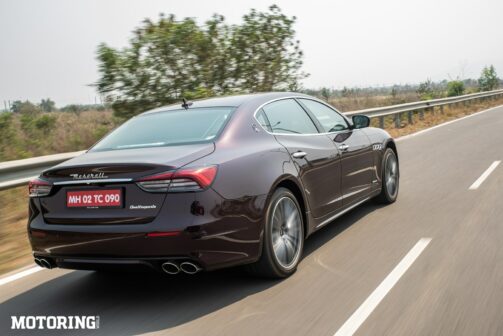 The engine is a delight, sounds like music to my ears, and the dynamism is exactly what you'd expect from a well-proportioned Italian stallion. I may be going overboard with the Ferrari references here (see how many you could spot), but this was a fantastic speedrun, more so because my assumption proved itself correct. It's too bad I had to hand the keys back after I was done, but even as I was handing it back, I noticed just how well-done that was, too. I would very much like to explore more of this car. Hmmmm, maybe a cross-country speed run? Oh yes, within speed limits, of course. Excuse me while I figure this out.
AUTODATA
Maserati Quattroporte GranLusso
POWERTRAIN
Displacement:
Max Power:
Max Torque:
Transmission:
2979cc, V6, turbo-petrol
345 bhp@5500 rpm
50.99 kgm@1750-4500 rpm
8AT
DIMENSIONS
L/W/H (mm):
Wheelbase:
Ground Clearance:
Kerb Weight:
Fuel Capacity:
5262/1948/1481
3171 mm
NA
2000 kg
NA
PRICE
Rs 1.73 crore (ex-showroom, India)