Photographs by Harshit Gupta
The days when one would get shocked over sportscar makers announcing SUVs are long gone. It is a matter of when and not if, unless you are Ferrari who still claims it will never make an SUV. But the rest (Porsche, Jaguar, Bentley, Lamborghini) have all fallen prey to higher sales figures and you can't blame them when you see the number of SUVs being sold all around the world. Maserati, to be fair, gave all of us enough warning when it presented the Kubang concept in 2003 at Detroit. In true Italian style, Maserati took its own sweet time to come out with a production model and I must say the wait has been worth it.
For starters, the Levante does not look like the big, bulky SUV many expected it to be considering the FCA garage (read Cherokees) which Maserati has access to. The Levante looks more like a crossover on stilts, but it is stunning to look at. Pictures don't always do it justice, though we have tried, but take my word for it when I say it is a proper head turner. The big toothy grille, muscular haunches, curved roofline, lines and creases running all over all come together for a striking effect. The rear and the DRLs could have been given some more attention, but 
it's nothing that sours things 
for the Levante.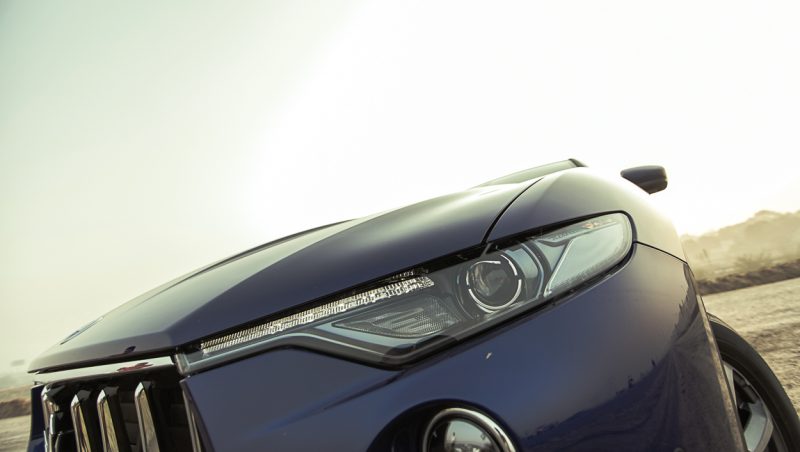 Coming to the engine — something which most Maserati fans look forward to considering its glorious naturally aspirated V8s — let's get the disappointing part out of the way first. India is only getting the V6 diesel to start with. A 3.0 litre single turbo V6 that makes 271 bhp and a massive 60 kgm. Doesn't sound much when you consider the competition, but I'll come to the competition later. The engine seems sufficient for city driving, responsive and with a fairly linear power delivery. The 8-speed ZF gearbox works well, too. Maserati claims a 0-100 kph time of 6.85 seconds, which is not blistering but it is not bad at all.
There are four driving modes — Normal, Sport, Off-road, and I.C.E. Before you start thinking Information, Communication and Entertainment, let me clarify that it stands for Increased Control and Efficiency. Sport is the one I chose and let me tell you, there isn't a better sounding diesel engined car in the country! It may sound like high praise, but for me it makes the Levante stand head and shoulders above 
the competition.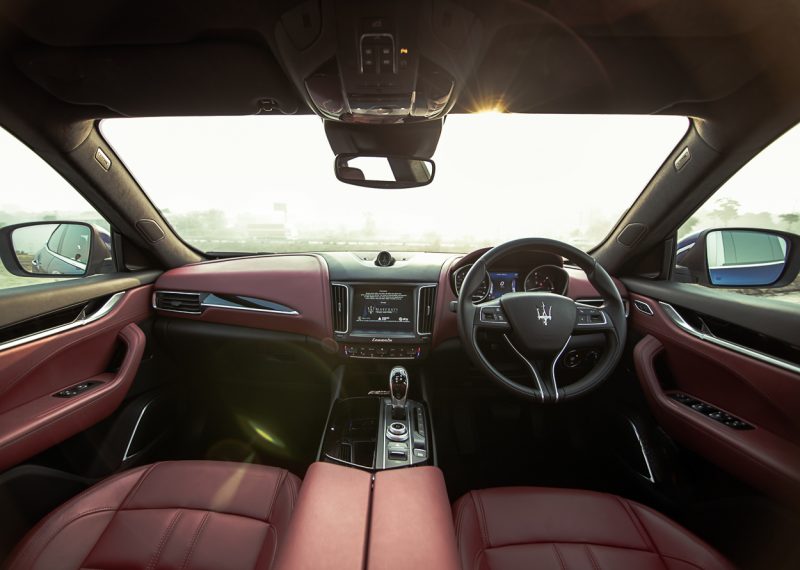 Another such feature, which elevates the Levante above the competition, is Maserati's decision to stick to a hydraulic steering when everyone is moving towards electric. It isn't the most communicative steering, but it gives you a much better feel and is nicely weighted. Just the fact that it doesn't feel vague, as most electric steering systems, is a big win, I feel.
Talking about wins, the chassis, once you start pushing the car, also feels nice and balanced, thanks to a 50:50 weight distribution on the Levante. This is a 2.1-tonne SUV, remember, but it hides its bulk remarkably well when thrown into corners. Of course, there is some body roll but it is nowhere near what you would expect in such a heavy car. The Maserati DNA is alive and kicking in this one! Not having paddle shifters as standard is a miss I think. In fact, I did adjust the volume more than once while pushing the car because I just assumed it would have paddles. Yeah, Maserati has put the audio controls at the back of the steering. I can't even begin to wonder why.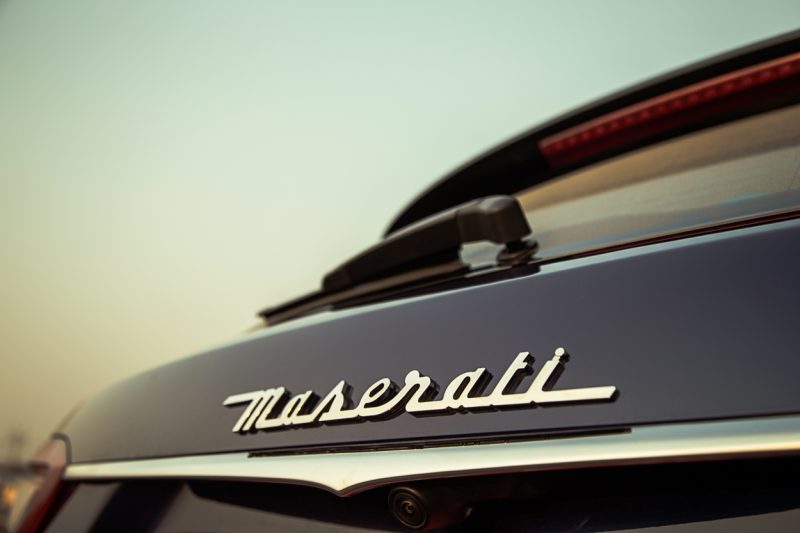 The Levante's suspension is an evolution of the Ghibli's, much like a lot of other components on the car, and uses aluminum control arms up front and five links per corner at the back, with standard air springs working in tandem with electronically controlled dampers. There are five ride-height settings that include two off-road positions that raise the ground clearance by a maximum of 1.6 inches, a feature I assume will be more of a party trick for most buyers. While going fast, the ride height lowers itself to the minimum permissible and reading 'Aero 2 level reached' on the display feels quite cool!
On the inside, I feel Maserati kind of let it go. Don't get me wrong, it is an improvement over the older Maseratis in terms of ease of use. There is a touchscreen, a click-wheel controller, a 360 degree camera, a 17-speaker Bowers & Wilkins music system and the buttons are where you want them to be. But it just does not feel like a special and exclusive place to be — what I would certainly expect in a Maserati.
There are quirks like the gear selector, which refuses to slot in where you want it to in the first attempt. Make that the tenth attempt, actually. Especially when you want to put it in reverse and it wants to go to Park. Guess who wins? Yeah, you go in to Park nine out of ten times. The touchscreen, while being easy to use, looks cluttered and the font certainly has been carried forward from the 2003 Kubang concept.
The seats are nice and supportive and only a Maserati could pull of red leather seats on an SUV. It doesn't look bad at all! At the back, the sloping roof line may be a bother for some but there is sufficient legroom to seat two people comfortably. Three at the back may be a stretch.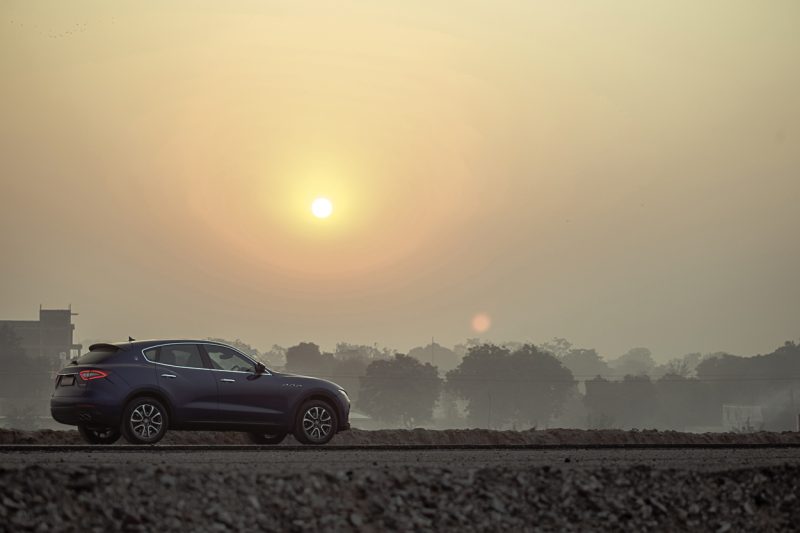 The Levante is in a league of some very good cars — Porsche Cayenne, Range Rover Sport, Audi SQ7, Mercedes AMG GLE 43 Coupé and if I were to compare them on paper, the Levante may not be the first choice on several parameters. At ` 1.5 crore, ex showroom, for a diesel SUV it is not even priced to undercut any rivals, thereby making its life even more difficult. But Maseratis for me have never been about how they stack up against the competition. It has never been about how fast, how expensive or how luxurious they are. For me, Maseratis have always been about being different, being cool and being stylish while providing luxury, comfort and driving pleasure. The Levante is no exception.
POWERTRAIN
Displacement: 2996cc, V6, turbodiesel
Max power: 271 bhp@4000 rpm
Max torque: 60 kgm@2000-2600 rpm
Transmission: 8-speed, auto
TYRES
(F/R): 265/50 R19
DIMENSIONS
L/W/H (mm): 4971/2100/1461
Wheelbase: 3004 mm
Ground clearance: NA
Kerb weight: 2108 kg
Fuel capacity: 80 litres
PRICE: Rs 1.5 crore (ex-showroom, Delhi)