There are few things in life that are certain. Death and taxes are the oft-repeated examples, but to these I'd like to add another candidate — the post media drive feedback form. As an automotive journalist attending a new car's first drive, if you think your job is done once you've finished driving and shooting said car, you're very much mistaken. Just when you sink into a chair in the hotel's lobby, catching your breath after a hectic few hours of work and steeling yourself for your flight home, a PR person will materialise out of thin air. You'll scan your surroundings, but there won't be any escape routes available; even if you're able to somehow make a break for it, you'll be found. "I hope you've filled out the feedback form?" the person will ask politely, managing to make the question sound like a gentle request as well as a direct order.
By this point, your only option will be to follow them to the designated form-filling area, where you'll likely be handed a tablet with a form running into several pages. The questions will be exhaustive, and if you're less-than-enthusiastic in your responses, you'll mournfully be asked why this is the case, both by the form and the human beings present. It is a slightly nerve wracking experience, I can tell you, but I've decided to flip things around a bit by approaching this review like it's a feedback form. Two can play this game, so here we go.
1. What are your first impressions of the #allnewCelerio's exterior design? Rate it from 1 to 10.
I'd give it a 6 on 10.
You have a negative impression of the #allnewCelerio's design. Please
elaborate on why this is so.
A. I wouldn't go as far as to call it 'negative'. However, I do feel that the Celerio looks… inoffensive. To me, it has the appearance of an Alto that has taken out a gym membership — and has successfully used that membership, since this is a bigger car than its predecessor. The connection between the older car and this one is established by the swept-back headlamps, but other than that element, the new Celerio looks totally different. This one has less of a tall-boy stance, but compensates by riding higher off the ground, on 14 and 15-inch wheels, depending on the variant (the black 15-inch alloys are very spiffy and fill out the arches nicely). A relatively restrained chrome strip runs down the middle of the grille, and the front end is visually balanced, with a set of fog lamps built in.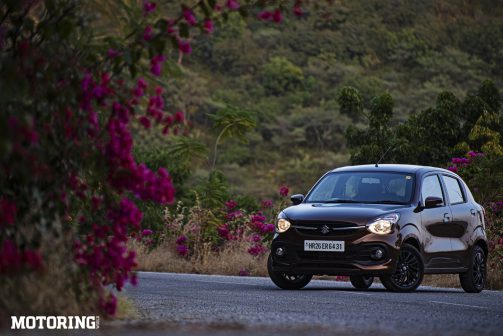 Bulges run down the car's profile, on the bottom sections of the doors, presumably to enhance the car's sense of width; this is not immediately apparent, however. The Celerio does look its best in profile, I have to say, and its tapering roofline is a nod towards sportiness; I can see some aftermarket potential here in terms of making it look more snazzy. The wheelbase has also been increased and is the same as the Wagon R, which is also underpinned by Maruti's Heartect platform.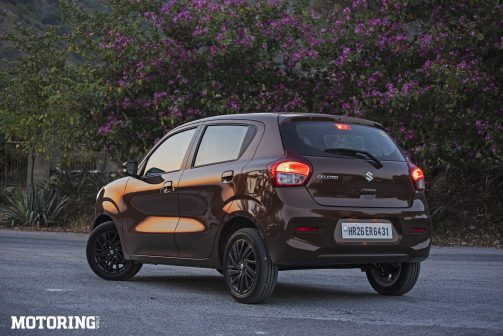 The rear end is functional and neat, with the large tail lights fitted on in a proportionate way. Maruti is offering a couple of cosmetic packages that you can choose online, and they do go some way towards making the car stand out a bit more — door cladding, a rear spoiler, some body graphics and so on. All told, the previous model had a certain quirkiness that was quite endearing; this car has been mainstreamed in terms of its design. The one trick it does manage to pull off is to look compact despite being larger.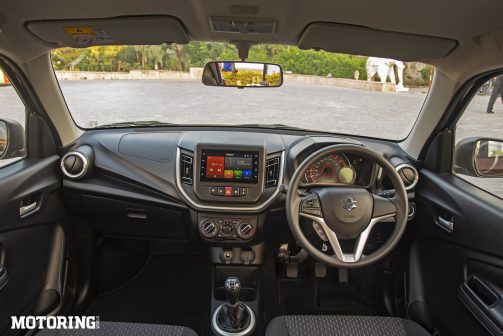 2. On a scale of 1 to 10, how would you rate the #allnewCelerio's interior?
Again, I think it deserves a 6 on 10.
You seem to be in a bad mood today. Kindly explain your rating.
Er, no… I'm actually quite all right, thanks. The Celerio's cabin is perfectly functional, as almost all Marutis tend to be. The high stance makes getting in and out easy (although I suspect the older car was better in this regard). Once seated, you'll find yourself in a compact, uncluttered space in which all the essential controls fall easily to hand — save for the switches for the front power windows and the central lock/unlock, which are situated below the infotainment screen; this placement isn't as intuitive as them being on the driver's door. The steering wheel feels good in the hands, and above it you can see a large analogue speedometer with an assortment of digital readouts — the fuel gauge, tachometer (on the AMT only), gear shift indicator and so on. So far, so good.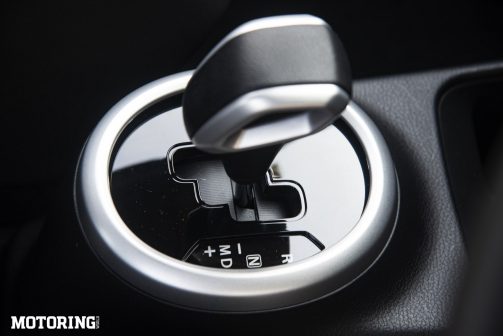 The seats are on the thin side, but they do their job effectively enough, which is to say that they'll keep you comfortable during short to medium distance drives; longer journeys than that will require rest-and-stretch stops. There is an impressive amount of room in the cabin for four adults, and those seated at the back will have no cause for complaint in terms of leg, head and elbow room; there are also enough cubbyholes to store bottles and whatnot. The boot is the largest in this segment, which is a useful entry in the plus section. The overall levels of fit and finish are par for the course at this level — neither standout nor shoddy — and the same can be said of the plastic and fabric quality. There is a surfeit of black surfaces, so one of those cosmetic packs (which also brighten up the interior) may be a good idea.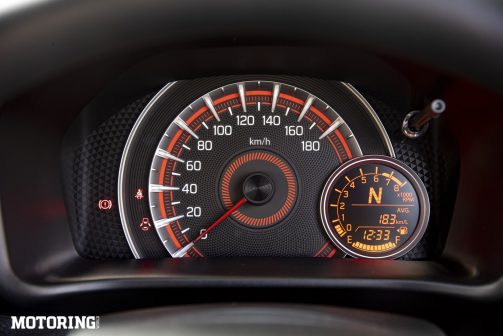 The features list has pretty much everything that can be considered useful these days, and is far more comprehensive than what the older car had. The 7-inch Smartplay infotainment system continues to be simple to use and easy to read, and the top-spec Celerio variants get steering-mounted controls. Apple CarPlay and Android Auto are on offer in fully kitted-out variants, and although a reversing camera would have been welcome, a rear parking sensor (somewhat) fills that gap. Other features include power folding wing mirrors and electrically adjustable wing mirrors, keyless entry and go, remote lock/unlock, a rear wiper and defogger, central locking, split folding rear seat, USB, Aux and Bluetooth, voice recognition and dual airbags.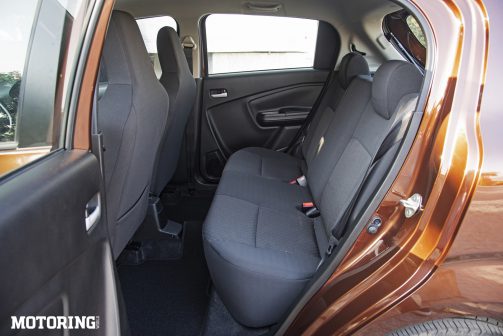 3. Please tell us what you think about the #allnewCelerio's engine and
gearbox, on a scale of 1 to 10.
It's an 8 on 10 for me.
That's much more like it. Do tell us more.
There's a new-generation K10C engine under the Celerio's petite hood, and it's first rate. The 1-litre, three-cylinder petrol engine is naturally aspirated and puts out 67 bhp and 9 kgm of torque, which is just a teeny bit down from the older engine. Its claim to fame is that it makes the Celerio the most fuel-efficient petrol car on sale in India, with a claimed figure of 26.68 kpl (for the VXi AMT). I did not have the opportunity to test this claim, and nor was I interested in doing so, since ARAI-certified figures tend to be achieved in driving conditions that are far removed from everyday life. However, if a real-world figure of even 17 to 18 kpl can be achieved by those who buy this car, they should be quite pleased, given
today's petrol prices. The engine's idle start-stop system and DualJet technology (two injectors per cylinder instead of one) are the principal factors contributing to these camel-like figures, but for me, the best bit about the engine is its eager, cheerful nature. This is a powerplant that enjoys being revved hard, although it's perfectly happy to keep things under boiling point as well, especially in city conditions.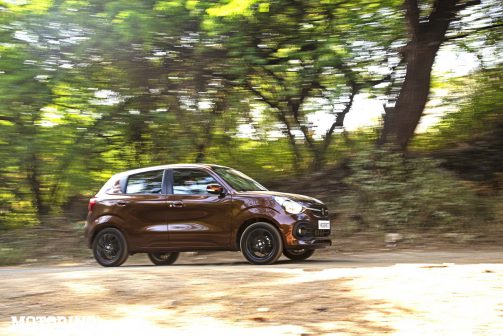 The 5-speed manual gearbox is the one to opt for to exploit the engine's full potential — it slots perfectly each time and plays along in near boy-racer fashion. The AMT makes urban driving totally hassle free (and the lever looks great), but it cannot escape the 'droop' that affects transmissions of this kind, and is therefore a bit of a downer when it comes to enthusiastic driving, especially in the hills. Speaking of hills, the Hill Hold Assist in the AMT version does help when you're faced with steep inclines.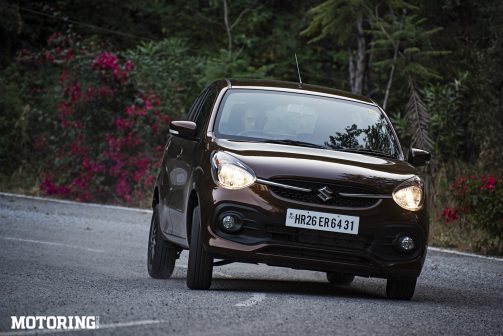 4. Kindly shed some light on the #allnewCelerio's ride and handling. The 1 to 10 scale applies.
I'm going to go with a 6.
Sigh. Please explain.
Here's the thing. The Celerio's ride quality is well sorted, and it absorbs bumps very confidently, with its excellent ground clearance helping it through all but the most Dakar-like conditions (I drove it into a rocky stream, just for fun, and it didn't flinch). The flip side is that it feels a little too springy, and tends to wallow on surfaces that have a series of undulations; this feeling is most pronounced in the rear seat. Hurl the car into a corner and it'll go from point A to B, but the steering wheel won't tell you that much about the process involved, and there is some body roll in the mix; the brakes (ABS with EBD) are sharp enough to haul the Celerio in quickly without it squirming around.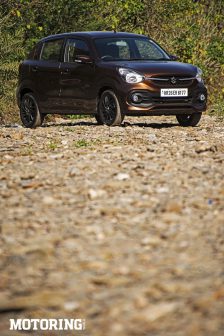 5. How would you sum up the #allnewCelerio?
It's about as Maruti Suzuki as you can possibly get.
Catchy, but please elaborate.
If there's one thing Maruti Suzuki does blindfolded and with one hand tied behind its back, it's the manufacture of small cars that tick an inordinate number of boxes; the Celerio joins a rather long list. No single aspect of it leaps out at you, but it does everything that a regular (i.e non-automotive journalist) buyer wants so well that this doesn't matter in the least. What may matter is its price — at a range of Rs 4.99 lakh to Rs 6.94 lakh (ex-showroom Delhi), it's the most expensive car in its class, and more expensive than the Wagon R. I'd be interested to see the kind of buyer this car will appeal to (Maruti Suzuki says the older car was very popular with the IT crowd), and I'll conclude by saying that it's competence personified.
Thank you for your valued feedback. You may now go and catch your
flight.
AUTODATA
Maruti Suzuki Celerio Zxi+
POWERTRAIN
Displacement: 998cc, three-cylinder petrol
Max power: 67 bhp@5500 rpm
Max torque: 9 kgm@3500 rpm
Transmission: 5-speed manual/AMT
TYRES
F/R: 175/60 R15
DIMENSIONS
L/W/H (mm): 3695/1655/1555
Wheelbase: 2435 mm
Ground clearance: NA
Kerb weight: 825 kg
Fuel capacity: 32 litres
PRICE: Rs 4.99-6.94 lakh (ex-showroom Delhi)