'Appa! Don't go fast, this is not a plane and you're not on a flight!' When a small child's voice yelled this at me, preceded by a loud warning chime, I am not exaggerating when I say I jumped out of my seat; only the seat belt prevented me from making further progress towards the roof. I knew that Mahindra, in the lead up to the XUV700's launch, had teased a bunch of its new SUV's features, and that a speed limit warning tone in a loved one's voice was one of the options. I was, however, completely unprepared for an irate pre-schooler to be admonishing me once I hit 120 kph, and I daresay that I would have preferred a good old repetitive beep, however annoying. Still, I can see this feature being effective — imagine recording a friend swearing at you to slow down — just as long as you know what's coming once that needle goes north of 120.
And trust me, the needle will go north of 120 very easily (and often) if you're at the wheel of the petrol-powered XUV700. The 2-litre, 4-cylinder turbo-petrol puts out a thrilling 197 bhp@5000 rpm and 38.75 kgm@1750-3000 rpm, and it is an absolute firecracker of a powerplant. As soon as I started the XUV up and peeled into the convoy heading to Mahindra's newly-built proving grounds outside of Chennai, I knew it was going to be a fun drive — the engine felt eager straight out of the blocks, and was asking for its legs to be stretched, even as it was happy to glide along at 60 kph and below. It's difficult to flog a car when you're in a convoy (an enormous one, to boot), and some crowded sections on the roads leading to the facility meant that I was able to see how the XUV behaved when not on the boil.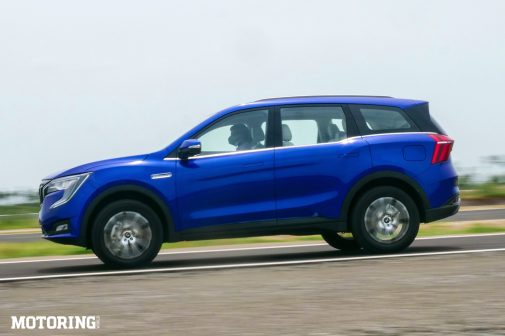 It behaved very well, to sum it up. From crawling speed right up to a gentle 60 kph cruising velocity, it didn't miss a beat, and was quiet and ultra-smooth throughout. Rapid forward movement required just a light tap of the accelerator, and the pedal feel was weighted just right — the increase in velocity corresponded almost exactly with the amount of downward pressure exerted on it. The 6-speed torque-converter automatic gearbox (from AISIN) was a very pleasant partner in these proceedings, shifting quickly and smoothly up and down the cogs. When I did have the room to let the engine fully express itself (most notably on the high-speed oval at the proving ground), a pedal-to-the-metal move was all it took to slingshot the XUV towards the horizon; the gearbox rapidly dropped a few cogs, and away we went. The car's bulk was more than compensated for by the engine's capabilities, and I daresay I haven't travelled this fast in a non-German SUV in ages. The speedometer on the all-digital, high-res 10.25-inch instrument cluster swept its way towards an indicated 190 kph, and the seat of my pants told me that number was pretty accurate. The only niggle I discovered was that in the throes of triple-digit, high-revving acceleration, the engine revved northwards even after I'd taken my foot off the gas to start braking; a dab on that pedal set things right.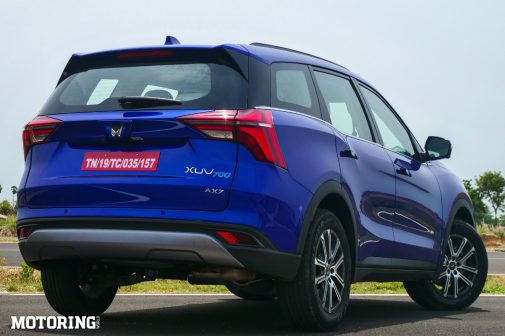 That sums up the petrol engine, which is the variant I had for the day — it's powerful, extremely refined and immensely useable and friendly across the rev range, with the only demerit being a less-than-exciting engine note, but I'll take that — Mahindra must be commended on making a near-200 bhp petrol engine and offering it such a compelling price point. Oh wait, there's another possible downside. After absolutely hammering the XUV700 all day on the road and at the proving ground, the real-time fuel efficiency readout indicated 6 kpl. Even if you were to adjust that for real-world driving conditions, you'd probably be looking at an overall figure of roughly 9 to 10 kpl, and given today's petrol prices, that might pinch. Nevertheless, I would unhesitatingly recommend this engine, because it's really good.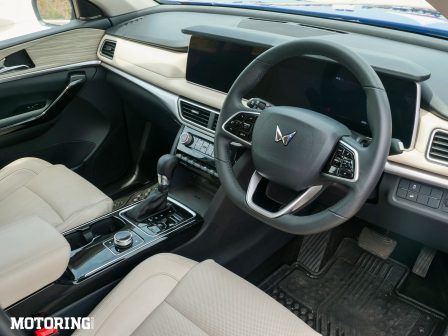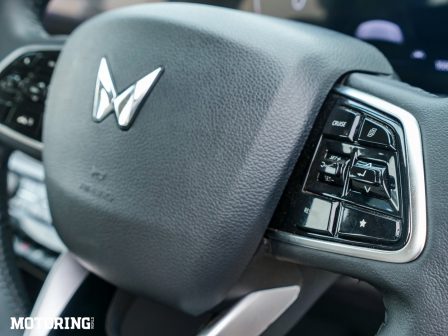 It doesn't stop there, either. The top-spec driving aids in the fully loaded AX7 L variant I was driving were extremely good, and the competition will really have to up their respective games in this department. The adaptive cruise control worked very well, automatically speeding up and slowing down the car even in fairly crowded situations. The lane departure warning system was accurate for the most part, and the lane keep assist feature wasn't overly aggressive in nudging the XUV back into its lane. In Indian conditions, though, with the constant swerving around you're likely to do in order to avoid obstacles, you'll have to get used to these systems kicking in rather a lot (you can turn them off, of course). The other really useful features were the collision warning and auto emergency braking assists; at the test track, the XUV quickly detected a pedestrian dummy, began slowing the car down when I didn't brake and brought it to a complete halt before any damage was done. The AX7 L is also kitted out with seven airbags, a comprehensive suite of ESP features (TCS, HDC, HHC, ROM etc), ISOFIX fasteners, a driver drowsiness detector, high beam assist and traffic signal recognition, which identifies speed limits by deciphering road signs. Mahindra vehicles have been garnering excellent EURO NCAP ratings of late, and one can only hope that the XUV700 joins that list; until then, you can be sure that you're well protected in this car.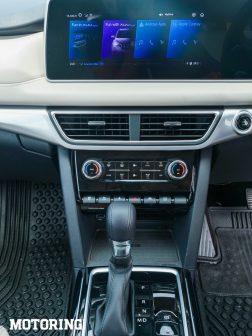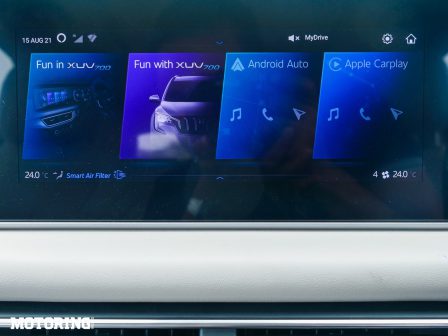 The XUV is a big, heavy vehicle and therefore you can't expect it to exhibit handling characteristics from Zuffenhausen. You will, however, be pleasantly surprised at the way it conducts itself. For starters, it doesn't feel like a lumbering beast (a lot of that is down to the punchy engine, of course); indeed, it feels like a smaller car than its dimensions. Straight line stability is fully sorted, and it doesn't put your heart in your mouth even during high-speed lane-change manoeuvres. At the high speed oval, I was holding speeds north of 150 kph around the banked sections with ease, never feeling like an untoward incident was looming. A set of tight corners wasn't available during the drive, but from the evidence on offer I venture that the XUV will handle them quite easily. Yes, there is a certain amount of body roll, but that's inescapable; the highlight is that this is an SUV in which you can have some fun. The ride quality is another tremendous plus — with a multi-link independent rear setup and a McPherson strut front (and frequency selective damping at both ends), the XUV offers a very comfortable ride across a variety of surfaces. You do feel some bumps, but there's no crashing or thudding in evidence; only if you're consigned to the 3rd row of seats are you likely to feel some discomfort. The brakes (drilled discs up front and solid ones at the rear) are up to the job of hauling the XUV in, with enough feel coming through the pedal to let you know what's going on.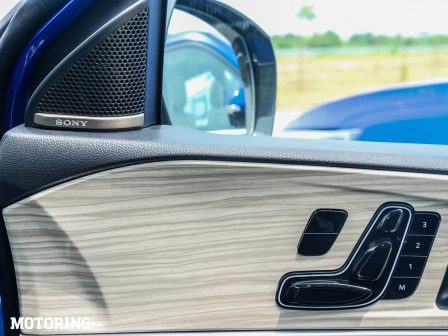 Speaking of that 3rd row, it's… not where you want to be, falling into 'short straw' territory. Like many 3rd rows, it requires a bit of a gymnastic act to access, and it's not the greatest in terms of space. Children will likely be fine, and rather small adults will find it acceptable, but if you're a person of regular or generous build, you'll be sitting with your knees bunched right up, with very little room to move around (you will get your own A/C vents, blower control and charging port, at least). The 2nd row, on the other hand, is a roomy and airy space, with wide and very comfortable seats, plenty of head and leg room and a good view of the road past the front seats. The two front seats are exactly the same in terms of comfort, and the driver gets a powered seat with memory functions. I just wish Mahindra had positioned the controls on the side of the seat bottom instead of on the door, though; instinctively, I found myself reaching downwards rather than to the side when I wanted to make adjustments. In the driver's seat, you get a commanding view out on to the road, and the cabin's airiness really gives you a sense of freedom.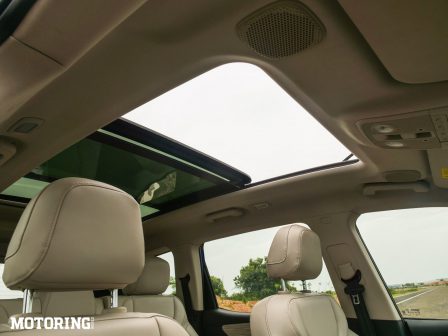 With the 3rd row up, there's not much room for any substantial luggage, so if you're hauling cargo you're going to need to fold this row down (or buy the 5-seat version). In terms of fit and finish, there's not much to complain about, but an Alcazar's cabin feels more premium in this regard. The XUV uses a lot of piano black surfaces, which look a bit tacky and are fingerprint magnets; the plastics quality is also slightly below par. And don't get me started on the faux wood inserts, please. All I'll say is that they should have been left out. Overall, though, this seems like a cabin that will hold together for a while.
With the features bar set very high in this segment, Mahindra couldn't afford to be found wanting — and it hasn't. A top-spec XUV700 overflows with every conceivable automotive mod-con a person could want (and many that a person probably doesn't, but let's not dwell on that). You have leatherette upholstery; an absolutely massive sunroof; dual-zone automatic climate control; cooled storage; a sliding armrest; extremely hi-res, vivid infotainment and instrument screens; Android Auto and Apple CarPlay, both wireless; wireless phone charging; an excellent, 12-speaker Sony audio system; built in Alexa functionality (you can ask her to open the sunroof and find nearby coffee stops, for example); 360-degree camera views and blind-view monitoring; an AdrenoX connected suite (the app lets you do the usual — remote lock/unlock, remote start, remote A/C start, geo-fencing and so on); ISOFIX mounts; navigation; an air purifying system; and many more such doodads. You're unlikely to use some of these features on a daily basis, but they're there for bragging rights, at any rate. Naturally, nothing is perfect, so there are some issues with some of these in-cabin features. The infotainment system (which was in a beta stage in all the test vehicles) isn't that easy to use, because of the sheer number of functions, menus and sub-menus. Ergonomically, the door lock/unlock button is set too far back, and the rotary control dial is also a little oddly placed. No deal-breakers here, but they're niggles nonetheless.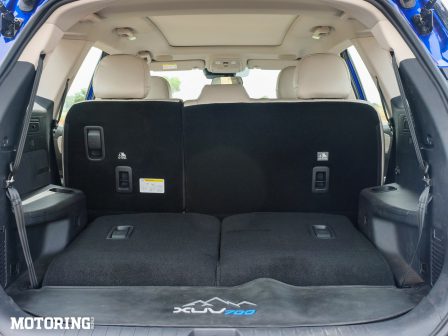 This brings me, finally, to the way the XUV700 looks. Some leaked images of it in some kind of testing facility had recently set the internet abuzz, mainly with unflattering comments about its styling. I'd decided to wait until I saw it in the flesh to pass judgement, and said judgement is that it looks much better stood in front of you than in any photographs. This is not to say, however, that I think it's a stunner. I do believe that it has a substantial road presence, but personally, it's a design that will have to grow on me. The XUV500 DNA is unmistakeable in the roof and shoulder lines as well as the front of the car, and Pratap Bose and co. have tweaked that lineage to produce something that's much more substantial — and, admittedly, eye-catching.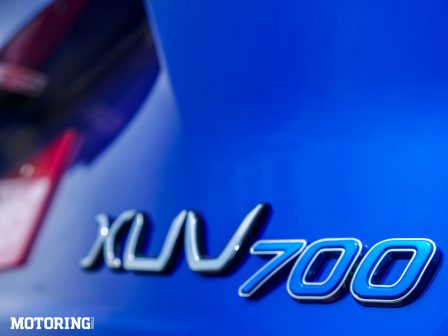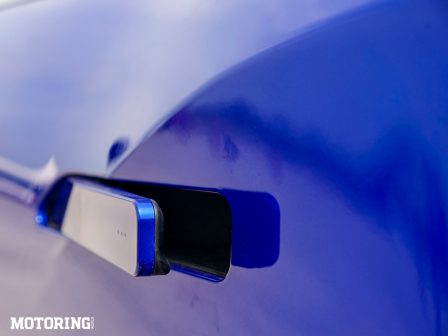 The brand new logo looks a lot like Venom's eyes, a certain garment made famous by Jean Paul Gaultier, a butterfly or two Ms, depending on the way your brain is wired, and it takes pride of place in the middle of the chunky 6-slat grille. Around it, the huge C-shaped headlamps make for an arresting sight, and at the back, the tail lamps are arrow-shaped, giving a bit of dynamism to an otherwise block-like rear end. The 18-inch wheels look rugged rather than stylish, and fill out the arches properly, and there's a definite 'get out of my way' attitude to this car, which will go down very well with prospective buyers in Delhi and Gurugram. The pop-out door handles are very slick, but strangely, they remain popped out when the vehicle is unlocked, which not only makes them look unseemly but poses the possibility of them being damaged by people/animals/objects passing by.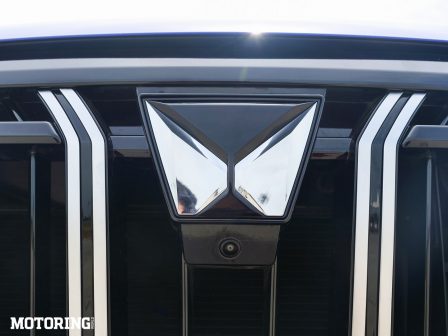 Overall, though, it's safe to say that there's a lot about the XUV700 that will go down very well with buyers, because Mahindra has really done a first rate job with it. It's a huge generational leap over the XUV500, has a stonking engine and gearbox, more features and safety equipment than you can shake a stick at and, crucially, pricing that I'm sure has caused sweaty palms among the competition — Rs 12 lakh for the base MX petrol and Rs 15 lakh for the mid-range (but loaded) AX5 petrol are simply phenomenal. Prices for higher diesel and petrol variants will be announced in October, but it's a good bet that they'll be more than competitive too. Give yourself a pat on the back, Mahindra — you've delivered, and how.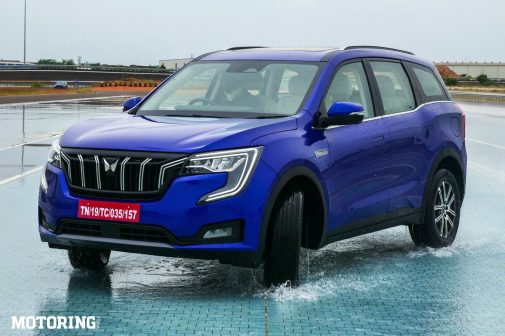 This is a first impression of the top-spec, petrol-powered XUV700 AX7L with an automatic transmission. A review of the diesel version (which has an all-wheel drive option and driving modes) will follow once we drive it.
AUTODATA
Mahindra XUV700 AX7L
POWERTRAIN
Displacement: 1997cc, inline-four, turbo-petrol
Max power: 197 bhp@5000 rpm
Max torque: 38.75 kgm@1750-3000 rpm
Transmission: 6-speed manual, 6-speed torque-converter auto
TYRES
F/R: 235/60 R18
DIMENSIONS
L/W/H (mm):4695/1890/1755
Wheelbase: 2750 mm
Ground clearance: 200 mm unladen
Kerb weight: 1620 kg
Fuel capacity: 60 litres
PRICE: Rs 12.99 lakh to Rs 14.99 lakh (ex-showroom, MX petrol/diesel, AX3/AX5 petrol)