Three-wheelers are a strange set of vehicles. The closest I have got to experiencing anything three-wheeled was a Bajaj Chetak with a sidecar that I rode earlier this year for the 'Car Vs Bike' issue. I must say, it was quite an experience to constantly use my left arm as a steering damper to keep the steering running off in any direction. And if that wasn't enough, you should know, the sidecar tends to lift off on taking left turns, as opposed to leaning in when taking a right-hander. It's more like a constant seesaw of weight transfer happening to keep the thing straight. So when Mahindra called us to check if we were interested in trying out their Treo electric three-wheeler, I was genuinely excited to give it a go.
I happen to live on the side of the city where rickshaws aren't permitted to ply. But, I have always been fascinated by them. Always thinking how they're ridden, zipping through lanes and wiggling through the smallest of gaps in traffic. So whenever I am in the suburbs and have the chance, I prefer to hail a rickshaw over cabs. In my opinion, three-wheeled vehicles like the humble yet notorious rickshaw are the quickest mode of transportation to get to places in a city like Mumbai, but also the scariest, yet full of fun. Fun because there's an undeniable motorcycling element (which also explains my suited attire) on weight transfer or avoiding that pothole in the mix, which makes the whole experience an engaging one. From the rear seat passenger experience in rickshaws and from riding a scooter with a sidecar, the time had finally arrived to get into the driver seat and experience the three-wheeled Mahindra Treo first hand.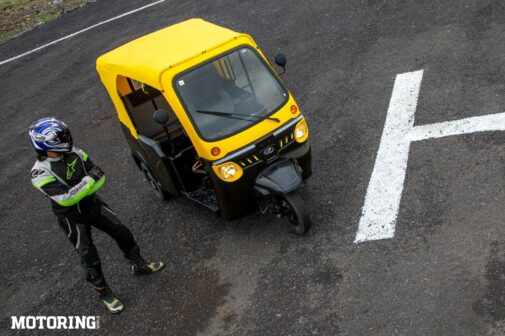 WHAT IS THIS?
In a line, the future of last-mile public transport. With cars, buses and two-wheelers going electric, it is only inevitable that three-wheelers too will eventually transpose to their electrical derivatives. While Mahindra offers the Treo even in a while and blue colour scheme, our test machine wore the typical kaali-peeli colour scheme of black and yellow synonyms with cabs and rickshaws of Mumbai. Apparently, Mahindra has been granted permission by the RTO to manufacture the Treo only in the latter livery. Must be something to do with permissions only for public transport use.
Anyway, we all have sat in a rickshaw at some point in our lives, and they are containers of sheet metal welded and riveted at places and were utterly cramped to get in and out, with no mention of legroom. The Treo is anything but that. Open the half-cut door to access the rear seat and be welcomed by a large, airy and spacious seating area. The Treo's outer shell is made of SMC modular body panels that are corrosion and dent free, while the roof here is a weather-resistant flex canopy fitted over a steel-tubed frame. The Treo can also be had with a hard top roof too.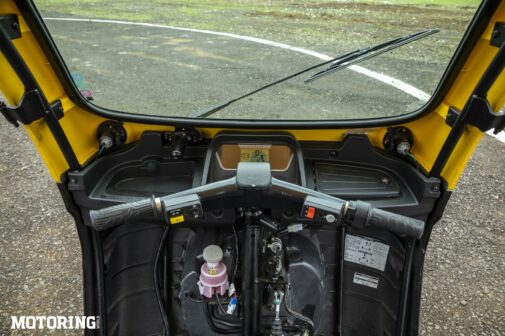 Shift to the cockpit of the Mahindra Treo and the layout is not too different from a standard rickshaw, but better. There's a small digital instrumentation cluster that packs a speedometer, odometer, battery charge left and a distance to empty range. Other bits include a lockable glove box and power socket on the other side to charge electronic devices. The Treo's handlebar is free of any brake or clutch levers because the foot pedal takes care of braking at all three wheels, and, duh, it's an electric, so no clutch here!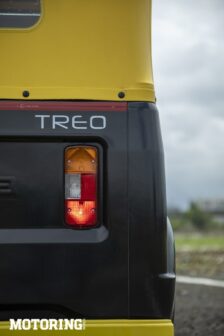 The lithium-ion battery is located under the driver's seat which takes three hours and fifty minutes for a full charge. The Treo has the flexibility to charge anywhere as it comes with its own portable charger and only requires a 15 amp socket. To propel the e-rickshaw, the Treo packs an AC induction motor with direct drive to the rear wheels and is rated at 10.6 bhp and 4.28 kgm, which says something about how the Treo drives. On a full charge, Mahindra claims the Treo will return a range of 130 kilometres, which is decent for a rickshaw.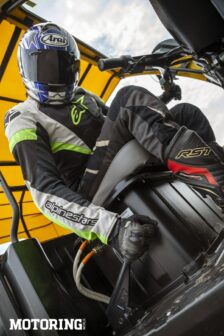 WHAT'S IT LIKE TO DRIVE?
The first benefit of driving the Treo is that you can access the driver's seat from either side. Unlike most cars, where the steering is located on one side, you sit right in the centre of the vehicle with a handlebar instead of a steering wheel. It is something like a go-kart feeling, but you sit higher and inside a shell. Controls are a sweet and simple affair here. Turn the ignition on and on the right switchgear, select 'F' to go Forward, 'R' for Reverse and 'N' for Neutral. You also have a drive mode select button with 'E' for Economy and 'B' for Boost.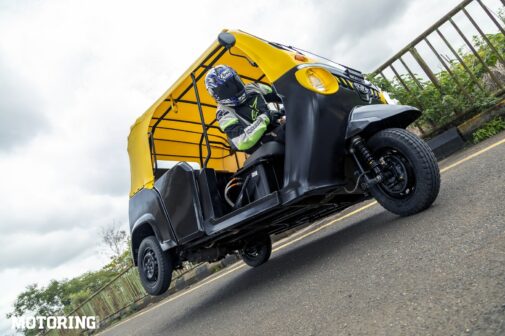 To get a hang of what I was dealing with here, I started with economy mode, getting a feel of the throttle sensitivity, the brakes and steering. Being electric, all you need to do is accelerate and brake as required, which leaves a lot of space for the mind to adapt to counter-lean steering. The powertrain is nothing of a slouch as it packs quite a punch even in economy mode. One can achieve a top speed of 45 kph in this mode, and when the need arises to go faster, flip to boost mode, and can accelerate faster and can achieve a top speed of 55 kph. The folks at Mahindra Electric claim that the Treo is capable of accelerating from 0-20 kph in 2.3 seconds, which feels quicker in reality.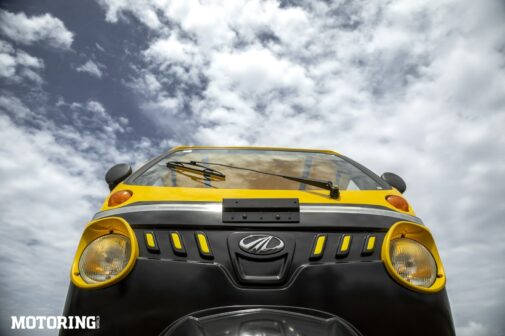 Also, what's worth mentioning is the marvellous ride quality. I can promise you, after sitting in the Treo, you wouldn't want to sit in a regular rickshaw for another spine-crushing experience. Riding on 12- inch wheels shod with high-profile tyres, the Treo offers a fantastic ride experience, considering three-wheeled vehicle standards. From potholed roads to going over speed breakers and bumps, the Treo had me grinning ear to ear inside the helmet. And since there's all-time ventilation with large openings, one does not feel hot or claustrophobic at any given point.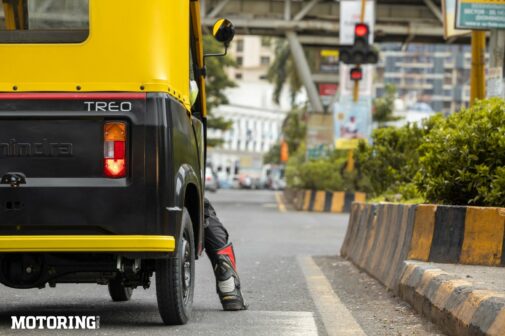 IS IT FUN?
Is that even a question, now? Hell yeah! I can't imagine how long I had deprived myself from driving a three-wheeled vehicle. This thing is an absolute riot to drive on the streets. The steering is very direct, and you can exactly tell what is happening at that front wheel. Arrive a bend and your body will naturally lean into the corner, and the front and outer wheel do most of the job and keep the Treo on the intended line. The folks from Mahindra present did say the Treo is difficult to get unsettled, as all the weight is located in the lower portion of the vehicle. I did try to corner the Treo hard a couple of times, but it stayed on three wheels for most of the time.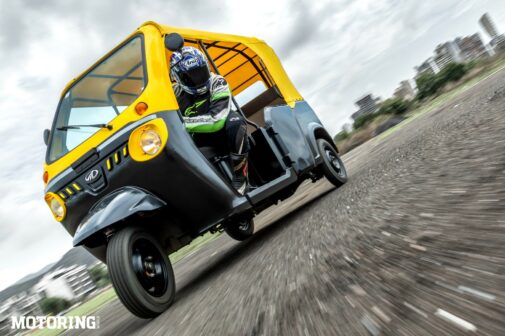 The brakes on the Treo come with regeneration to ensure minimum wastage of energy. So, the moment you go off the throttle, the brake regeneration kicks-in right away. Otherwise, the braking performance is quite likeable with not much to point out. The combined braking for the front brake with the rear does take a while to get used to, but it also makes the overall experience less stressful.
CAN YOU BUY ONE?
Unfortunately no. Although, it would be real fun if one could. The only way to legally drive one is only after acquiring the recommended licence to operate one. But, for those in the rickshaw business, the Mahindra Treo is a modern electric derivative of the rickshaw that seems to be quite promising if accepted. That said, it's back to the driver's cockpit for me to have more fun with this three-wheeled electric auto of the future.
AUTODATA
Mahindra Treo Electric
POWERTRAIN
Battery:
Max Power:
Max Torque:
Range:
7.37 kWh
10.6 bhp
4.28 kgm
130 km
DIMENSIONS
L/W/H (mm):
Wheelbase:
Ground clearance:
Kerb weight:
2766/1350/1757
2073 mm
NA
387 kg
PRICE
Rs 2.61 lakh (ex-showroom, Mumbai)